Disney Festival of Holidays is BACK for the third year! There are several new food offerings and even a few repeat favorites. I checked it out shortly after it opened and I obviously wasn't able to try everything in one day, but I've shared my opinions on what I ate below. But first, a quick introduction to Festival of Holidays if you're not familiar with it.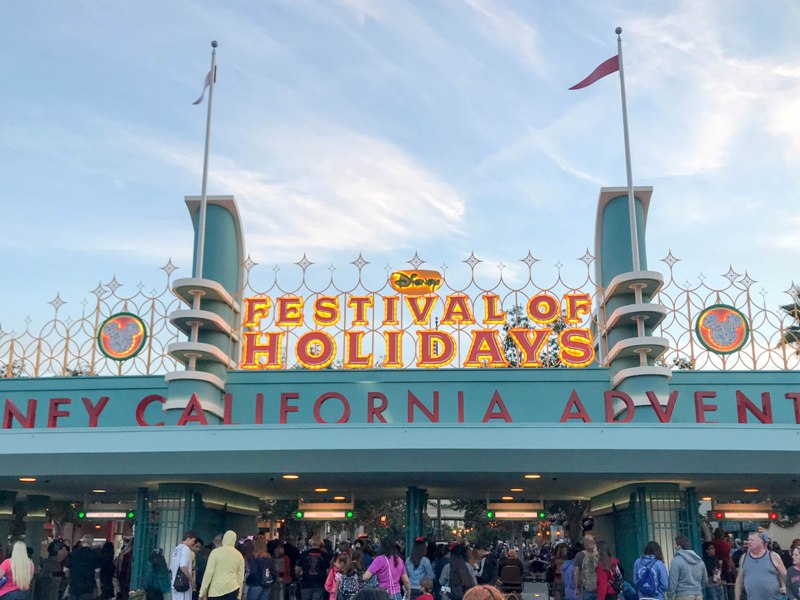 What and When is it?
Disney Festival of Holidays is a celebration of the delicious foods and spirits of the holiday season from around the world. Guests can purchase small plates of a variety of delicious foods, wines, beers, and other drinks. Entertainment and activities are also available, such as live performances by bands and dance troops, and cookie decorating for kids and adults.
Festival of Holidays is being offered every day between November 9, 2017 and January 8, 2018. Regular Park admission for Disney California Adventure is required, and food and drink items are an additional cost.
If you're planning a trip to Disneyland, I recommend booking through Get Away Today! Use code FAIRYTALE to get an additional $10 off your vacation package!


Where to Go
Festival of Holidays takes place at Disney California Adventure. Once inside the park, make your way to the Festival Corridor, starting adjacent to Carthay Circle Restaurant.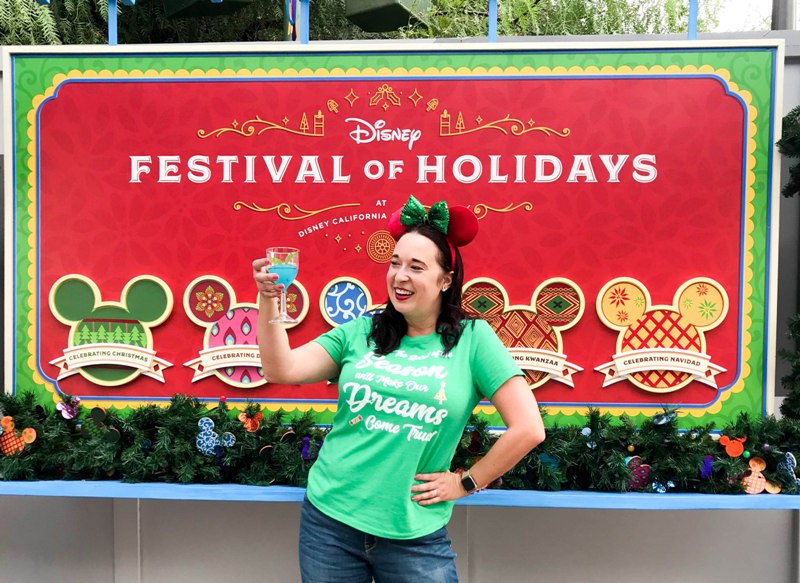 There is a fun photo op right at the festival entrance, and I saw rotating characters like Pluto and Clarabelle. Or take your own photo!
There are 12 Marketplaces along the Festival Corridor, with 3 or 4 food items and 2 or 3 drink options at each. Adjacent to each Marketplace are cocktail tables where you can stand and eat your food. Utensils and napkins are available from self service dispensers. There are also several tables with chairs and cocktail tables set up along the corridor. In between Marketplaces you'll also find kiosks selling official event merchandise, as well as some third-party products.
How It Works
When you first enter the Festival Corridor, grab a paper map and "Tasting Passport." This will show you the location of the marketplaces and the list of foods. The Tasting Passport is very handy, because you can check off items as you go and also make notes in the back of the book. The last page of the book also indicates which items are "gluten friendly," "kid friendly," "milk friendly," vegetarian, and vegan.
To order food and drink items, approach the registers next to the Marketplace, pay for your order, then take your receipt to the window of the Marketplace. Your food and drink items will be prepared quickly, and you'll be given a cardboard tray if needed/requested. You can take your food to a nearby table. Don't forget to grab napkins and utensils!
Keep an eye out for the "Sip and Savor Pass" lanyards, which can be a great deal if you use them wisely. Each tab (8 of them) on the lanyard can be redeemed for one food item at any of the kiosks (excluding alcohol). The lanyard is $49 With eight tabs, each tab is worth $6.12 for APs, or $6.75 for non-APs. Food prices range between $4 to $8, so if you use the tabs on the right items this is certainly a good deal. (Tip – tabs can be shared among multiple people or multiple visits.)
What to Eat
Obviously I recommend trying everything!
For full menus, please visit the Disney Food Blog. They have each food and drink item listed, plus prices!
1. Brews and Bites – Always a popular spot! Here you can order glasses of beer, or flights, as well as Chorizo Queso Fundido with chips.
2. Favorite Things – Didn't try anything, but you can get the popular Reuben Potato Tots with Russian Dressing and Rye Toast here. I've had this in year's past and I can understand why they keep bringing it back!
3. Holiday Duets – I have my eye on the Curry Cauliflower Soup with Braised Lamb and Mintchurri. You can also get some cute Holiday Mickey and Minnie Cookies here, as well as a non-alcoholic Warm Peppermint Chocolate Float.
4. Making Spirits Bright – This is the spot where you can order a wide variety of wines and sparkling wine. The mimosa flight features White Cranberry, Pear (two repeats from last year), and Pomegranate. I can't wait to try a flight next time next time I go!
5. Visions of Sugarplums – Lots of sweet treats here! And new this year, you can pair a glass of milk with your Warm Sticky Toffee Pudding, Eggnog Wreath Eclair, or White Chocolate Cranberry Blondie. There is also something called S'mores Frozen Chocolate Milk which sounds really intriguing.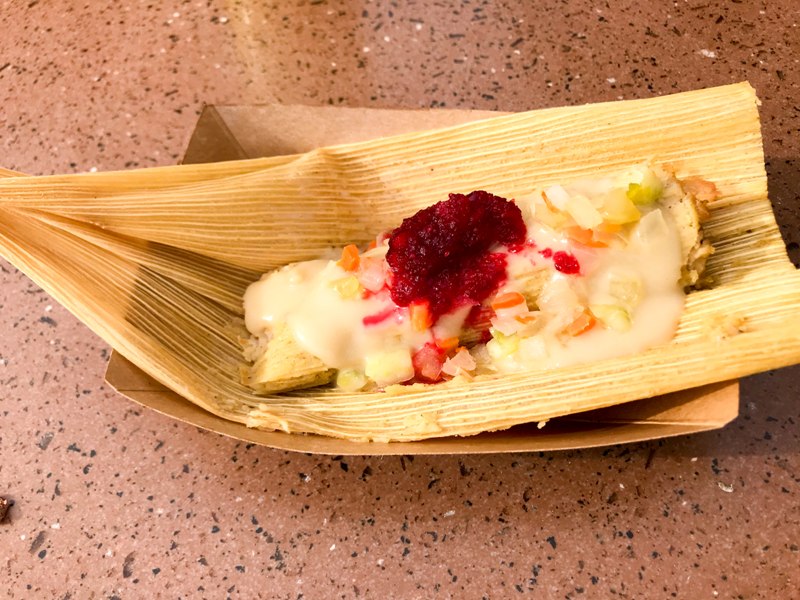 6. Merry Mashups – My friend tried the Turkey & Stuffing Tamale and said it was very good, and reminded her of homemade turkey soup. They also have a Hot Cocoa Marshmallow Macaron that I'm dying to try.
7. Winter Wonders – I tried the Masala with Naan, which is a repeat item from last year. My notes from last time indicate this was an overly salty dish, but I thought it was great this time. I also got the pumpkin soup which I really loved. Side note – all three food items here are vegan!
8. Blissfully Braised – Skipped this booth but will return for the Blood Orange Ginger Mule!
9. Grandma's Recipes – There are some good sounding items here, including Candied Yams with Marshmallow Cream. Are you seeing a pattern. Sign me up for everything marshmallow! You can also get a Gingerbread Mickey cookie here, as well as some "tart and fruity" brews and a non-alcoholic cherry pineapple punch.
10. Spicy Celebrations – I don't do spicy foods so I didn't try anything here!
11. A Twist on Tradition – Also skipped this booth but I'm intrigued by the "Chicken-less" Mole with Spanish Rice.
12. Winter Sliderland – This … this is the marketplace you are looking here. Here you'll find some festival favorites, including the Roasted Turkey Slider with Cranberry Sauce, the Holiday Stuffing Mac & Cheese, the Frosty Frose, and the Milk Chocolate Candy Cane Pot de Creme. Holy wow! I didn't get the slider this time but the other two were fantastic! The Pot de Creme was probably my favorite item of the day.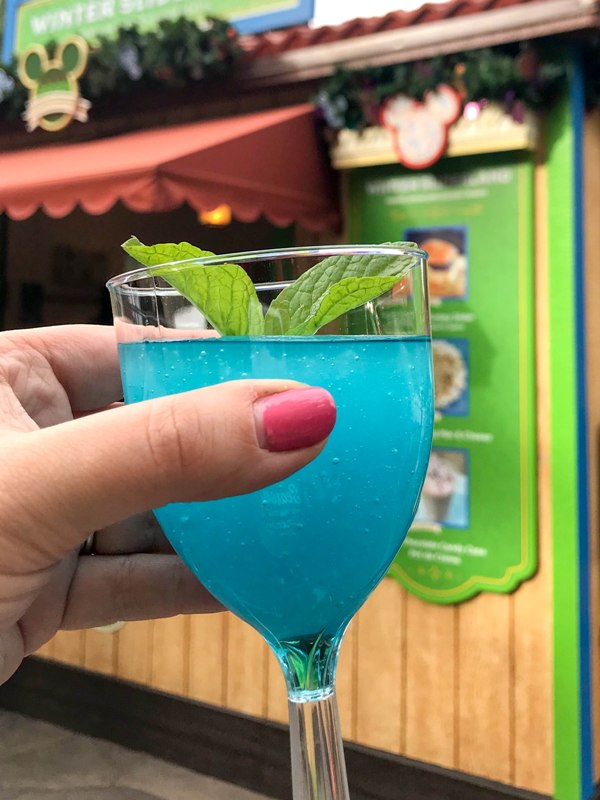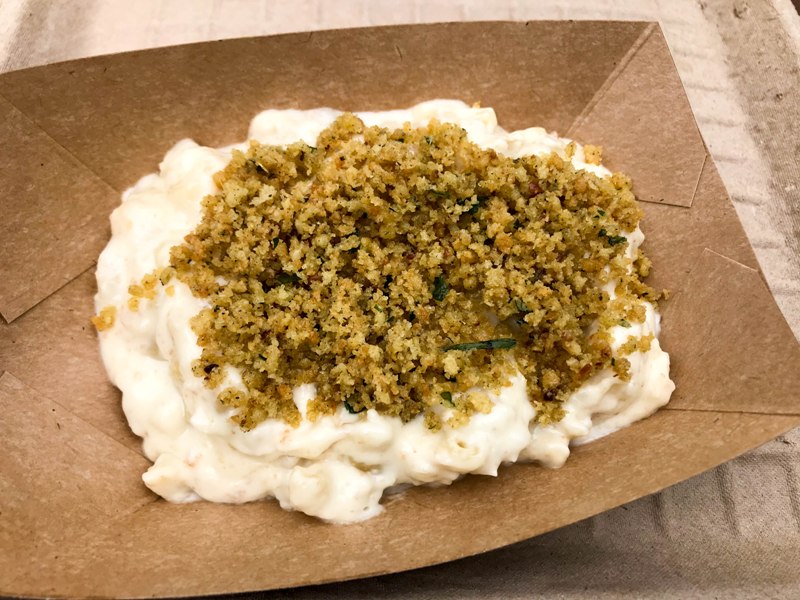 The "Treats for Santa" marketplace is back this year, but it is not an official marketplace. You can find it at Redwood Creek Challenge Trail, where you can also get a picture with Santa! A cookie decorating kit, hot chocolate, and Warm Bourbon Cider are all available again this year.
There are also some seasonal offerings at Paradise Garden Grill, celebrating Viva Navidad! with traditional items such as Torta al Pastor and Pozole.
APs can also visit the AP Corner before November 30 for a special photo op and magnetic photo frame (while supplies last). APs can also get special buttons when they make a purchase at any marketplace and show their AP.
The Festival of Holidays is a fun addition to Holidaytime at Disney California Adventure. If you're a foodie like me, you won't want to miss it!