This post contains affiliate links.
Today we have a really fun and really easy guest post DIY! Bethanee and Benjamin made these Disney Cast Member Name Tags to use as guest escort cards for their at-home Disney wedding. The best part is, they were made using Microsoft Word, so you don't need a fancy image program to make these! It might be a simple DIY, but I think they came out great. Each name tag lists the guest's first name and their table assignment, and they double as favors. Any wedding item that serves multiple purposes is a win in my book.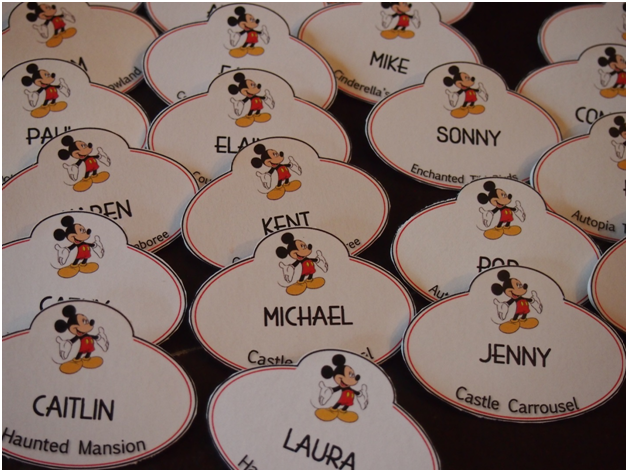 Photo courtesy of Barbara Bemis
SUPPLIES:
Heavy white cardstock
Tacky glue (we used Aleene's Original Tacky Glue)
Plastic name tags (we used white ovals, about 3" x 1.5", similar to these on Amazon)
Color printer
INSTRUCTIONS:
1. Download an image of the cast member id tag you desire, as there are many different versions. The one we used is shown below, obtained from DisBoards.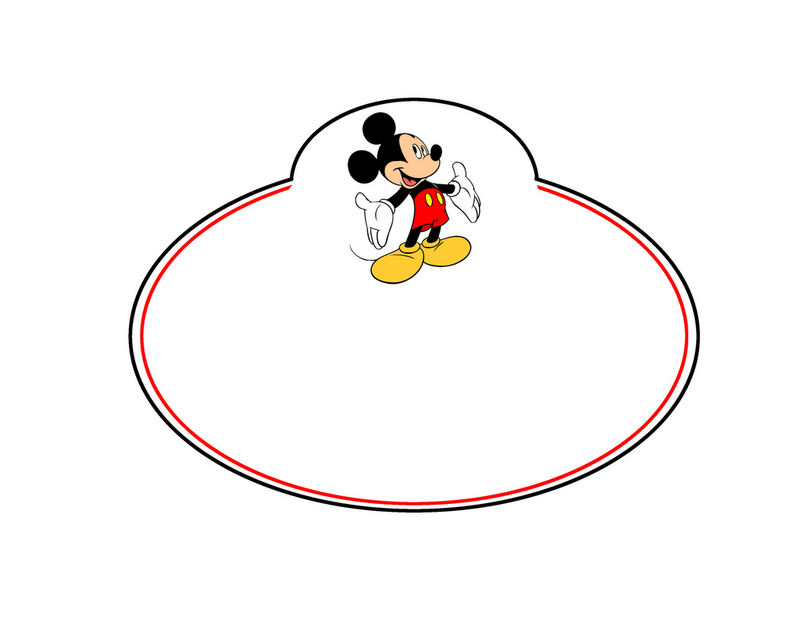 If you want to download a similar font, I found Sign Painter JNL and Bodega Sans. Both of these cost money, unfortunately. But still, think of all the money you're saving by doing your place cards and favors yourself!
2. Open Microsoft Word and save a new document in Compatibility Mode, which is ".doc." This project will not work with ".docx" files. In Microsoft Word, open the name tag image and size the image to fit your tag. For your text to show up on top of the image, select the image so it's outlined, then select the following from your tool bar: Picture Tools Format -> text wrapping -> "behind text".
3. Using Word Art (Insert -> Word Art) add the table names or other writing which will be on multiple tags (we used Disney attractions for our table names). There is an option within Word Art to make curved text. To move the Word Art on top of your name tag image, make sure you highlight the text, select: Format -> Position -> With Text Wrapping. Select the top middle option.  Once your text is in place over the name tag image, you will need to "group" them so they become one image. Select the image, then hold down the CTRL key and select the text, so they are both highlighted. Right click and select "Grouping" then "Group." Now your name tag and text should all be one image.
4. Copy the image the appropriate number of times to fill a page (we ended up with a total of 8).
5. Type and place the guest name.
6. Repeat as necessary and print once you have a full page.
7. Cut out and glue to your name tags. Apply the glue to the nametag, not the cardstock. Be sure to get the glue to the complete edge of the tag and make it as smooth as possible so the name tag doesn't bubble. Let dry face down.
Tada!
TIP: Do a test run with the glue you choose to be sure the colors don't bleed and that it provides adequate adhesive.
Bethanee and Ben also used the same shape to make a cake topper. What a clever idea!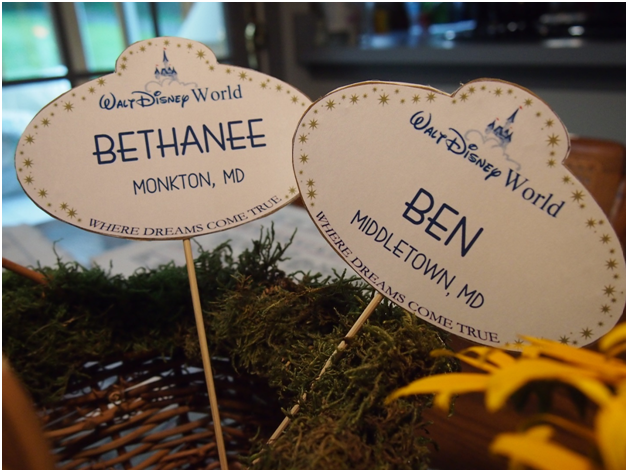 Photo courtesy of Barbara Bemis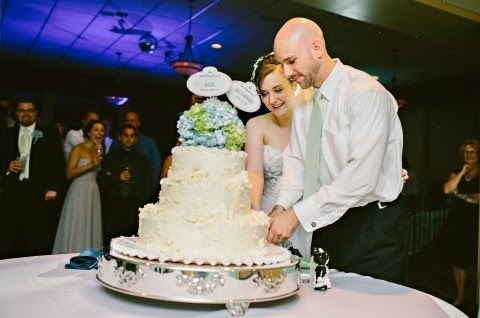 Photo by Kitestring Studio
This article was originally published in January 2014 and has been updated.