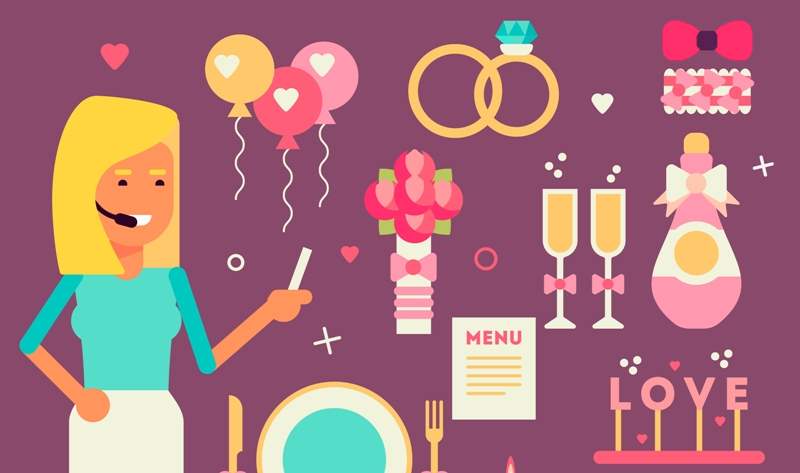 Over the years, I've shared a lot of articles about hiring the best vendors for your wedding. I'm a big believer in hiring the right person for the job, regardless of gender. I'm also a big believer in supporting female owned and operated small businesses.
Unfortunately I've encountered a lot of misogyny in the wedding industry and that makes me sad. Just recently I read something that made me more than sad – it made me frustrated and furious.
Someone wrote to a DJ asking if they had any female DJs available. They wanted an all-female vendor team, which I think is really cool. However, It made me upset when I saw the DJ trying to talk the couple out of this idea. The DJ told the potential client they had never met a female DJ who could mix well, and encouraged them to hire a male DJ.
Obviously this is a really terrible thing to say in an email, and naturally the potential client posted this email on the company's Facebook Page and it went a little viral. And instead of the DJ apologizing for their tone-deaf response, they actually doubled-down on their opinion!
Oy.
Like I said, reading about this made me feel sad and angry, but I decided to turn this negative into a positive and use this opportunity to highlight some of my favorite female wedding vendors INCLUDING DJs.
So whatever your reason for wanting to hire an all-female vendor team for your Disneyland wedding, I wanted to put together a guide to make this easier for you.
How to Hire an All-Female Vendor Team for Your Disneyland Wedding
I want to make it clear this is NOT a paid vendor list. I'm simply sharing some vendors I love and think would do a great job for your Disneyland wedding or event. This list is not endorsed by Disney.
Photography:
Out of five recommended photographers on Disney's list, only one is owned and operated by a woman: White Rabbit Photo Boutique. If you're a long time reader of my website then you know I've done several photo shoots with WRPB, including bridal portraits. I also worked as the WRPB office manager for a few months. I highly recommend Jenna and her team; they do good work and around half the team are women (but the dudes are super cool, too!).
Other awesome women photographers I know:
Katie Pritchard Photography – Katie is a talented photographer and a huge Disney fan!
Julie Shuford Photography – I worked with Julie on some publicity photos and had a lovely experience.
Altar Image Photography – I've known Trista for a few years now; she loves visiting Disneyland and loves creative, offbeat, fandom weddings.
Officiants
I highly recommend Rev. Carolyn from Disney's preferred list. I've seen her perform many Disney weddings, and she is always cheerful and sweet when I've chatted with her.
Great Officiants also has a number of female officiants on their large team, including my friend Liz!
Stationery/Calligraphy
Calligraphy Nerd – Andrea is massively talented and offers super reasonable prices for envelope addressing.
Pigment & Parchment – Rosaura makes the prettiest watercolor designs you've ever seen, and she LOVES custom requests. Plus we bonded over our love of Disney, so you know she's good people.
Florists
I highly recommend working with Disney Floral, who has a fantastic team of ladies running the show!
Hair and Makeup
It's not difficult to find women in this industry, but here are my recommendations.
Diamond Beauty Hair and Makeup – I worked with Dusty during my Fairy Tale Suite photos and just loved her. She has a great styling range, from natural romantic looks to more dramatic looks.
Face It Sugar – The gals from Face It Sugar did my hair and makeup for a holiday party and they nailed the retro look I requested. They were so sweet; I just loved working with them.
DJ/MC
This may be the toughest category! Women DJs are few and far between, but luckily they do exist AND they can mix well.
On the Disney DJ list, as far as I know there is only one female DJ – DJ Wendy. Good thing she's AWESOME! I've seen her in action at weddings, Disneyland parties, and even on the course at RunDisney. I love her!
DJ Keelez – Bibi knows how to bring the party! She's totally professional and also super down to earth. I love hanging out with her and I also love whenever I see her behind the DJ booth at an event!
VIP DJ Entertainment – My friend Valerie founded her company over 10 years ago and now runs it with her husband. Aside from Valerie, they have five female DJs on their team (as listed on their website at the time of publishing)! You can also ask them about female musicians or entertainers.
Musician/Bands
Disney has a network of musicians, including pianist, harpist, and string trio. Check with them regarding the availability of female musicians for your event.
The Replicas – Led by Executive Director and lead vocalist Veronica Puleo, The Replicas can provide all kinds of live music and entertainment for your event. Ask them about options for an all-female band, or at least feel good about supporting a female-owned business.
Orchid Quartet – I am not familiar with this group of female musicians but a friend highly recommended them.
Event Planners:
Many people who get married at Disneyland don't hire their own event planner since Disney gives you a planner. But I hired an outside planner and I'm so glad I did. If you need help pulling your vision together or just want the peace of mind of an extra helping set of hands on wedding day, I recommend these planners.
Renee Dalo of Moxie Bright Events – I've been friends with Renee for years and I watched her build her event planning business from the ground up. She's a weddings rockstar who will take total care of you.
Niloufar Gibson of Perfectly Made Weddings – I met Niloufar through a network of "Disney Loving Wedding Pros" and we've spent many Disneyland days together! She's a total sweetheart.
Holly Gray of Anything but Gray Events – Whenever we hang out together, I can always count on Holly to make me laugh and lift my spirits. She loves colorful and creative parties, and she planned one of my favorite weddings of all time – The Cutest Wedding Ever.
Extras
Watertree Events – If you need videography, check out my friend Megan's business! She can also provide a really fun video photobooth.
Delovely Details – Nikki (and her husband) creates beautiful etched wooden hangers and laser-cut swizzle sticks, table names, large signs, and pretty much whatever else you can imagine!
I hope this list helps you out! Thank you for reading, and thank you for supporting women-owned small businesses!