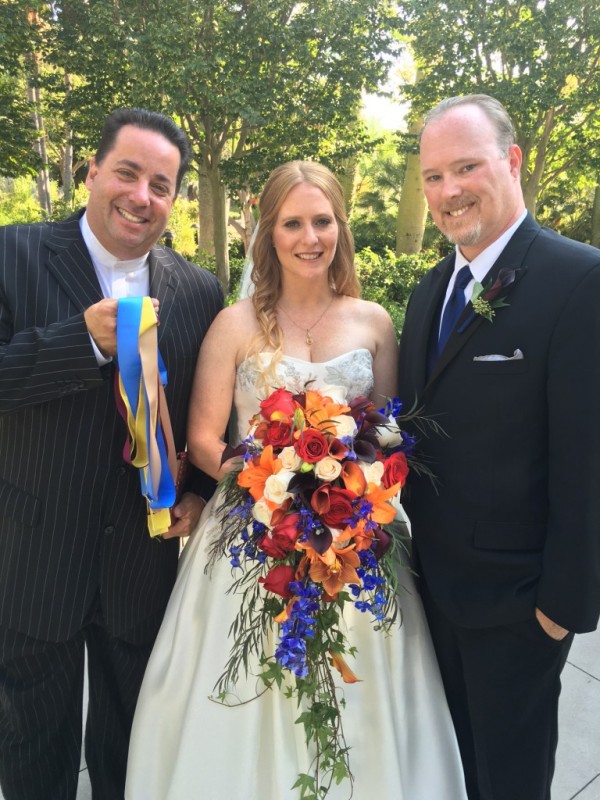 If you're looking for a unique ceremony element for your Disney wedding, Alan Katz of Great Officiants created this really fun option! It's called a handfasting, or handbinding, ceremony and it has roots in Irish/Celtic culture. During a handfasting ceremony, the couples hands are literally tied together, which symbolizes their new connection and life-long devotion to each other. Alan took this idea and gave it a Disneyland twist, and I'm so glad he is sharing it with us today. Great Officiants is one of the current Disneyland preferred vendors. Thank you, Alan!
Disneyland Handfasting Ceremony
As a preferred officiant for Disney's Fairy Tale Weddings in Anaheim, CA, my job is to create amazing Disney inspired ceremonies for my couples. They range from a traditional ceremony with a little Disney flair to crazy themed events as wacky characters. But for the most part my Disney couples want to incorporate their love story with their love for Disney. So I have created many different ways of combining their love for Disney movies, rides in the park, and their other quirky loves into their ceremony.
One of my favorite ways, the most famous and most requested, is my Disney hand binding, or handfasting, ceremony. It utilizes five different ribbons or cords placed upon the couple hands by either myself, their wedding party, or their family. As each ribbon/cord is placed, the attributes of each land is recited. It goes something like this:
FANTASYLAND
Long before you met you had this fantasy of falling in love, finding the right person and living happily ever after today that fantasy comes true. So I place the 1st ribbon.
ADVENTURELAND
Your life together has been a wonderful adventure. You have gone together to amazing places and experienced new feelings and great food and met interesting people and so we place the 2nd ribbon.
FRONTIERLAND
Together you get to explore new frontiers. Trying new places to go, new friends to meet may these new frontiers show to a way to your future, And so we place the 3rd ribbon.
STAR WARS LAND
You think she is out of this world. Your Jedi strength is strong together. Along your adventure you will encounter many different beings. Some good some evil. Use the force to be able to know the right path. Together you can defeat the empire and return the galaxy to peace.
TOMORROWLAND
All of the lands you have visited have prepared you for Tomorrowland. May it be filled with fantasy, may your adventures tomorrow be bigger and bolder that you can ever imagine and may you blaze new frontiers together and create a happy home surrounded with family and love and help others find their Tomorrowland.
At the end they are all tied together fashioning a knot (a.k.a. tying the knot).
My couples seem to love it, their guests really enjoy it because they've never seen anything like it, and they all live happily ever after.
Thanks, Alan! Visit the Great Officiants website.