It has been over 10 years since Lightening McQueen, Mater, and all our Cars friends rolled into our lives, and six years since we last saw them on the big screen. Watching Cars 3 is like hanging out with familiar faces (yes, cars have faces, duh) as well as making some new friends.
If you liked the original Cars movie, I think you'll really enjoy Cars 3. The story takes us back to basics – good old fashioned racing – but with a bit of a twist.
The official description from Disney:
Blindsided by a new generation of blazing-fast racers, the legendary Lightning McQueen (voice of Owen Wilson) is suddenly pushed out of the sport he loves. To get back in the game, he will need the help of an eager young race technician, Cruz Ramirez (voice of Cristela Alonzo), with her own plan to win, plus inspiration from the late Fabulous Hudson Hornet and a few unexpected turns. Proving that #95 isn't through yet will test the heart of a champion on Piston Cup Racing's biggest stage!
Watch the trailer:

I remember when the original Cars movie was announced. I was so excited because I am such a huge NASCAR fan. I thought the first movie was great but was "meh" on the sequel, so naturally I was a bit guarded going into the third. I'm happy to say I really enjoyed it!
What I loved most about this movie was the new female lead, Cruz Ramirez. We are introduced to her as Lightning's new trainer but soon learn she had racing aspirations of her own. I love this character because she is smart, funny, and talented, but has some self doubts …. hmmm, sound familiar? She may start off as "just" Lightning's trainer but soon Lightning develops a new level of respect for her racing skills. (Also, representation matters … good job, Disney!)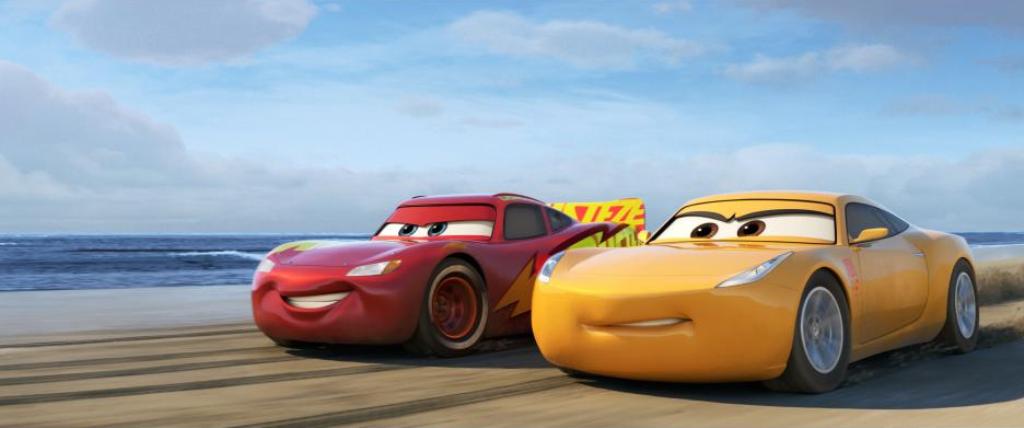 Aside from Ramirez we are introduced to some additional new characters. Next-generation racer Jackson Storm (voiced by Armie Hammer) plays the villain you love to hate, offering a bit of comic relief with some of his jabs at McQueen's age. We also meet a group of legendary stock cars who help teach McQueen there's more to life than being a champion race car. And there's a fun scene at a demolition derby where we meet the spunky Miss Fritter, hilariously voiced by Lea DeLaria from Orange is the New Black.
And we do see all of our old friends occasionally. There's a lot less Mater in this movie than in the first two (which you may or may not appreciate), and while we see them occasionally I would have loved more scenes with Sally, Luigi, Guido, and the rest of the old gang. If you're a Mater fan, be sure to stay through the credits for a bonus scene.
The movie bookends with two racing sequences, each with spectacular animation that really immerses you into the action. The animation techniques just get better and better with every Disney/Pixar film and this is no exception.
Cars 3 was a lot of fun and a great film for the whole family. It opens Friday, June 16 and is rated G.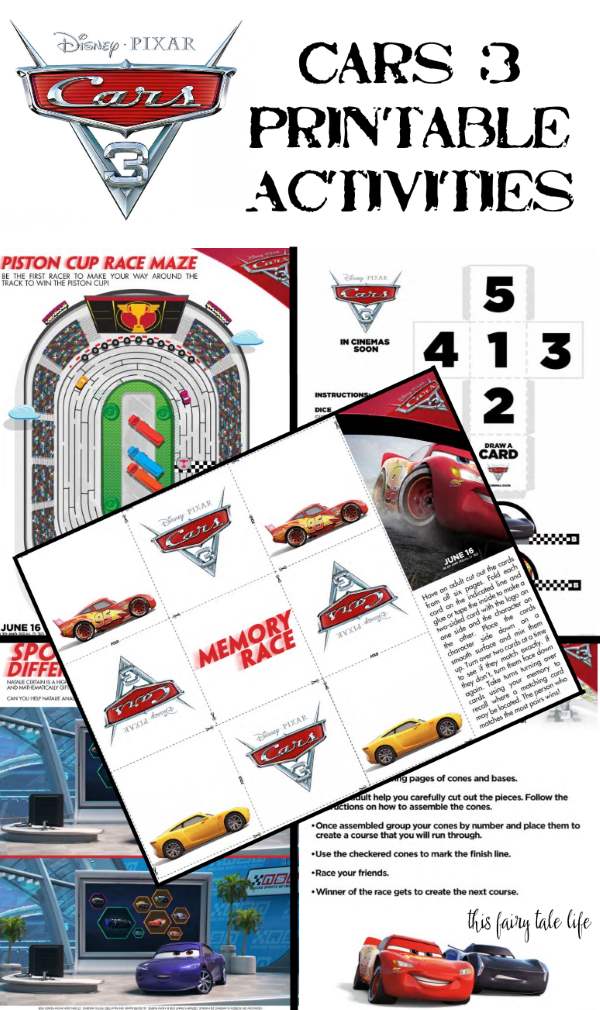 Can't wait to see the movie? You can download and print some Cars 3 Activity Sheets and Recipes in the meantime!
Cars 3 Miss Fritters Corn Fritters Recipe
Cars 3 Build Your Own Race Course
Cars 3 "Race to the Finish" Board Game
Cars 3 Maze
Cars 3 Memory Game
Cars 3 Spot the Difference Game