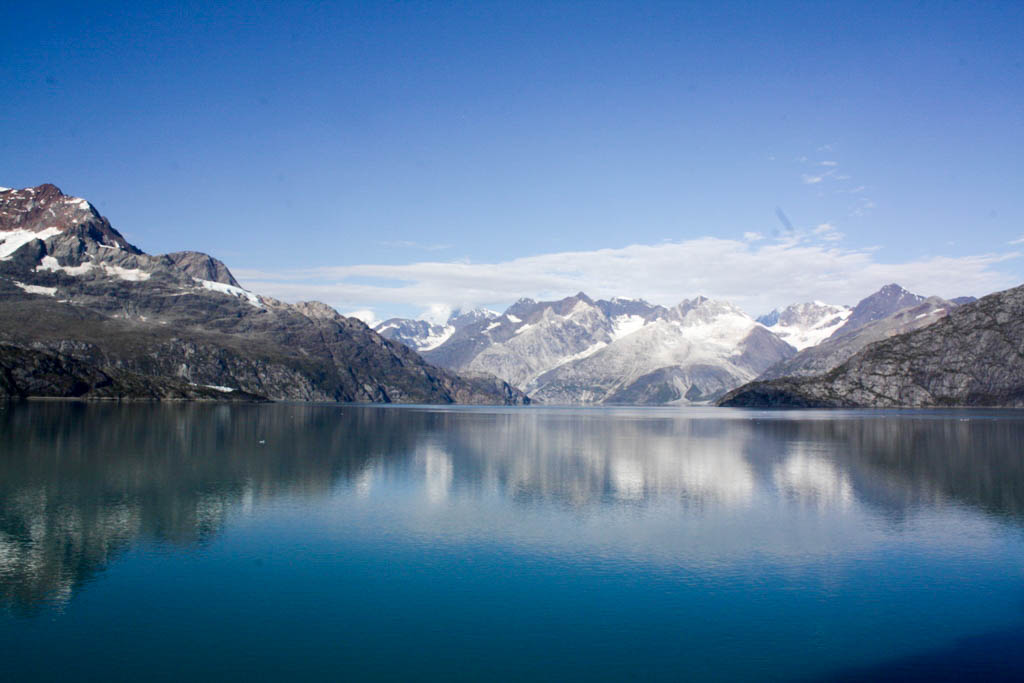 After three fun port days in a row, we were excited to stay on the ship for a Sea Day … but it wasn't a typical Sea Day! We were going to be sailing through Glacier Bay. This is the part of the trip where I stop taking detailed notes about our itinerary so from here on out, my trip report is going to be based on the photos I took, Wikipedia, and my unreliable memory. I am going to do my best to match up the pictures of the glaciers to the correct names, but I can't promise they are 100% correct. Still, all the glaciers the ship sails past are awe-inspiring and incredible, so no matter which ones your ship sails to, you're in for a real neat experience.
Glacier Bay National Park & Preserve is 3 million acres of scenic land, sea, and coastline. It is very well protected and cruise ships are the major way visitors come to this great part of the world. As the ship enters Glacier Bay in the morning, park rangers actually board the ship to give a presentation on the sights and wildlife. The park rangers are also available to answer cruisers' questions or provide additional information about the area. The ship moves very slowly as it sails through Glacier Bay so it has as little impact on the environment and wildlife as possible. The day we sailed through Glacier Bay was certainly a highlight of the trip for me.
These two maps are from the Glacier Bay page of NPS.gov.
We woke up fairly early and headed to our favorite buffet at the Aft of the ship, and brought our breakfast back down to our balcony because we didn't want to miss a minute of the scenery. But even before that, we stepped outside on the balcony as soon as we woke up to take a look at the view, and immediately an adorable seal jumped up out of the water right below us! It all happened so quickly I couldn't snap a picture! I waited and waited for our new seal friend to pop up again but it never did. It ended up being the only seal we saw the entire trip (seals are known for hanging out on ice chunks but not that week, I guess) and I'm so sad I couldn't capture it on film. But at least we were outside at the right moment to see it, and I'm sure it's a moment I won't ever forget!
It doesn't get much classier than Kahlua in a water bottle.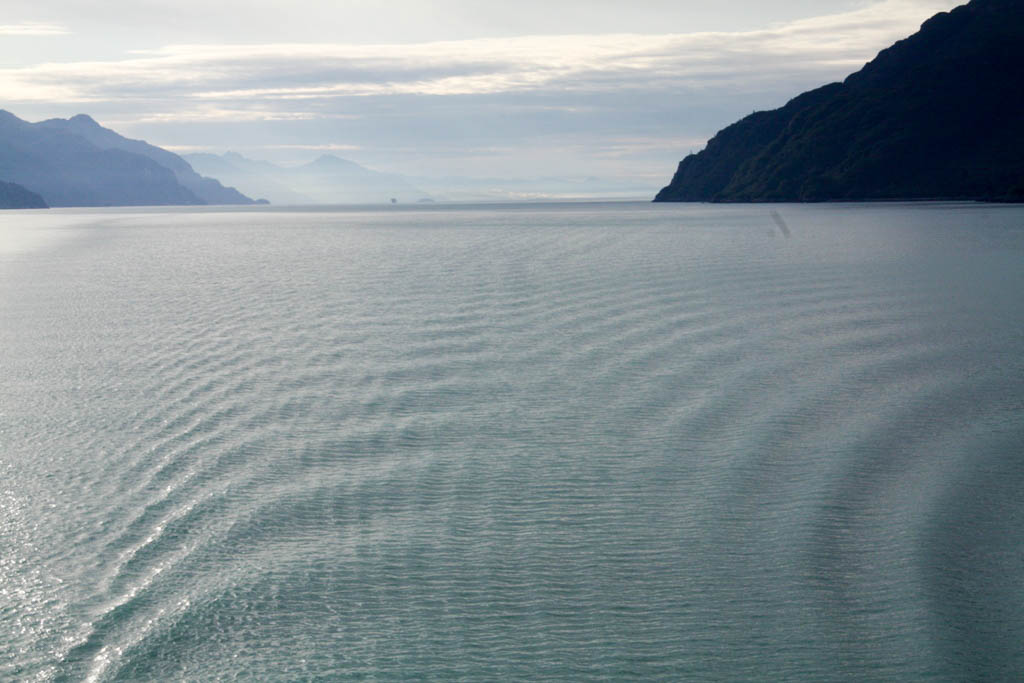 As we sailed into Glacier Bay we started seeing ice chunks floating in the water. I remember we were so amused by the first ice chunk we say. "Wow! That ice came from a glacier!"
Then, next thing we know ….
Ice chunks EVERYWHERE.
Based on the route on the map, I believe these pictures are of the Marjorie Glacier. While we passed "peek-a-boo" glaciers while sailing through the Bay, the Marjorie Glacier is the first glacier we sailed up to. The ship can't get too close; it has to stay a safe distance from the face of the glaciers because of the ice chunks that fall off into the ocean. When large chunks of ice fall off the face of a glacier, this is called "calving," and we saw a lot of it. The brown is just rocks and mud that got collected up in the ice. They call it a "dirty face."
We were excited to sail by the Marjorie Glacier and were in awe of it … until we saw the Grand Pacific Glacier! That thing was MASSIVE. For this glacier, our ship actually stayed in place and slowly rotated. It did a full rotation in one hour. This gives everyone on the ship, no matter which side you're on, a good view of the glacier. We lucked out that our side of the ship was facing the glacier first. While on our balcony we saw lots of ice calving. Even though we seemed to be far away, it was very loud. The ice crackles and it sounds like thunder. It's like nothing either of us had ever seen before. If you do an Alaska cruise, you really have to do a sailing that goes through Glacier Bay, because it's such a beautiful and humbling experience.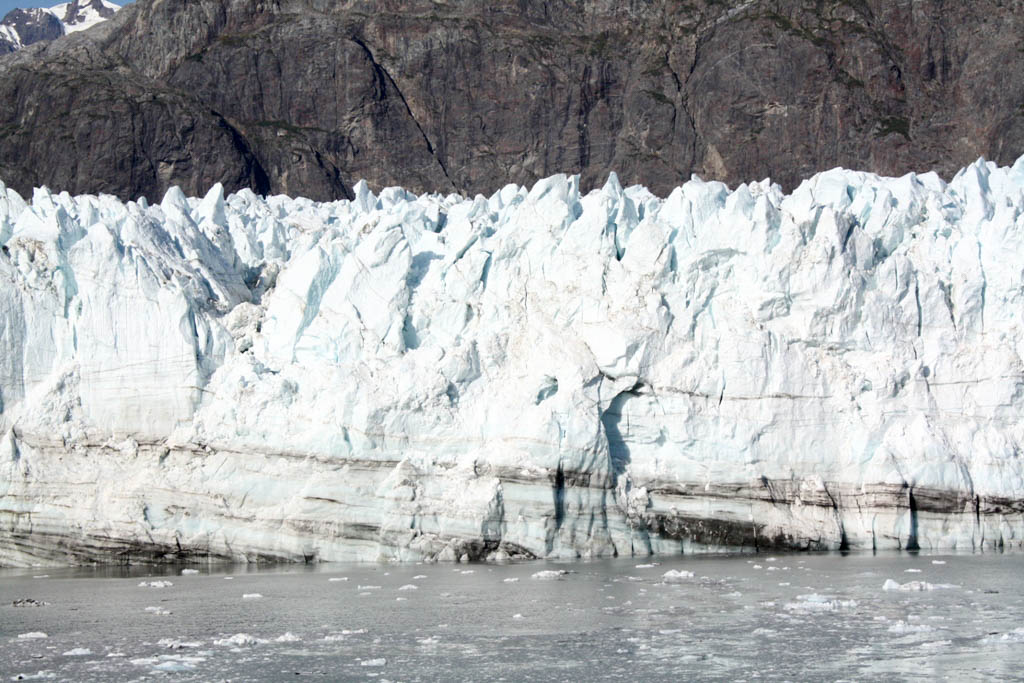 It's very difficult to see but I managed to capture a small piece of ice breaking off and galling to the ocean. I say small, but it's really a few feet wide. The Grand Pacific Glacier is 150 feet tall, for perspective. At one point, when we didn't have our cameras ready, we saw a piece break off that was about one-third the height of the glacier. That's a 50 foot piece of ice!!! Crazy.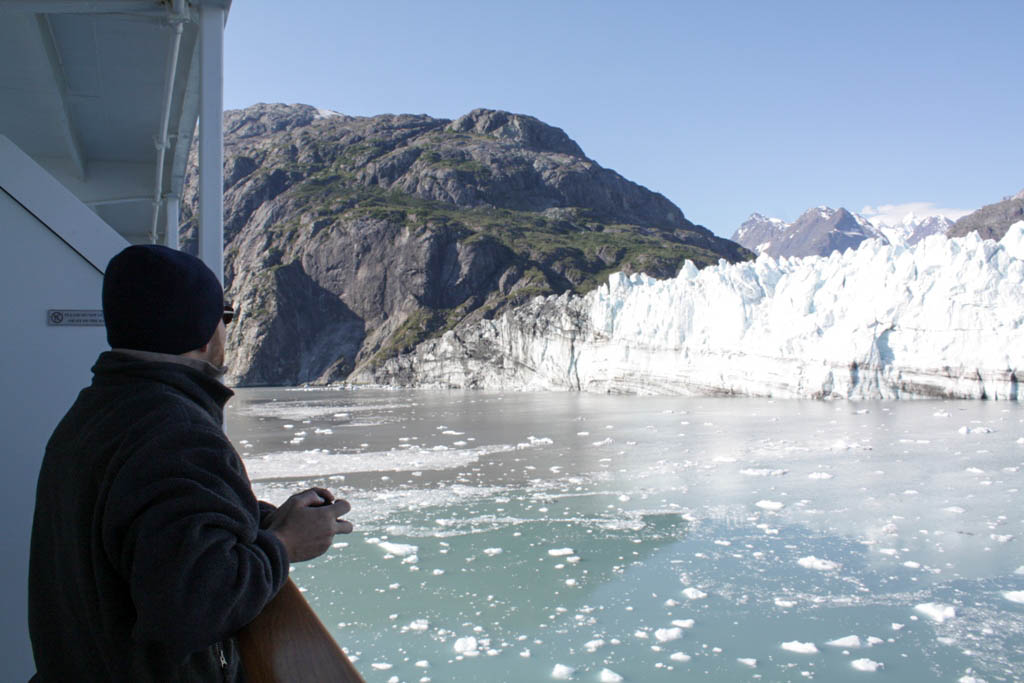 Once the ship rotated and the glacier was out of view from our balcony, we realized we were starving for lunch! We went up to the top deck and found out there was a poolside BBQ happening. We grabbed some food and started searching for an open table on a very packed deck. Someone from our Cruise Critic meetup recognized us and waved us over to share their table. (Wish I could remember their names now, ack! Thank you, kind semi-strangers!)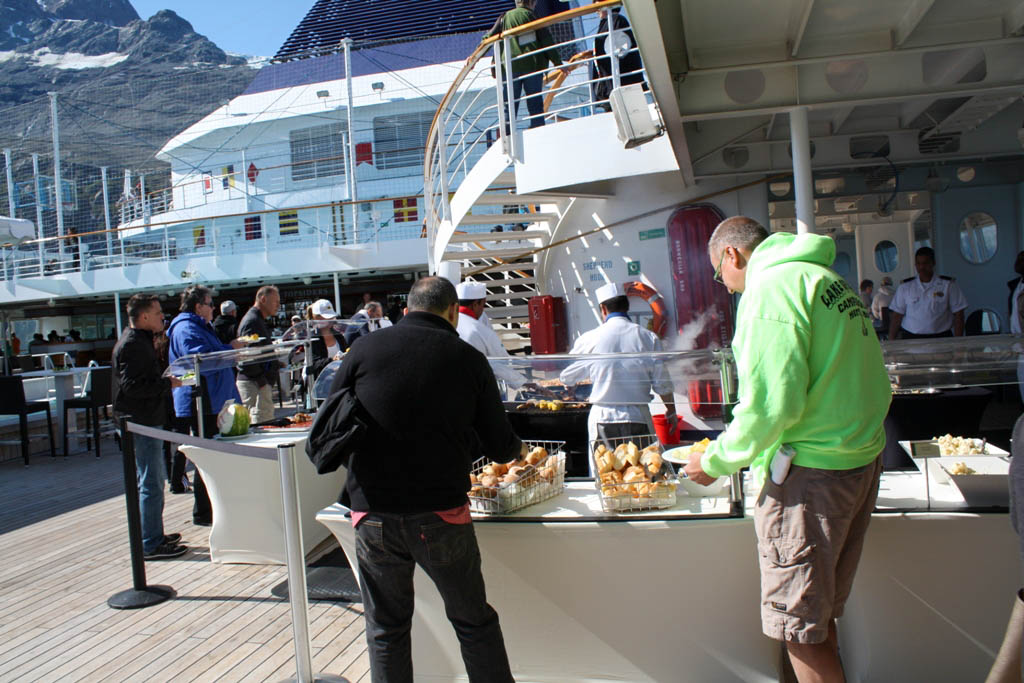 We popped into the Observation Lounge where the park rangers had set up some information about Glacier Bay. It was mostly educational stuff for kids, but there were some books and souvenirs for adults, too.
We then wandered around the top deck and took some more pictures. Tim thought it would be funny to play basketball with a glacier in the background, because how many opportunities do you have to do that? (Also my DIY Mickey Ears Beanie Tutorial is here.)
Here's one of the park rangers answering guest questions.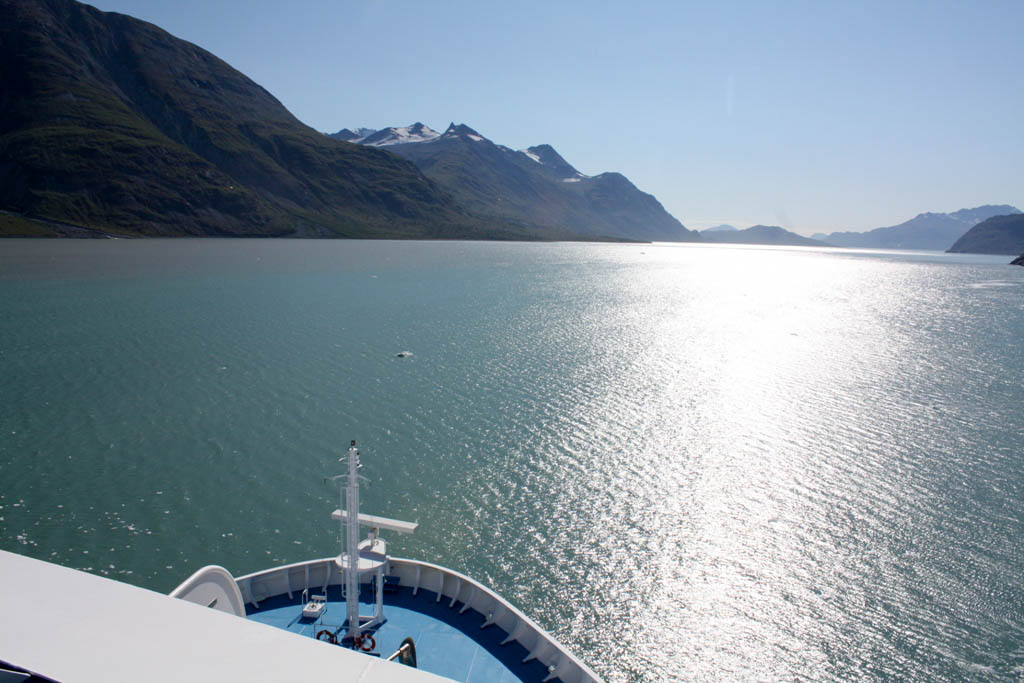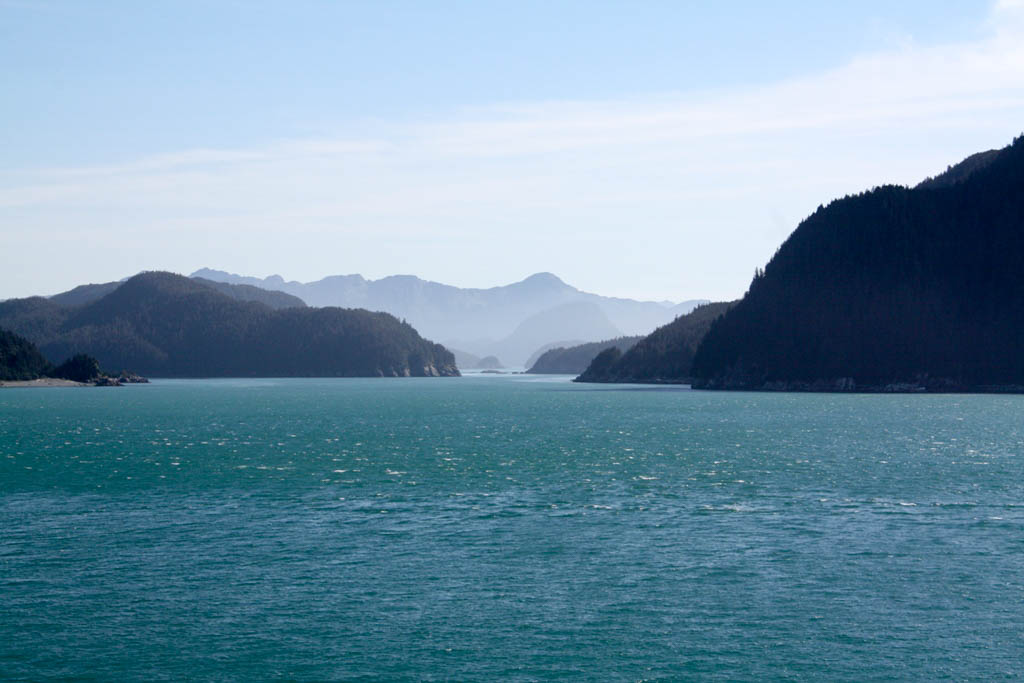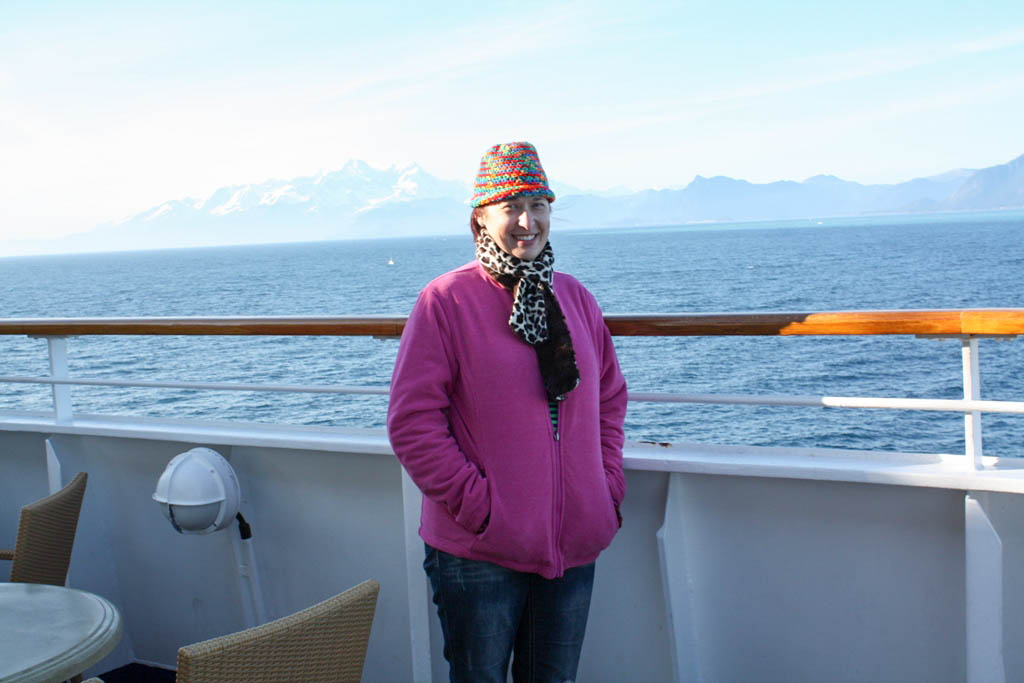 As the afternoon went on and as we were exiting the Bay, it started to get really chilly. We went back inside the ship, and Mr. BFT went off to read or nap or something while I walked around and took pictures of the ship.
That night we had reservations at Moderno Churrascaria, which is the Brazilian restaurant where meat is brought around to your table and carved off for you. This is a specialty restaurant and originally we weren't planning to eat here, but we received a complimentary specialty restaurant pass after complaining about our poor service at the steakhouse. After looking over all the specialty restaurants we thought the Churrascaria seemed the most interesting. I'm so glad we decided to dine here! It was so much better than the steakhouse (on this particular cruise – we have really enjoyed the steakhouse on previous NCL cruises). At Moderno Churrascaria, you are given this little laminated sign which you leave at your table. If you leave the green side up, you're signaling to the servers that you want more meat. If you turn it over to the red side, you are signaling you are done. Guess what? The servers don't really care. We had one server who actually seemed shocked and sad that we turned ours over. "OH NOOOOO, YOU WENT RED?? WHY!" And then she gave us more meat, and it's so good you can't say no. Needless-to-say, you really get your money's worth at Modern Churrascaria. We left STUFFED and very happy.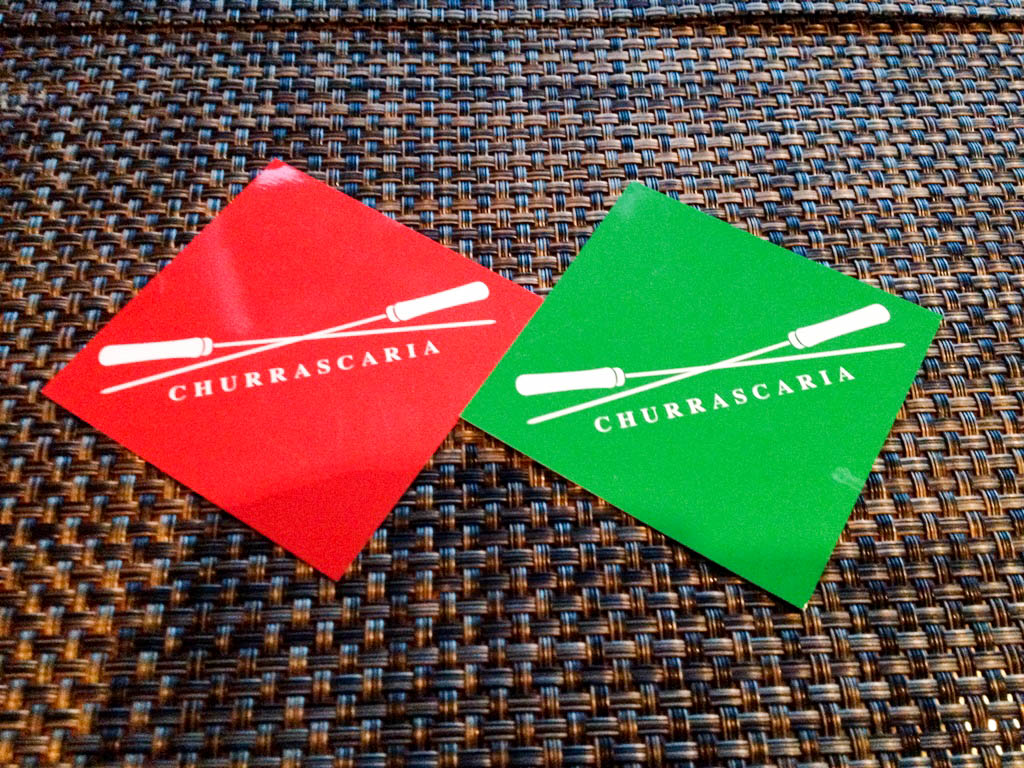 NO MORE MEAT, PLEASE.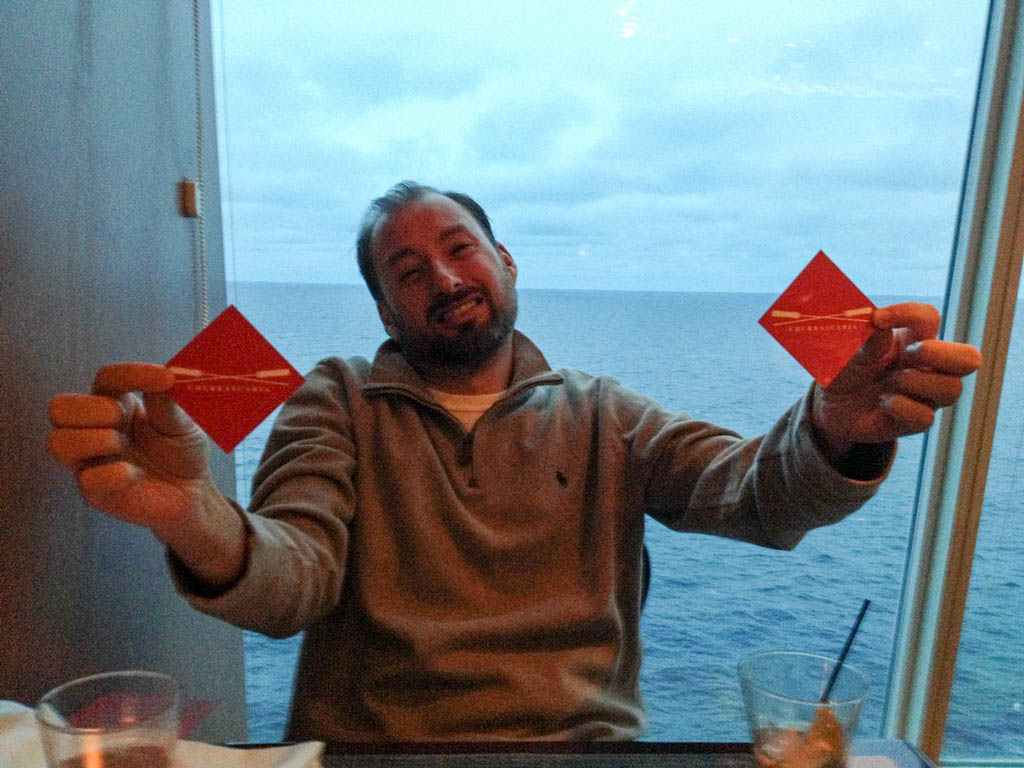 After dinner we tried to go for a walk around Deck 6 but it was too cold out, so naturally we headed to visit Jonas at the Champagne Bar for some custom martinis.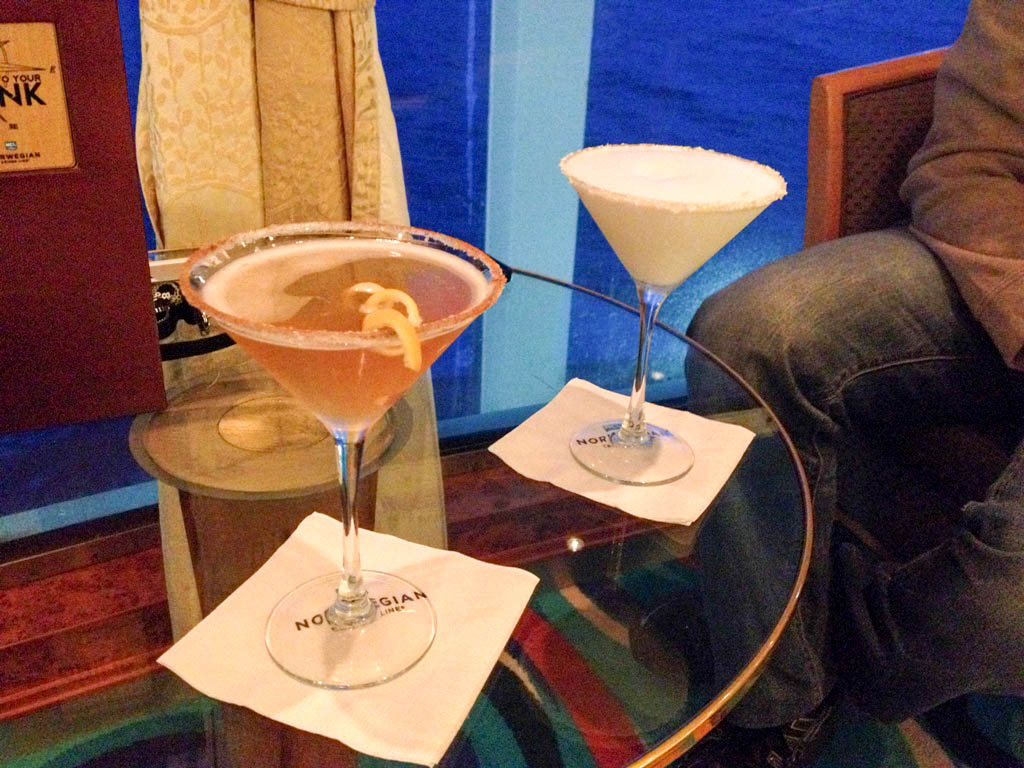 After our martinis we maybe went to karaoke or went straight to the cabin for bed. This is what's frustrating about not keeping notes and writing up trip reports over a year after the trip takes place. Either way, when we returned to our cabin we were greeted by a towel monkey. Tomorrow was another Sea Day and viewing the Hubbard Glacier and after our full day of amazing glacier viewing, we were really looking forward to more.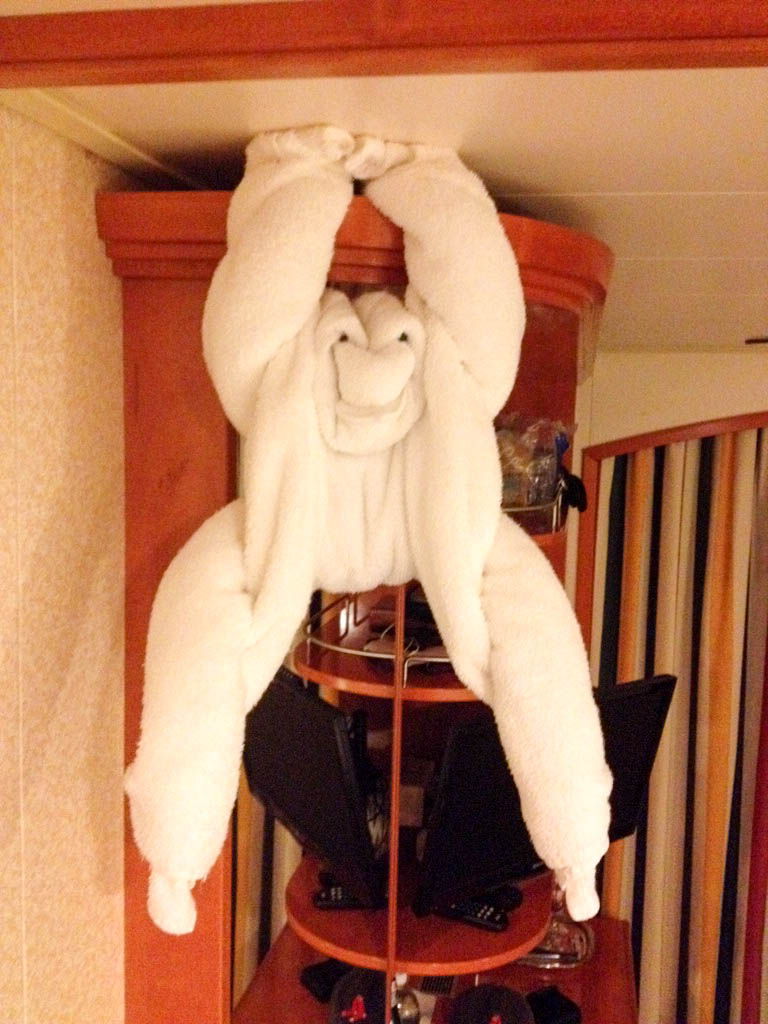 Alaska Cruise Past Chapters:
All Aboard the Norwegian Sun
Day 1 – Exploring Vancouver
Alaska Cruise – Day 2 – Vancouver and Embarkation
Alaska Cruise – Day 3 – Sea Day
Alaska Cruise – Day 4 – Ketchikan
Alaska Cruise – Day 5 – Juneau
Alaska Cruise – Day 6 – Skagway