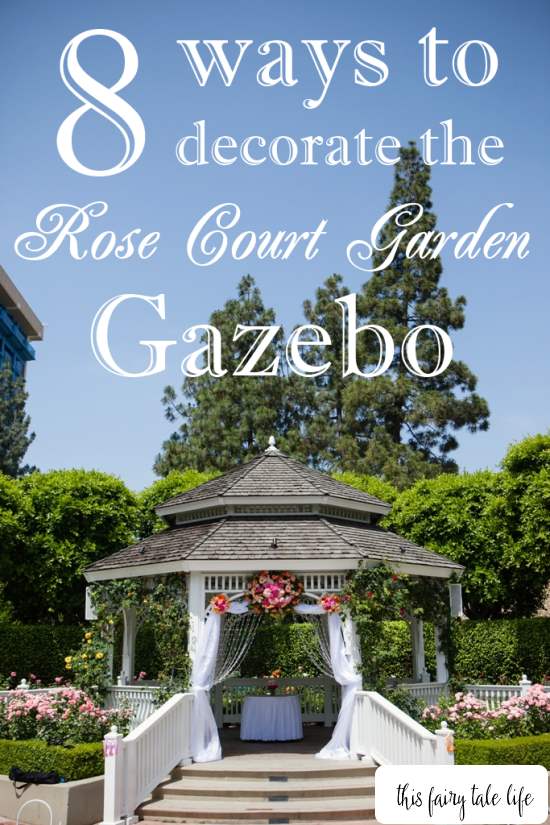 The Rose Court Garden is the most popular wedding ceremony location at The Disneyland Resort, and there's a good reason. With its hundreds of blooming rose bushes, year round greenery, and gorgeous white gazebo, it's one of the most romantic spots on the hotel grounds. With hundreds of weddings every year, you would imagine they all look the same, but you would be wrong! Over the few short years I've been meticulously studying Disneyland weddings, I've learned there are infinite ways to personalize the Rose Court Garden and make it look special and uniquely your own. Here are just 8 ways to decorate the Rose Court Garden gazebo for your wedding day.
1. Clusters of floral plus organza draping.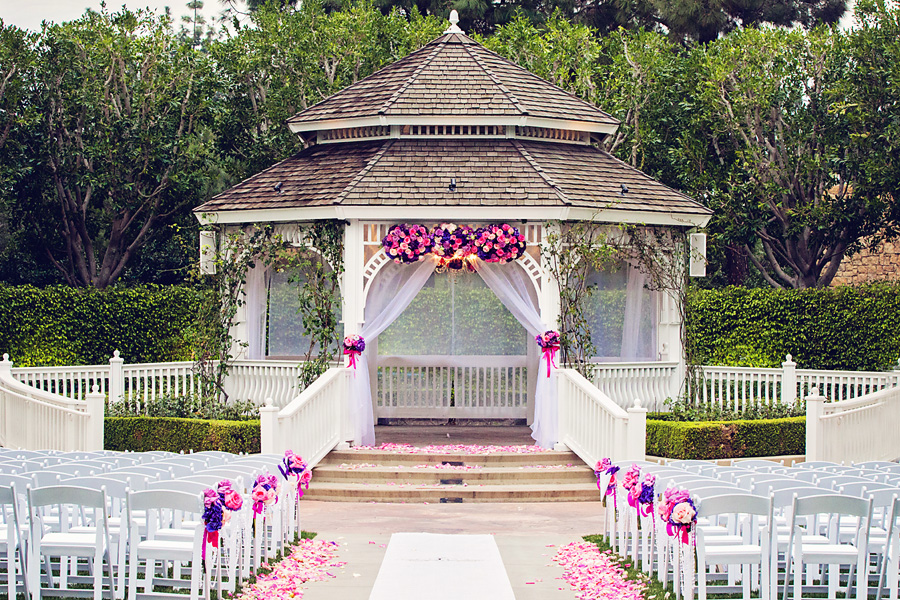 The flower/organza combo is probably the most popular option! For Alexandria and Steven's wedding above, it looks like they requested three small clusters of flowers in the center of the arch, and organza draping tied off with more small clusters of flowers and ribbon. They hung organza all around the gazebo, too. How romantic! Photo by White Rabbit Photo Boutique.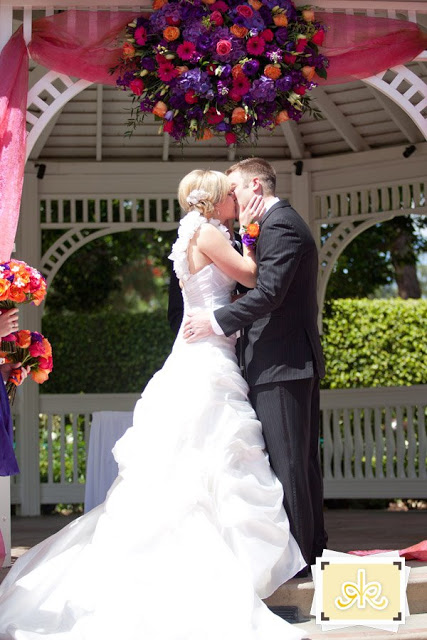 We all know weddings and white go together, but you CAN choose colored organza! This pink looks great against the white gazebo. Kristie and Dario's wedding featured on Magical Day Weddings; photo by Katie Jane Creative Studio.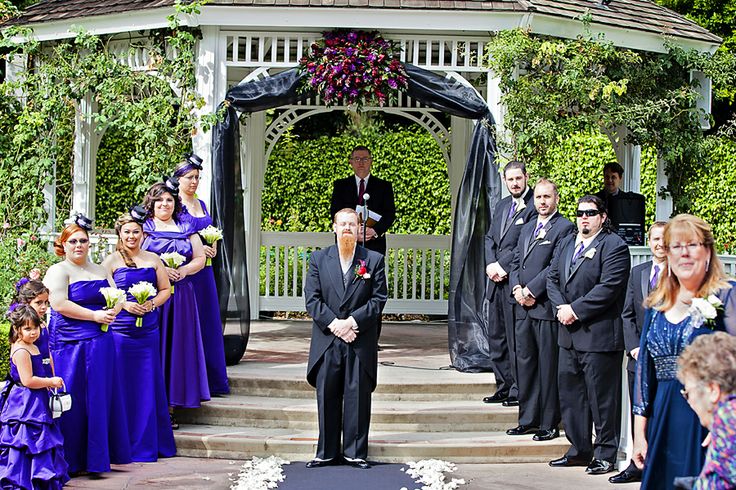 And if you're looking for something dramatic, consider some black organza draping. This and the black aisle runner from Kathryn and Jason's wedding looks amazing! Photo by White Rabbit Photo Boutique.
2. Floral plus organza draping PLUS beading!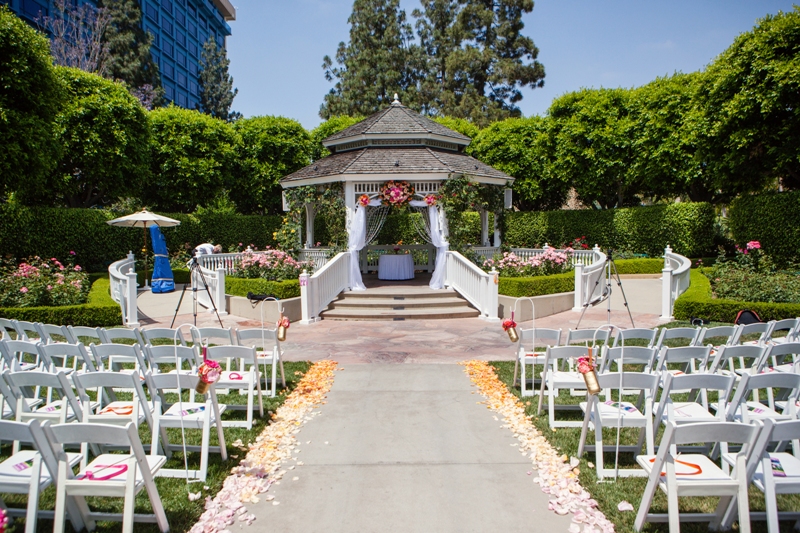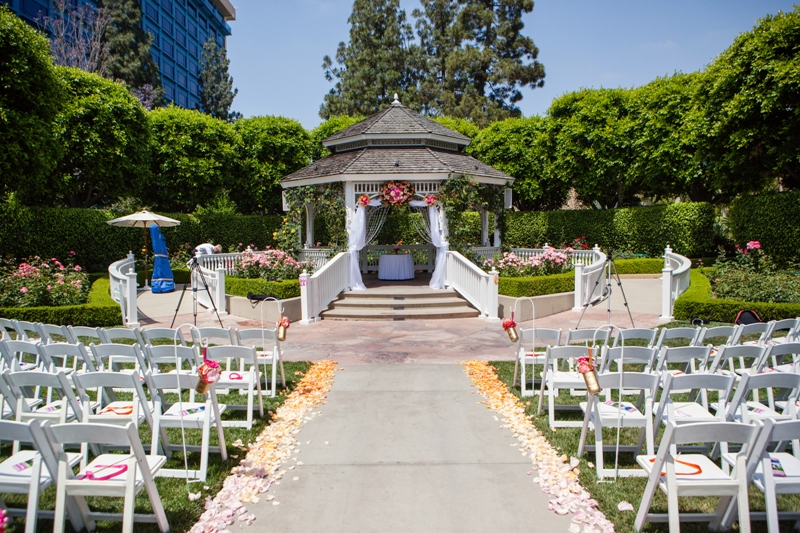 Hey, that's what we did! For our wedding we had the medium floral cluster in the center, two small floral clusters on each side, and white draping. We also had beaded curtains. I loved the way they caught the sunlight! (As a side note, you can't have the beading without the organza, because the organza hides the rod holding the beading.) I hand painted the "M" and "T" signs that hang on either side of the steps. Photos by Root Photography.
3. Floral Archway.
I took the above picture when I was a guest at Rachel and Michael's wedding! They opted for a floral garland that covered the entire archway. I realize my iPhone photo doesn't do it justice, but trust me when I tell you it was gorgeous!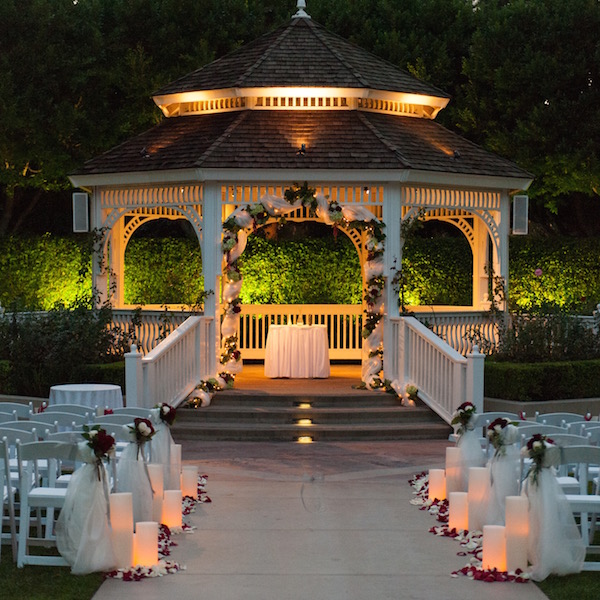 Renee & Diana incorporated lights and tulle into their floral archway for their December wedding!
4. Flanked by Flowers.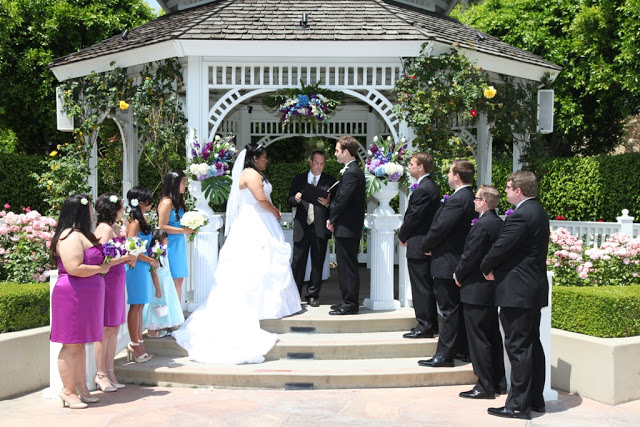 Kristin and Jacob chose a medium cluster of flowers for their archway, as well as flowers in urns on pillars on either side of them. It really brings a regal feeling to the space! Photo by Bella Pictures.
5. Hang stuff from it!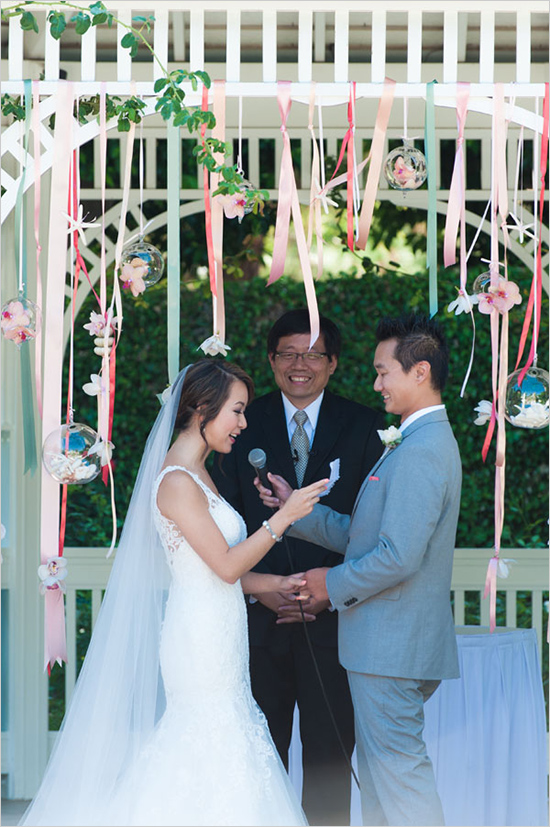 Ahhhhhh! I simply adore this ribbon and floral decor from Cathy and Patrick's wedding featured on Wedding Chicks! It's just perfection. Such a clever idea! Photo by Il Mare Photography.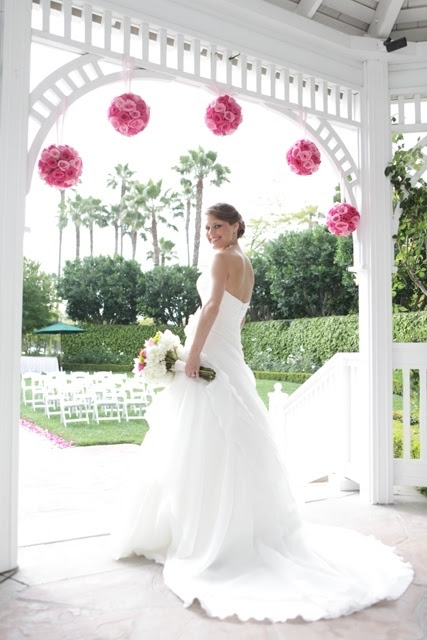 Sarah and Terrance requested five small floral pomanders hanging from the archway. I just think this is so romantic. Photo by Beverly Hills Photography.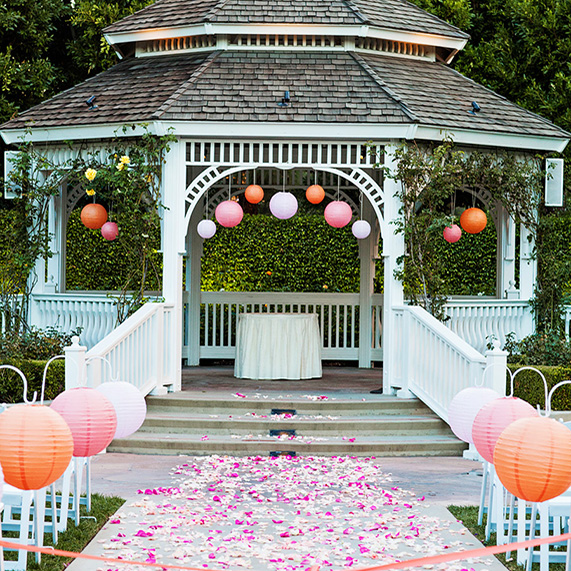 Oooh, lanterns! The varying size and colors of these hanging lanterns is so bright and playful. I want to be a guest at Davina and Calvin's wedding! Photo by White Rabbit Photo Boutique.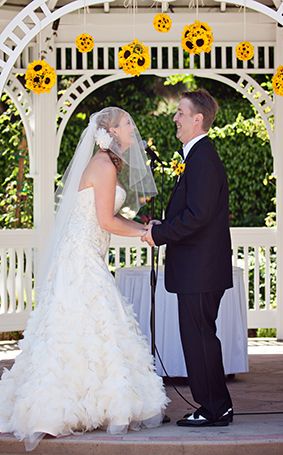 This couple, featured on the Disney's Fairy Tale Weddings blog (photographer not credited), chose cheerful sunflower pomanders for their gazebo decor. Love the contrast of the yellow against the greenery in the background.
6. Bling it out.
Again, these images from the Disney's Fairy Tale Weddings website are not credited, so I'm not sure if this was a real wedding or a staged photo shoot. But the chandelier in the middle of the gazebo is sooooo dramatic! Perfect for a nighttime ceremony. And it looks like there are three medium clusters of flowers along the top of the arch.
7. Light it up.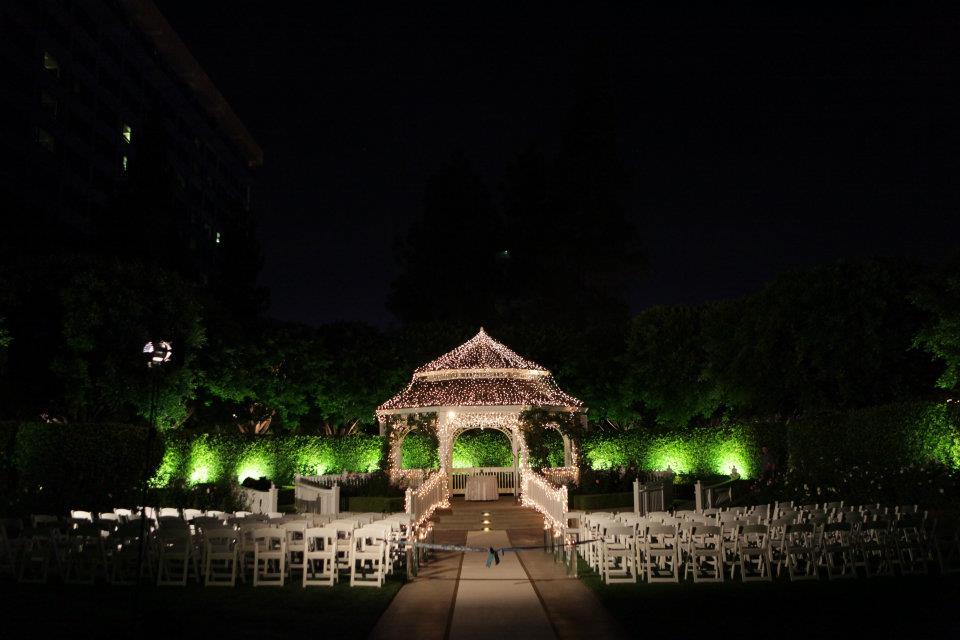 Linda and Larry paid homage to Linda's Twilight obsession with a fully twinkling gazebo to rival the one in the movie. Isn't it amazing??? Photo by Beverly Hills Photography.
8. Less is more.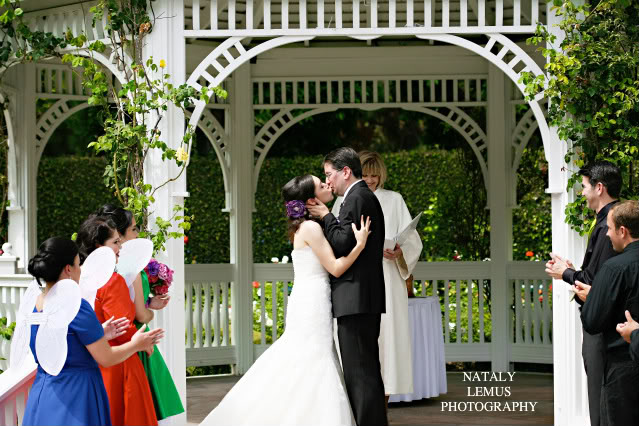 Hope and Mike went for a minimalist approach to their decorations, and you know what? The Rose Court Garden is so naturally beautiful that it really doesn't need any extra decor. Hope and Mike decided to spend their decor money elsewhere and if you're on a tight budget, I think that's a super smart decision. Photo by Nataly Lemus Photography
No matter how you choose to decorate the Rose Court Garden Gazebo, remember your guests are going to be watching YOU get MARRIED. If you decide to go with flowers, beading, chandeliers, or nothing at all, they will only see the beauty that is your wedding day. 
This article was originally published in February 2014 and has been updated.