**I received a discounted travel professional pass for Xcaret Park. All opinions are my own.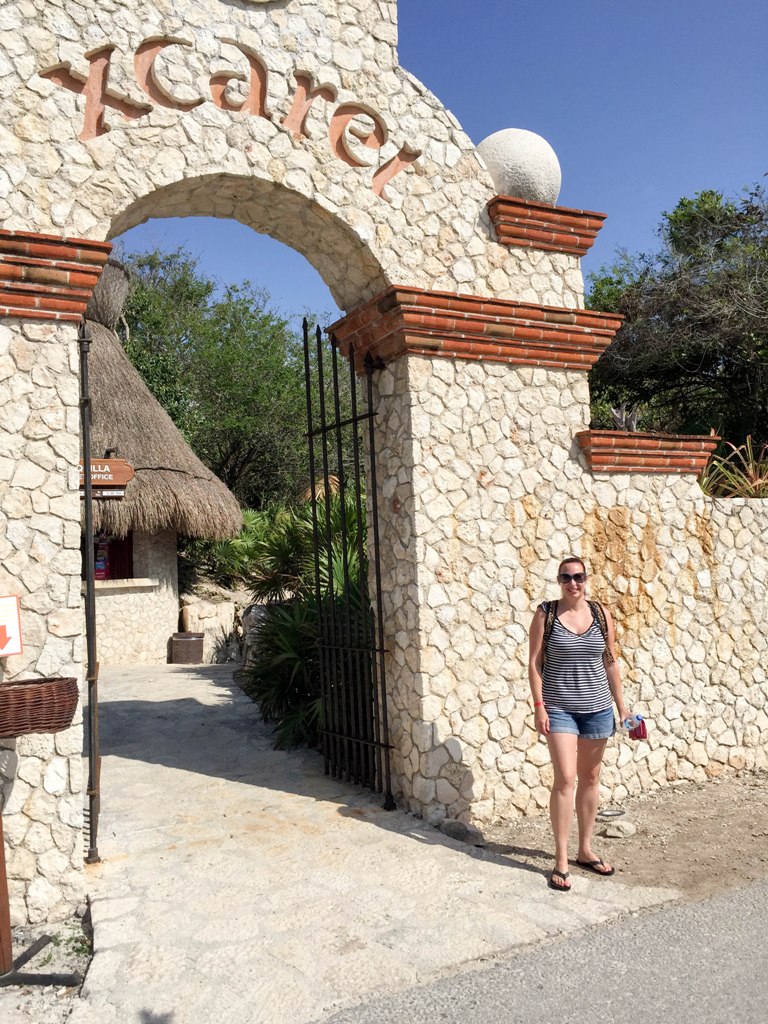 When my husband's family told us they wanted to vacation in Cancun, Mexico this year, I immediately thought of Xcaret. I had visited Cancun about 15 years ago, and the highlight of the very busy trip was visiting Xcaret Park and enjoying their underground rivers. After doing a lot of research as my family's travel agent, we all agreed to stay at the Occidental Grand Xcaret, right next door to Xcaret Park. You can read my review of the resort here.
Xcaret Park is an eco-archeological theme park that focuses on beach and animal conservation and the rich history and traditions of the Mayan culture. Sitting on 200 acres, you definitely need a multi-day pass to experience everything the park has to offer. Unfortunately we ended up not experiencing too much of Xcaret on this trip. Our day got off to a rocky start at the ticket booth, my husband and I got separated from our family twice and spent a lot of time standing and waiting in one spot, our mother-in-law was not feeling well (heat related), and my nieces were a bit cranky (again, due to the heat, I think). It didn't up being the day I had planned in my head but sometimes when you are on vacation with seven other people, including two toddlers, you gotta roll with it!
As a related side note, if you are staying at the adjacent resort, I recommend getting the Unlimited Xcaret package so you can get a wristband to go in and out of the park during your stay. Otherwise, purchase tickets ahead of time online or go to the main ticket booth. My family and I had issues purchasing tickets at both of the private entrances for hotel guests, which are only staffed by one person at a time, can collect long lines of people, and there is no shading from the sun.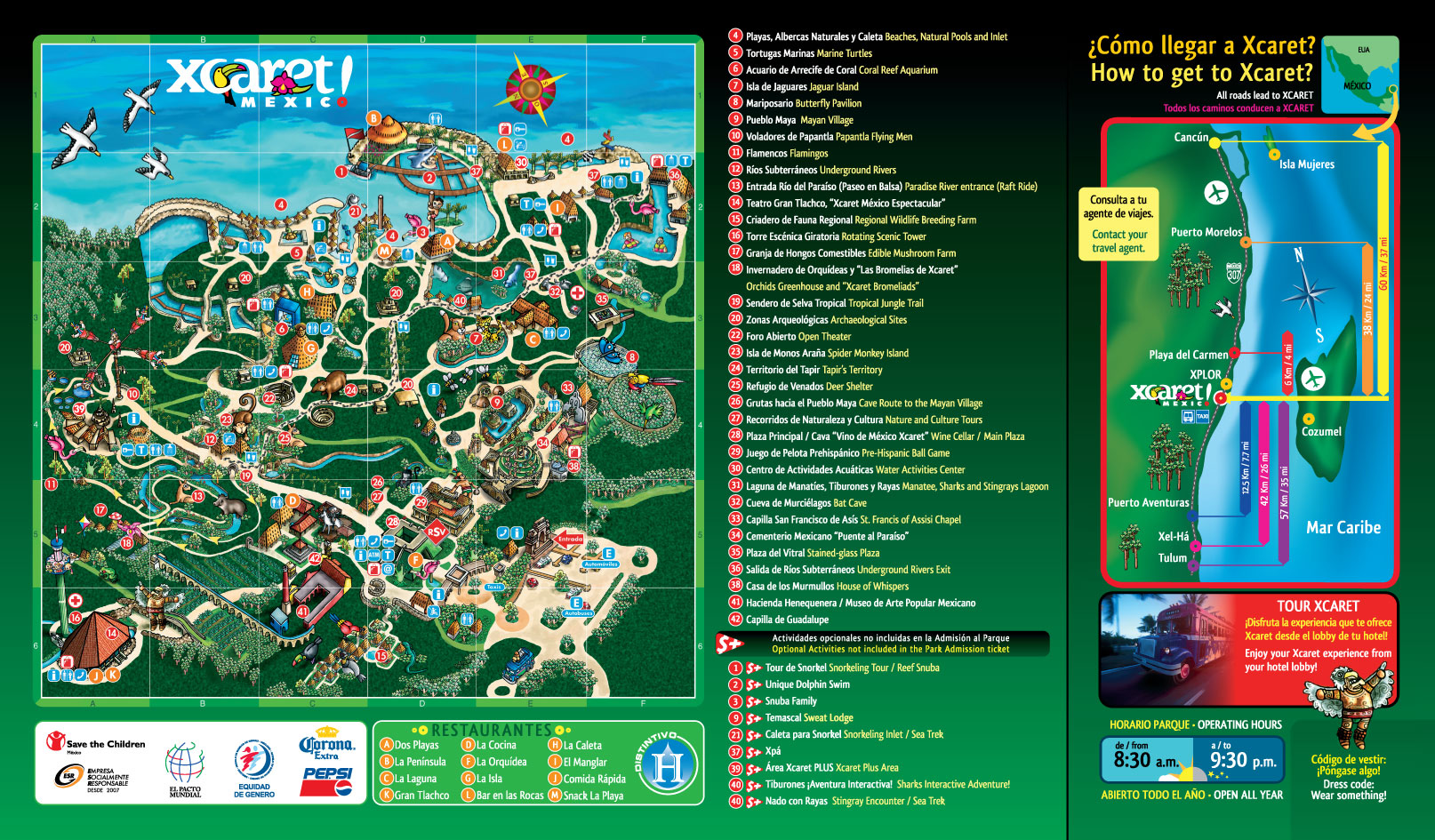 One thing I highly recommend doing before you go is familiarize yourself with a map of the park and try to plan out your day ahead of time. This is especially important if you only have one day to spend at Xcaret. The map above is a little outdated but the general layout is still the same. (Map image from Parques Diversiones.) There are some special activities that require an additional fee, such as swimming with dolphins or sharks, snorkling, and boat tours. But, there is plenty to do at Xcaret without spending the extra money.
The highlight for me was still the underground river. My husband and I rented snorkel masks and I'm glad we did, because towards the end of the river we spotted a few tropical fish! The underground river is peaceful and beautiful, the water feels cool and refreshing, and it's a great way to slow down and reconnect with nature. To me, it's the one "must do" when visiting Xcaret, and be sure to give yourself a couple hours to lazily float down the entire length of the river. (I left my phone/camera in the locker bag so the below photo is from the Playa Del Carmen website.)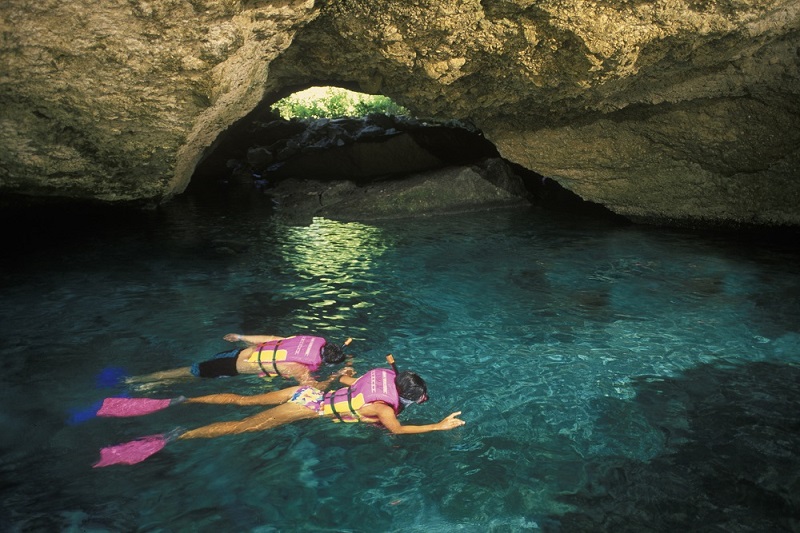 Xcaret is located in one of the most scenic spots in the world, so it's fitting to take a moment and soak it all in. My family and I found a private area with a few tables and chairs (with umbrellas for much needed shade) that overlooked the ocean. We stayed there for a while because it was so peaceful and beautiful!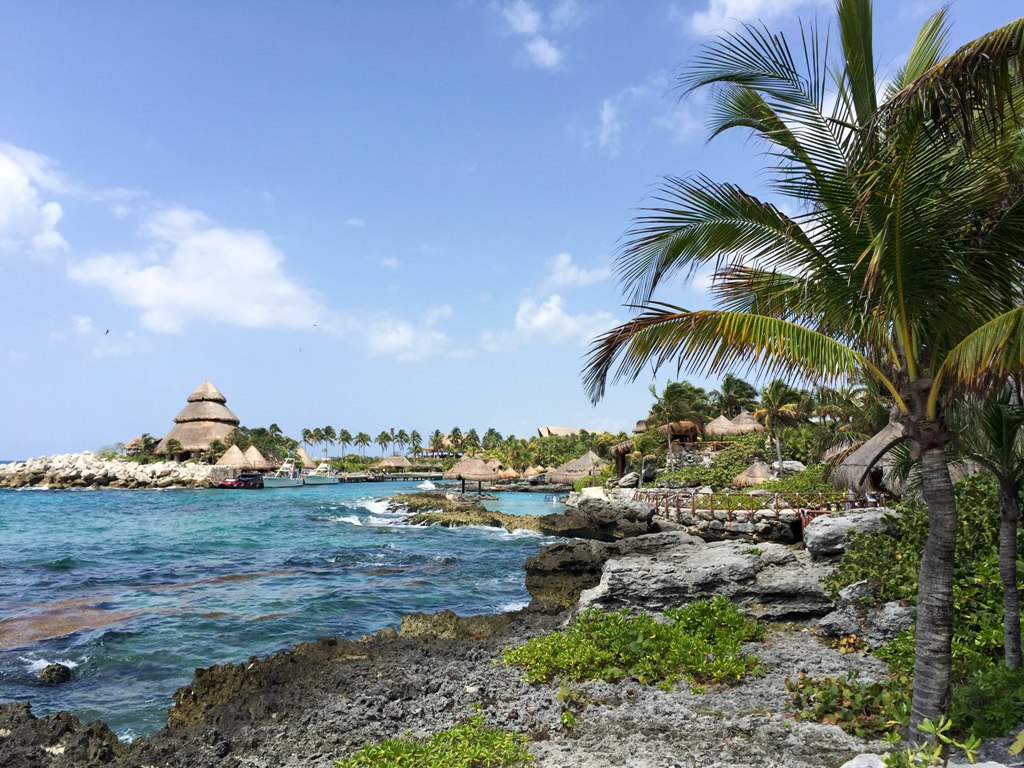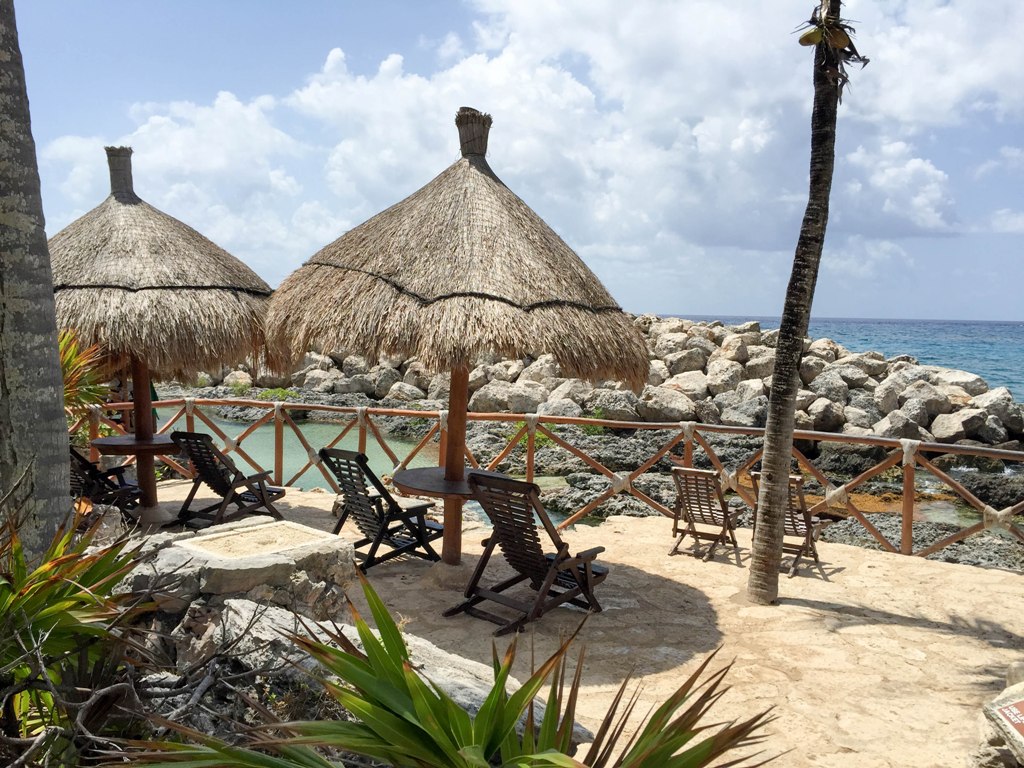 Our nieces were enthralled with the many animals on display at Xcaret, especially the huge sea turtles! We loved looking through the viewing windows and seeing these guys up close. We also observed sting rays, baby turtles, and sharks. We unfortunately didn't get to see all of the animals, but on the map we also saw they have a jaguar and a butterfly pavilion. Our nieces also loved "exploring" the Mayan ruins along the path back to our hotel.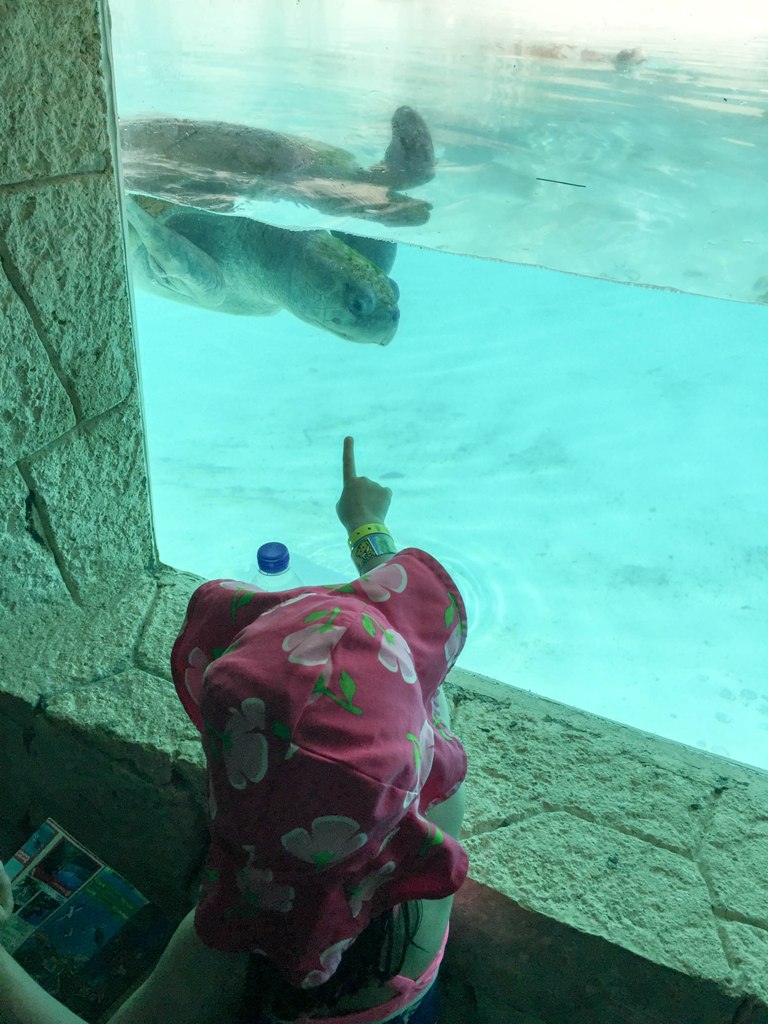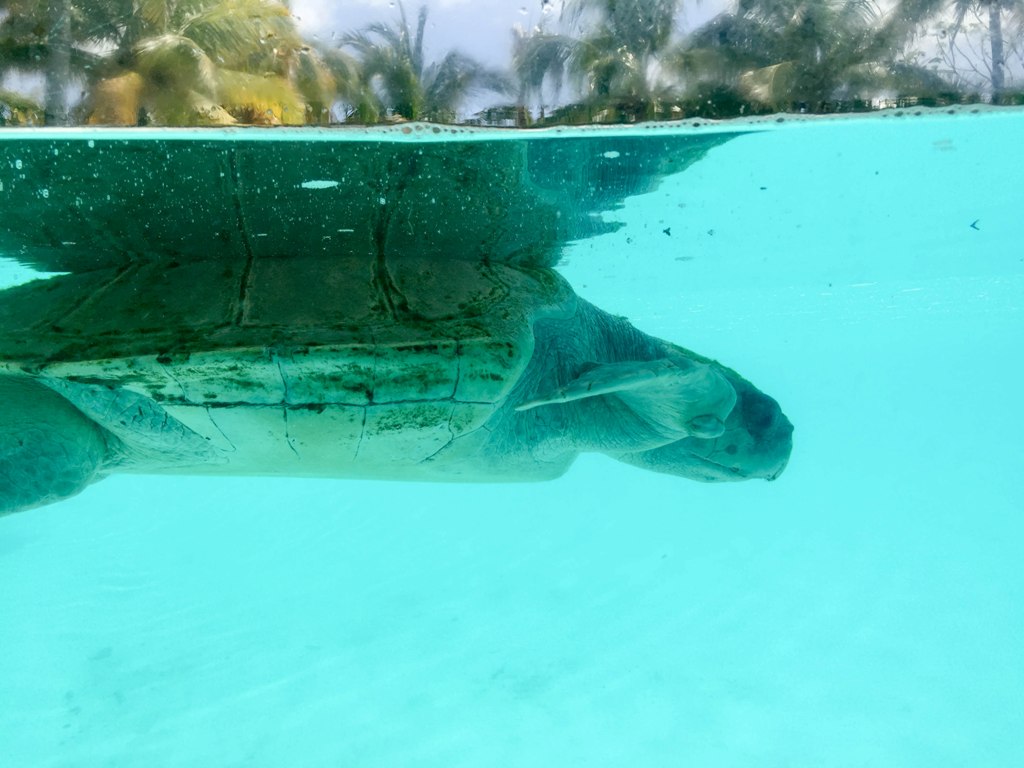 Since we were staying next door at the Occidental Grand Xcaret, which is all-inclusive, we walked back through the hotel's private entrance for lunch so I cannot comment on the food at Xcaret park. However, reviews online say the Mexican buffet is very good!
Another thing we missed was the evening show which I remember being really great. I'm sure 15 years later it has only improved. The evening shows celebrate the history of the Mayan culture. If you have an unlimited pass or you're there for a whole day, I recommend checking it out.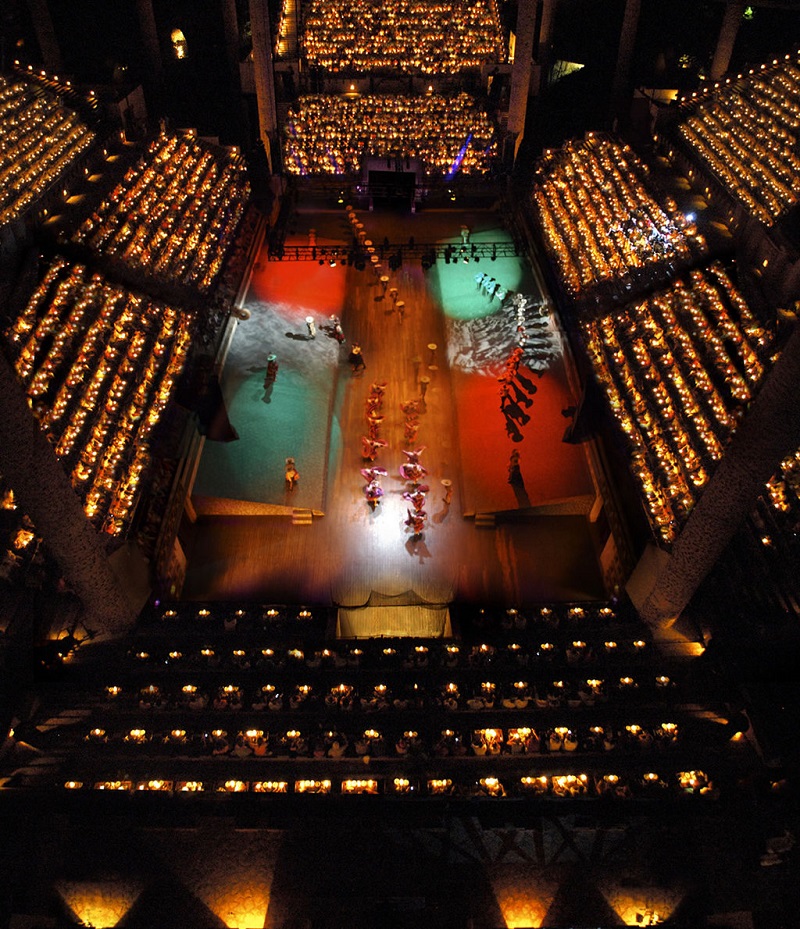 Image from PlayadelCarmen.com
A day at Xcaret is well worth it, and two days would be even better. Remember to bring a waterproof camera, lots of biodegradable sunscreen, water bottles, and a hat. If you're visiting anywhere along the Yucatan Peninsula in Mexico, be sure to add Xcaret park to your itinerary.