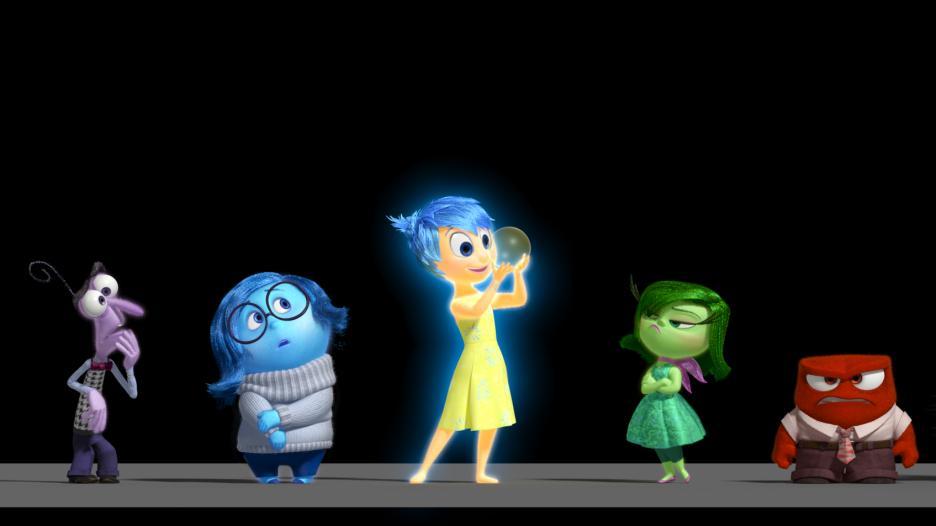 Last week I had the chance to go to an early screening of Disney/Pixar's newest movie, "Inside Out!" Pixar is well known for its clever stories, witty writing, exceptional voice talents, and punches right to the feels. "Inside Out" is no different. While the end credits started to roll, my husband leaned over and said "This felt like classic Pixar."
Official movie description from Disney/Pixar: Do you ever look at someone and wonder what is going on inside their head? Disney•Pixar's original new film "Inside Out" ventures inside the mind to find out.
Based in Headquarters, the control center inside 11-year-old Riley's mind, five Emotions are hard at work, led by lighthearted optimist Joy (voice of Amy Poehler), whose mission is to make sure Riley stays happy. Fear (voice of Bill Hader) heads up safety, Anger (voice of Lewis Black) ensures all is fair and Disgust (voice of Mindy Kaling) prevents Riley from getting poisoned—both physically and socially. Sadness (voice of Phyllis Smith) isn't exactly sure what her role is, and frankly, neither is anyone else.
When Riley's family relocates to a scary new city, the Emotions are on the job, eager to help guide her through the difficult transition. But when Joy and Sadness are inadvertently swept into the far reaches of Riley's mind — taking some of her core memories with them — Fear, Anger and Disgust are left reluctantly in charge. Joy and Sadness must venture through unfamiliar places — Long Term Memory, Imagination Land, Abstract Thought and Dream Productions — in a desperate effort to get back to Headquarters, and Riley.
Directed by Academy Award® winner Pete Docter ("Monsters, Inc.", "Up"), produced by Jonas Rivera, p.g.a. ("Up") and featuring an original score by Michael Giacchino ("The Incredibles," "Ratatouille," "Up"), Disney•Pixar's "Inside Out" opens in theaters on June 19, 2015.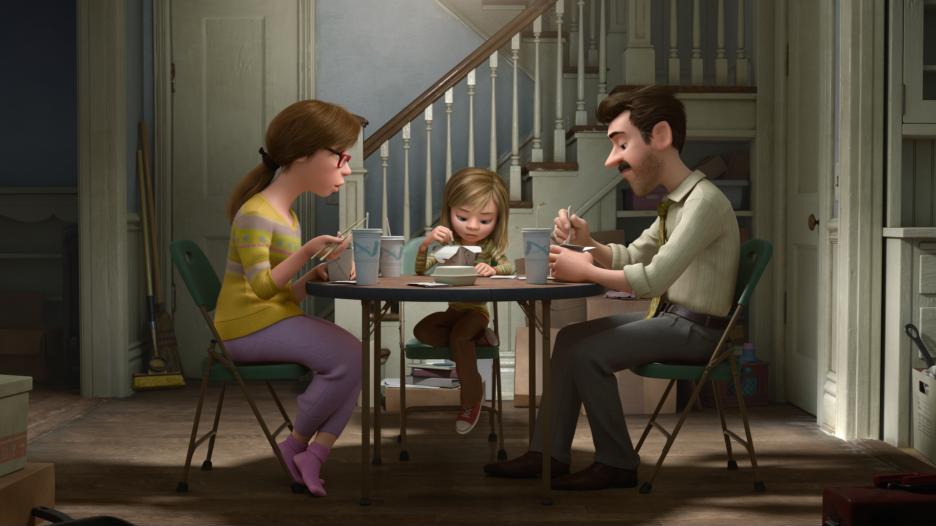 The movie settles in as Riley is turning 11 and finds herself uprooted from the home she's always known and moving across country from Minnesota to San Francisco. She's living in a new house, going to a new school, and adapting to a new culture. There are a lot of changes, and the Emotions need to keep up. Generally Joy is the emotion in charge, and Joy's only job is to keep Riley happy. So when Joy and Sadness accidentally get removed from "headquarters," it really throws Riley's remaining emotions for a loop.
I really enjoyed this movie because it's a different formula from what were used to seeing. Pixar has always been clever, but this is different from your standard movie about toys or fish or cars. The storyline took a lot of imagination, creating a new world out of nothing, which is where Disney and Pixar cast members really excel. They have created such a unique and imaginative world to try to explain how emotions work on a tangible level. For parents, I can see how this movie would be a great way to get a conversation going about how all the different emotions we feel are necessary for living a balanced life.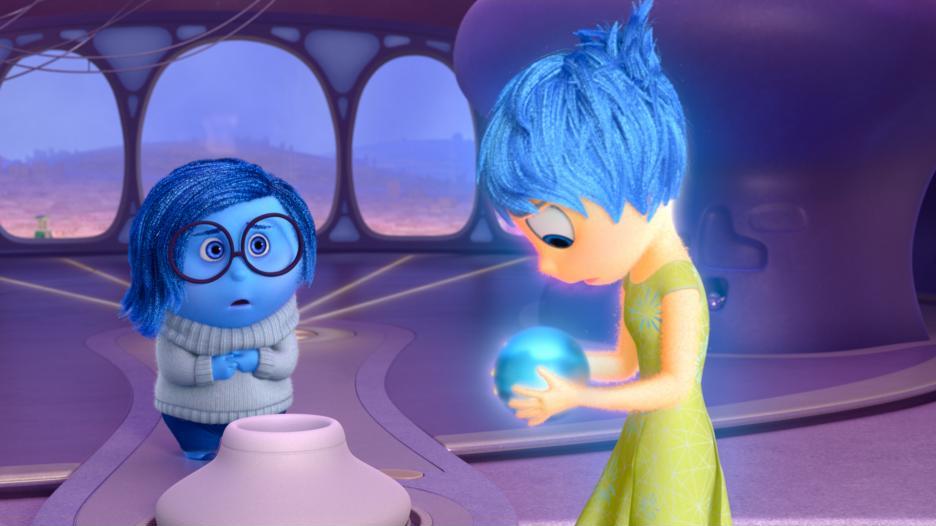 When I was at Disney Social Media Mom Celebration, we had the honor of listening to a presentation by Jonas Rivera, who was a producer on "Inside Out." He told us the story was born when Pete Docter, the Director of the movie, was struggling to understand the actions of his 11-year-old daughter. He allegedly said to his coworkers, "I wish I could figure out what's going on inside her head." And that's how the unique world and story for "Inside Out" started. It took five years of development and production, which is standard for a Pixar movie. Jonas also gave us a little tidbit – Joy was developed as a cross between Bugs Bunny and Amélie. I adore Amélie and I noticed the similarities between Joy and Amélie when I saw the very first clip for "Inside Out!" I also loved that Joy was voiced by one of my favorite actresses, Amy Poehler. It seems like the directors gave Amy, a talented improviser, a lot of leeway with voicing her character. All of the voice actors did a wonderful job, including newcomer Kaitlyn Dias as Riley, Diane Lane as Riley's Mom, Kyle MacLachlan as Riley's Dad, and scenestealer Richard Kind as Riley's imaginary friend Bing Bong.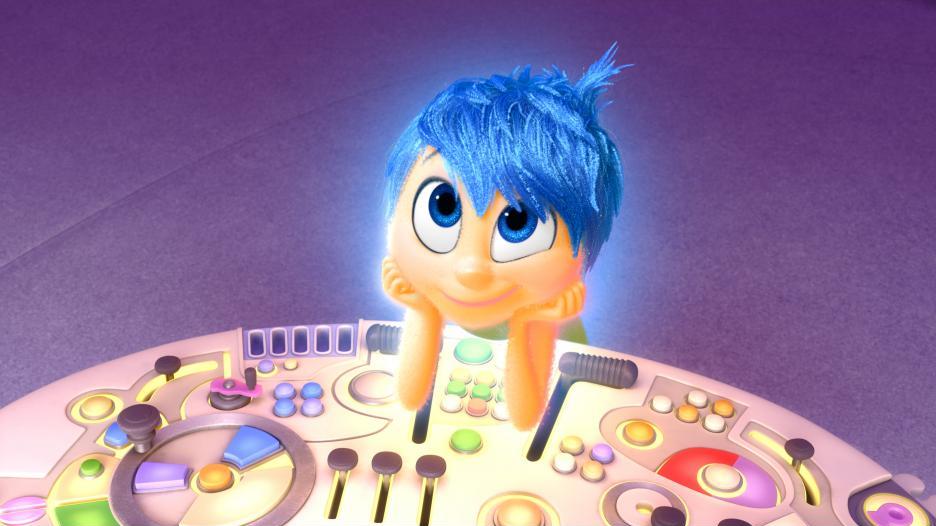 Overall I can't say enough wonderful things about "Inside Out." It's imaginative, beautifully animated, and perfectly cast. The short film that airs before it, "Lava," is also adorable and you will be humming the song for days and days. "Inside Out" opens on Friday, June 17, 2015 and I highly recommend seeing it as soon as you can!