Bridal makeup was a tricky one for me. I really don't wear make up at all …. like, AT ALL. My daily makeup routine is a little concealer around my eyes and some tinted lip balm. If I want to get REALLY fancy I will put on neutral eye shadow and a little bit of eyeliner. Even though I'm not a super girly-girl, I did want my wedding day look to be a little special so I worked with a professional makeup artist to come up with a natural look that flattered my features but I was still able to recognize myself when I looked in the mirror!
Today I'm happy to have a guest post from professional makeup artist and Disneyland bride Krista Harris. Krista has some wonderful tips for your bridal makeup look, including how to prepare your skin to look its best on your big day. Thanks Krista!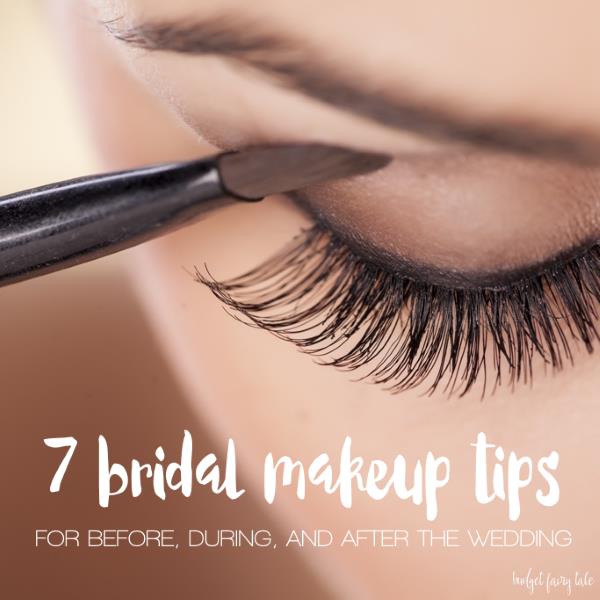 Before the wedding …
1. Moisturizer – One of the biggest issues I have come across is finding that a client's skin is too dry. Using a good moisturizer at night before bed or even before your makeup application will help everything go on smoother. Personally, I love argon oil and it has changed my makeup application dramatically. But find what works best for your skin.
2. Picking the right artist – Communicating back and forth with your artist is extremely important. I suggest looking through pictures of their previous work and look through their website before booking. Make sure the artist goes over pricing with you and you get a signed contract agreeing on the pricing and the details of the day.
Day of …
3. Wedding day makeup – For your wedding day makeup, be sure you are communicating back and forth with your artist. You want to make sure you are on the same page with your look. Use pictures to express what you like and if you decide to go with a more dramatic look, make sure to have a trial before hand to make sure you will really like it! On your wedding day you want to feel beautiful, not uncomfortable or self-conscious. If you are meeting your makeup artist for the first time on your wedding day, be sure to cover any questions you have and really communicate what you like about your inspiration photos. Allow plenty of extra time during your "getting ready" period just in case you need to re-do any aspect of your makeup.
4. Match your makeup to your wedding style – When deciding on your makeup look, keep in mind the time of day, location/venue, and season your wedding is taking place. Also look to your dress and accessories when deciding what features you really want to play up. Perhaps you want to have a bold bright beautiful lip and go with a more neutral eye? If you decide you would like to go the other way, perhaps try a smokey eye for an evening wedding with a more natural lip. The most important thing I can tell you is remember you are the bride and you are going to be the center of attention no matter which look you choose!
5. Don't forget your hair! – Your hairstyle is just as important as your makeup and everything should be cohesive. What look do you want to portray? A pretty princess with an elegant up-do? A sassy vixen with your hair sleeked down? Or a classic half-up-half-down hair style with loose curls? Sending photos of all your accessories and gown to your makeup artist can be helpful. Your artist can help you decide what will work best with your face, eye, and lip shape.
After the party …
6. Makeup removal – This is a question I hear a lot: What kind of makeup remover should I use after the wedding? Personally I think it's all preference. I prefer a eye makeup remover oil and a exfoliating face wash. But if I need a quick fix to take it off, I simply use an organic makeup remover wipe. For removing lashes, I suggest to simply soak a Q-tip in eye makeup remover and swipe back and forth along the lash line until the glue and the lash becomes loose.
7. Lash storage – Speaking of lashes, some lashes are reusable. If you decided to purchase lashes that are reusable make sure you take proper care of them. That means not using mascara on the lashes, removing any residual glue after removal, and storing them in their original case. If you take gentle care of them, you can wear your wedding lashes again and again on your anniversary!
Thanks again to Krista Harris (Makeup by Krista) for sharing these bridal beauty tips with us! What wedding day beauty tips would you add to this list?