This post contains affiliate links.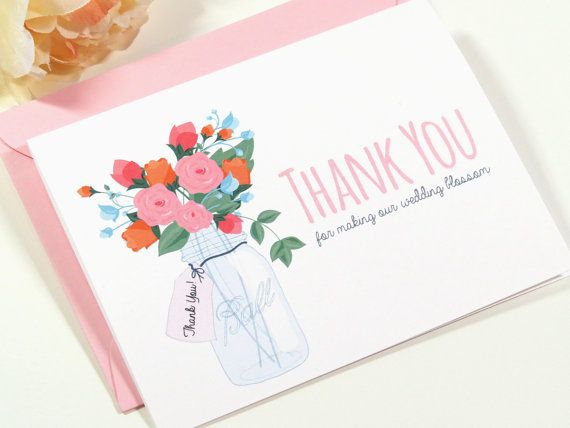 Wedding vendor thank you cards from SecondCityStationery on Etsy
This week, the Internet wedding world exploded when Brides magazine posted an article about vendor meals. The article, which has wisely been pulled from Brides.com but was discussed in this article on PetaPixel, was written by destination wedding planner Sandy Malone. In the article she says " … my general rule is that, if you're working just the wedding itself – five or six hours – feed yourself or pack a lunch to eat in the staff break area if you cannot survive the shift. A photographer, for example, should be taking pictures through the wedding dinner."
The law states a worker is not entitled to a meal break unless they are working a six hour or longer shift, and I believe this is what Ms. Malone was referring to when she wrote the article. So technically, if you have a wedding vendor who you are hiring for less than six hours, they are legally not required to take a meal break.
But here is what you should know, brides and grooms: All of your wedding vendors deserve a meal.
Let me break down my reasoning a little bit.
Personally, I think you should offer all of your vendors, including your officiant and your venue coordinator, a meal, regardless of the amount of time worked. Yes, you are hiring your vendors to do a job and yes, you are paying them to be there. A lot of people may think, "I'm already paying this vendor hundreds or thousands of dollars, they can afford to buy their own lunch or dinner." While this may be true, realize your wedding day is going to be very hectic and tiring for your vendors, and it's a nice gesture to provide meals and a chance to sit down and take a break.
First of all, your vendor's contract may stipulate a meal requirement, so double check that. If your vendor's contract requires a meal, make sure you discuss this with your venue or caterer ASAP. Also check to see how many assistants require meals as well.
Second, it's the polite thing to do. What if you offered one vendor a meal and the chance to take a break, but not another vendor who is working at the same time?
Third, even though you're hiring your vendor for a job, a wedding is a really personal experience and a lot of couples become friendly with their vendors during the planning process. You are going to speak or send emails back and forth several times with your wedding planner, photographer, DJ or band, and officiant, and perhaps even your hair/makeup stylist. By the time my wedding rolled around I felt like I was friends with all of my vendors. And you wouldn't invite your friends to a party and not feed them, right?
Fourth, remember you are going to be working with your photographer long after the wedding. You'll get your photo previews, then your digital files, then maybe prints in the mail, and perhaps working closely to design an album. You want your photographer to look back on your event and think about how much fun it was rather than how hungry they were. And as one wedding photographer told me, "There's nothing more awkward as the moment when a couple, who has seen you working hard all day, realizes they didn't bother getting you food." Please don't be that couple!
Finally, remember your vendors are working much, much longer than the time you're actually hiring them for the wedding day. Your wedding planner, as you know, puts in several hours prior to wedding day. Your photographer spends a lot of time post-wedding making sure your pictures are perfect. Your DJ or band arrives at the venue a couple hours before their start time to upload their equipment and make sure everything is set up and working properly, and spends time after the wedding breaking down and loading their equipment.
Here is what I recommend you do regarding vendor meals for your wedding:
Offer all of your wedding vendors a meal, because it's a nice gesture that will be greatly appreciated. A lot of venues or caterers can provide a "vendor meal," which is usually smaller and less expensive than your main meal. This is fine, but know that usually it's not very impressive. Disneyland, for example, offers a small sandwich and an apple in their vendor meal. It's kind of weak compared to their amazing plated meals. Personally, we offered all of our vendors the option of having the vendor meal or the regular plated meal. A few of them chose the plated meal, but a couple actually preferred the vendor meal. Our DJ told us he preferred the sandwich so he could eat quickly and get back to work, but he said he really appreciated us giving him the option.
As for your officiant, it's polite to invite your officiant to your wedding reception as a guest. Most officiants will not accept this, probably because they have more weddings to get to that day! But if your officiant is a family friend, or someone you have become friends with during the planning, it's possible they may accept your invitation to join you at the reception. If your officiant declines to join your reception, you can respond with something like, "We understand. You are still welcome to mingle at our pre-reception and enjoy the food and drinks before you have to take off."
Your hair and makeup artist will likely only be around for 2-4 hours, unless you have an extremely large bridal party, and they are long gone before the reception. If you are ordering food for your "getting ready" room, please order a little extra for your stylists. If your stylists are working four hours or longer, ask if they would like meals, and then see if something can be arranged with your planner or caterer.
If you have a DJ or band for your reception only, remember that while they are "on stage" for only four hours or so, set up and break down puts them at closer to a 6-8 hour shift. Be sure to ask them about meals and ask about any assistants, especially behind-the-scenes assistants for a band.
Your wedding planner or coordinator (venue coordinator or outside coordinator) works for 10-12 hours and should definitely be provided a meal, or two!
Your photographer is likely working for more than six hours … please provide them with a meal, and any of their assistants as well.
Bottom line: Ask all your vendors about their meal preferences. Ask if they would like a meal (or two, depending on their timeline) and when. Ask if they want the vendor meal or the guest meal. Ask about any allergies. Consider vendor meals an important and non-negotiable part of your budget. Your vendors will love you for treating them like guests at your wedding.
And if you want your vendors to really love you, ask your venue or caterer to put some cake in to-go boxes for your vendors to take home. *wink*