Due to all the amazing details and photos from Yvette and Josh's wedding, I've split her recap into two articles. Be sure to check back tomorrow for Part 2: The Reception!
Disney Bride Yvette planned a Disneyland wedding at the Rose Court Garden for April 2018.
Thanks to Disney's Fairy Tale Weddings our wedding day turned out better than what I imagined. I felt more like a guest at my own wedding rather than just the busy (and stressed) host. The DFTW team took care of everything and this allowed Josh and I to enjoy the day more as we were able to fully immerse ourselves in the celebration. Disney's Fairy Tale Weddings really crafted a beautiful party and delivered an amazing celebration of our love. Here's a recap of our wedding day.
The Morning of the Wedding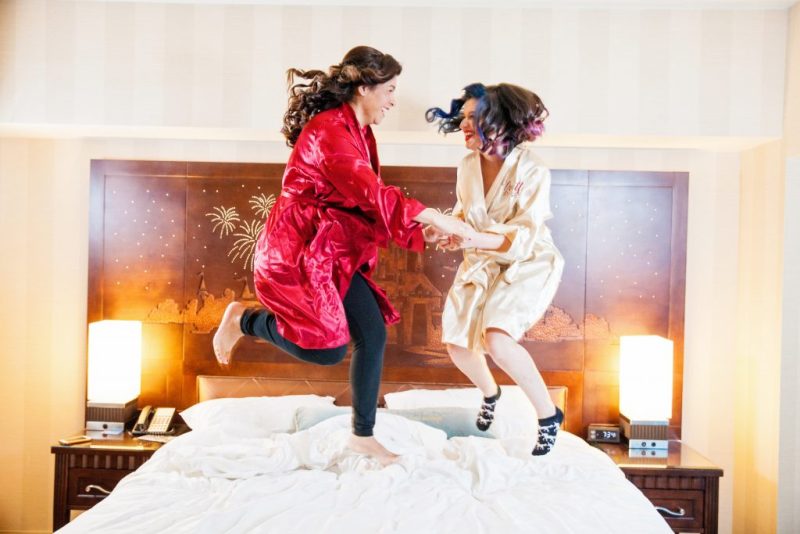 It's very common for brides to have a sleepless night before their big day. After partying, once those lights flickered off came a constant stream of thoughts. I was definitely that sleepless bride. My body was relaxed (I utilized the Mandara Spa the night before) and Disney music was playing softly in the background but my problem was that I was too excited. I only got two hours of sleep!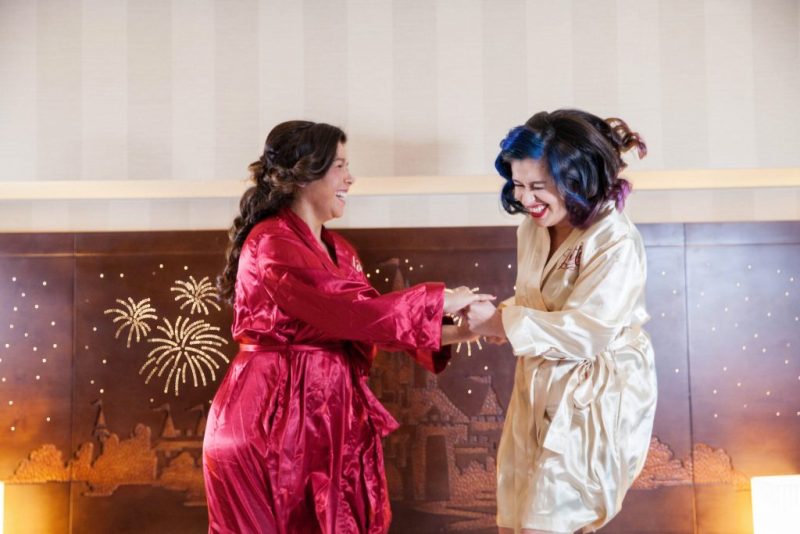 See, I'm too excited! Look at me go!
The men on the other hand were definitely relaxed! In fact, they were too relaxed. They really embraced our vintage 1920's theme and started drinking and playing poker quite early.
What I found useful was making a timeline for the morning. I knew that I had to make enough time for the makeup, our first-look, and have some time for myself. Everything else–delegate, delegate, delegate! I did not want to be in charge of the small things, like ordering breakfast or waiting for the bellhop.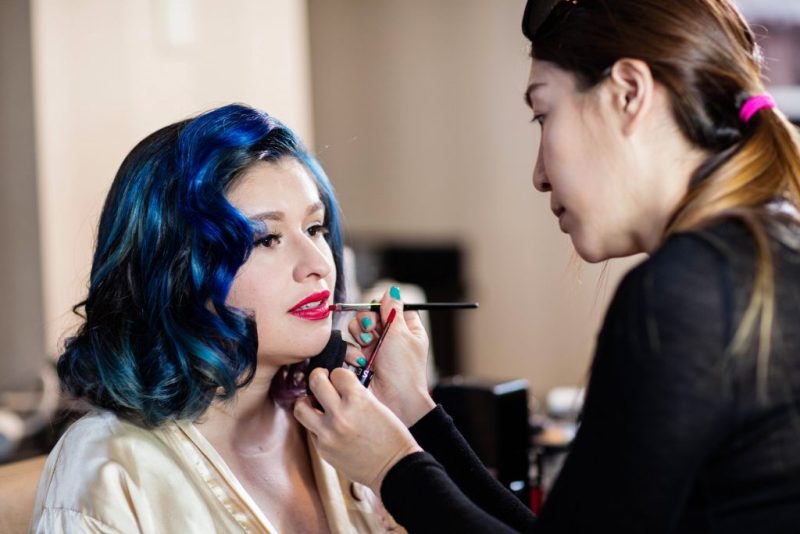 Makeup was my top priority. I suggest that brides ask their makeup artist to give a rough estimate of their bridal services then add some time to it. Lucky for me, Alicia Wu's makeup finished before the predicted time. So I got extra time for some fun shots with our fabulous photographer, Jenna from White Rabbit Photo Boutique …
Mirror, mirror on the wall…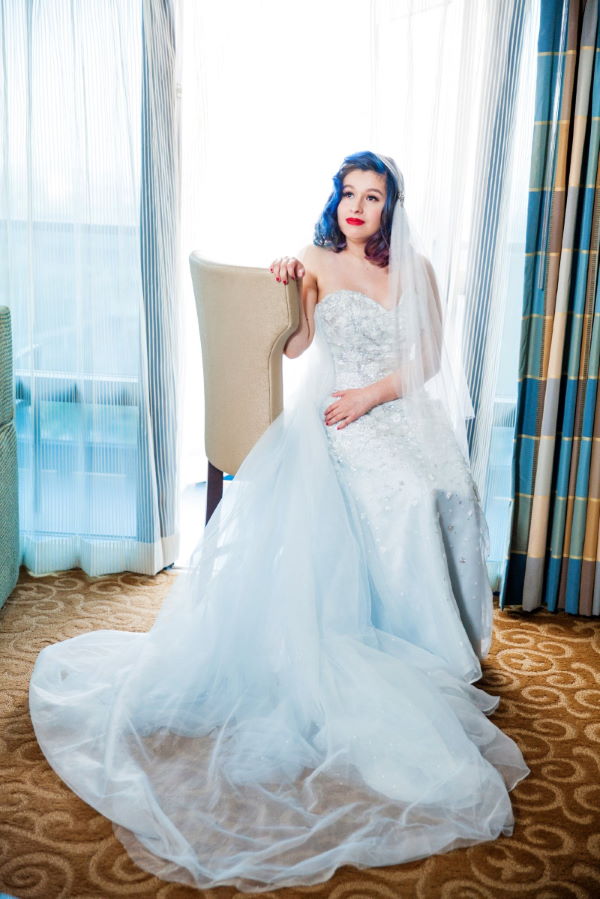 I found the name "White Rabbit Photo Boutique" so perfect our wedding theme.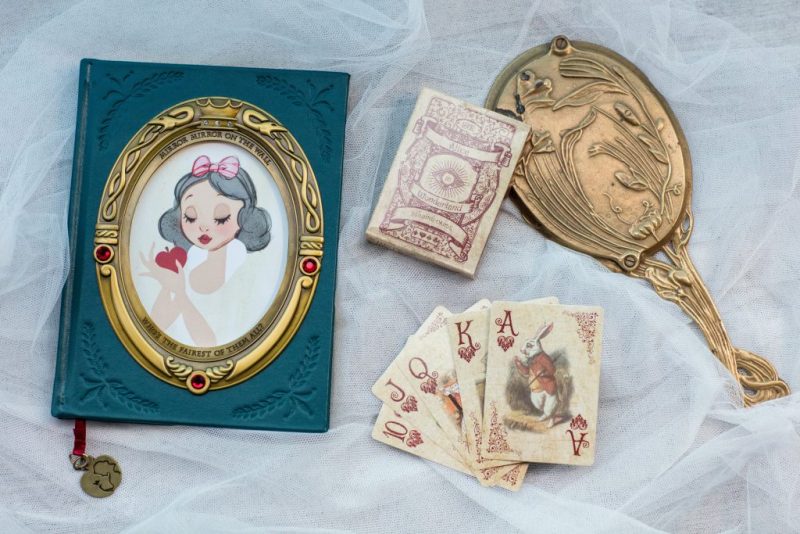 Our first look! I was so happy!
After the first look it was time to take some photos with the Crystal Coach.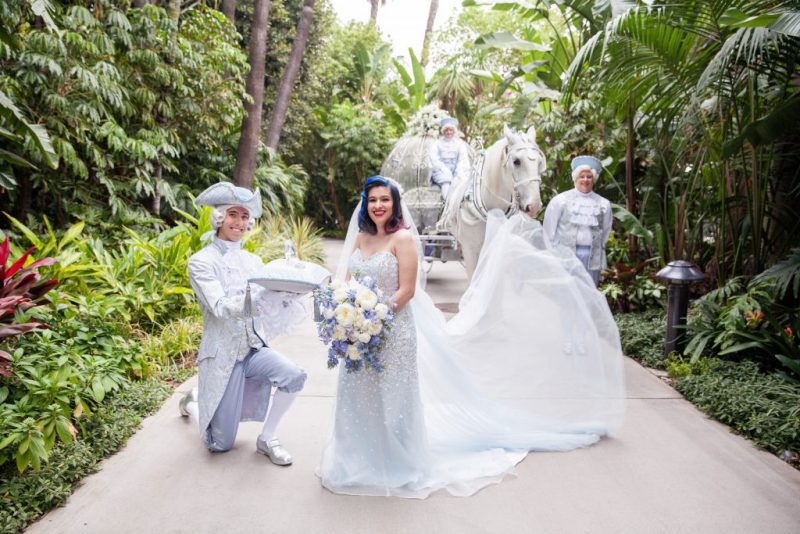 When I saw it in person I was so glad we decided to add it. The horse is so gorgeous. I love how it appears like the horse is holding my dress.
Just look at those beautiful fluffy hooves!
Heading off to wonderland! Before I knew it, it was time to start the ceremony.
The Ceremony
Arriving with the Crystal Coach was amazing. I heard lots of "Oh's" and "Awws." It was the perfect entrance!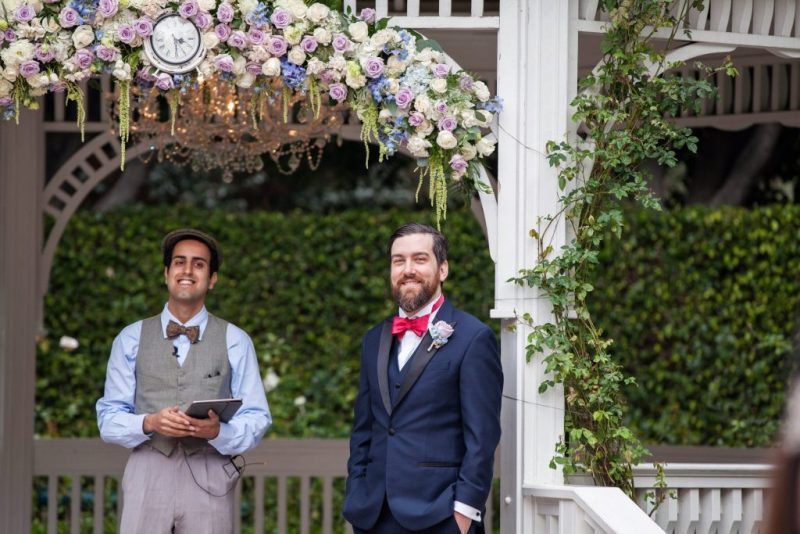 Our floral scheme consisted of light blues and purples, with a clock peeking out of the floral. We also had a sparkling chandelier hung up in the Rose Court Garden gazebo.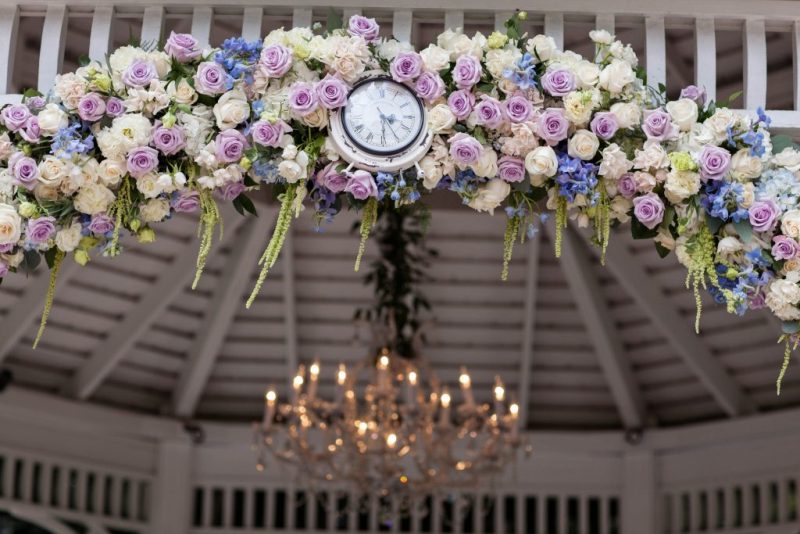 Since it was an outdoor wedding everybody got personalized heart-shaped sunglasses. They were a big hit!
The ceremony was very "us." In honor of Lewis Carroll's, "Alice in Wonderland" our ceremony followed a literary theme. Our officiant read a poem in Latin (Yes, he speaks Latin) and then proceed to explain how the poem reminds him of our love. I recited Shakespeare's 116 sonnet to my new husband and Josh read a poem in Spanish to me. It was all very sweet. In the background our harpist softly played Canon in D during the entire ceremony.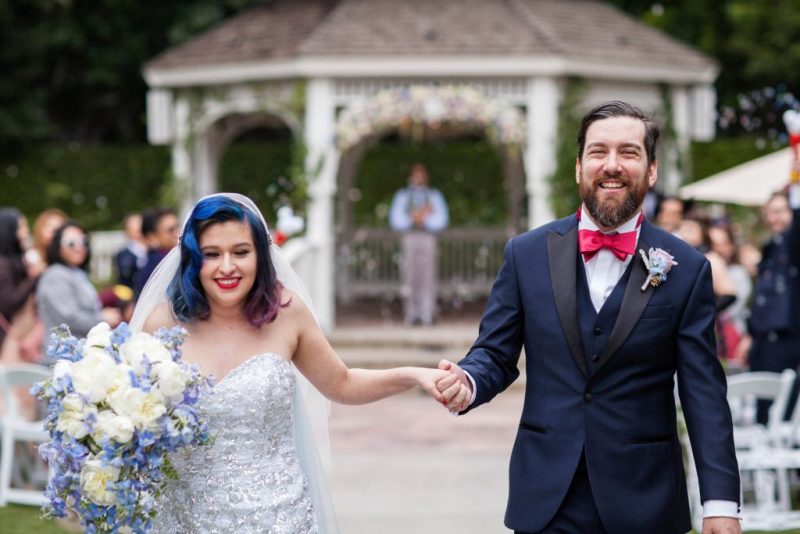 We walked off to the fanfare version of binary sunset from Star Wars. Everybody started to laugh. It was a great moment.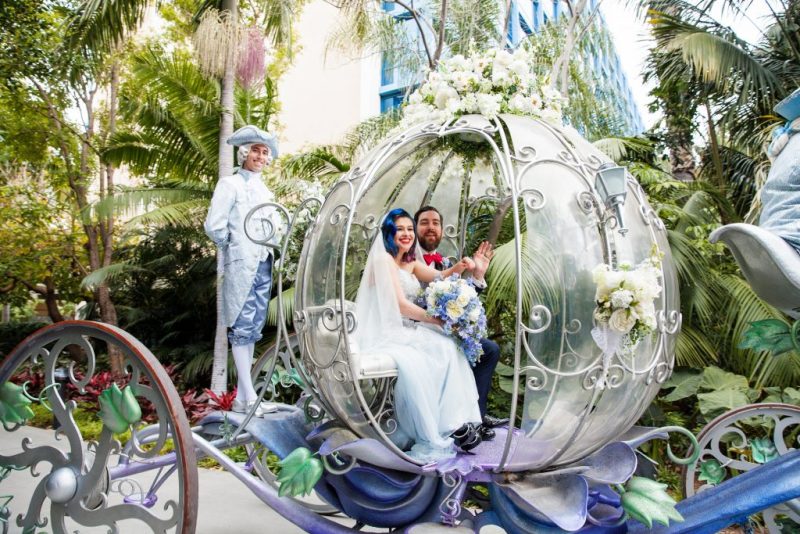 Look at us! We are married! Our private time in the carriage was wonderful. We had fellow resort guests give us their regards and offer their congratulations. I truly felt like a princess as people stopped in their tracks and told me I was a beautiful bride. So much love that day!
Next up, our Pre-Reception hour and our Garden Party Reception!
Check the blog tomorrow for Part 2 of this amazing Disneyland wedding!
Vendor List
Venue: Rose Court Garden, The Disneyland Hotel
Floral & Decor: Disney's Fairy Tale Weddings
Bride's Gown: Alfred Angelo
Groom's Suit: Black Tux
Makeup: Alicia Wu Makeup and Hair 
Harpist: Hee Jin Yoon
Ink Artist: Miles Lewis Studio 
Games Rentals: Disney's Fairy Tale Weddings
Themed dancers: Honey Taps
Photography: White Rabbit Photo Boutique