Disney Bride Lauren is planning a Walt Disney World "Mini Wishes" wedding at the Wedding Pavilion and The Attic for December 2016.
Editor's Note – I want to do my due diligence and remind everyone that taking commercial photography at Disneyland is against their park rules. (Under Prohibited Activities, item f.) This includes any photography for profit, and engagement/anniversary/family photo sessions – where money is exchanged – falls under this category. Personally I have done four sessions inside The Disneyland Resort parks with a professional photographer with no issues, and I think as long as you aren't carrying around obnoxious camera equipment, aren't wearing clothes that draw attention to yourselves, and don't block the pathways for other guests, you'll probably be fine. But know that doing a session like this is at your own risk and Disney Security has the right to stop photo sessions at their discretion.
***
Before my fiancé and I were even engaged, I knew we had to have our engagement photos in one of the Disney parks. While I have always loved the Magic Kingdom at Walt Disney World, I was always much more drawn to the engagement shoots I had seen at Disneyland because of the whimsical colors, beautifully themed lands, and more intimate size and scope of the park. When we finally got engaged after five years of dating in January 2015 and just so happened to be planning our first trip to Disneyland that fall, I knew that would be our plan for engagement photos. Here are my tips for taking Disneyland engagement photos that reflect your style and personalities!
All photos courtesy of White Rabbit Photo Boutique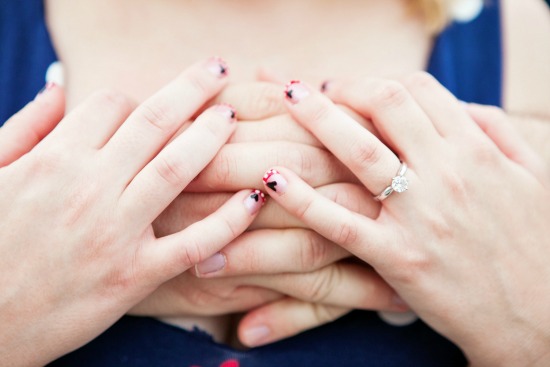 5 Tips for Taking Disneyland Engagement Photos
1. Choosing A Photographer
My must-have photographer for our Disneyland engagement session was the fabulous White Rabbit Photo Boutique. As soon as we had dates confirmed for our trip, I sent them an email to inquire about pricing and availability, but unfortunately they were way out of my price range and I had to pass. I was heartbroken because I had followed White Rabbit's blog for several years and have always loved her style of photography. I scoured the Internet to try and find another Disneyland-area photographer whose style I loved as much as Jenna's but kept coming up short. Thankfully, my patience paid off because a couple months later White Rabbit introduced new photography sessions with associate photographers (rather than Jenna herself) for a reduced cost. I once again emailed White Rabbit to inquire on the pricing for a Disneyland engagement session with an associate photographer and to my luck, it actually fell within our budget. We were assigned Michelle as our associate photographer and we absolutely loved working with her. Not only was she able to get all of the beautiful shots around Disneyland that we had hoped for, but she also gave us tons of tips for touring Disneyland as first time visitors. Best of all, Jenna still edited all of our photos so they still had that White Rabbit magical touch added to them. When it comes to choosing a photographer for your engagement photos, really think about the style of photography you love and stick to that. Don't settle for something that doesn't fit with your style!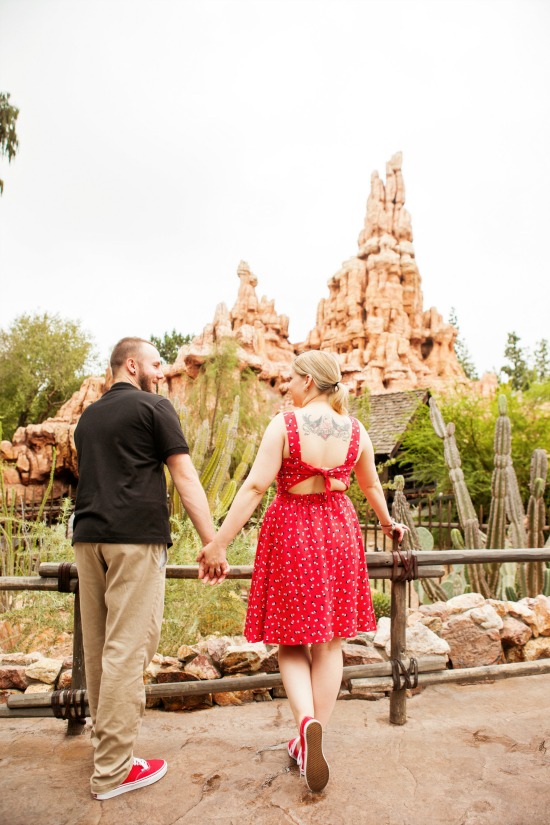 2. Deciding the Best Time
One of the most important decisions you'll have to make when it comes to your in-park engagement session is when is the time of day, and the time of year, to take your photos. I'm not a photography expert so I can't tell you what time of day will get you the best results, but as a Disney Parks fan I can tell you that going as early as possible will always be your best bet to get the shots you love without insane crowds. For our Disneyland engagement session, we took advantage of the Extra Magic Hour we had for staying at a resort on property. With this we were able to enter Disney California Adventure one hour early and get some great photos without crowds in the background. By the time we had gotten all of the photos we wanted in DCA, we made our way to Disneyland right in time for their opening and got all of the photos we wanted there with minimal crowds. In fact, we were even able to get some attraction photos because the lines were so short during the first operating hour. If you're looking to get amazing photos without tons of other guests in the background, then getting to the parks as early as possible is one of my best suggestions. Also, be sure to discuss this with your photographer, as they may have other recommendations or ideas.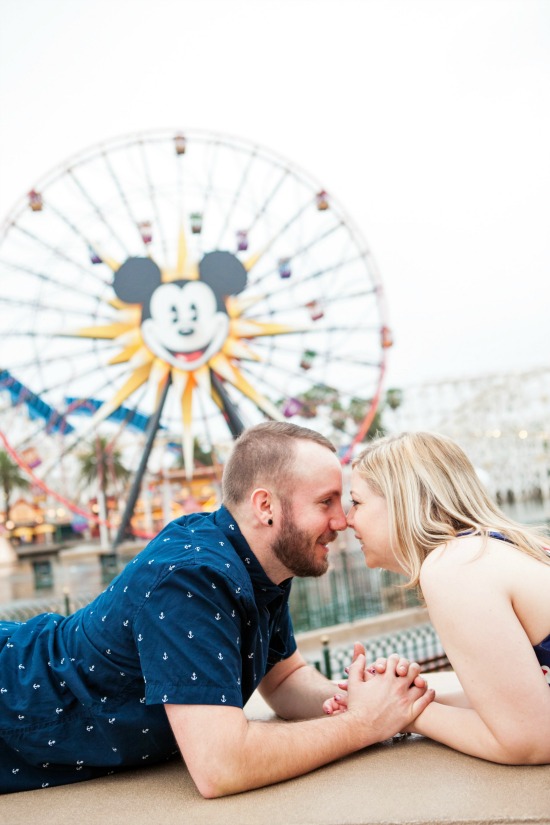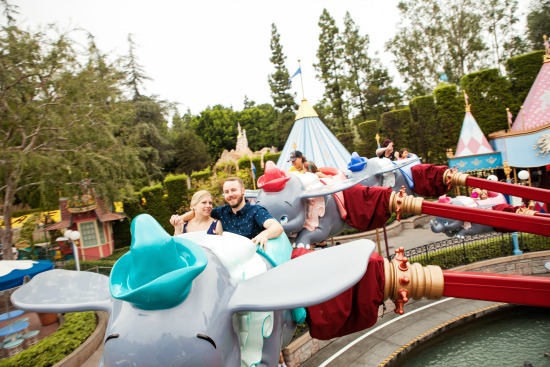 3. Choosing Locations
Now that you've decided on a photographer and a time for your Disneyland engagement shoot, you can start to think about specific locations where you want to take pictures. While you should definitely let your photographers offer suggestions, especially if they are Disneyland experts and will know lots of hidden gems around the parks, it's always a good idea to discuss some of your must-have shots with them. This was a bit more difficult for us since we had never been to Disneyland prior to our engagement session, but this is where Pinterest came in handy. Not only did I find tons of inspiration photos from Pinterest, but we also had a phone interview with our photographer a few days before our engagement session to discuss where we would like to take photos and what kind of style we were going for. Since she's a Disneyland veteran, she was also able to offer of plenty of suggestions based on the pictures we knew we wanted. We knew we wanted all of the park icons, such as Sleeping Beauty Castle and Mickey's Fun Wheel, to document our first trip to Disneyland, but we also wanted a fun and whimsical feel, so lots of Fantasyland photos were a must. Since we visited during October and we are huge Halloween fans, we also took some photos around the Haunted Mansion, as well as some of the Disneyland 60 décor. In the end, since we had a loose strategy, we got all the photos we wanted and I don't think we missed out on anything.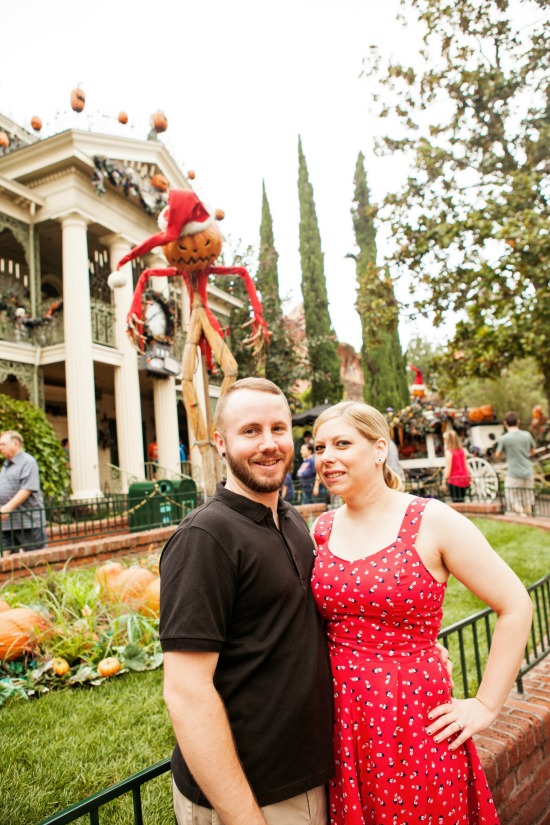 4. Coordinate Your Outfits
One of the best tips I got from Jenna with White Rabbit was to coordinate our outfits so we matched well in our engagement photos. She also suggested we go with two different looks for our session, one casual and one a bit dressier. We took her advice and did both and I love the different looks of our photos. At first I was torn on what to wear for our engagement session since my every day outfit is typically jeans and a t-shirt, but I lucked out and a few months before our trip, I was visiting Kohl's and saw the Lauren Conrad line had a whole collection of Minnie Mouse inspired dresses. I fell in love with two of the dresses and knew right away they would be perfect for our photos. For the more casual look, I went with a cotton Minnie-inspired sundress with red sneakers and my fiancé wore a matching blue button-up shirt, khaki pants, and matching red sneakers. For our dressier look, I changed into a nicer, fully lined dress with wedge heels and my fiancé changed into a black polo shirt to match with the black Minnie Mouse accents on my dress. I love the way our photos turned out in both outfits.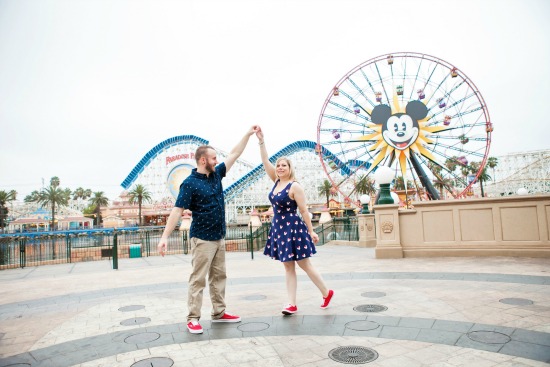 5. Spring for Hair and Makeup
This is the one regret I had with our engagement session so I highly encourage that if you have the means to spring for professional hair and makeup, do it. Not only will it make you feel gorgeous but you can also get your hair and makeup trial for your wedding day done at the same time; that way you will know what your hair and makeup will look like in photos and how well it will hold up! Since our photo session was so early in the morning and I was trying to stay on budget for our Disneyland vacation, I decided to forgo professional hair and makeup to save a little money and time and this is one of my biggest regrets. Don't get me wrong, I still love our engagement photos, but it was a little humid the morning of our session and by the time we had started taking photos my hair was already starting to frizz big time. To combat this, I pulled my hair up into a ponytail and kept it that way for the rest of our engagement session. I'm not super bummed about this because this is how I wear my hair 99% of the time anyway so at least I looked like myself, but I still wish I could have had some photos with my hair and makeup looking absolutely fabulous.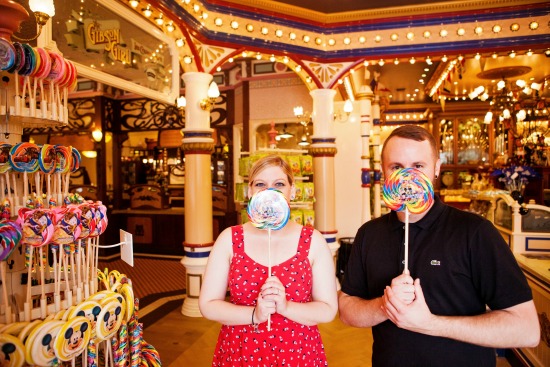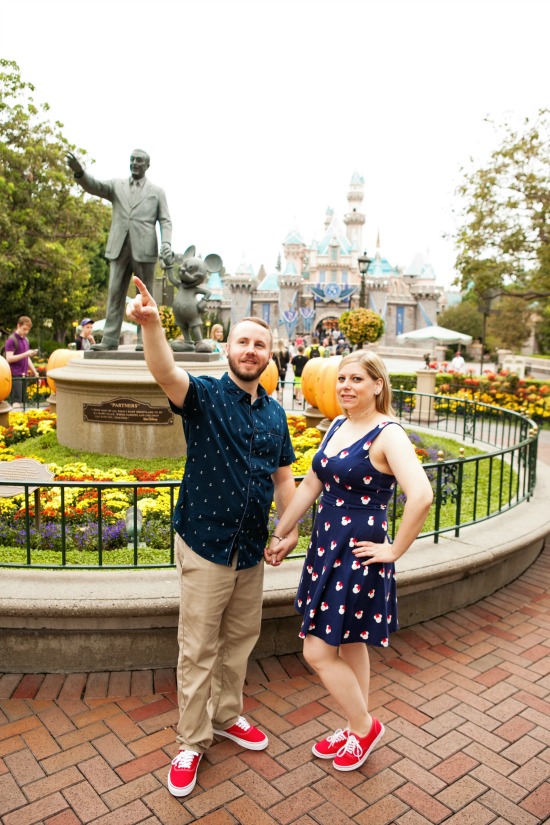 We had such an amazing experience taking our engagement photos in Disneyland and I would absolutely recommend it to anyone wanting that extra Disney touch to compliment their Disney wedding. Not only did we get beautiful photos to document our very first trip to Disneyland, but we've also received so many compliments from our friends and family on how much they enjoyed our engagement photos.
Where in Disneyland would you want to take engagement photos?