This post uses affiliate links.
It was around this time three years ago that we were designing the Save the Date invitations for our wedding. WHAT. That seems totally insane but yep … we became engaged at the end of 2010 and sent out our Save the Dates in mid-2011. Looking back on it, we moved rather quickly. But of course I knew what our venue was going to be before I even met Mr. BFT, so all we had to nail down was the date.
I'm so embarrassed because when I started Budget Fairy Tale in August 2011, this was one of the first elements from our wedding that I wanted to feature. And I never got around to it! But I am enamored with our Save the Date books so I hope you don't mind me sharing them so late.
I had the idea for our story book Save the Date invitations right away. Looking back through my emails, I sent the story text to my friend just a couple weeks after the proposal! At this point I need to sing the praises of my amazing friend Kijo! I had this idea for a custom personalized story book and put out a call on Facebook to see if anyone knew how I could make it happen. Kijo is an amazing artist and she offered to do it as an engagement gift! Kijo and I have never even met in real life. We both used to play a now defunct Facebook game and we met in the developer's forum. I swear some of my best friends are people I have never met … the amazing power of the internet!
Kijo and I went back and forth several times, over several months, to perfect my vision. The result truly is wonderful and beyond my wildest expectation. And she did so much work and the results were so beyond my expectations that I did end up sending her one of those credit company gift cards, although the amount was still far below what she deserved.
Back to the story book … I wanted to create something that told the story of my fairy tale. Something that started with "Once Upon a Time" and ended with "Happily Ever After." I told Mr. BFT my idea and said I felt a little strange about it because the story is about ME, mostly. But he thought the idea was really cute and was supportive as we went along. He even helped with some image and wording tweaks towards the end, after we received the finished photoshop files from Kijo. And of course he helped with book assembly and envelope stuffing!
Here are the images from our Save the Date story book, and as we go along I'll explain each page.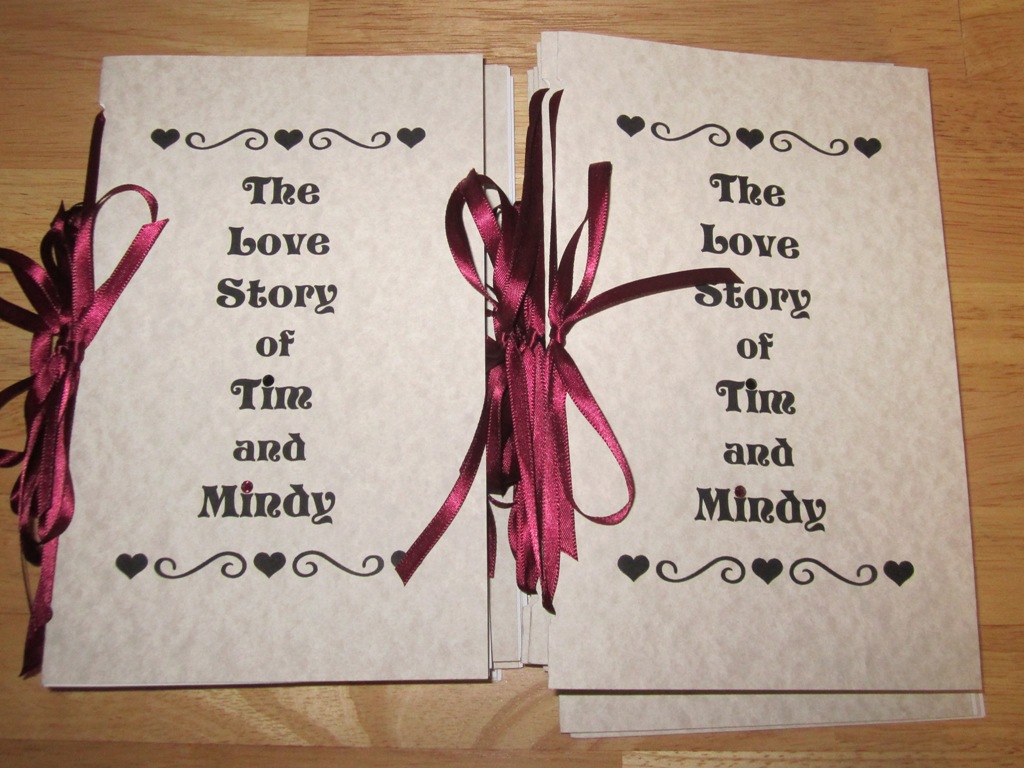 To make the cover of the book, we purchased cardstock that kinda sorta looked like parchment (and it was on clearance!) from Staples. I used the Storybook font for the title: "The Love Story of [Mr. BFT] and Mindy." The beautiful heart scroll design was made for me by my friend Marcia (I have SO many talented friends). Once the book was assembled, we used a hole puncher to make two holes along the spine and tied everything together with burgundy ribbon (fun fact – one of our original wedding colors). At the last minute, I decided to add the crystals to the dots of the "i"s in our names.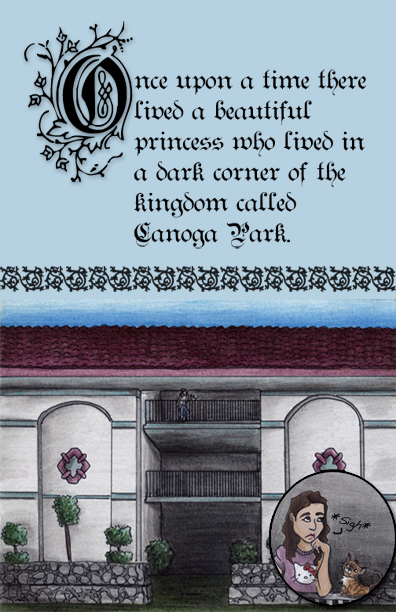 "Once upon a time there lived a beautiful princess who lived in a dark corner of the kingdom called Canoga Park."
This is hilarious because Canoga Park, a suburb of Los Angeles in the San Fernando Valley, is a total dump. Hence the "dark corner of the kingdom" bit. Isn't it dramatic? For someone like me who was making just above minimum wage, rent was affordable there, so there I lived. Kijo actually drew this based on a picture of the apartment building I was living in at the time I met Mr. BFT. Of course, I'm wearing a Hello Kitty shirt and Walter is by my side because every Disney princess needs an animal sidekick!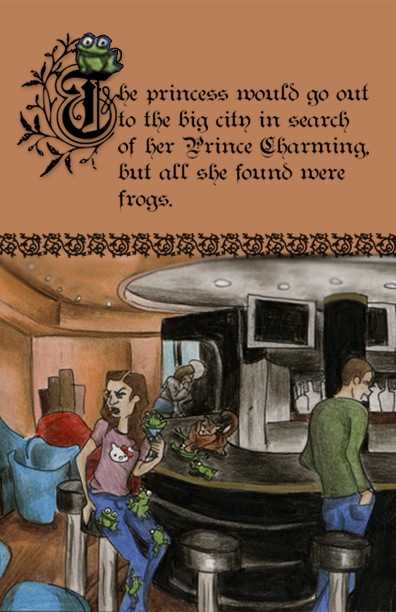 "The princess would go out to the big city in search of her Prince Charming, but all she found were frogs."
There's really no further explanation needed for this one. I kissed a lot of frogs before I found my prince. And I love that Walter is squishing one of them.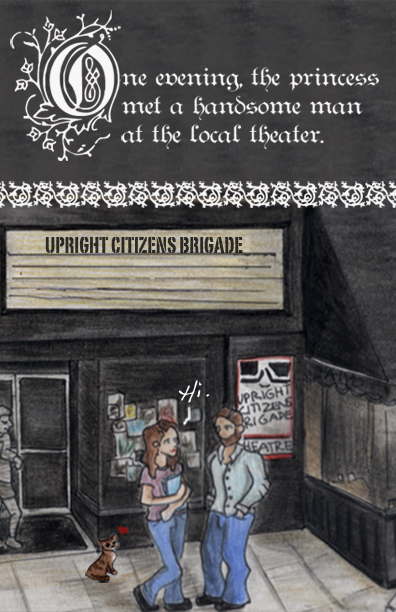 "One evening, the princess met a handsome man at the local theater."
Mr. BFT and I met outside the Upright Citizens Brigade theater in L.A. Walter was not actually there.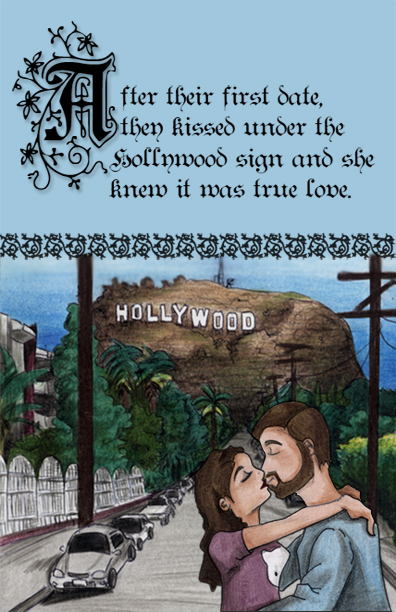 "After their first date, they kissed under the Hollywood sign and she knew it was true love."
Mr. BFT, at the time, was renting an apartment on Beachwood Canyon, famous because it's the road you take to get to the Hollywood sign. In reality, our first kiss was at night and the sign was not visible … but it was still there so technically this statement was true. (And yes, we both knew this was "the real deal" after the first date.)
And yes, in the fairy tale version of our story, Mr. BFT has more hair and I got a nose job. HOLLYWOOD MAGIC.
"Over the years, the princess and her handsome prince traveled throughout the land and had many adventures."
We went to exotic places such as Lake Tahoe, Boston, Las Vegas … hehehe. Mostly I wanted this page to represent when we went to NYC together after just a couple months of dating. It was a gamble (Was it too soon? Would we hate each other half way through the trip?), but it ended up being where we shared our first "I love yous." Awwww.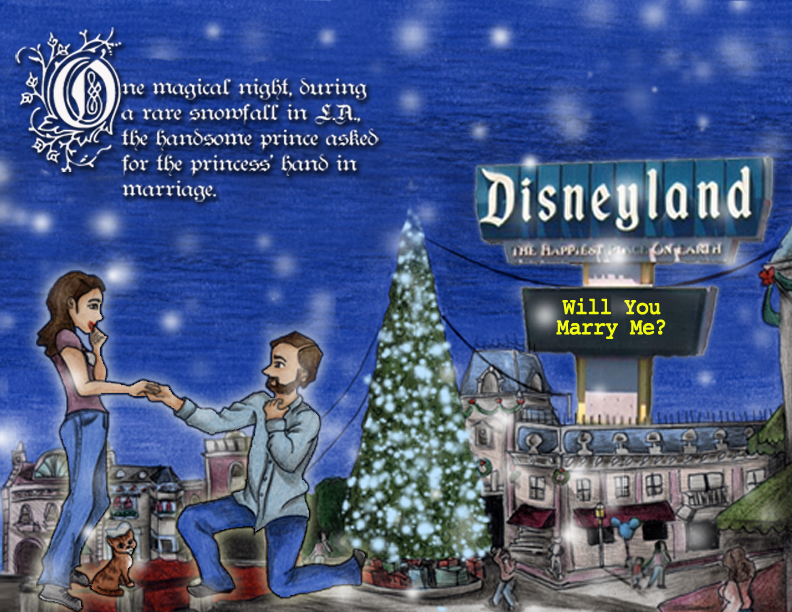 "One magical night, during a rare snowfall in L.A., the handsome prince asked for the princess' hand in marriage."
OKAY. I totally know Disneyland is NOT in L.A., it's in Orange County, they are very different, I KNOW I KNOW. But "a rare snowfall in Anaheim" would have confused all our east coast relatives. I had to embellish just a little.
Can we all just take a second to appreciate the DETAIL Kijo put into the Main Street USA background? It takes my breath away each time I look at it, and I've looked at it hundreds of times.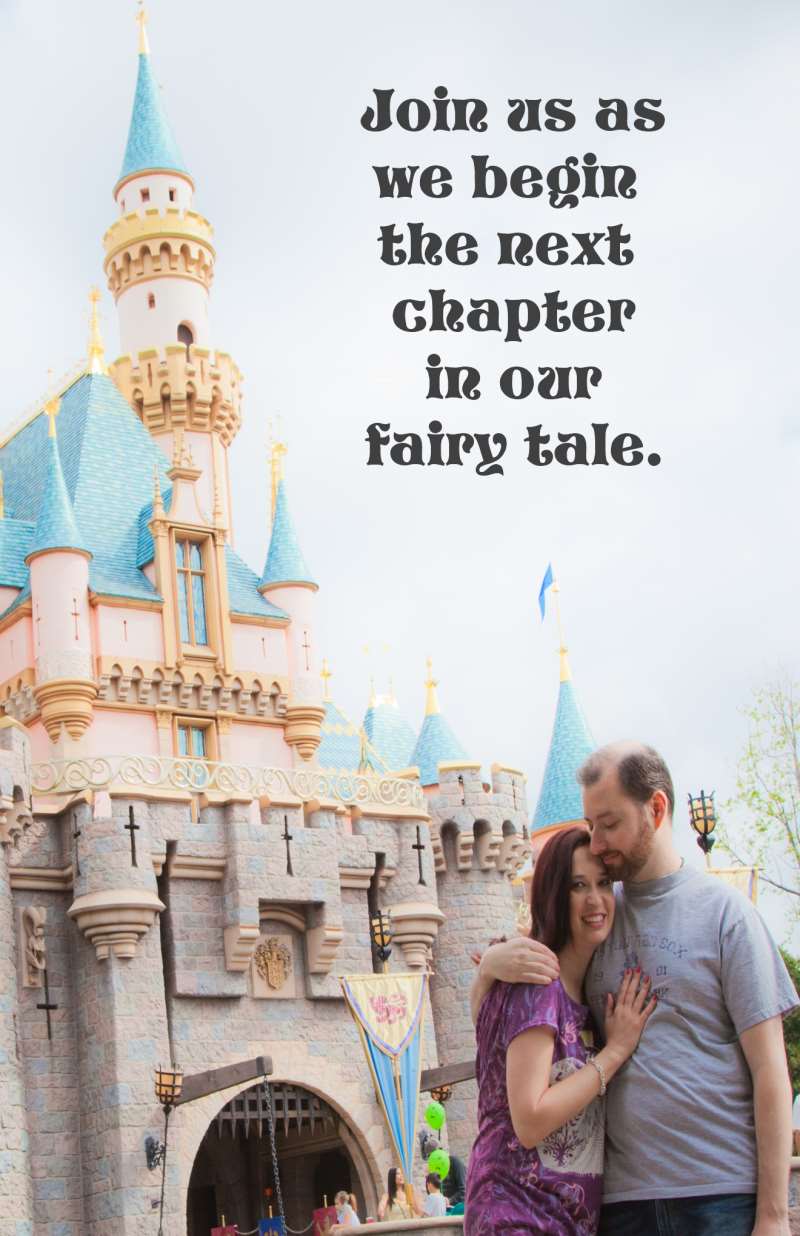 "Join us as we begin the next chapter in our fairy tale."
This picture was taken by my good friend Jessiey during our first engagement session.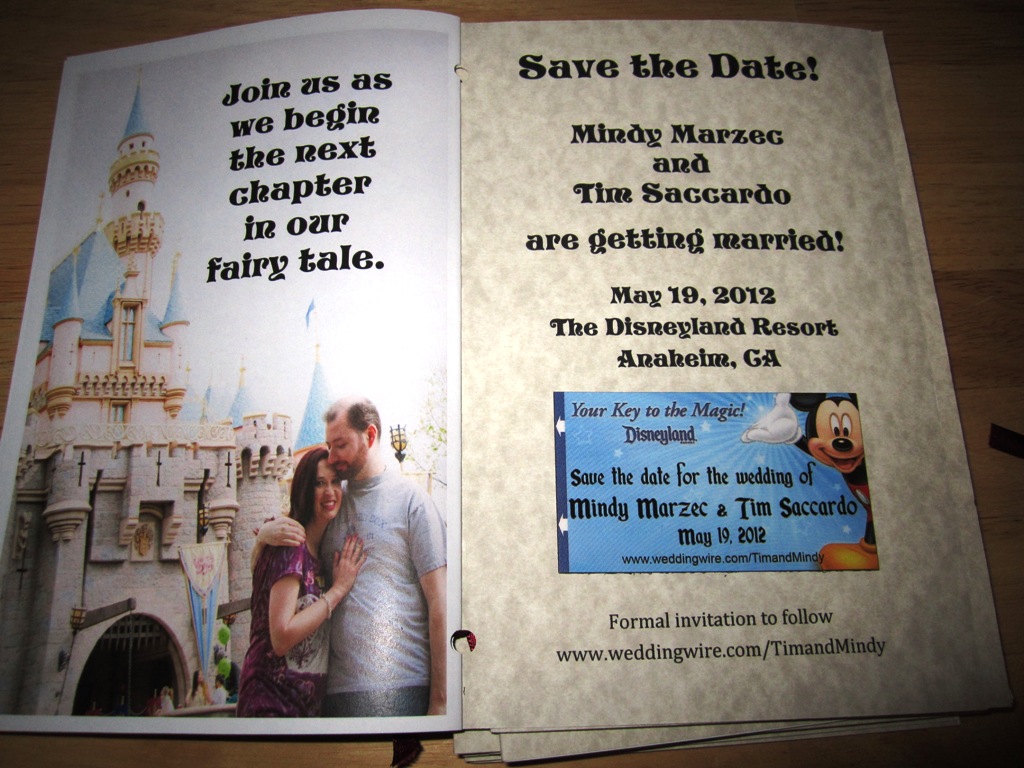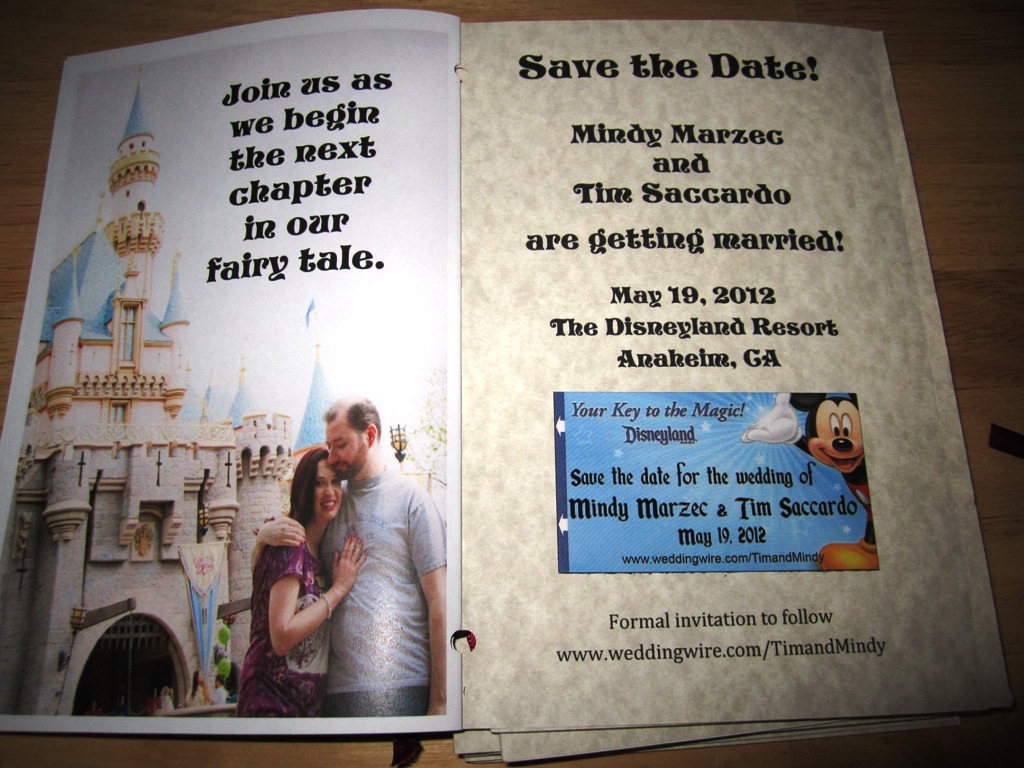 "Save the Date! Mindy and [Mr. BFT] are getting married! May 19, 2012, The Disneyland Resort, Anaheim, CA. Formal invitation to follow."
We included a Save the Date magnet with each booklet. We made the magnet by obtaining a blank key from The Disneyland Hotel front desk, scanning it, and adding text over the image. Then we ordered the magnets through Vistaprint. We attached the magnets to the booklet using Glue Dots.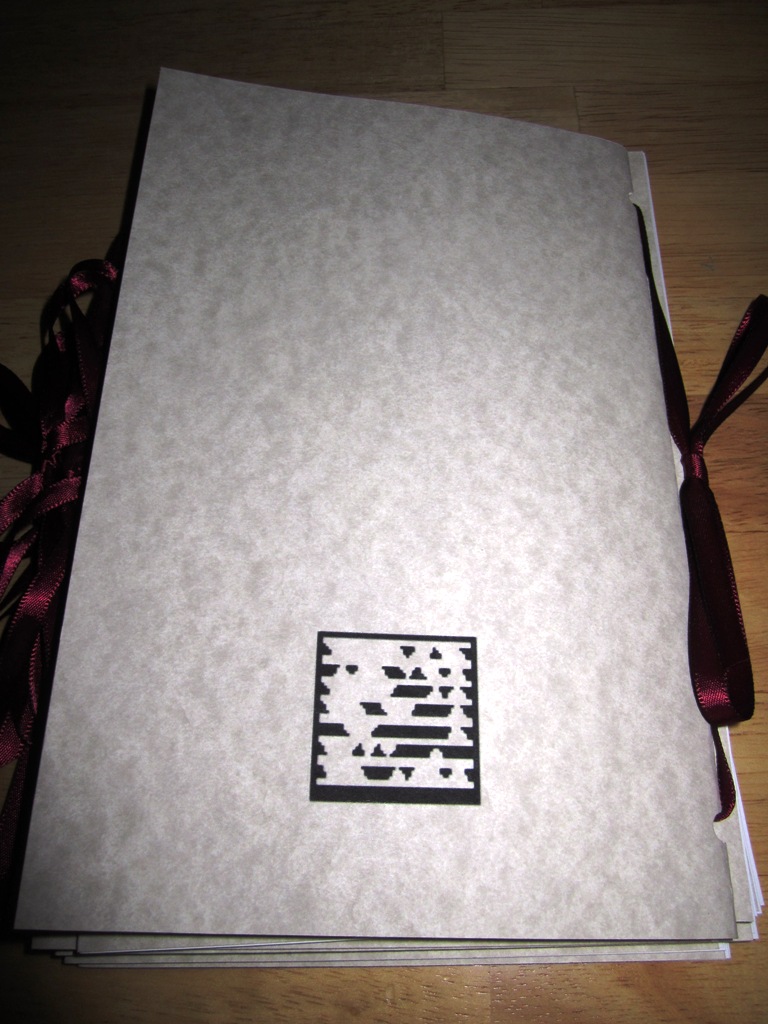 On the back cover, we created a QR code that led to our wedding website when scanned.
As far as printing and assembling the books, we first printed each page individually and made a mock book. Then we figured out which pages needed to be printed together on a piece of paper so it would properly create the book in the right order. That was a bit of a challenge, heh.
Once we had the pages right, we ordered the copies through DocuCopies website. For 4 full size pages, double sided color printing, 45 copies of each page, it was just about $50 including shipping. It was the best deal we could find, and they were quick too! I highly recommend them for bulk copying and printing. Search around online for a coupon, too. (Note – I am currently an affiliate with Docucopies, but I was not when I used them for this service.)
And that, my friends, is the story of our story book Save the Date invites! Didn't they turn out so perfect? I love having this sweet, custom reminder of our own little fairy tale, and I think it got our guests excited for our Disneyland wedding!