Okay … let's try this again!
This is the post I wanted to write about Star Wars Celebration 2015, before I had to write that other post. It has been a few days and I am overwhelmed by your response and support. At the time I'm writing this, my post has been viewed by nearly 25,000 people and has a Facebook reach of over 65,000 users. That's kind of crazy for little ole me. I have received many kind comments, messages, texts, emails, tweets, etc … I want to reply to every single comment but I simply don't have enough hours in the day! I really do appreciate all the support I've gotten for putting myself "out there" and sharing what I felt to be an embarrassing story about myself. So, while I won't forget the lessons I have learned, at some point you have to stop dwelling on the past and move along. "Nothing to see here … move along, move along."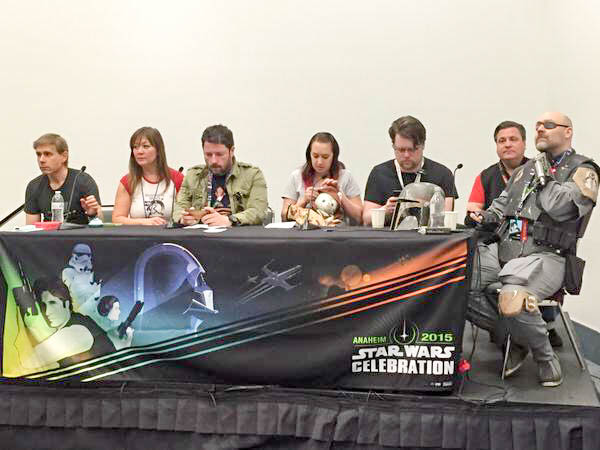 Photo credit: @JLChianese on Twitter (thank you for coming to the panel!)
Last week I was given a really fun opportunity, orchestrated by my friend Mary. She invited me to speak with her and five other Star Wars fans on Chris Gore's PodCRASH panel at Star Wars Celebration in Anaheim. Mary knows I love Star Wars and I'm so glad she thought of me, even if I was really nervous about it! I knew we were going to talk about what Star Wars means to us, and our hopes and dreams for the upcoming movies, but I knew we would also play some trivia and I thought for sure I was going to make a fool of myself! But luckily we were put into teams for the trivia and I let my teammates handle the majority of the answers. (If you listen to the podcast, you will be able to hear me answer ONE trivia question – woo!)
Speaking of listening to the podcast, one of my fellow panelists (and trivia teammate) Jeff Tucker has the recording up on his pop culture podcast, 91 Reasons. You can listen to it here or find it via your favorite podcast app. If you are a fan of all things pop culture you should definitely check out Jeff's podcast. He's a cool dude.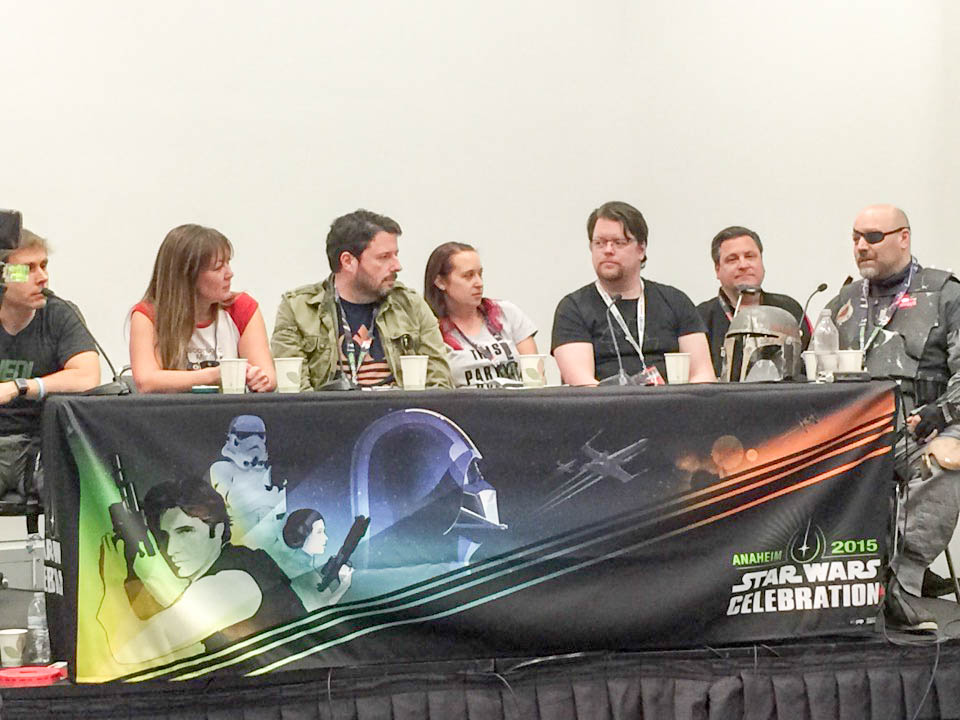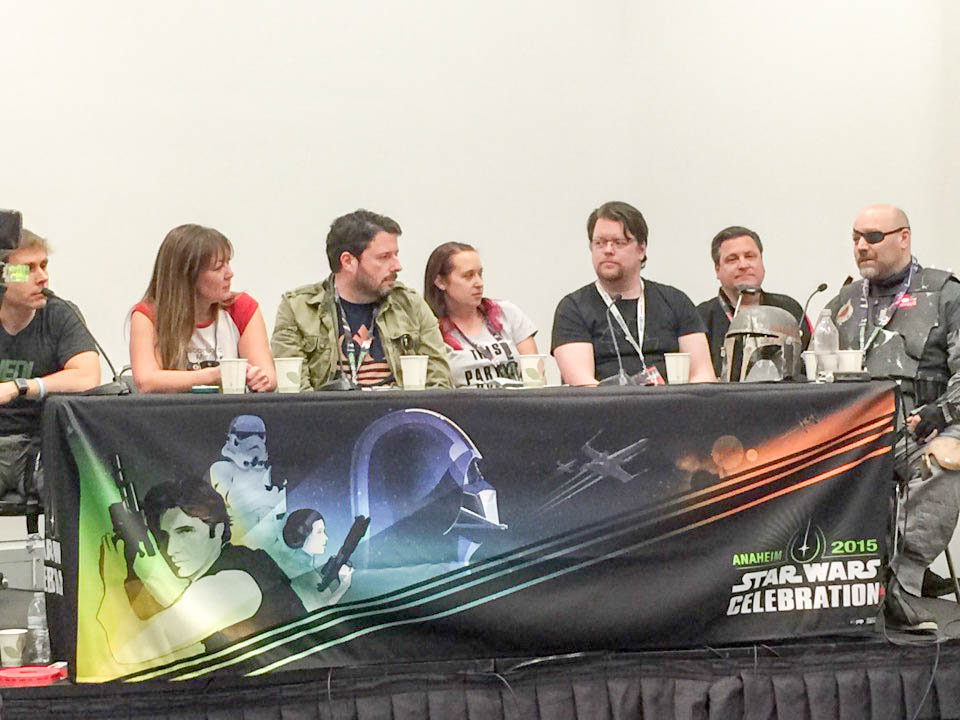 I also have to give a shout out to my friend Alan Katz who was at Star Wars Celebration that day and attended our panel. He took the picture above and also recorded a short video of me talking about my favorite Star Wars characters, which you can view below. (Sorry the quality is not so hot, it was originally uploaded through Facebook and we all know Facebook ruins everything.)
I'm too shy to watch/listen to myself but hopefully I don't sound like a total nerfherder!!
Right after the panel ended is when "the incident" occurred, but before that I managed to get a picture with a reeeeally tall Chewbacca!
Oh! Let's talk about what a wore for a minute. I don't have a great picture of my entire outfit, but I wore a DIY shirt, black skirt, and purple crochet tights. I've always been highly amused by Mace Windu's line "This party's over," in Episode II. Something about referring to a public execution as a "party." When the movie had just come out in theaters, I made a shirt with an iron-on picture of Mace Windu. I wanted to add his line below it but never got around to it. I finally made my dreams come true with help from a tutorial from Studio DIY. The grey shirt is from Michael's. The skirt was a TJ Maxx find and I bought it with a Darth Vadar DisneyBound in mind. I haven't gotten around to the Vadar 'bound yet but I thought it paired nicely with the top. The purple tights were a nod to Windu's purple lightsaber.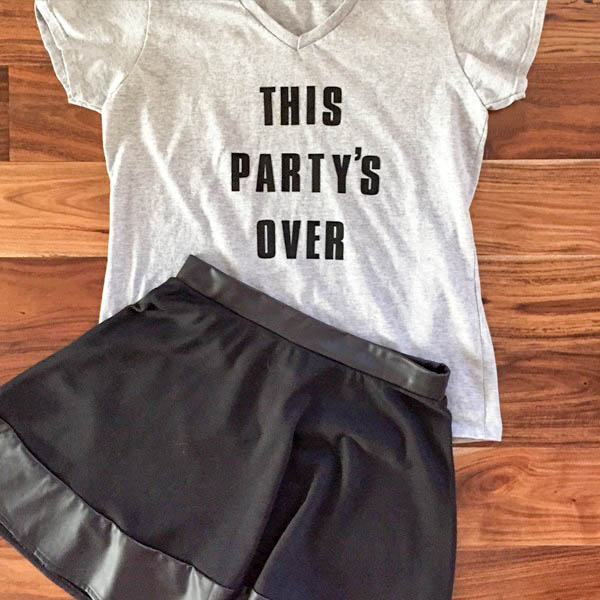 I didn't really get to wander around on the floor of the convention center too much, although it's probably for the best because I'm sure I would have spent a ton of money! And I'm trying to save my money for Walt Disney World next month.
A few of us panelists and friends went to lunch at the Gardenwalk and we were amused to find California Pizza Kitchen trying to get in on the convention fun. This sign begs the question … what drink ingredients are in an Obi-Wan Kenobi? Something righteous and loyal, no doubt.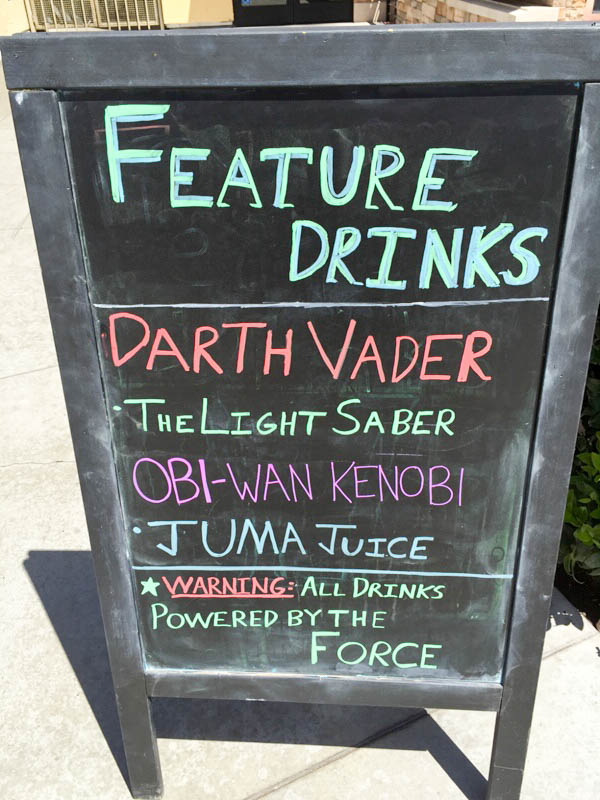 After lunch we simply hung around the convention center hotel area, drinking wine and talking about nerd stuff. Yeah, some bad stuff happened, but all-in-all it was a really great day with my friends, old and new.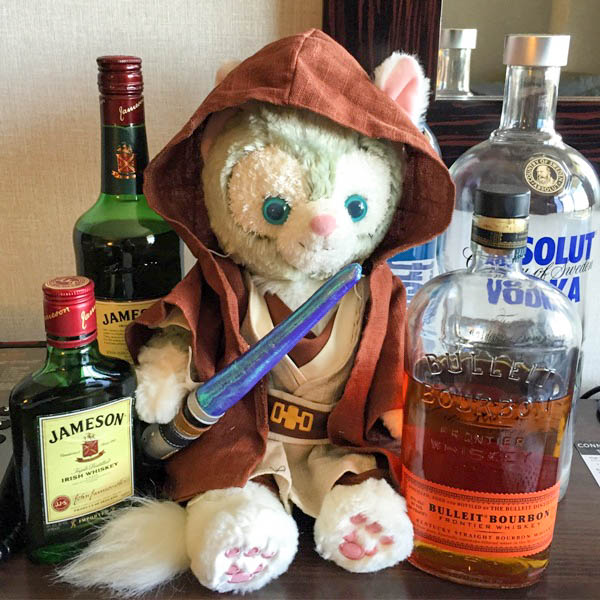 I want to thank Chris Gore, Mary Forrest, and everyone else on the panel for inviting me, and my friends Alan and Jennifer for coming to the panel. And last but not least, the entire internet for your kindness and support.