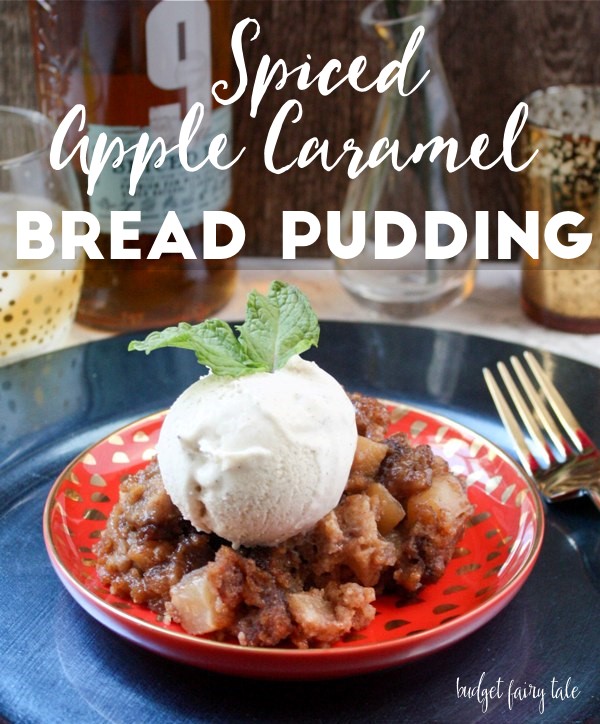 Hello! Please read me! This is a sponsored post. The company who sponsored it compensated me via a cash payment, gift, or something else of value to write this. I only recommend products or services I use personally and/or believe will be good fit for my readers. All opinions are my own. Thank you Cruzan® Rum for sponsoring this post!
The weather outside is frightful … (seriously – what is up with these frigid California temps?!) … but this dessert is so delightful! This was my first attempt at a dessert in my slow cooker and I'm thrilled with the results. This spiced apple caramel bread pudding couldn't be easier to make, and it has a yummy secret ingredient – Cruzan® 9 Spiced Rum! Add a little rum – or a lot – either way, this dessert will warm you up!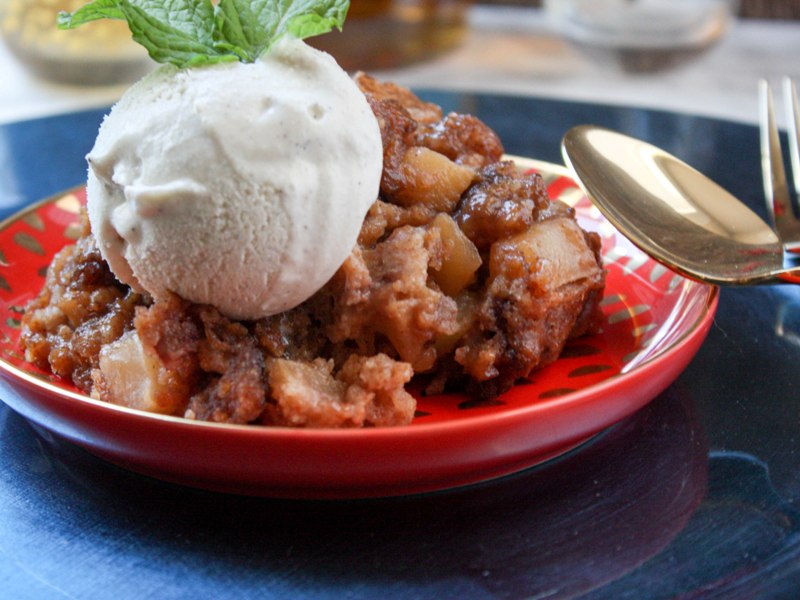 Spiced Apple Caramel Bread Pudding
Adapted from Taste of Home
Yield: 10 servings
Ingredients
1 cup all-purpose flour (I use whole wheat flour; you can substitute your favorite flour as you see fit)
1/2 cup sugar
1 1/2 teaspoon baking powder
1/2 teaspoon ground cinnamon
1/4 teaspoon salt
1/8 teaspoon ground cloves
1/2 cup 2% milk
4 medium apples, peeled and cubed
3/4 cup packed brown sugar
1/4 cup butter, softened
1/4 cup boiling water
(optional) 1/2 cup Cruzan® 9 Spiced Rum
(optional) 1/2 cup chopped pecans
(optional) vanilla ice cream
Directions
In a large bowl, combine the flour, sugar, baking powder, cinnamon, salt, and cloves. Add in the milk and 1/4 cup Cruzan® 9 Spiced Rum and stir until smooth. Add apples and pecans. Spread evenly into a 3 quart slow cooker coated with cooking spray.
In a small bowl combine the brown sugar, butter, and 1/4 cup Cruzan® 9 Spiced Rum; stir in boiling water and continue stirring until the mixture is completely melted. Pour over the batter in the slow cooker, but do not stir. Cover and cook on low for 3-4 hours or until apples are tender. Serve warm with ice cream if desired.
Variations:
The chopped pecans are optional – if you don't like pecans or can't eat them, then you don't need to add them!
The original recipe calls for pears, and I've tried this recipe with both apples and pears. They are both tasty!
You can add as much or as little rum as you like! The alcohol should completely cook out, so it's just a matter of taste.