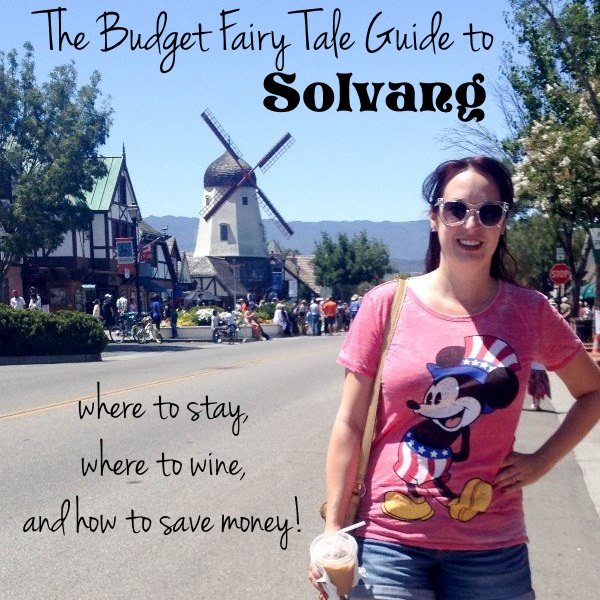 Over the long Fourth of July weekend, Mr. BFT and I went on a last minute jaunt to Santa Barbara County – specifically Solvang and Santa Ynez Valley wine country. I had not visited Solvang since I was a kid, and I have never been wine tasting in that part of the world (or any part of the world, really … unless you count Disneyland). It was fun to explore Solvang as an adult. It's a tiny town and unless you like drinking alcohol, eating pasties, or souvenir shopping, there's not much to do. In my Budget Fairy Tale guide to Solvang, I'm going to touch on what we did, ate, and give you some money saving tips for exploring this cute little town.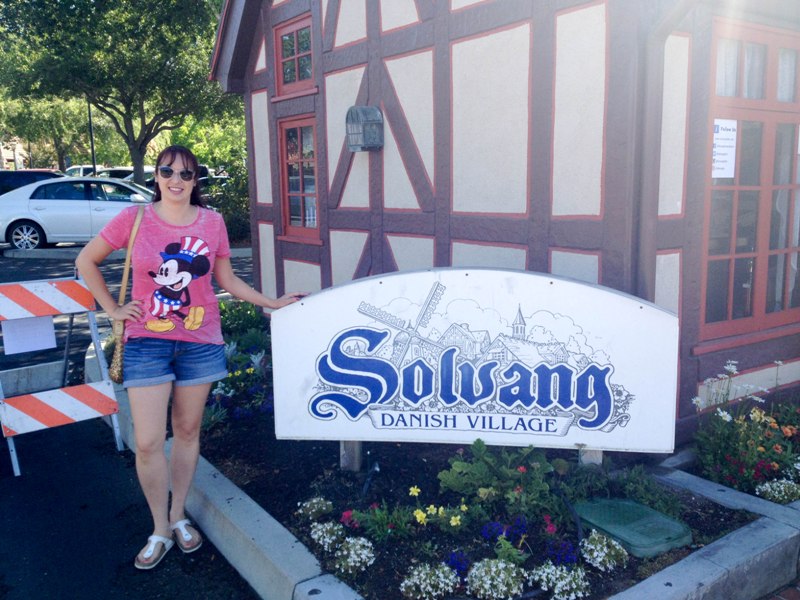 Since this was a last minute trip during a holiday weekend, we actually couldn't find a hotel in Solvang, so we stayed about a mile away in Buellton at the Santa Ynez Valley Marriott. The Marriott is a nice hotel, definitely a little outdated and quirky and situated right next to the freeway, which I can imagine is noisy for some rooms. Our room was located adjacent to a large patio with a wall, so we had no freeway noise. They offered free cookies in the lobby in the afternoon, and has a small Starbucks counter so I was a happy camper. We learned through some postings on the wall that Buellton is basically Radiator Springs. It was a small town right on Highway 101 nicknamed "Service Town USA" due to all the diners, motels, and service stations that lined the highway. In 1964 Highway 101 was re-routed and Buellton evolved from a service town into a wine town. Buellton now has several wineries of its own and is home to a couple famous restaurants such as Pea Soup Andersens and Hitching Post II. Buellton was a quick drive to everywhere we wanted to go and we really enjoyed this small town.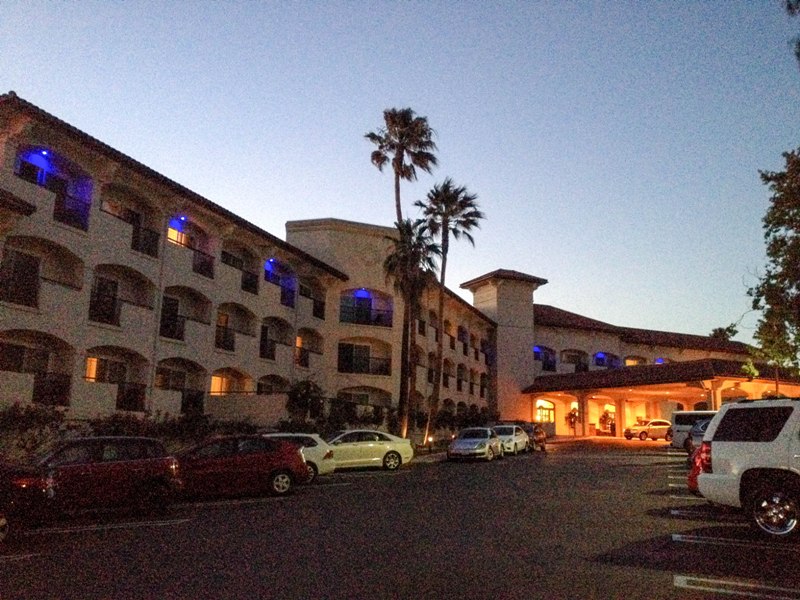 Budget Fairy Tale Tip: Save money on hotels by staying in Buellton! It's just a short 5-6 minute drive to Solvang on Route 246 and about 15-20 minutes to the Santa Ynez wineries. And Buellton has a ton of its own restaurants and wineries to visit.
We spent our actual July 4th in Solvang, and we weren't sure if it was going to be totally empty (being a Danish town and all) or completely packed. It was the latter. Turns out Solvang hosts a HUGE Fourth of July parade, festival, and fireworks show. The streets were crowded and parking was a little tricky but luckily we arrived before they started blocking off all the main and side streets for the 11:00 AM parade. We found a spot a couple blocks away and walked into the heart of town – parallel streets Mission Drive and Copenhagen Drive.
Budget Fairy Tale Tip: There are four free public parking lots throughout the main area of Solvang. If you're not staying in town (and therefore have hotel parking), you should be able to snag a parking spot pretty easily in one of these lots or on a residential side street.
Make sure you remember your obligatory windmill picture!
The first thing we did was eat breakfast at The Belgian Cafe on Copenhagen Drive. Prices at all the cafes in Solvang are pretty standard. Our breakfast plates each cost about $10. The Danish sausage is expensive at around $4 per link but worth trying. Below is a picture of my Belgian waffle (what else do you order at The Belgian Cafe?) with apple cinnamon topping. I totally didn't realize it would come with that much whipped cream but I totally ate it.
After our breakfast we walked through town for a little bit. There are lots of tempting pastries and treats in the windows, but we decided to make a loop through the town before choosing a bakery. After surveying the goods, we decided to spend our money at Olsen Bakery on Mission Drive. We ordered lattes, raspberry macarons, and something called a Danish Waffle. The last two items were recommended from the shop employee, when I asked her for recommendations from their vast display of pastries. The Danish Waffle is raspberry jam and butter cream sandwiched between two crisp thin pasties. It tasted wonderful. I was also told their raspberry macaron is the most popular and I can see why. It was the best macaron I've ever had. It had a sort of raspberry jelly in the center. Before we left I went back and bought more macarons but none of them compared to the raspberry. There was also a strange tribute to Donald Duck on the wall … I couldn't understand it since it was in Danish but I guess the Danish must love Donald.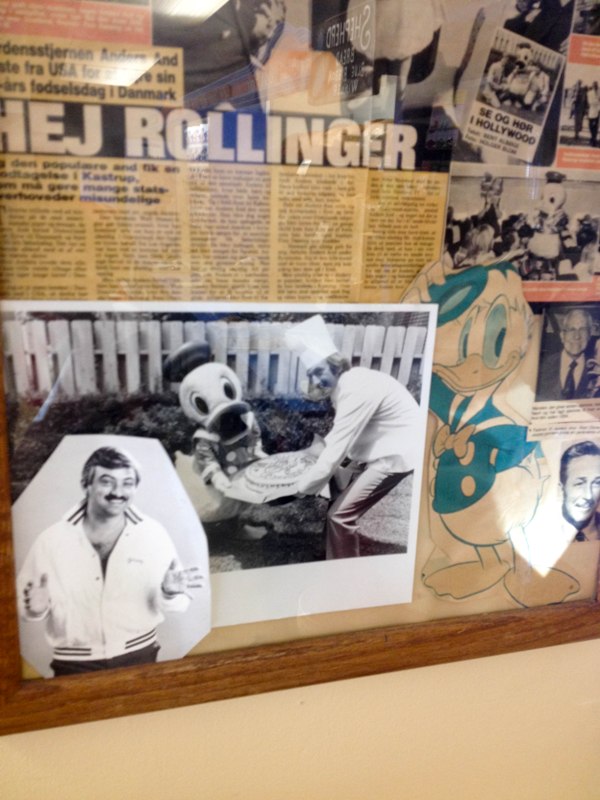 Budget Fairy Tale Tip: The Danish Waffles from Olsen's Bakery are HUGE and very sweet, and can be easily shared between two people.
From here we decided to walk to the Mission in Solvang, the Old Mission Santa Inés. We passed by the Visitor Center so we popped in. Inside the Visitor's Center you can get guide pamphlets, maps, and speak with the local experts. We also picked up some 2-for-1 wine tasting cards for local Solvang wineries! We were stoked since our big plan for the afternoon was to do some wine tasting.
Budget Fairy Tale Tip: Stop by the Visitor's Center for 2-for-1 wine tasting cards for area wine bars!
We also stopped by The Little Mermaid fountain on Mission Drive. Hans Christen Anderson is HUGE here; he even has his own museum.
We kept walking on the aptly named Mission Drive and eventually reached the Old Mission Santa Inés. We also found out the Mission parking lot was being used as Fourth of July Parade Headquarters. We decided to walk on through and figured if we weren't supposed to be there, someone would let us know. We passed by rows of horses and floats; it was like seeing the entire parade in 10 minutes instead of sitting out in the sun for 2 hours!
I took pictures of any miniature ponies I saw. This and the raspberry macarons were the highlights of my day.
I even got to PET the last one.
We discovered the Mission itself was closed but we were happy to just walk the grounds and read about the history on some of the plaques. There is a beautiful rose garden and a shady spot on the other side of the parking lot, overlooking a largely undisturbed valley. It was here we sat for a few minutes, listened to the sounds of the parade in the background, and ate our Danish Waffle.
Budget Fairy Tale Tip: Visit the Old Mission Santa Inés for a quiet and shady spot to sit and rest. There are benches near the Stations of the Cross area (you can't miss it) overlooking a large, green valley.
It was past 1pm by now and we were not quite ready for lunch, so we decided to stop somewhere for wine tastings. One of our 2-for-1 spots was a cute little wine tasting room called The Good Life on Mission Drive, which we spotted earlier in the morning. We decided to go here first. It was very hot out, and their "wine cellar" interior was very cool and felt great. We sat at the bar, and I ordered their standard wine flight (4 tastings) and Mr. BFT got the standard beer flight (5 big tastings). They were $10 each so with the 2-for-1 we paid $10 for two great tastings. Not bad! The Good Life only sources local wines and craft beers. They also sold pre-prepared cheese plates that looked good but seemed a little overpriced for what you get. They also have a small patio with 2 or 3 tables in a garden setting.
Budget Fairy Tale Tip: Visit The Good Life to cool off on a hot day!
When we were done with our tastings at The Good Life, we were ready for lunch. We decided to try to find a wine tasting room that also served food. This was easier said than done! We went through all our 2-for-1 tasting locations and ended up at The Wandering Dog on Mission Drive, which offered half off any tasting with the purchase of a bottle. However their menu selection looked great and it was nice in cool inside their tasting room, so we settled in at the bar. I'm so glad we did because I really enjoyed The Wandering Dog! I wouldn't call it a "budget fairy tale" find because their standard wine flight (for 3 generous tastings) was a steep $16. But we really enjoyed chatting with the server, Russ, who was laid back but obviously very knowledgeable and passionate about their wine and beer selections. Russ gave us some recommendations for wineries to visit in Santa Ynez, and also a winery recommendation in Buellton, which ended up being AMAZING. (More on that later!) Mr. BFT and I each ordered our own wine flights, and when we noticed one of the wines was a duplicate, Russ recommended I switch mine out with their Moscato. He said it was the best Moscato he's ever tasted … and I agreed! So much so that I bought a bottle! So I ended up getting my tasting for half off after all. We also ordered a cheese and antipasto plate for about $25, and Russ disappeared for about 10 minutes. It seemed he painstakingly prepared everything on the board, including three cheeses, a fig cookie (amazing), sausage, olives, crackers, cashews (the best cashews I've ever had), and dried fruits. It was incredible! In the end we spent nearly $100 at The Wandering Dog but we felt the experience was very much worth it.
Budget Fairy Tale Tip: If you're up for a splurge, visit The Wandering Dog bar for great atmosphere, great wines, really great food, and friendly employees.
After leaving The Wandering Dog we stopped in a shop for a souvenir magnet and then went back to Olsen Bakery for more macarons before getting back in the car to head back to Buellton.
Budget Fairy Tale Tip: Souvenirs are a nice way to remember your vacation but think about where you're going to put that trinket before you shop. Don't buy something that's just going to sit in a storage box, or be given to Goodwill in a couple years. Mr. BFT and I have always collected magnets starting way back to our first vacation together to NYC. Magnets are a good souvenir because they don't take up much space, stay in one place, and you know going into any gift shop that you're just there for a magnet, nothing else!!
We rested up at our hotel for a couple hours until it was time to start thinking about dinner. I was thinking about the nearby winery recommendation from Russ, called Avant. I looked them up and found they were only about 2 blocks from our hotel. I called them and was surprised to find they were on open (remember it was Fourth of July) but their last dinner seating was in about 20 minutes! We rushed to get ourselves ready and then drove to Avant and made it just in time.
Avant Tapas and Wine is a restaurant connected to a real working winery. Up on the second floor, the restaurant has large glass windows that look right into the actually winery with the stainless steel drums where the wine is produced. You can even go into the warehouse and walk along a catwalk overlooking the immense room. It's intense!
The thing I really liked about Avant is their tasting system. They have over 50 wine dispensers lined up along one wall. You are given a card which gives you access to the dispensers. At the dispenser, you can select a tasting, a half glass, or a full glass. Just insert the card, press the button, and out comes the wine. It's beautiful. Tastings (just about an 1-2 ounces) ranged in price from just under a dollar up to $4. We stuck with tastings and ended up spending just about $13 on wine. Amazing! The best tasting deal of the weekend, for sure. Avant also has a cool opportunity to create and bottle your own wine blend. You pick white or red, then sample different kinds. Then mix them together, and find your perfect blend. They will bottle it and create a custom label for you. It's pretty pricey but a cool experience. We skipped it for now but plan on doing it on a future trip!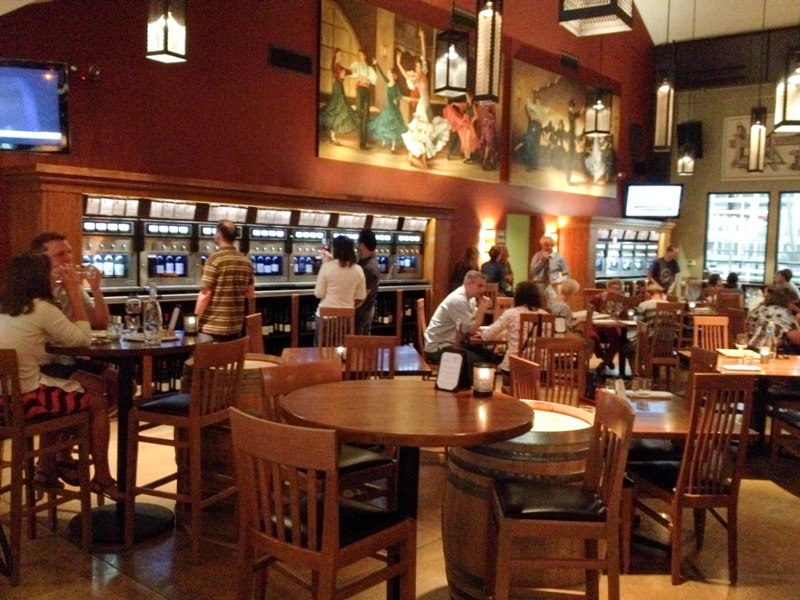 We also ordered two tapas plates of food – a hummus and bread platter, and a lamb dish. Both were excellent. I also liked one of my tastings so much that I bought a bottle, which was discounted $10 since we ate dinner as well. Not too bad! I'm not sure if this was just a special promotion or if it's an ongoing discount. We really enjoyed our visit to Avant and can't wait to go back. We never would have found it without the help of Russ at The Wandering Dog, so a big shout-out to him.
Budget Fairy Tale tip: Visit Avant in Buellton for a really fun and unique, not to mention budget friendly, wine tasting experience! The food is a little on the pricier side but worth it for what you get. It's a small room so make reservations to be safe. Our server also told us to watch out for Groupons!
After dinner we went back to the Marriott and got some drinks at the sports bar on the first level, and took them out to the fire pit on the patio. We also ordered a lava cake from the adjacent restaurant – very good! Drinks and desserts by the fire is a nice way to end the day, you can't really beat it!
The next day we winery hopped on the Foxen Canyon wine trail in Santa Ynez and ate dinner at the very popular restaurant Hitching Post II. All that will be covered in another post!
Have you been to Solvang or Buellton? Do you have any travel tips or hidden gems for this area?