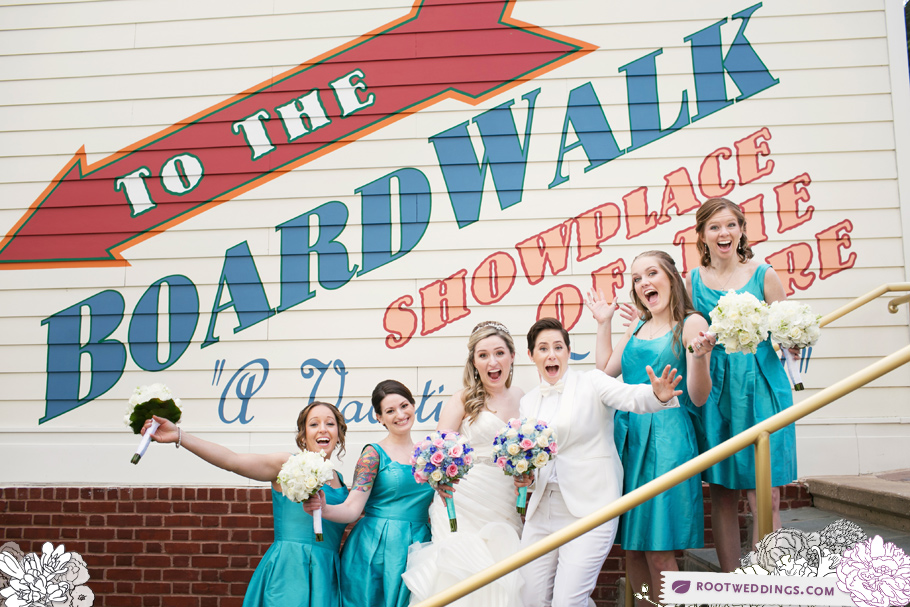 Lindsay and Jackie's Disney's Grand Floridian Wedding – Visit Root Photography for more photos
It has recently come to my attention that some couples didn't realize Disney does same-sex weddings. It may be because Disney promotes the traditional family unit in most of their advertising, but the reality is Disney is a very gay friendly company, and it's no different for their weddings. To Disney, and to me, marriage is marriage and love is love. And that's it! I hate the terms "normal marriage" or "regular marriage," and I look forward to a day when the term "gay marriage" is obliterated from our vocabulary because it's just "marriage." Until then, I'm writing this article to make sure everyone knows, yes, you can have a same-sex wedding at Disney – Walt Disney World, or Disneyland, or Disney Cruise Line – and it will be totally awesome.
Disney not only allows for same-sex weddings but they embrace them. Disney was doing same-sex union ceremonies long before it was officially legal in Florida or California. Same-sex weddings are treated no differently then hetero weddings. I know from speaking with same-sex couples, and even being a guest at a same-sex wedding at Disneyland, that Disney's Fairy Tale Weddings strives to make sure every couple has the day of their dreams.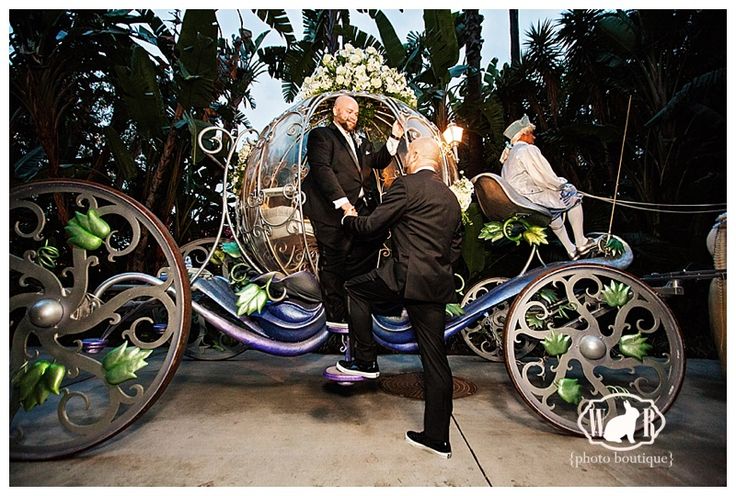 Steven and Mark's Disneyland Hotel Ceremony with Crystal Coach – Visit White Rabbit Photo Boutique for additional photos
Over the last couple years, Disney's Fairy Tale Weddings has become even more accommodating for same-sex couples. They now have customized planning forms for bride/groom or gender neutral. And instead of the standard set of pre-wedding gifts, same-sex couples should receive the gifts that correspond to their gender (for example, two bouquet charms for bride/bride couples, and two sets of collar stays for groom/groom couples). There is a rumor going around that they are re-working their "Just Engaged" and "Just Married" buttons to be more inclusive. HOWEVER, I feel like I need to point out that the vast majority of couples getting married at Disney are heterosexual, and just like with any job, some things are done on auto pilot. If your planner accidentally emails you the wrong forms, just let them know! If the gender gifts don't necessarily fit with your identities, don't be afraid to speak up. Disney will do their best to make sure you get what you need. Your planner may still ask a question about your husband, even if your partner is a woman. While it's not fun to have to make corrections, know Disney is a LGBT friendly place and your planner is not trying to be rude … just trying to juggle the dozens of events they are handling on any given day!
I realize a major concern with couples is how vendors will react to an inquiry for a same-sex wedding. We know Disney's Fairy Tale Weddings supports gay marriage, and I'm willing to bet their preferred vendors do, too. Or else they wouldn't be on the preferred vendor list! That being said, if you need a referral for any vendors in Orlando or Anaheim, or Etsy, PLEASE reach out to me. I will hook you up.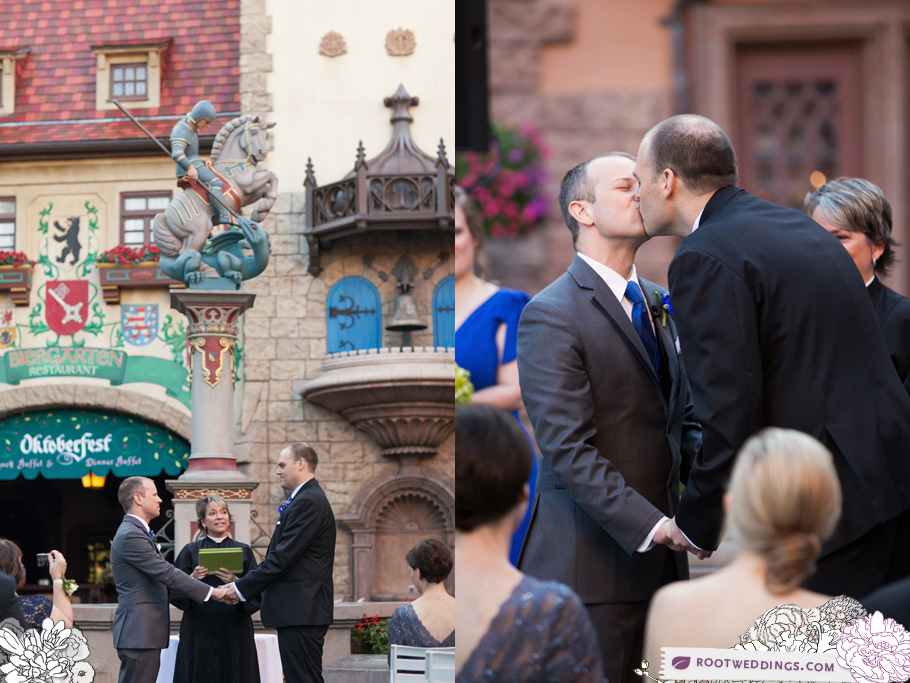 Wade and Bryce's Epcot Wedding Ceremony – Visit Root Photography for additional photos
With all of their couples, Disney's Fairy Tale Weddings will help you plan your dream event. If you're worried your love story doesn't fit the "Cinderella" mold, throw that concern out the window. I know for us, our wedding was slightly garden themed with no hint of Cinderella at all. Want an over-the-top pink and romantic day? Disney can do that. Are you more classic & vintage than frilly fairy tale? That's okay, too. Want everyone to dress up in costume for a Halloween themed ball? Sure! Want all your guests to get up and do the Hokey Pokey during your vows? Errr, that's a little unorthodox, but sure, whatever makes you happy. Want rustic or steampunk or beach themed or Mickey themed or Alice in Wonderland themed or NO THEME AT ALL? Disney can do all these things for you. My point, and I do have one, is that whatever sexual orientation the two of you identify with, you can have any kind of wedding you want at Disney. Any kind of style, any kind of theme, and anything you can dream up. So, dream big (and then, you know … readjust for budget limitations).
I personally was honored to be a guest at the Disneyland wedding of my friends Renee and Diana. I have been to several weddings at Disneyland, and their wedding did not look or feel any different then the hetero weddings I have attended. I know this may seem like a ridiculous statement – why would a gay wedding look different than a straight wedding? But since the legality of same-sex marriage is so recent in our country, I just want to make sure everyone understands Disney is well prepared for your wedding.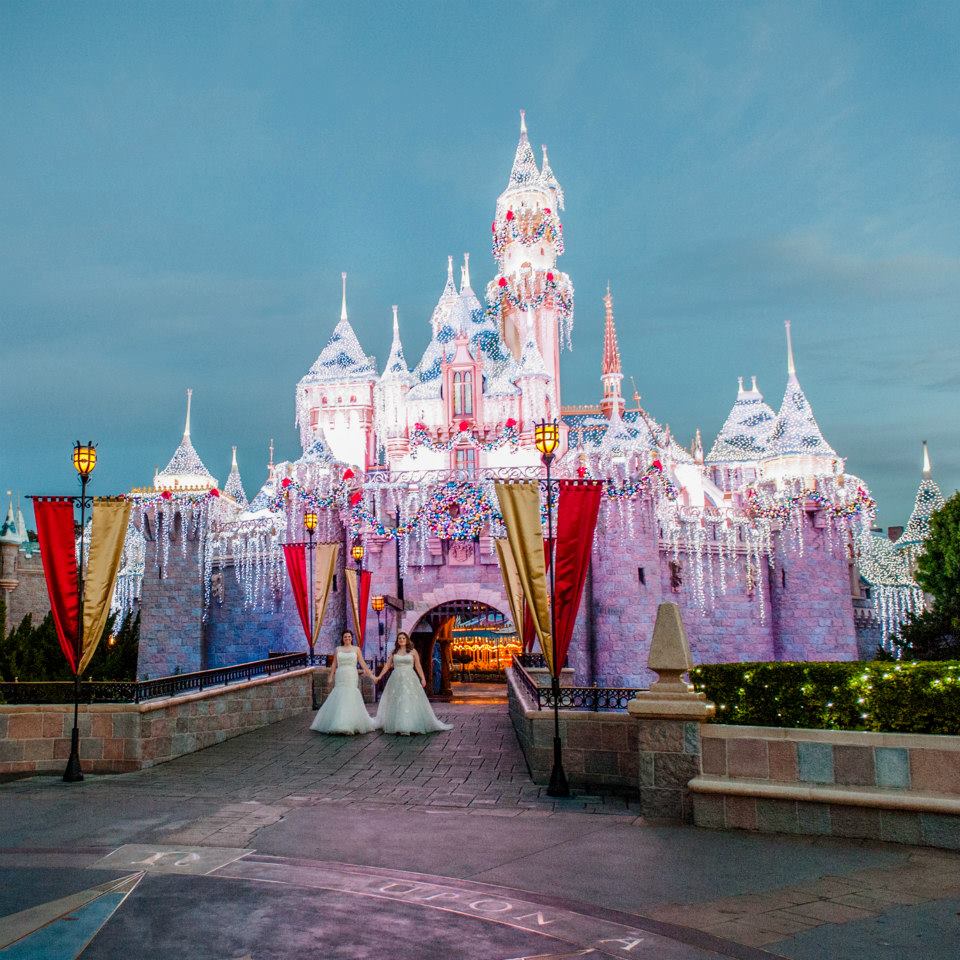 Renee and Diana's Disneyland "Castle Session" – Photo by C&B Photography
While speaking with one couple, they told me how they struggled to find any online evidence of gay weddings at Disney. They simply wanted to see Disney couples that "looked like us" before booking. While looking on Disney's official weddings blog, the Ever After Blog, they had to go back 14 pages before they found a same-sex wedding spotlight. I totally feel their pain. I have several Real Disney Wedding spotlights here on my blog and all of them are straight couples. They are all gorgeous and inspiring weddings, but I would love to see more diversity! If you are a same-sex couple who got married at Disney, please consider submitting your wedding to me for a spotlight! I would love to hear your story.
Ready to get started with your Disney wedding? You can reach out to them via their official website.