This post contains affiliate links.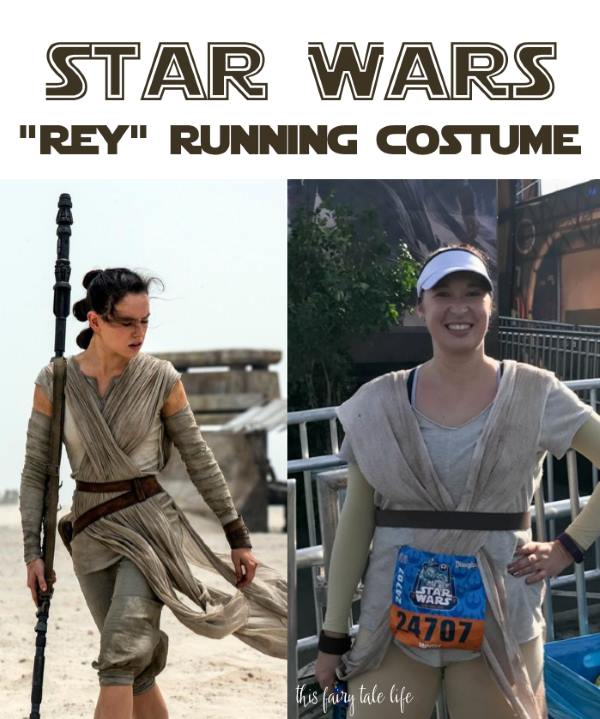 I remember wanting to do a Rey running costume as soon as I watched Star Wars: The Force Awakens for the first time. But I also knew there would probably be a million Reys at the next Star Wars race, and I was right. I instead did a tribute to my beloved Han Solo, which was a really fun costume.
But for this year's race I needed two costumes since I was running both the 10k and the Half Marathon, so I decided to dress as the two newest Star Wars heroines – Jyn Erso and Rey.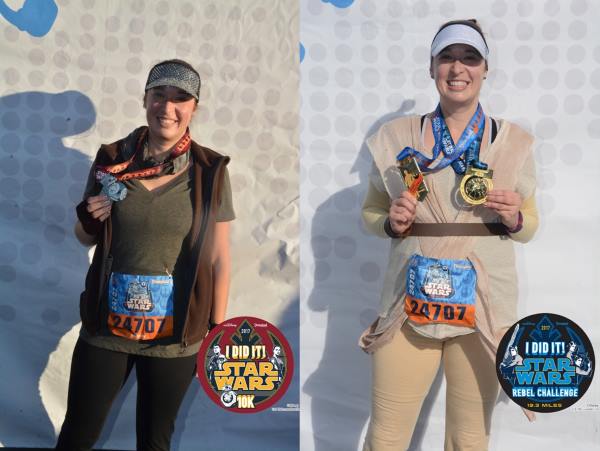 Putting together a Rey costume seemed daunting, so I first purchased a Rey halloween costume off Amazon. I had read reports of runners wearing this costume so I thought I'd give it a try. Once I had it, I realized the material was just not right for me and I wanted to make sure I was going to be comfortable for 13 miles. Also, the wrap dress does not continue on the back, it is just attached to the front and I didn't feel that was authentic enough. So I returned the costume and made mine from scratch.
STAR WARS Rey Running Costume Tutorial
For this costume you will need:
Beige sleeveless or cap sleeve top
Grey or Beige cropped pants
"Natural" gauze for the wrap dress and arm wraps
Brown belt
Brown wrap bracelet
I really struggled with the base of my outfit. I finally settled on beige yoga pants since I could not find pants in a better color. I usually stick to black pants since they are more flattering and was nervous about wearing light colored pants, but I think with the overall costume they ended up being okay. They were VERY comfortable.
I went to several local clothing stores to find a decent top and finally found something the correct color at Nordstrom Rack. I bought it, even though it had short sleeves. I never found anything more suitable, though, so I ended up using it. (similar).
To make the wrap dress I bought 2 yards of natural cotton gauze at my local craft store. I cut it into strips about 8 inches wide and used no-sew hem tape to create one long piece of gauze, about 12 feet long. The fabric was the right color but I felt it looked too "new" so I sprayed the fabric with brown spray dye to make it look dirty. On the morning of the race I used double-sided clear tape to attach the wrap to my top so it wouldn't be sliding all over the place while I ran. It stayed in place the whole race!
The belt was made of brown craft foam, cut into 1 inch strips and held together by tape (I taped the belt around my waist on race morning). The brown bracelet was a simple leather craft bracelet found at my local craft store (similar).
Rather than wrapping gauze around my arms, which seemed uncomfortable for 13 miles, I purchased beige compression sleeves. I have never worn compression sleeves before and usually with half marathons I would always experience uncomfortable swollen fingers towards the end, but not this time! So aside from matching with the costume, they really work.
I also wore compression socks and a light colored visor, which are items I wear during every race to stay comfortable.
And you can't forget Rey's signature hairstyle! I practiced Rey's triple bun a few days before the race to make sure I could quickly get it right on the morning of the race.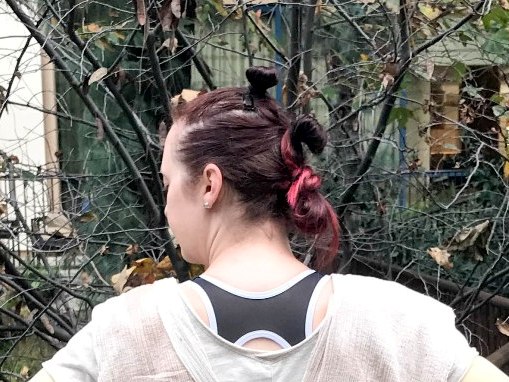 My costume was even BB-8 approved! 😉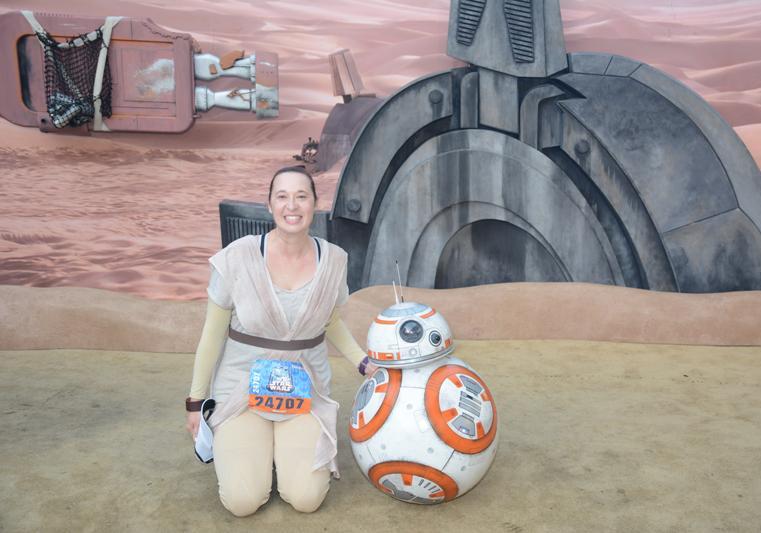 Overall I'm happy with the way this costume came together! It was easily recognizable (I had a lot of spectators cheering for "Rey!" along the course) and very comfortable. My one complaint was lack of pockets, so I had to wear my Flipbelt underneath my top.
I hope this tutorial helps you put together your Rey running costume! Thank you for reading!