This is a partnered post with CK Mondavi. All opinions are 100% mine. Search #CKMondaviHoliday on Instagram and Twitter for more recipes and entertaining tips!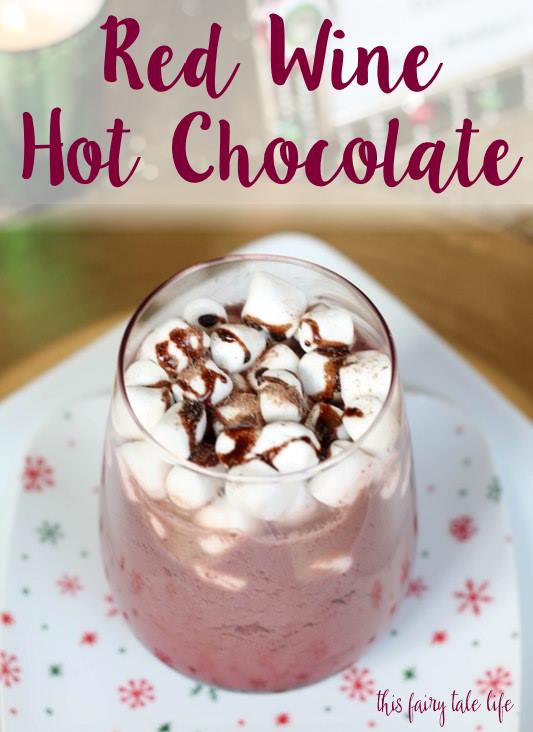 2017 is already looking up! I'm happy to announce I have been chosen as a CK Mondavi Ambassador for the next year, which means I'll be partnering with CK Mondavi wines to bring you some great recipes and entertaining tips involving one of my favorite subjects – WINE! If you have been following me for a while you know I've had a wonderful relationship with CK Mondavi for a few years now, and I've brought you lots of wine recipes using their varietals. I'm so happy and proud to be continuing our partnership!
This first recipe I want to share with you is one that actually has a very special meaning to me – red wine hot chocolate. If you've never experienced it, you are missing out! We already know red wine pairs well with chocolate, so why not save yourself a step and simply combine the two?
I remember the first time I heard of red wine hot chocolate. My grandmother told me about it. My uncle worked at a wine shop and had become quite the wine connoisseur. He used to bring a bottle of chocolate wine to my grandmother whenever he visited. I was so shocked because I had never even see my grandmother drink wine before! But she said the chocolate wine was so good … and she was right! Grandmothers always are. Unfortunately we have now lost both my grandmother and my Uncle Mike but this drink reminds me of both of them. Thanks to CK Mondavi, I easily whipped up a batch in the slow cooker for when my parents came over for an early Christmas celebration.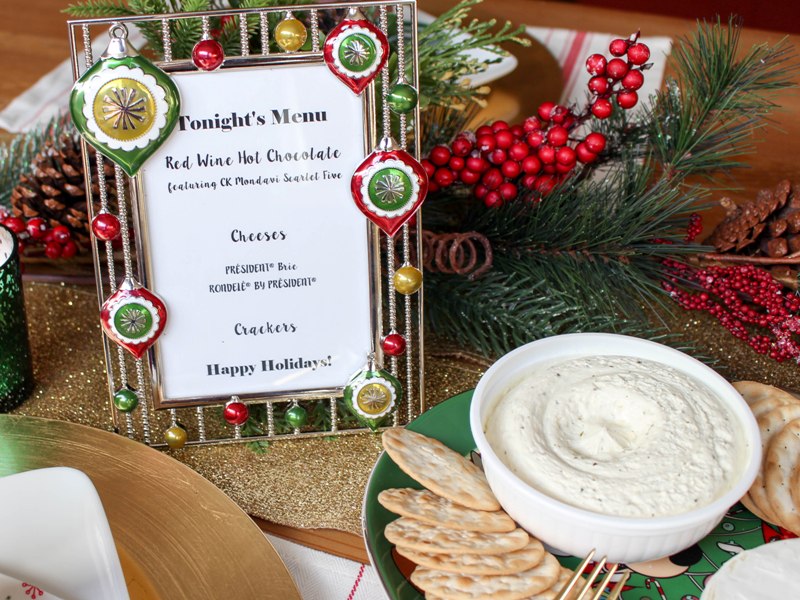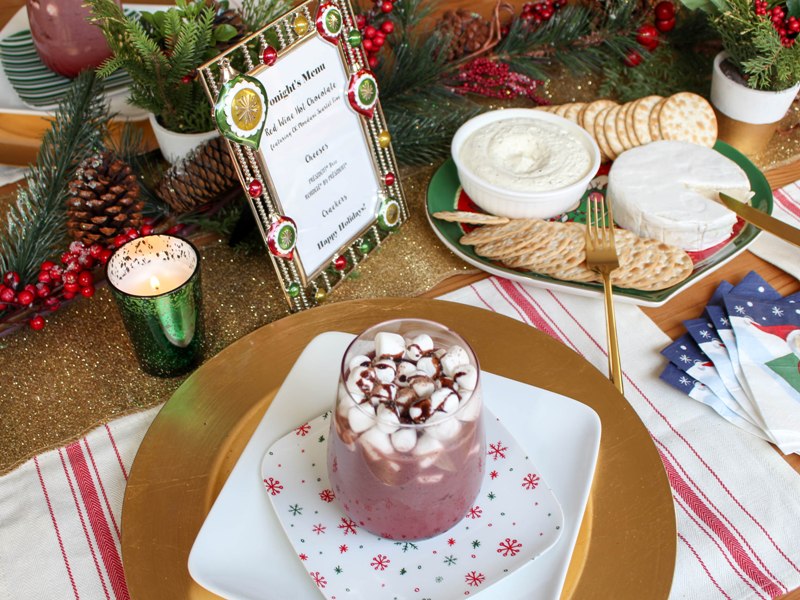 For snacks, I set out PRÉSIDENT® Brie and RONDELÉ® BY PRÉSIDENT® cheese spread, paired with water crackers. These pre-packaged cheeses make entertaining so easy!
CK Mondavi wants to help make holiday entertaining fun and easy for you, too, so they are running a special holiday promotion in stores now through January 31, 2017. You can receive $1 off PRÉSIDENT® Brie, $1 off RONDELÉ® BY PRÉSIDENT® and $1 off any crackers now through January 31, 2017. Look for bottles of CK Mondavi wine with the special promotions/stickers attached. Wine and cheese and crackers? There's not much more you need for a perfect Christmas or New Years gathering.
And if you're really looking for a good wine time, you can also enter to win a wine country weekend in Napa by texting CKMONDAVI to 31279. But hurry, the deadline to enter is December 31, 2016!
This recipe is so easy to make using the slow cooker, but you could also make it on the stove top. Just combine all the ingredients and let the drink simmer for a few minutes so it's nice and warm.
Easy Slow Cooker Red Wine Hot Chocolate Recipe
Makes 6-8 glasses
INGREDIENTS
1 (one) bottle of red wine (I used CK Mondavi Scarlet Five)
1 (one) quart of 2% milk
Chocolate sauce
1 (one) cinnamon stick
approx 1 tsp orange zest
(Optional) Marshmallows and chocolate shavings for garnish

DIRECTIONS
Step 1 – In a separate cup, I mixed one quart of milk with chocolate sauce. I didn't measure the chocolate sauce, I just kept adding some until I was happy with the taste. Once the chocolate milk is mixed, transfer to the slow cooker.
Step 2 – Add a full bottle of red wine to the slow cooker. Use a spoon to mix well.
Step 3 – Add one cinnamon stick and the orange zest.
Step 4 – Heat on "low" for 30-60 minutes, then move to "warm" before serving. If the drink has separated, give it a good stir before each serving.
Step 5 – Transfer to heat-resistant cups or mugs using a ladle, and garnish with marshmallows, chocolate shavings, and additional chocolate sauce.
RECIPE NOTES
– This drink is VERY rich. It is more of a sipping drink, and it's definitely an evening drink. If you drink this during the day, you will want a nap.
– I made this recipe using milk and chocolate sauce but you could easily use a hot cocoa mix or powder. Simply prepare the hot chocolate per instructions before adding to the slow cooker.
– I used 2% milk but you can use whatever milk you want. A thicker milk will result in a thicker, richer drink.
– If you use a dry red wine, you may want to add some sugar to the recipe. With a sweeter red wine, you shouldn't need any additional sugar.
Thanks to CK Mondavi for sponsoring this post. Follow CK Mondavi on Facebook, Twitter, Instagram, Pinterest, and YouTube for more recipes and wine tips!