Disney Bride Jamie is planning a Disneyland wedding at the Rose Court Garden and Sleeping Beauty Pavilion for February 2018.
From as far back as I can remember, I have always had a special place in my heart for Disney. Never did I think that Disneyland would become a part of my very own fairy tale wedding.
When I met my now fiancé Ash I was on vacation/work trip at Disneyland. To make a long story short, I was having a hard time in my life and I decided to go have a cocktail before going back to my overwhelming reality. I was enjoying my night at Trader Sam's Enchanted Tiki Bar and little did I know my future husband was at the table next to mine. We talked that night and promised to keep in touch as I went back to Washington. Over the next few months, we fell for one another as my life in Washington was coming to a crossroads and California was calling to me. So, I made the hardest jump and move of my life.
With a suitcase and dream I moved down to California to chase the dreams I had tried to accomplish my whole life to that point. As soon as I moved here I was hired by The Disney Company, starting in attractions and later in entertainment. Ironically Ash started working for Disney as well but as a bartender. My life in California was difficult and full of obstacles but through it all I had my amazing fiancé Ash right by my side. Whenever times were particularly tough we went back to where it all started, Trader Sam's, to reconnect and fall more in love. There we would laugh, chant with the enchanted Cast Members, and reminisce of that wonderful night we met. On busy days at Trader Sam's we would get to-go items and picnic over at the Rose Court Garden right around the corner. There was something so special about these quiet moments that we spent in our magical spot. We would talk, dance, and pretend this small area of Disney was our own.  It was almost like the Rose Court Garden was our secret club house and it made us feel like we were the only two in the Resort.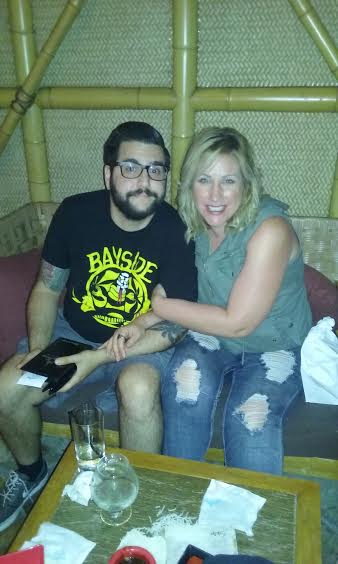 One magical night Ash popped the question I was eagerly anticipating. He chose to propose to me at the Rose Court Garden, our "secret" spot. He pulled out all the stops and it was beyond romantic. I felt like a princess. This was one of my Cinderella moments, another chapter of my fairy tale, as he slipped his great-grandmother's ring on my finger. I was so excited to become my soulmate's bride that I couldn't start planning our wedding fast enough! Imagine my excitement when my fiancé brought up that we could get married at Disneyland!!!! Ash is unlike most grooms. He had already looked at spots, been in touch with a Disney wedding planner, and came up with a budget that would fit our needs. From there we chose to get married at the site of our proposal, the Rose Court Garden, and have our reception at the Sleeping Beauty Pavilion at The Disneyland Hotel.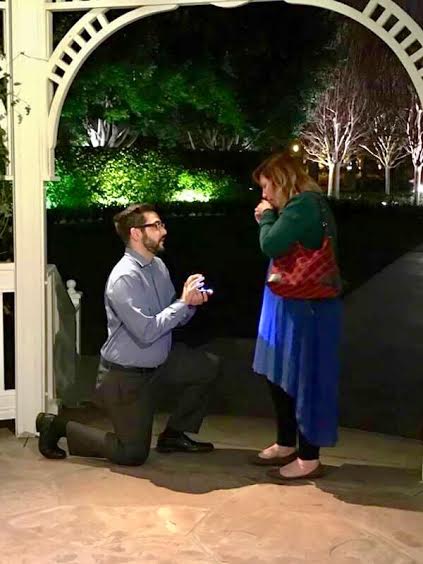 Disney has become a little piece of our home. We consider parts of the Parks our home away from home. Since I have now lived in California for a little over two years and Ash has lived here most of his life, and both of us working for the Disney company, it made sense planning-wise to have our wedding here. Unfortunately our wedding is a destination wedding for over half the guests. We understand this is a hardship for some but we have given a year notice and are working with everyone to find good deals on travel expenses. Most of our travelers are also turning our wedding into a vacation! We want our guests to not only enjoy our wedding but enjoy Southern California and Disney as well.
Deciding on Disney as our wedding site has been an unique experience. I have been thankful for the Disney brides before me and the fact that my fiancé and I have a clear vision of what we want our day will look like. The Disney's Fairy tale Wedding staff are very supportive and have been true fairy godparents. I feel beyond blessed that my fiancé made this dream come true.
I look forward to planning for our big day which is taking place early next year!