I partnered with Occidental Grand Xcaret to experience their resort at a discounted media rate. As always, all of the opinions expressed here are my own.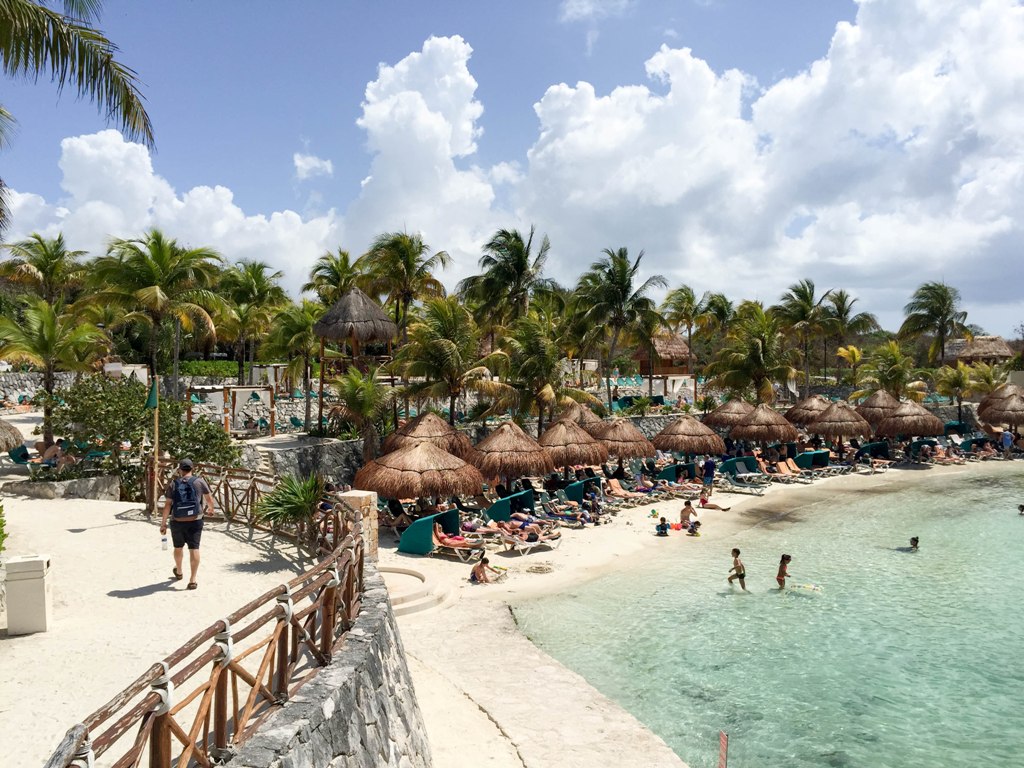 I know I'm jumping around in my trip reports, but I'm going to take a break from Alaska and Walt Disney World to talk about Mexico for a hot second (and boy, was it hot)! As you may recall from my earlier post, Mr. BFT went to the Yucatan Penninsula in early May to celebrate my father-in-law's birthday. We stayed at the Occidental Grand Xcaret, just south of Cancun and Playa del Carmen. The resort was wonderful (although we had a few snags), so I want to give it a proper review while everything is still fresh in my mind.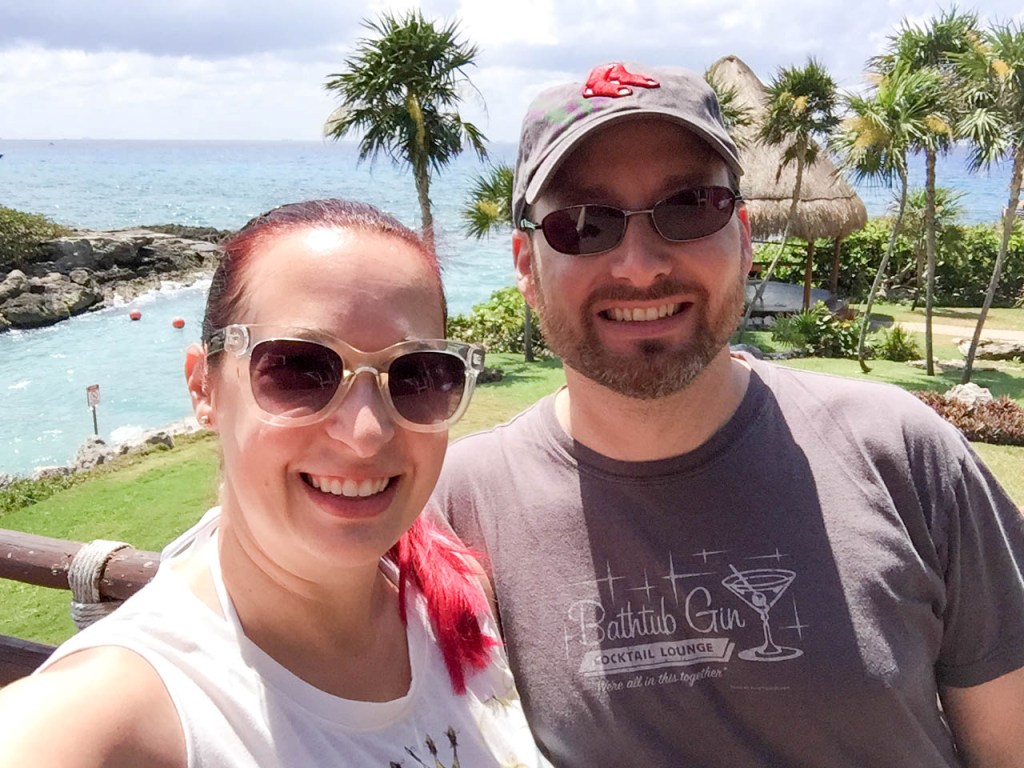 The good …
Our family decided on Occidental Grand Xcaret because the grounds looked incredible! It's set further south than the party zone of Cancun, and since it's all-inclusive (food and drinks are included with the hotel price) with several restaurants to choose from, we didn't really need to leave the resort. The resort is very large, and rooms are located in several three story buildings. The majority of the restaurants are in one area, near the lobby. There are three pools, including a very large main pool (we referred to it as the party pool), a smaller quieter pool, and an adults-only pool, which was located near the beach. The beach is more of an inlet; it's not a long stretch of beach that you may think of when you picture a tropical vacation. It's small, but it never felt crowded, and the water felt amazing! I had read some reviews about problems with seaweed and we experienced none of that. The resort is also connected to Xcaret park, an eco-archaeological park with animals, dolphin encounters, an underground river, and shows spotlighting Mayan traditions and heritage. Having the park right nearby (with its own hotel-guests-only entrance) simply expands the grounds of the resort, ensuring there is always something to do or see during your stay if you opt to buy a park pass.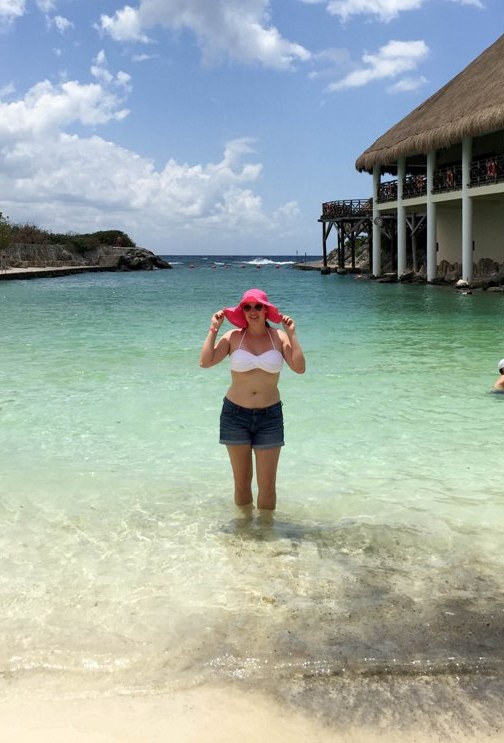 The bad …
Our time at Grand Occidental Xcaret was great except for a couple snafus that really put a damper on the vacation. The biggest problem was check-in. I will elaborate further on my daily trip reports, but long story short: we did not get the room types we booked. I (as my family's travel agent) booked a Junior Suite for my in-laws, and when they checked in they were told none were available and they were put into a standard room. To me this is unacceptable, and the lack of any kind of remorse from the staff made it worse. In my opinion we should have been offered much more than the robotic "I'm sorry"s we all received (Complimentary wifi? A spa treatment? A bottle of champagne? Anything). Even worse, we were gleefully told they would only charge us for the standard room instead of the suite. Were we supposed to be grateful for that? Even when I explained to a manager that, as a travel agent, I cannot recommend their resort to my clients due to a mistake of this level, I felt like I was getting a scripted response with no warmth or personality. The complete lack of customer service in this matter started my trip off on a sour note and I never fully recovered. There were also some lesser issues with all of our rooms (we had three total) but to make a very long story short, after one night we all moved into new rooms and our new rooms were great, with the exception of the suite that we never got.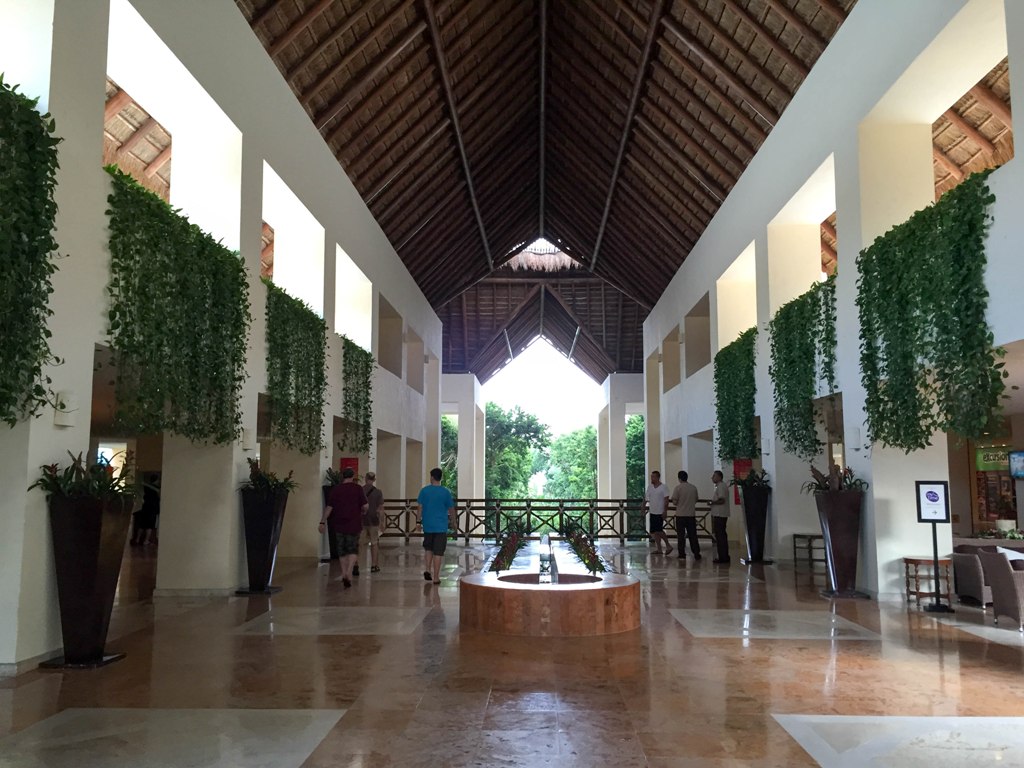 I spent a lot of time in the lobby getting our rooms sorted. At least it's pretty.
The second issue was when we tried to visit the next door Xcaret park. I was told a media pass would be at the ticket booth in my name. Another long story made short, after trying two ticket booths, being separated from our family (with no international cell service to get back in touch with them), and spending about 40 minutes in the hot sun, I broke down and just bought my own pass. This obviously won't be an issue for anyone who didn't try to arrange a media/press pass, but what was frustrating was, again, the lack of organization and customer service. So, my advice is, if you want to visit Xcaret park buy your tickets ahead of time or get the "Unlimited Xcaret" package that allows you to go in and out of the park for the duration of your stay. If you don't have your tickets ahead of time, I recommend taking a taxi to the main entrance, where there are more employees available to assist in case something goes wrong. However, once you have your ticket (which is a bracelet), it is easy to go in and out at the hotel-guests-only entrance with a quick scan.
The wonderful …
Now that the negatives are addressed, let's focus on the positives of this trip, of which there were many! First off, we arranged an airport transfer through USA Transfers and I highly recommend them. For both our pickup and return trips they were on time, friendly, and spoke perfect English. It's always stressful to arrange for transportation in a foreign country, but there was no need to worry. Everything was perfect!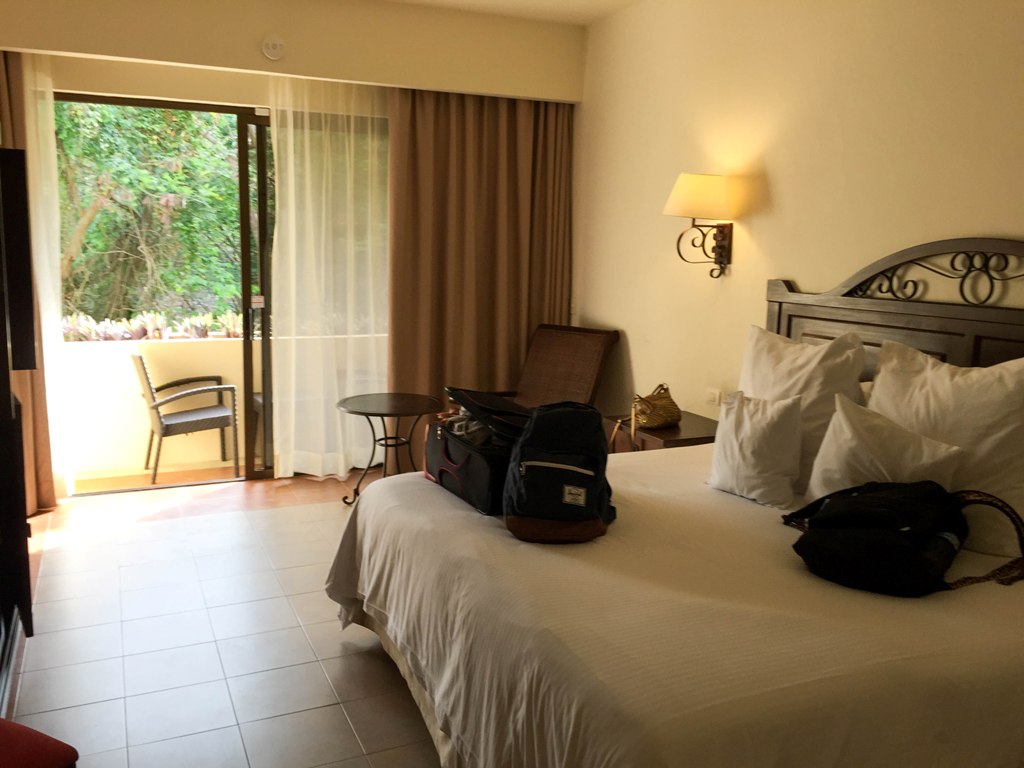 We stayed in a standard size room and found it to be very spacious. The closet is huge, plus there were dresser drawers for clothing. The bathroom had a double-sink vanity and a large tiled shower. Our patio was a bit on the small size but fine for just the two of us. Our room looked out onto trees and we loved the privacy. Our in-laws' rooms looked out over the mini-golf course, which they loved because they are huge golfers! One day we even saw deer from their patio.
Speaking of deer, we saw plenty of them during our stay at Occidental Grand Xcaret! Along with monkeys (high in the trees), parrots, iguanas, and some wild animals I didn't even recognize! Having the animals around was certainly a unique experience; all part of the charm of staying within a jungle setting verses the urban resorts of Cancun.

WHAT ARE YOU!?!?
One of the most important things to me about a vacation is the food. Out of all the reviews I read about the Occidental Grand Xcaret, the one thing that people seemed really mixed on was the food. Because of this, I probably went in with low expectations but for the most part the food was outstanding. We ate exclusively at the all-inclusive restaurants on property and we tried nearly all of them. First of all, we ate all of our breakfasts and lunches at the buffet near the beach (The Beach Club). I will say that the buffet is just okay. The breakfast offerings were better than lunch. I mostly ate a salad, hamburger, and fruit for lunch since it looked the most appetizing, and it filled me up enough. Really, the main attraction is dinner so you want to save your appetite!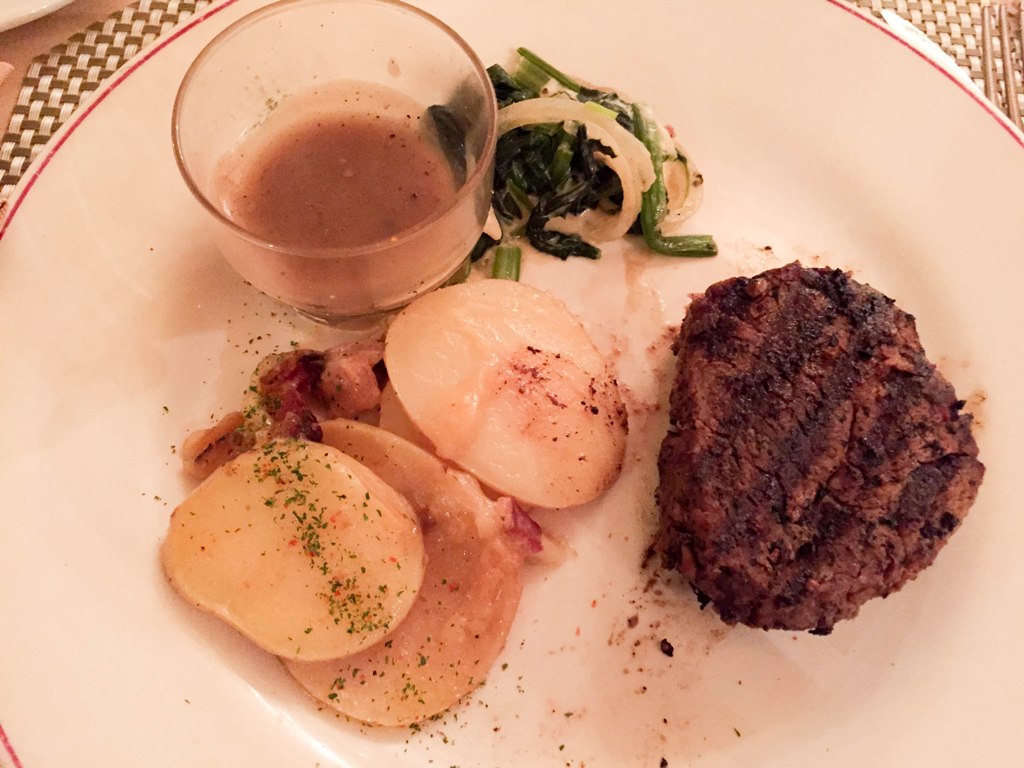 This filet was small, but mighty.
La Hacienda – Serves Mexican cuisine. We ate here on the first night. The food was fine but this was probably our least favorite of all the restaurants we tried. For some reason, I like the Mexican food we get here in Southern California better than what was served at this restaurant in actual Mexico! Again it wasn't bad, it just wasn't great. This is also where we first tried the house wine (red and white) and found it to be adequate. My mother-in-law is more of a "wine snob" than I am, and she was okay with it! It's the only wine that is included in the all-inclusive package so we tolerated it, but we did end up ordering and paying for a different bottle of white wine to keep in our room (in the mini fridge, which was quite handy).
Sonora Grill – Also known as the steak house and the "fanciest" of all the restaurants. (FYI – all the dinner restaurants do have a dress code, no shorts/sandals/swimsuits aka look nice.) We went here on night two, which was also the day of my father-in-law's actual birthday so we joked we were "splurging" on a nice dinner for him. We all really enjoyed the steak house. Among the six of us we all tried several different dishes and loved them all. Everything was perfectly cooked. The servers were wonderfully attentive and brought out a special dessert for my father-in-law and sang a song.
Los Olivos – We ate at this Italian restaurant on night three, and really enjoyed it as much, if not more, than the steak house. Personally I really liked their salad bar area (each of the dining restaurants has a salad bar), which was more of an antipasto display. I had a pesto gnocchi dish and it was heavenly. The desserts here were wonderful as well. The only negative is our waiter would disappear for long chunks of time. We waited at our table about 10 minutes before anyone came by. It didn't put a damper on the meal, though.
El Pescador – At night, the beach buffet turns into El Pescador, aka the seafood restaurant. I actually don't eat seafood, but everyone else had good things to say.
For night five, everyone went back to the steak house, so I guess you could say we really liked it!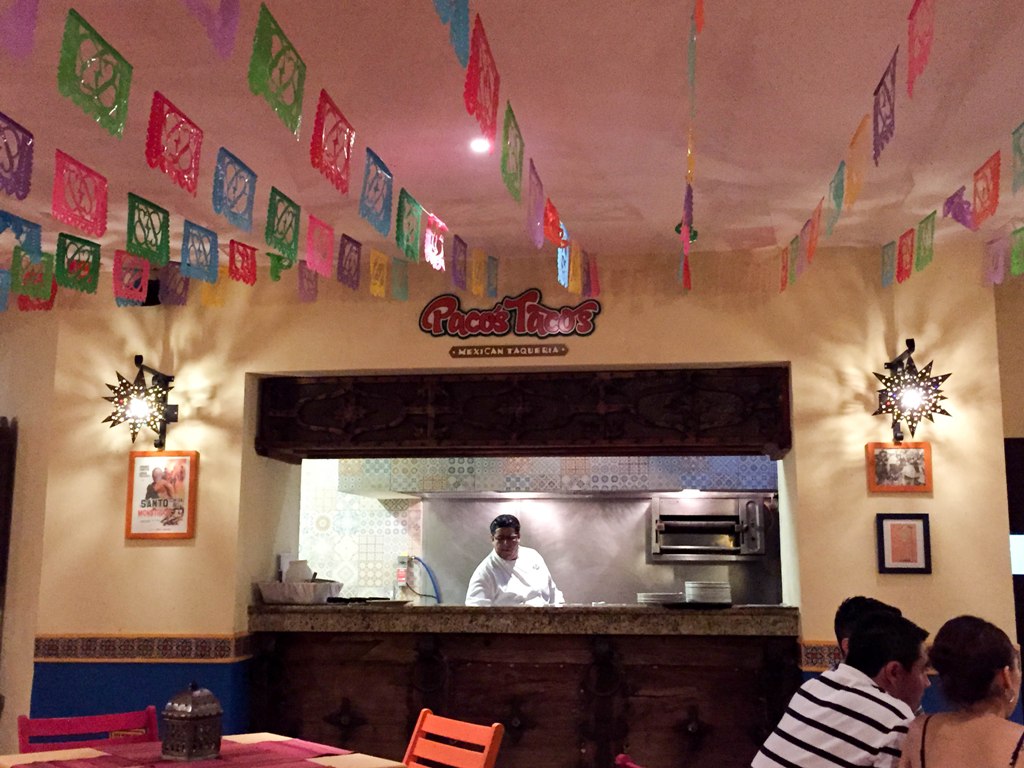 For late night snacks, there is really only one option – Paco's Tacos and La Piazza on the patio of the dining area. The best part about hanging out here were the servers! They were really friendly and funny. The food was okay, but we mostly hung out here for the drinks anyway. They have a huge drink menu and a full bar.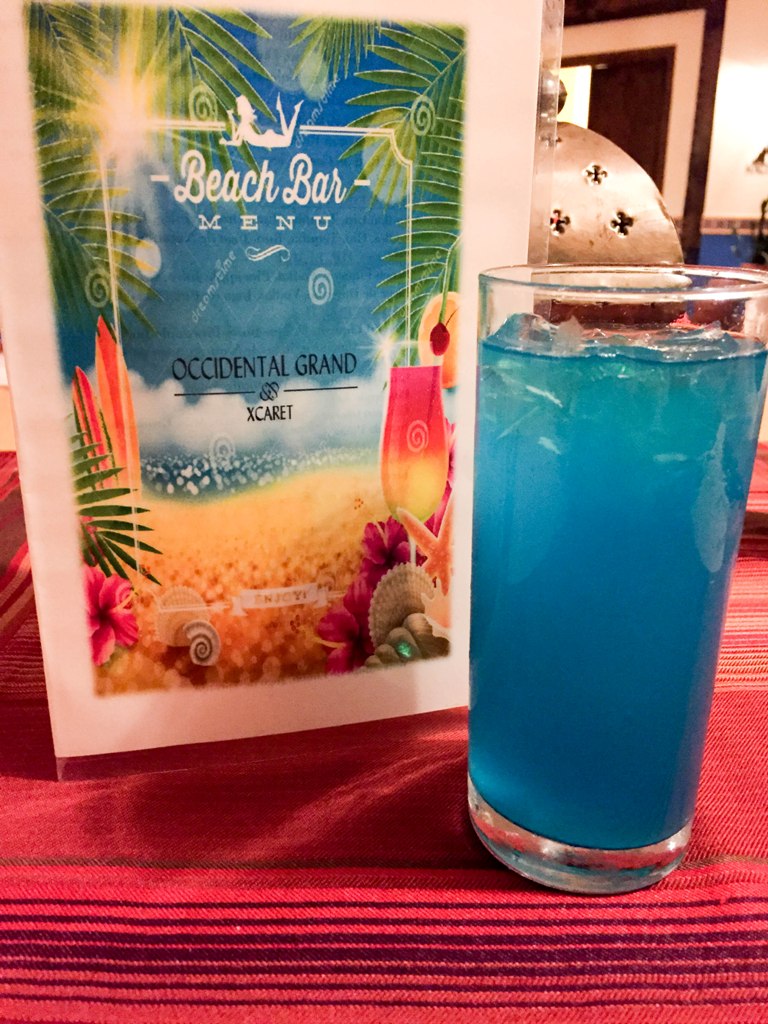 Downstairs from the patio was The Disco – Palenque, basically a nightclub. Mr. BFT and I went here our first night and had a great time. The music is REALLY loud, either that or I'm getting too old. But the drinks were flowing, the lights were flashing, and the dancing was fun.
Another fun spot to sit and have a drink is the Lobby Bar, located downstairs from the check-in area. However, I found it a bit stuffy and humid, and preferred the patio area near Paco's Tacos.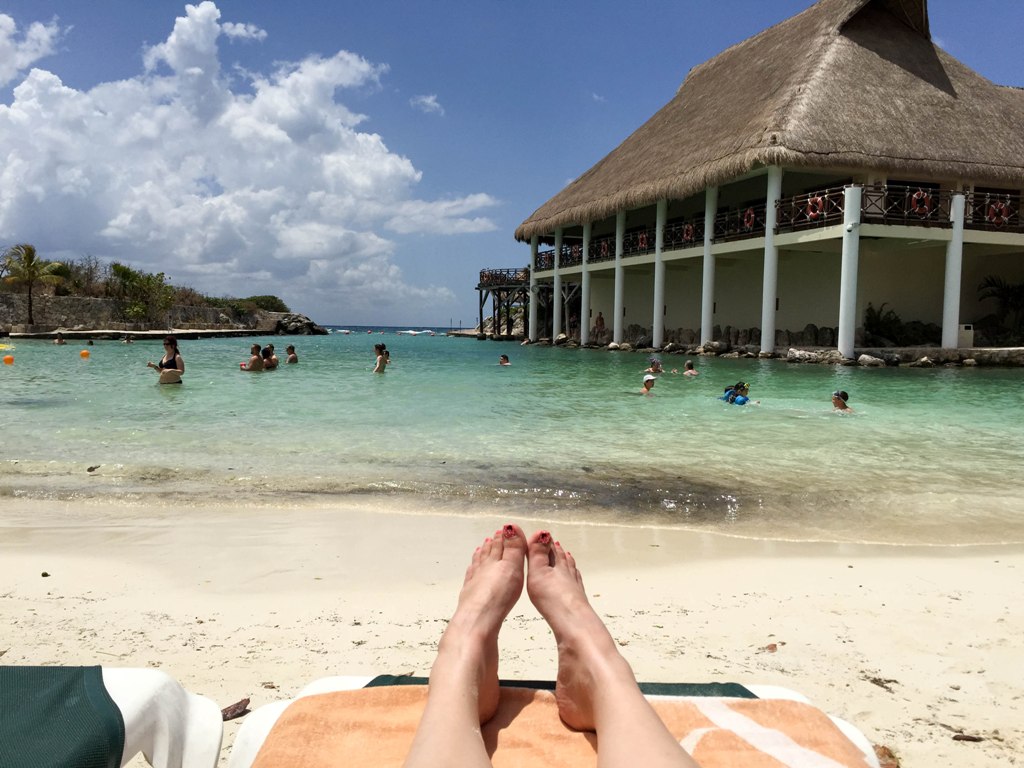 During the day we mostly lounged by the beach or the pool … that's what vacation is all about! For the beach, I would recommend trying to go down as early as you can to claim some loungers in the first row along the water. My sister-in-law, since they are up early with the kids, went down to claim their chairs at 8:30, and then we would rotate out loungers all day. The buffet is right there for snacks, and there are two bars nearby. You basically have everything you need! My niece loved how there were tiny fish swimming in the ocean, and every once in a while we would see a big fish! The water was the perfect temperature for wading. My only complaint about the beach area is that sometimes it gets loud when the employees make announcements or play water games, and they also do a "fashion show" to try to sell swimsuit cover-up wraps. I'm not a fan of being pitched to when I'm trying to relax.
While the beach is great, I gotta say I preferred the pool area. It was a close walk from our room and I really enjoyed the swim-up bar (pictured above). I loved playing with our nieces in the water, and I got a kick out of my four-year-old niece swimming up to the bar and ordering an orange juice. Some areas of the main pool (which is very large) are more of a "party zone," if that's what you are into. The thing I really loved about this resort is there is something for just about everyone.
As mentioned above, we did spent a partial day in Xcaret park, but I'll tackle that in a separate post since this one has gotten pretty long!
Overall I enjoyed the Occidental Grand Xcaret, although I'm not sure I could stay here again given the screw up with my in-law's suite. Which is a shame, because the resort itself is beautiful and I enjoyed it tremendously. However, booking a certain room type and having it not be available at all is unacceptable to me. Even with their generous sized standard rooms, putting a family of six – including two children under four years old – in two standard connecting rooms was really cramped, even more so when Mr. BFT and I came to visit. Everyone still had a good time, but we were counting on that suite to provide us with a place where all eight of us could gather comfortably, and the response (or lack of response) from the staff was extremely disappointing.
Occidental Grand Xcaret Resort
Carretera Federal Chetumal – Puerto Juárez Km. 282, #307
77710 Solidaridad – Quintana Roo, México