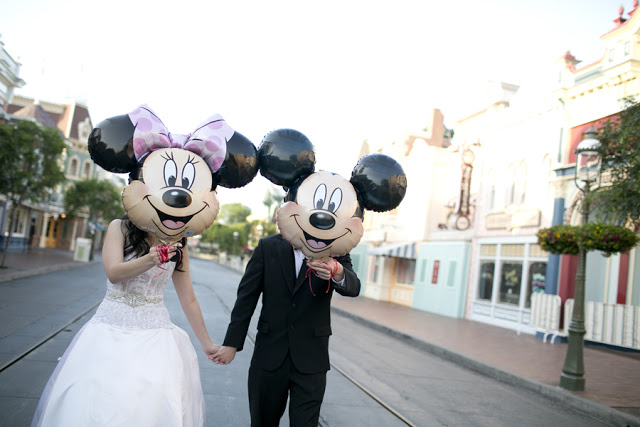 Photo by Sarina Love Photography
Disney brides are a unique group. We have a special bond of getting married at the most magical places on earth. We know that fairy tales are real. We know that dreams do come true. We also have been subjected to looks of pity and confusion and a barrage of strange questions more than any other group of brides. What is it about the phrase "We are getting married at Disney" that turns people's common sense switch to the off position? Disney brides want you to know that our weddings are serious affairs, legal (yes, really), and, for the most part, pretty darn normal. To help save you from embarrassment, here is a list of things you should never say to a Disney bride.
"Will Mickey Mouse be the officiant?" Do you think you're clever when you ask us this? Because we have already heard it a few dozen times. Jokes aside, Disney takes their wedding ceremonies very seriously (as everyone should) and costumed characters are NOT allowed at ceremonies, only at receptions.
"Why Disney?" Why NOT Disney? That's the question everyone should really be asking. Disney is a place of dreams, magic, and happiness. It's the perfect place for weddings.
"Isn't it expensive?" Asking about the cost of a wedding or party is always rude, no matter the venue.
"Is the wedding legal?" If the couple is doing it right, yes.
"Are you having a real wedding, too?" The Disney wedding is the real wedding. It's a legit ceremony, with vows and rings and everything. Seriously.
"I hate Disney, it's so overrated. I don't get why anyone goes there, let alone spends all that money." Your opinion has been duly noted and filed away in the deepest, most important recesses of my brain.
"Disney weddings are tacky." How many Disney weddings have you attended? If the answer is none, then you don't really know what they are like, do you? Also, tacky is subjective. But if you aren't interested in attending our wedding, that's fine. More cake for me.
"Disney is just for kids." Then why do they host thousands of weddings (between adults) each year? All those people can't be wrong.
"Will I need to buy a park ticket to attend your wedding?" No. Even if the wedding takes place inside a park, guests do not need to pay an entry fee.
"Do guests have to dress up if the wedding is going to be at a theme park?" Yes, it's still a wedding, not a vacation play date. Follow the dress code on the invite or the couple's wedding website.
"I know today is the RSVP date but I'm not sure yet if I can attend your wedding." The thing is, the wedding has to be paid for 30 days in advance, and the cost of the wedding depends on the guest count, sooooo we really need your firm response by the date on the RSVP card. That has been pre-addressed and stamped for your convenience.
"Can we leave your reception early to get in some theme park time?" Sure, if you must, but I would recommend simply not bringing it up and just sneak out quietly.
"If kids aren't invited, why have your wedding at Disney?" Disney is not just for kids. Some couples prefer to have an adults-only reception for a number of reasons, and weddings at a Disney property are no exception.
"Will alcohol be served?" Just because there is no alcohol served at Disneyland or the Magic Kingdom doesn't mean all Disney weddings are dry. The decision to serve alcohol is completely up to the couple getting married.
"How can you theme your wedding after an awful, anti-feminist fairy tale?" Walt Disney himself said the following about Cinderella, "She believed in dreams, all right, but she also believed in doing something about them. When Prince Charming didn't come along, she went over to the palace and got him." #micdrop
"I can't afford to come." We are sad we won't be able to celebrate with you, but no matter where we get married there will be travel costs and logistics issues for some guests.
"Aren't you a little too old for Disney?" Walt Disney created Disneyland for the young and the young-at-heart. Disney is for all ages, as long as you still have magic and imagination in your life.
"If you're getting married at Disney, does that mean you get lifetime passes?" No. Pretty much no one gets lifetime passes. Disney does have some nice gifts for their couples that you wouldn't get at a standard hotel venue.
"If you don't get married in front of the castle/arrive in the carriage/have Mickey and Minnie at the reception, then what's the point of being at Disney? It's just like any other hotel wedding." Some people believe that simply being at a Disney resort is special enough. Not everyone wants, or can afford, the "extras." It does not mean the wedding is any less magical.
"Why don't you spend that money on a down payment for a house instead?" Because that is not where our priorities lie. We want to have a fun party to celebrate our wedding and our families coming together. What's important to YOU, may not be important to us.
"Will theme park guests be able to watch your wedding?" The majority of Disney weddings do not take place inside the theme parks. And if they do, it will be outside of regular park hours, which means the only people in attendance will be wedding guests. However, some locations, both in-park and at hotels, are public areas and will be blocked off by ropes and/or signs to keep resort guests from crashing the wedding.
"Disney weddings are expensive, you must be spoiled." First of all, none of your business. The amount of money that anyone spends on any wedding is a personal, family decision. But if I must educate you, Disney weddings come at all kinds of price points, and the average wedding is on par with other venues in the Los Angeles and Orlando areas.
"Are you arriving in Cinderella's carriage? I've seen pictures and it's so cheesy." "YOU'RE cheesy." That's the only appropriate response to such a statement.
Have you heard any of these, or heard any other "interesting" statements about your wedding? Let me know in the comments!