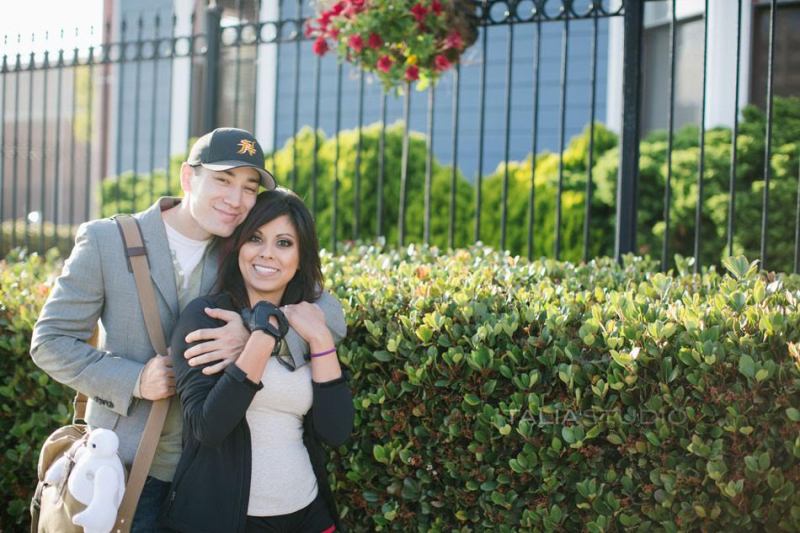 I'm not sure I can adequately describe the sound that came out of my mouth when I saw this submission land in my inbox. It was a mix between a "squeeeeeeee" and a "GAH" and an "ermahgerd." I mean, it doesn't get much cuter than this. Kawika and Cristina wanted to do something unique for their engagement pictures, and after seeing Big Hero 6, the inspiration was found. "After seeing the movie and noticing that Kawika had a striking resemblance to Tadashi, we instantly wanted this as our theme," Cristina tells me. "He chose to dress as Tadashi and I chose GoGo from the movie." Even though Big Hero 6 takes place in fictional San Fransokyo, the photographer TaliaStudio found great locations in San Diego that evoked the spirit of the movie, such as a park that looked like a University campus and an adorable row house. They even posed near a Trolley car and a scooter, and brought a very important friend with them.
More from Cristina: "Kawika and I met in college in a chemistry class. We were lab partners and aside from having 'chemistry in chemistry class' we both had interest in comic books, super heroes and enjoy cosplay. Now being engaged and planning our Disney Fairy Tale wedding, we wanted to our engagement shoot to be themed and something fun. We knew we wanted to cosplay Disney characters and we decided on Big Hero 6. Although our shoot is Big Hero 6 themed, our wedding will be a lot less action packed! We are planning a Disney Fairy Tale wedding and are waiting to get approval for our preferred location. Fingers Crossed!"
Congrats on your engagement Cristina and Kawika, and good luck with your wedding planning!
Check out the TaliaStudio blog for even more images.
Photographer: TaliaStudio
Venue: Balboa Park and Downtown San Diego, CA