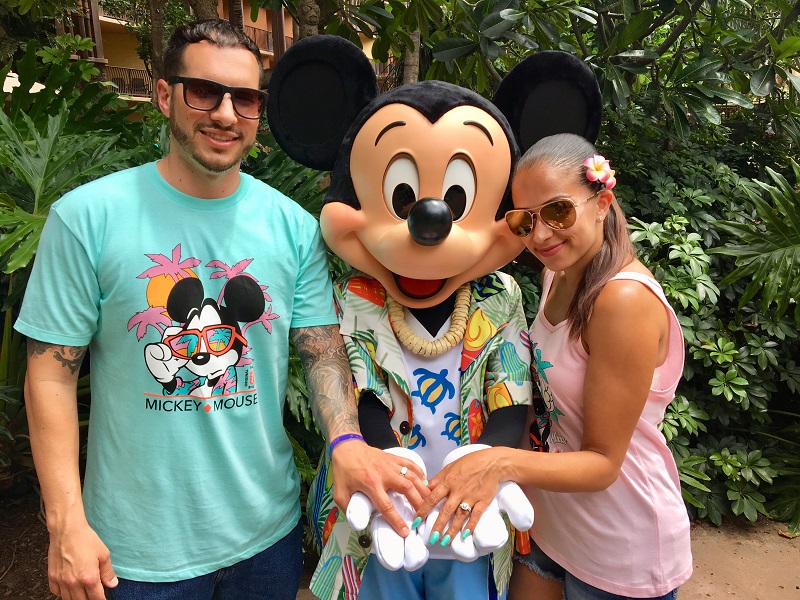 Disney Bride Erica planned a Disneyland wedding at Rose Court Garden and Sleeping Beauty Pavilion in June 2018.
Since the moment we got engaged on June 11th 2016 at Aulani, a Disney Resort & Spa, we just knew we had to return back in June 2018 for our honeymoon. Our experience was just so amazing that we could not think of anywhere else we would rather go after our fairy tale wedding! Our wedding was on Sunday, June 10th 2018 and we were on our way to Aulani three days later, ready for the time of our lives.
During our last visit to Aulani we spent lots of time exploring the resort and trying to get pictures with all of the characters, so we were always on the go. For our honeymoon we already knew what to expect and we were familiar with the resort so this time around we wanted to do lots of relaxing and laying out by the pools and beach!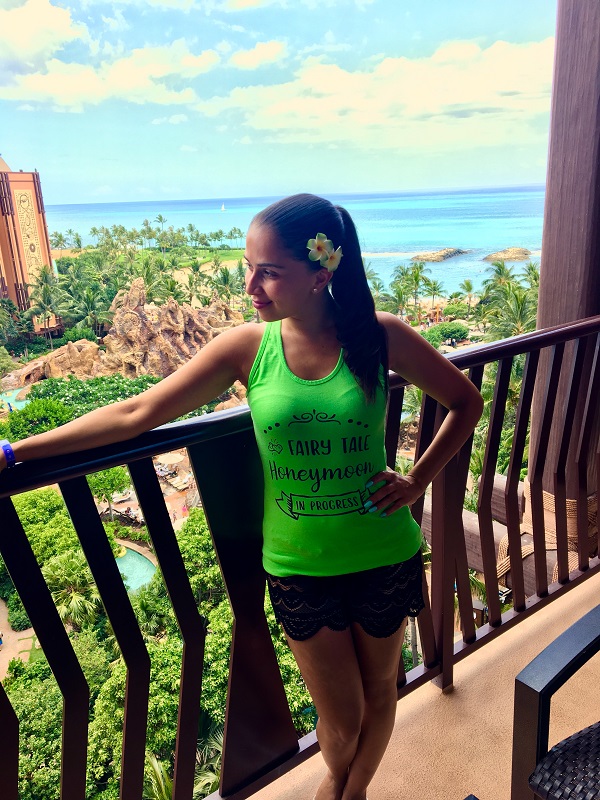 Fairy Tale Honeymoon Tank Top
Three Things Not to Miss During Your Aulani Honeymoon
Beaches and Pools – We arrived in the afternoon, got checked in, and went straight outside to the Wailana Pool Bar which is located right beside the adult's-only pool. During our first trip to Aulani, this was the first place we went to in the Resort so we wanted to re-live that moment and start off our honeymoon having our FAVORITE Resort drink – the True Blue Hawaii.
After our arrival drink, we headed to the Aulani Resort Beach at Ko Olina Lagoon which is pretty awesome. There are plenty of beach chairs & umbrellas and there is also a Beach Equipment Rentals booth where you can get a variety of things such as boogie boards, snorkel gear, paddle boards, and sand toys. Every day on our honeymoon we would have breakfast and then head right out to the beach or one of the pool areas to relax in the sun.
Aulani also has several pools: Ka Maka Grotto- which is an Infinity pool with gorgeous views, Wailana Pool- which is a quiet, adults-only pool, & Waikolohe Pool which is the resort's biggest pool. Waikolohe Pool is where they hold weekly pool parties where the characters come out to dance and have some fun with the resort guests! Waikolohe Pool also has a tunnel slide, and Waikolohe Stream which is a lazy river and one of our favorite things on the resort! For the little ones, they also have a kid's splash zone and interactive water play area.
Snorkeling – One of the most exciting things I did during our Honeymoon trip was snorkel at Rainbow Reef, which is located right in the heart of the Resort. It was very nerve wracking at first, but such a cool and beautiful experience. Be prepared to say "Hello" to Dory and her friends!
Food and Drinks – One of the best character experiences at the Resort is the Disney Character Breakfast at Makahiki, and we believe it was hands down one of the best character dining experiences we have been to! We absolutely LOVED the food and how much of a variety they offered from breakfast items, to lunch items, to desserts and more. It was also so cool to have the characters come around to each table for greetings and photos! If you're over 21 you can also purchase mimosas or a bloody mary to enhance your breakfast.
Other than this dining experience, we mostly ate at Off the Hook and The Olelo Room every day. Some of our favorites to order were the Tuna Salad Sandwich, French Fries, and Chicken Tenders which could be served poolside. The Olelo Room has amazing Hawai'i Ranchers Sliders, and both places also feature bars and delicious drinks! Besides our usual True Blue Hawaii drinks, our other absolute favorites are the Liliko 'i-lada and the Big Island Iced Tea.
Honeymooning at Aulani was an absolute dream from the moment we stepped into their lobby. It just automatically feels like home, and the staff is SO incredibly warm and accommodating that you never want to leave! We had an amazing view from the balcony of our room and we loved sitting out there at the beginning of each morning and just enjoyed the views. It was literally everything I could have imagined for a perfect, relaxing, and fun honeymoon. It seemed like it was just yesterday that we got engaged there, and while on our honeymoon we even re-created our engagement photo right by the water on Ko Olina Lagoon. Aulani is definitely a place that we will forever hold very close to our hearts, and I love that we were able to continue to make these memories there.
I honestly can't think of a vacation spot that would be better than this, and once again I was SO sad to leave and I am already daydreaming about going back again one day!