Hello everyone! Today I want to bring you a special post, all about the new Disney's Fairy Tale Wedding gifts being sent out to all couples planning a wedding or vow renewal at The Disneyland Resort. (At this point I'm not sure if Walt Disney World couples are getting the same gift, although none of the items read exclusive to Disneyland.) An upcoming Disneyland bride sent me these images after she received them in the mail, about two months prior to their wedding.
In the past, Disney's Fairy Tale Weddings gifted couples with matching special edition his-and-hers wrist watches on the actual day of the wedding. The Disney wedding community did their best to keep it a secret from planning couples, since it was a really fun surprise! However, these new gifts are actually sent in the mail a couple months before your wedding date and they are useful items for your wedding day, so I don't think there is much to keep secret with these.
With all that being said, I am giving you fair warning. If you don't want the surprise spoiled, turn back now!
.
.
.
.
.
.
.
.
.
.
.
.
.
.
.
.
.
.
.
.
.
.
.
.
.
.
.
.
.
.
.
.
.
.
.
.
.
.
.
.
.
.
.
.
.
.
.
Okay, anyone still with me? Good. On to the gifts!
The new DFTW gift includes a number of items couples can actually use on their wedding day. I think this is really cool (especially since our watches are still in their box in storage, and I actually could have put all these items to good use). There are a lot of items that perhaps brides and grooms had on their checklists to pick up and now they don't have to. I love the romantic designs and the little tins that come with some of the items for storage. I think they are trying a little too hard with the hashtags, but I guess we will wait and see if #mycinderellamoment starts trending.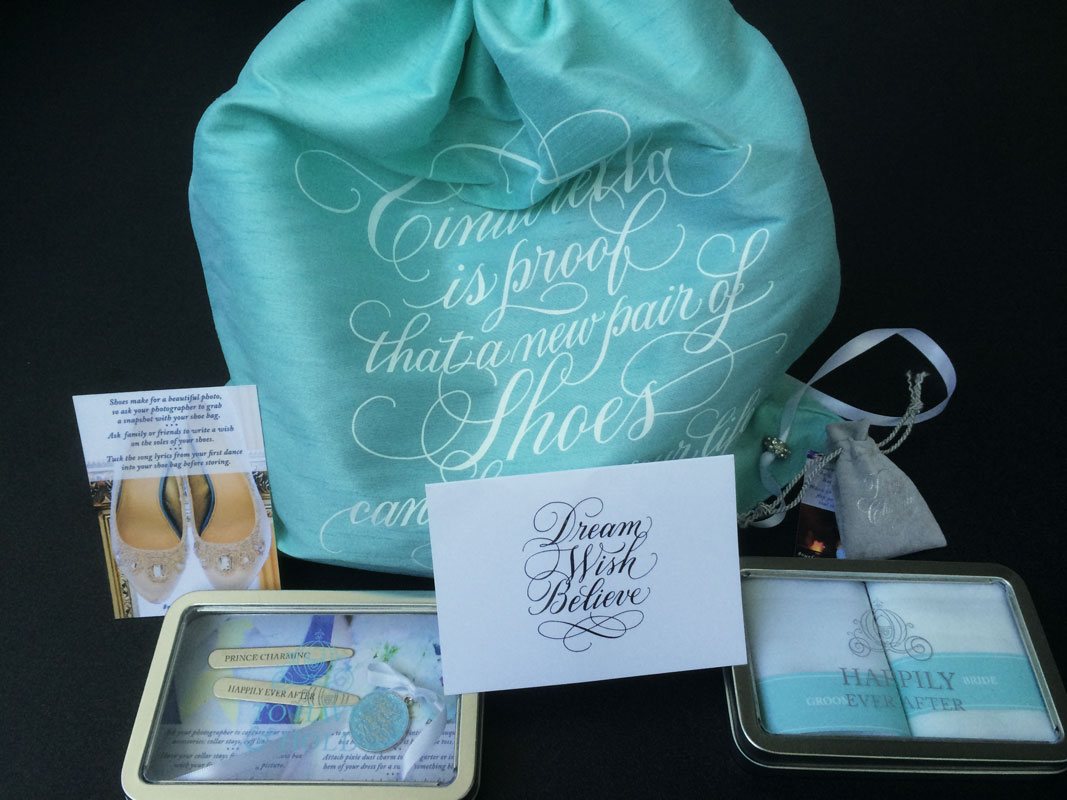 Here is the entire collection. It includes:
A shoe bag
Pocket square for the groom and handkerchief for the bride
Collar stays
A "pixie dust" charm
A double-sided coin
The enclosed card reads, "Dream Wish Believe…"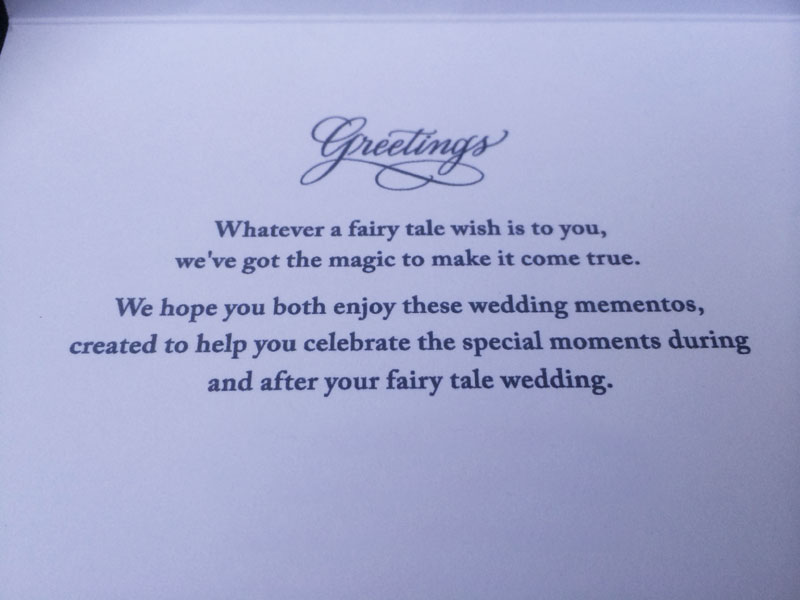 … and the inside reads:
Greetings
Whatever a fairy tale wish is to you,
we've got the magic to make it come true.
We hope you both enjoy these wedding mementos, created to help you celebrate the special moments during and after your fairy tale wedding.
Close up of the shoe bag. "Cinderella is proof that a new pair of shoes can change your life."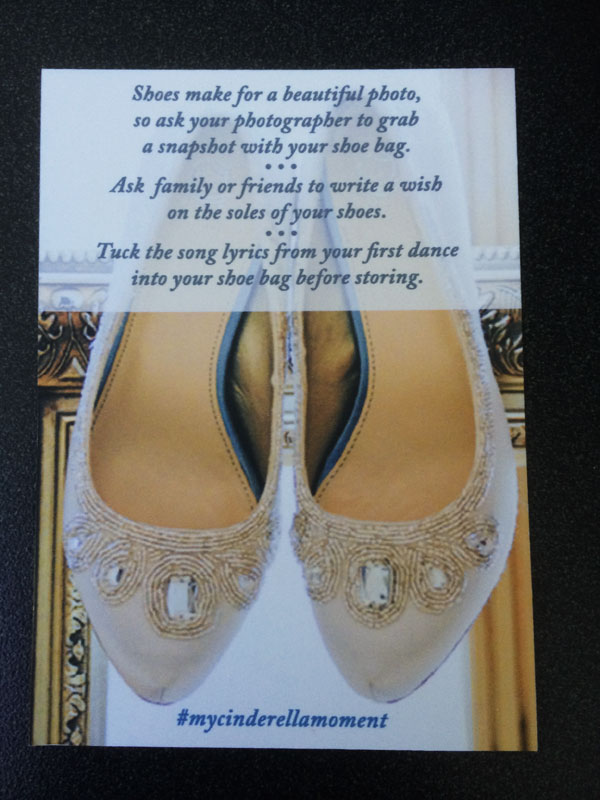 The accompanying shoe card reads:
Shoes make for a beautiful photo, so ask your photographer to grab a snapshot with your shoe bag.
Ask family or friends to write a wish on the soles of your shoes.
Tuck the song lyrics from your first dance into your shoe bag before storage.
#mycinderellamoment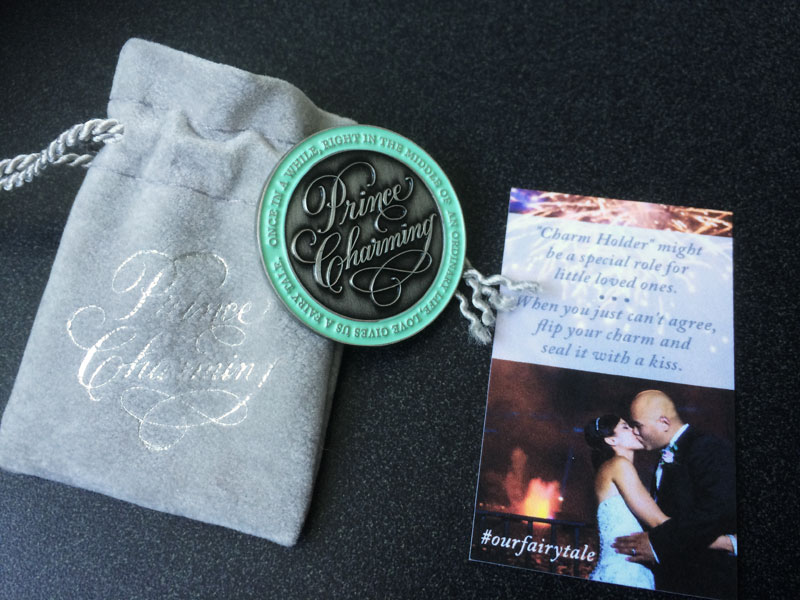 This is a close up of the double sided coin. It comes in a velvet pouch embroidered with "Prince Charming." One side of the coin also reads "Prince Charming."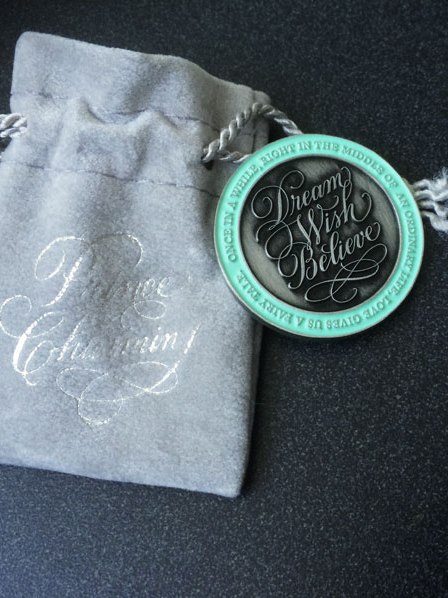 The other side of the coin reads, "Dream Wish Believe." Both sides of the coin have the phrase, "Once in a while, right in the middle of an ordinary life, love gives us a fairy tale" inscribed around the outside of the coin.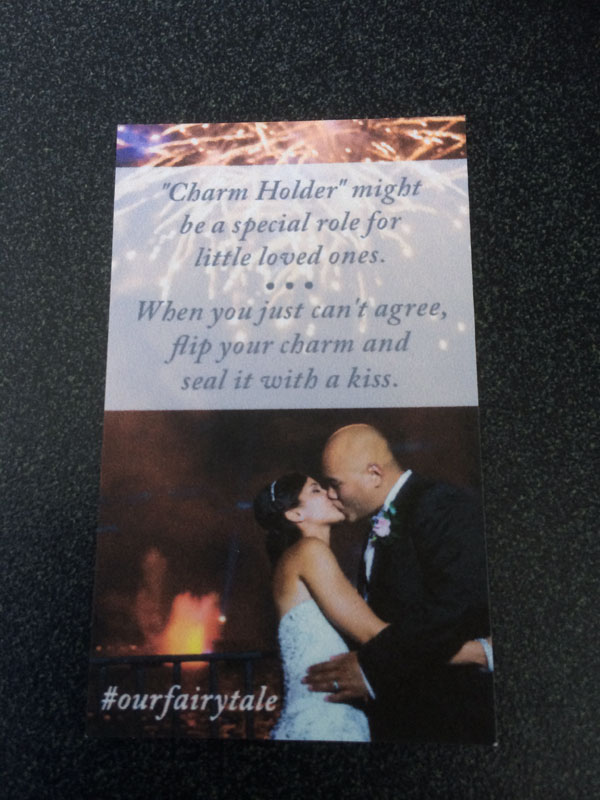 The accompanying card reads,
"Charm Holder" might be a special role for little loved ones.
When you just can't agree, flip your charm and seal it with a kiss.
#ourfairytale

Close up of the pocket square and handkerchief in their "Happily Ever After" tin.
The accompanying card reads:
Groom's side
Have your pocket square embroidered with your monogram and wedding date.
Frame your pocket square with other wedding accessories for a memorable tableau.
#ourfairytale

Bride's side
Hold your handkerchief with your bouquet so that it is available to dry tears of joy.
Have your handkerchief embroidered with your monogram and wedding date.
After your nuptials, have your handkerchief made into a sachet with petals from your bouquet.
#mycinderellamoment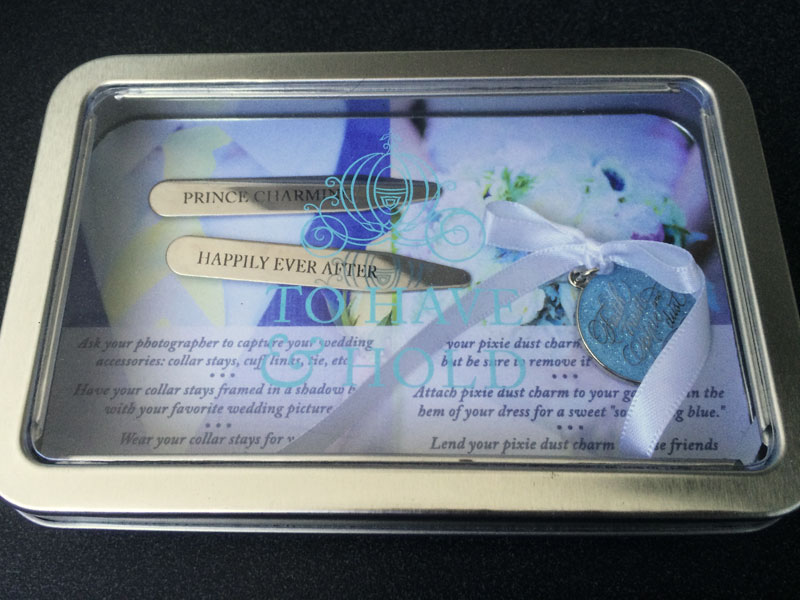 Close up of the tin containing the collar stays and "pixie dust" charm. The tin reads "To have and hold."
The collar stays read, "Prince Charming" and "Happily Ever After." The charm reads "Faith trust and pixie dust."
The accompanying card reads:
Groom's side
Ask your photographer to capture your wedding accessories: collar stays, cuff links, tie, etc.
Have your collar stays framed in a shadow box with your favorite wedding picture.
Wear your collar stays for your anniversary celebrations.
#ourfairytale
Bride's side
Tie your pixie dust charm into your bouquet, but be sure to remove it before the toss.
Attach pixie dust charm to your garter or in the hem of your dress for a sweet "something blue."
Lend your pixie dust charm to close friends getting married as their "something borrowed."
#mycinderellamoment
All in all, pretty cool gifts and in my opinion it's a major upgrade from the watches.
What do you think of the new DFTW gifts?