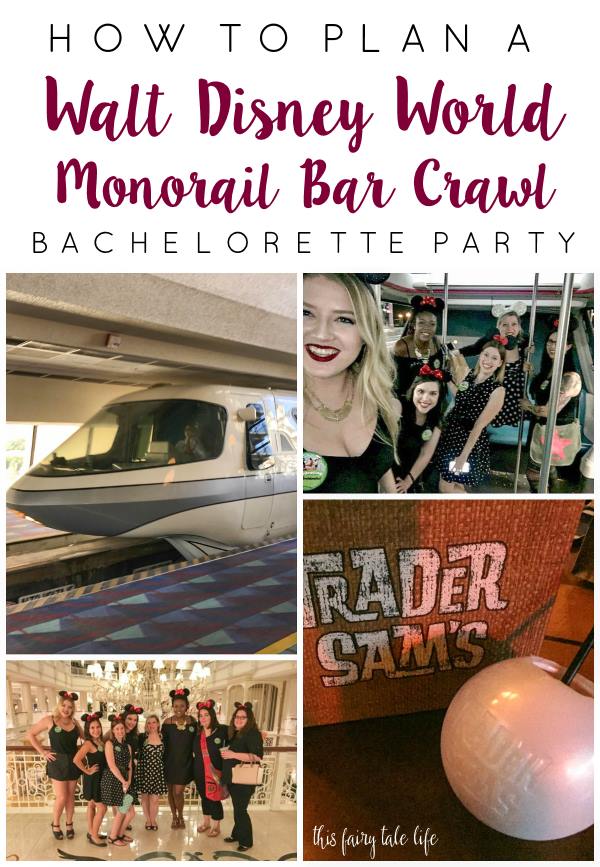 Disney Bride Lauren is planning a Walt Disney World "Mini Wishes" wedding at the Wedding Pavilion and The Attic for December 2016.
When it came time to start planning my bachelorette party, I knew it had to involve Disney somehow. With my bachelorette party being in October, I could have done the Food and Wine Festival at Epcot and "Drinking Around the World," but that's already a popular option for bachelor/bachelorette parties and I wanted to try something a little different. Not only that, but most of my lady friends wouldn't have park tickets and I didn't want them to have to spend too much money. I'm not a club or dancing person, so going to the clubs at the Boardwalk were also out. I then came up with the idea of doing a monorail bar crawl since I wanted to incorporate my favorite bar, Trader Sam's Grog Grotto, into the evening.
For those new to the Walt Disney World Resort, there are three resorts connected to Walt Disney World's monorail system: Disney's Contemporary Resort, Disney's Polynesian Village Resort, and Disney's Grand Floridian Resort and Spa. All three of these resorts have at least one bar or lounge, and riding the monorail to get to these locations is free. This was such a fun and responsible way of experiencing different atmospheres throughout the evening without getting in a car and driving after we've had some drinks.
For my bachelorette party monorail bar crawl, I met all of my friends at the Polynesian Resort for our first stop of the evening at Trader Sam's. Trader Sam's is an amazingly themed tiki bar with lots of delicious fruity drinks and fun antics when you order certain drinks. In my opinion, it's the perfect atmosphere for a bachelorette party.
Tip: I highly advise starting here because Trader Sam's is a very popular bar and the later in the evening you get there, the longer you may have to wait to get in. There was a bit of a wait to get into Trader Sam's when we arrived, especially due to our party size of eight ladies, but I think my Minnie bride ears granted me some pixie dust and our wait was only a few minutes.
Once inside Trader Sam's, we were able to get a large table that seated all of us and we placed our drink orders. We each had 1-2 drinks and the ladies who had not met each other before had a great time getting to know one another. By the time we left Trader Sam's after about an hour, it felt like everyone had been friends for years.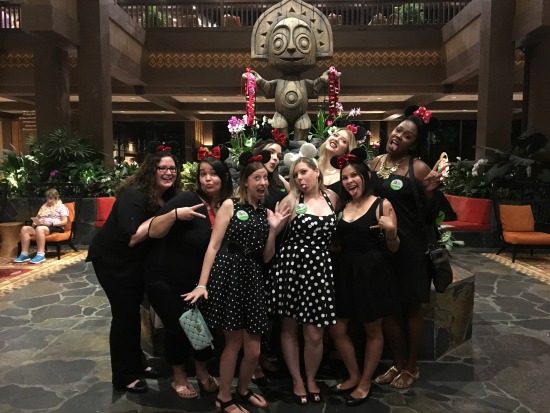 After taking a group photo in the lobby, we headed up to the monorail for our next stop: The Grand Floridian! I wanted to head here next since it is a more classy place and I didn't want to go there when we were too tipsy. The lounge we went to at the Grand Floridian is called Mizner's Lounge and it is located on the same level as the monorail. It is a fairly small lounge so it is easy to miss. As I said before, it is a bit of a classier joint and they serve classic cocktails as well as small plates, if you're hungry. The bar was pretty crowded when we arrived so it did take awhile for us to get our drinks, but we were starting to feel our Trader Sam's drinks so we were still having a great time! Right outside of Mizner's Lounge, the Grand Floridian Society Orchestra plays throughout the evening, and one of my bridesmaids asked them if they could play "Grim Grinning Ghosts" since the Haunted Mansion is my favorite Disney attraction, and they did! That totally made my night. Once our drinks from Mizner's were finished, we took another group photo in front of Grand Floridian's famous chandelier, then headed back to the monorail for our next stop.
Our next stop on the monorail loop was actually back to the Polynesian because we had dinner reservations at Kona Café. When planning the bachelorette party, I knew I wanted to break the drinking up with a dinner reservation and this is one of my favorite restaurants on property! Its an open-aired restaurant and we were able to get a big table to seat all of us. Since it was one of the last dinner reservations of the evening, we had the restaurant mostly to ourselves so we were able to keep great conversation over dinner and drinks without the restaurant being too loud.
Tip: If you're planning to do a monorail bar crawl, I highly recommend throwing dinner in there somewhere to give yourself a little break and get some delicious food. While most of the bars/lounges do serve appetizers or small plates, there are so many great restaurants on the monorail loop so I highly recommend booking an advanced dining reservation (especially for the more popular restaurants).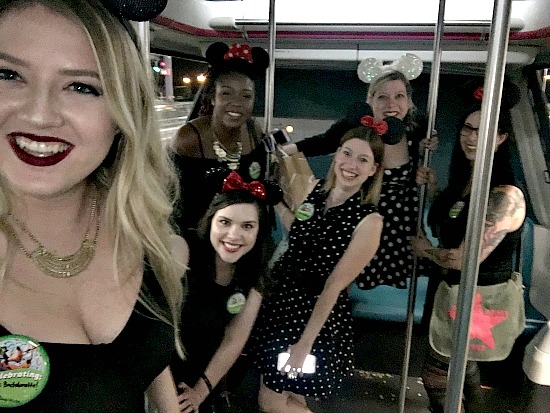 After our meal at Kona Café, we headed to the monorail for the last stop of our monorail bar crawl: Disney's Contemporary Resort. There are actually three lounges at the Contemporary, but by the time we arrived there it was already after 11:00PM and only one was open, so that's where we went! We went to The Wave, which is located on the first floor of the hotel (when you get off the monorail, you'll be on the 4th floor, so you'll need to take the escalators down). The Wave is actually a restaurant, but has a pretty large lounge area in the front. This was my first time coming here and I really loved the atmosphere. The restaurant/lounge is very modern, had a huge bar, and lots of comfortable seating. The drink menu was mostly the standard Disney cocktail menu, but they also had a huge craft beer selection, which is what I opted for to end my evening. For those heading to the Contemporary earlier in the evening, you can also go to the Outer Rim Lounge, which is located on the same level as the monorail, or the lounge at the California Grill, if there is space available.
Tip: If you are a DVC member, you also have access to the lounge with the ultimate view — the Top of the World Lounge, located on the top floor of Bay Lake Tower.
Once we completed our tour around the monorail loop, we headed back to the Polynesian, where most of the ladies were parked, and where my Uber would be picking me up. I had such a blast completing the monorail bar crawl for my bachelorette party and all of my friends raved about what a great time they had! For anyone wanting to plan a unique bachelorette party with a Disney touch, I highly recommend the monorail bar crawl.
How did you incorporate Disney into your bachelorette party?