November 10 was the first official day of Holidaytime at The Disneyland Resort, so I went to check out what's new this year! Over at Disney California Adventure, you'll find the Festival of Holidays, a celebration of winter holidays from around the world. At Festival of Holidays you'll find a fun street party / parade Viva Navidad! featuring The Three Caballeros, special performances by bands and music groups including Holiday Toy Drummers, and entertainment such as Stilt Circus performers and crafts for the kids. But for this post, I'm going to talk about the main attraction of Festival of Holidays for me – the food.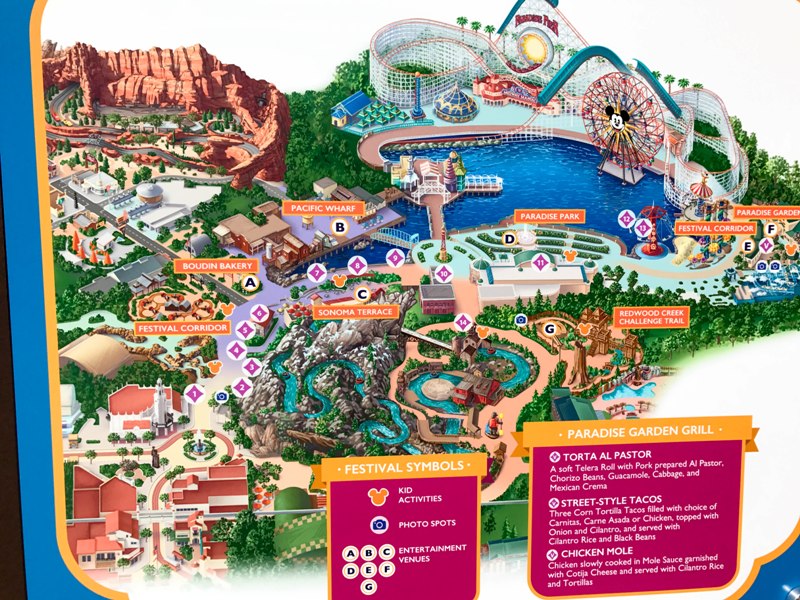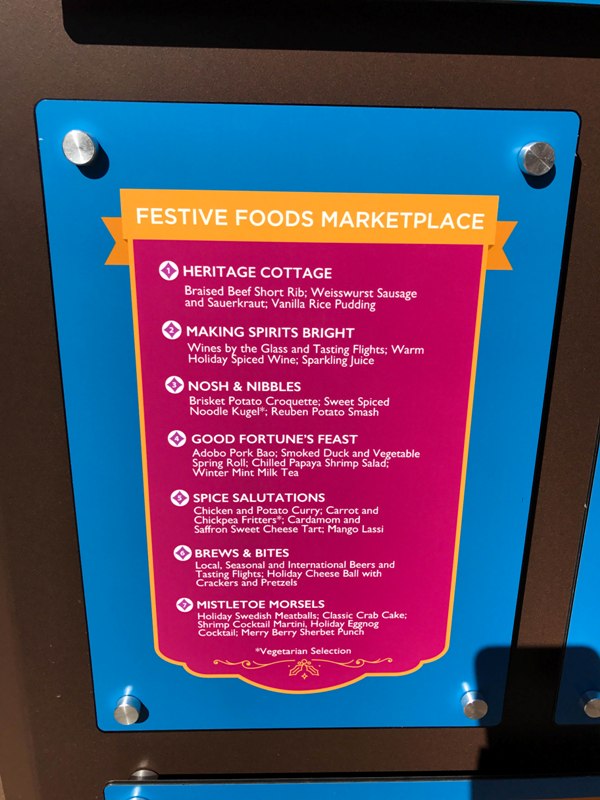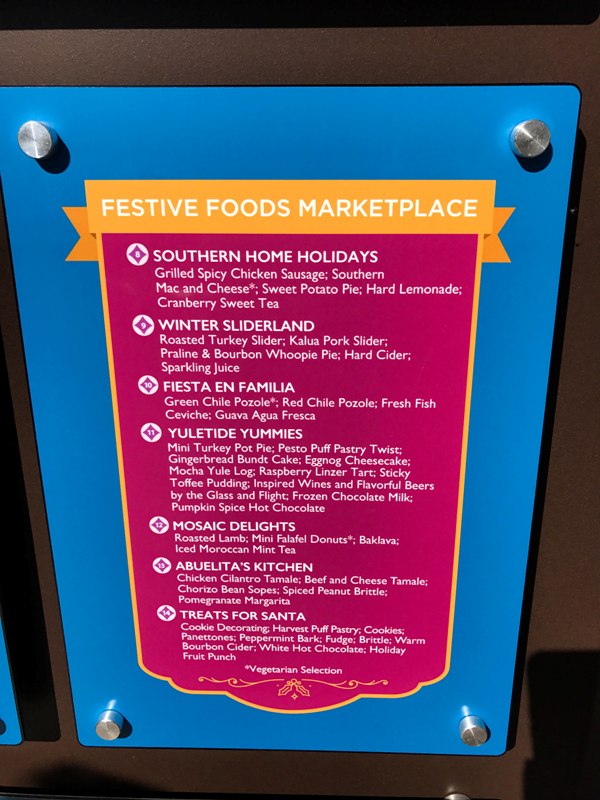 You may remember earlier this year, Disney California Adventure brought back its food and wine festival, which appeared to be a major success. I'm happy to announce the food marketplaces are back along the main corridor, with new holiday and winter themed foods and drinks to sample and enjoy. And, instead of eight marketplaces, there are now 14 to choose from
I wasn't able to try everything on Day 1 but I sampled quite a few dishes I want to share with you.
The first marketplace is Heritage Cottage. The only thing I tried from here was the Short Rib, and it was very delicious. Very similar to the Short Rib dish at the food and wine festival.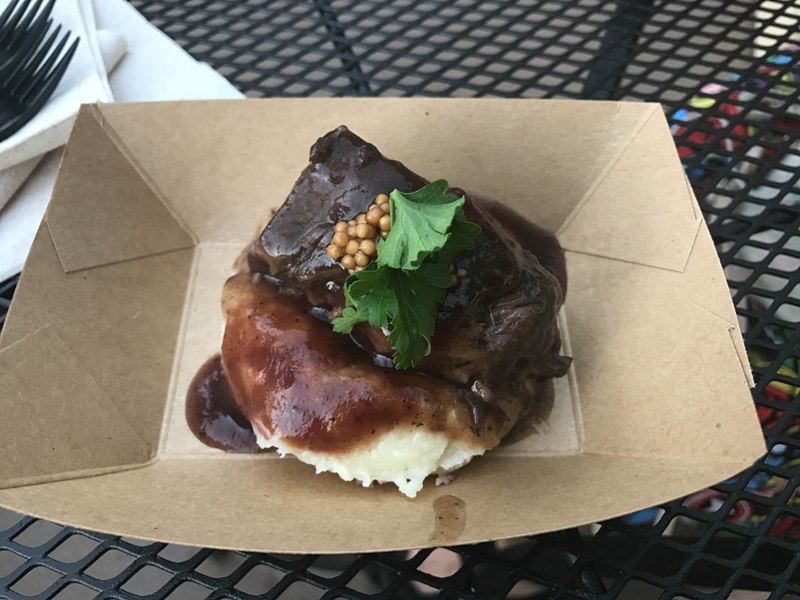 I'm very happy to report the white wine flight is NOT all Chardonnay this time around! It included a Pinot Gris, White Blend, and Moscato. I enjoyed all three. A red wine flight is also available, as well as individual wines, at the Making Spirits Bright marketplace.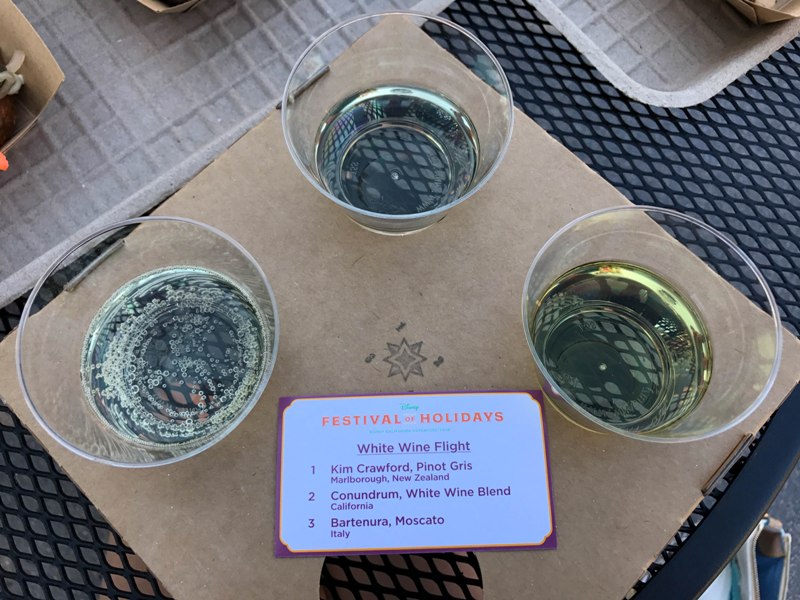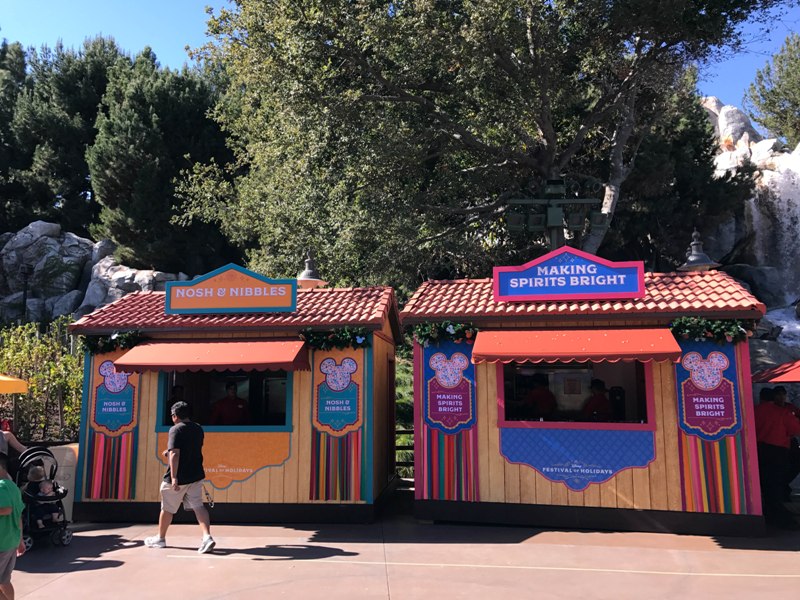 Marketplace #3 is Nosh & Nibbles, where I tried all three food items – Brisket Potato Croquette, Sweet Spiced Noodle Kugel, and Reuben Potato Smash. All three were good. I liked the Croquette the best. The Smash tastes similar to a Reuben sandwich.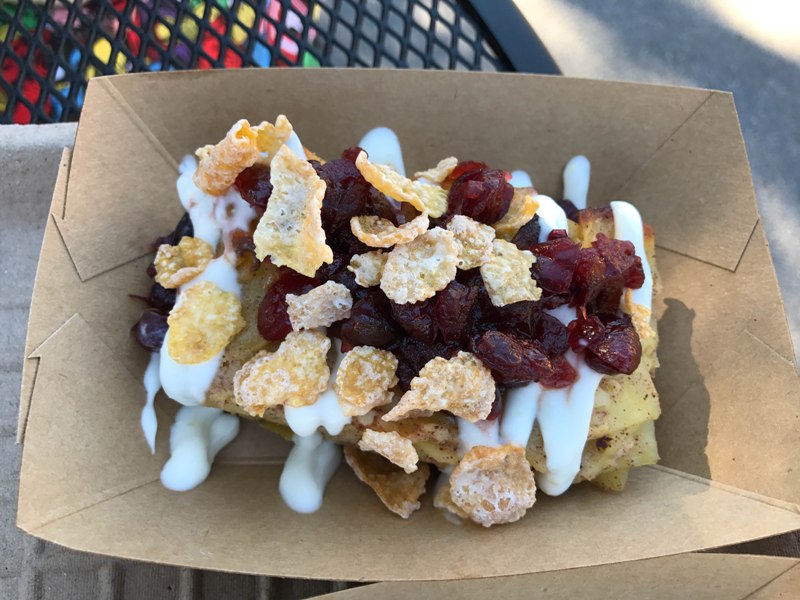 At the Good Fortune's Feast marketplace, I tried the Adobo Pork Bao. The picture shows I think carrots and either parsley or cilantro, but I didn't get any of that. I felt this was a bit boring and wish I had gotten the full experience.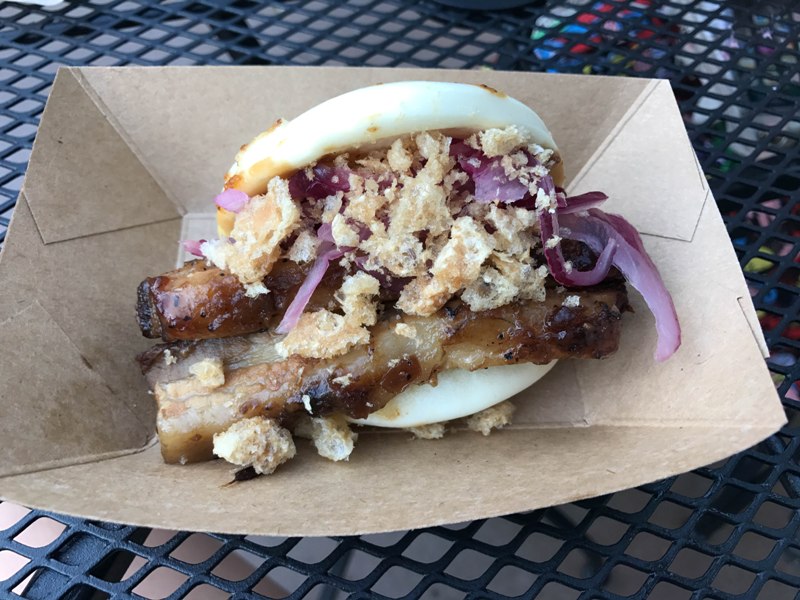 Here's a couple marketplaces I skipped this day. Everything at Spice Salutations sounds amazing and I'm for sure trying it next time. As for brews, I can't drink beer so that was an easy one to skip. But the line got loooooong in the early evening!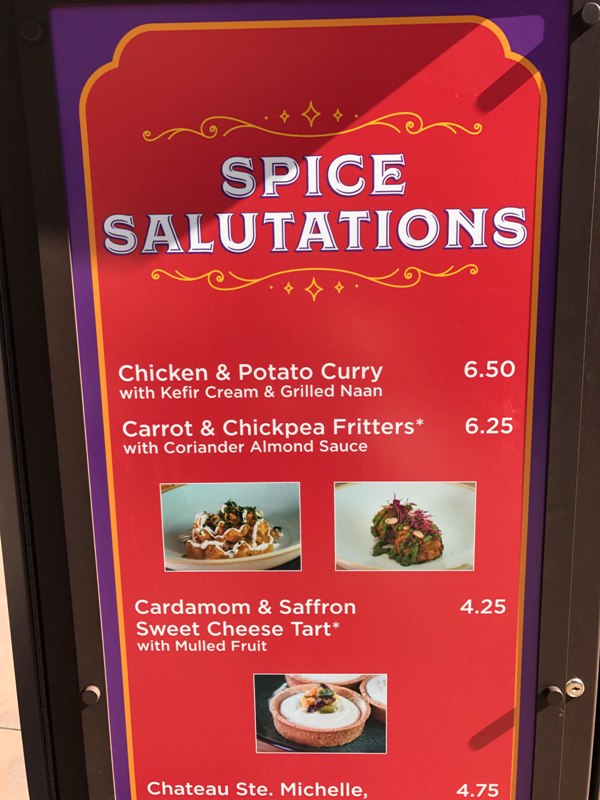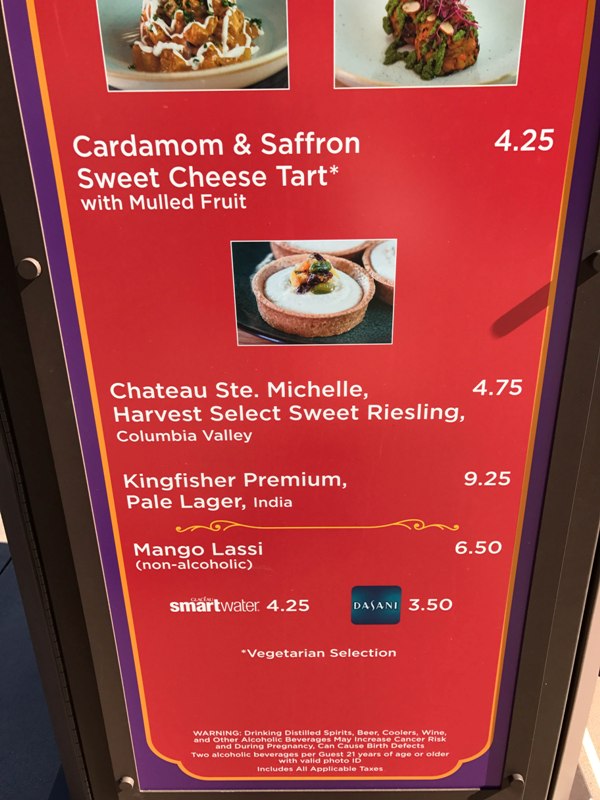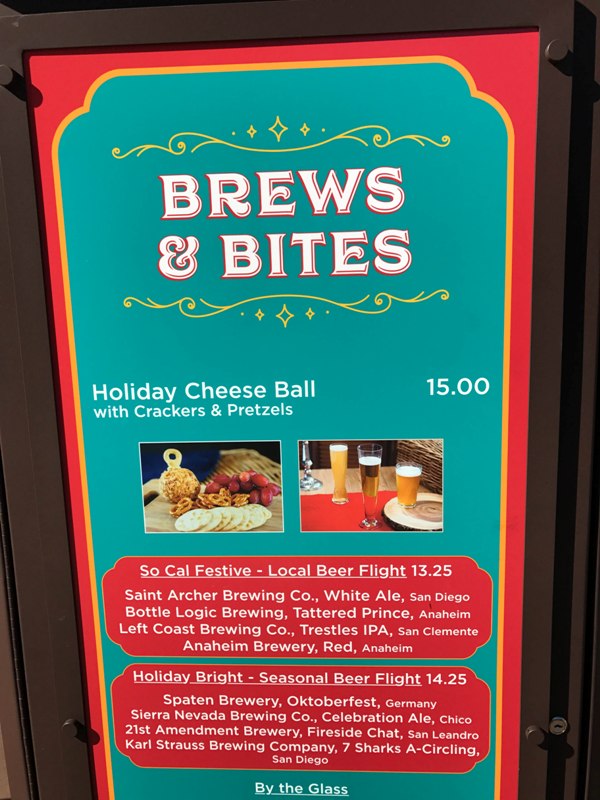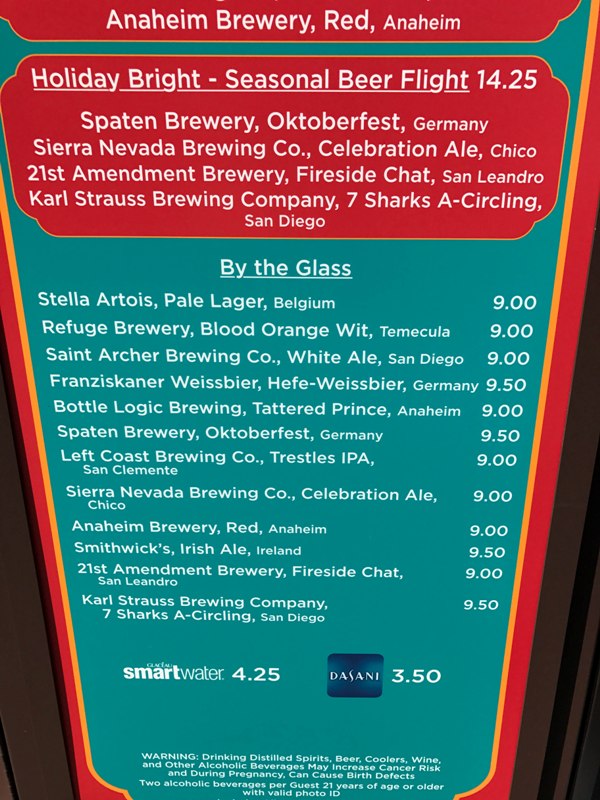 Jumping over to Mistletoe Morsels, my friend tried the Classic Crab Cake and enjoyed it. (I am not a seafood person.) I am, however, an Eggnog Cocktail person, and I can confirm this was heavenly. And very strong. I love that it's served in a little plastic mug.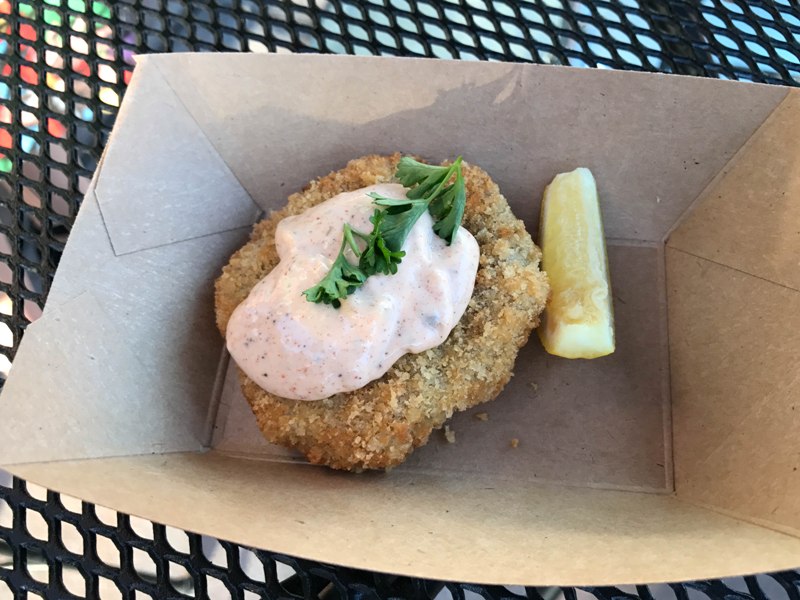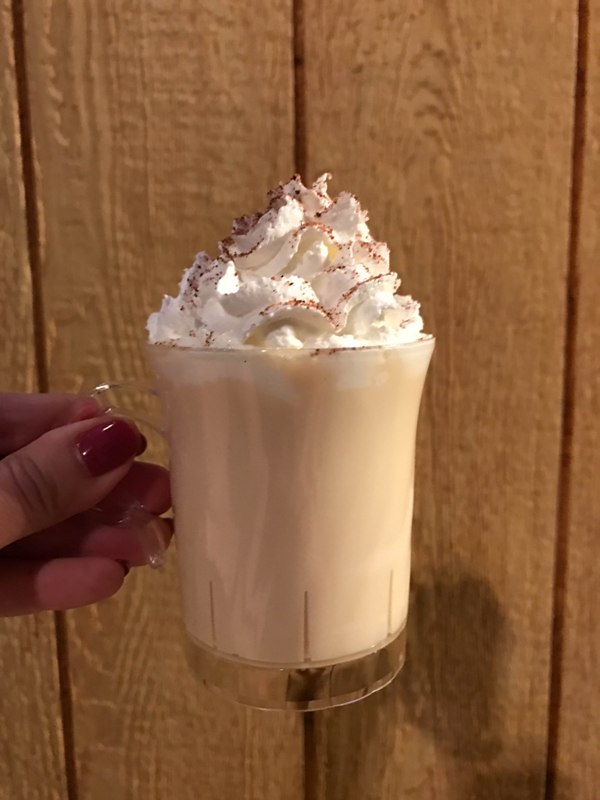 I had my eye on one thing at Southern Home Holidays – Sweet Potato Pie!! It did not disappoint.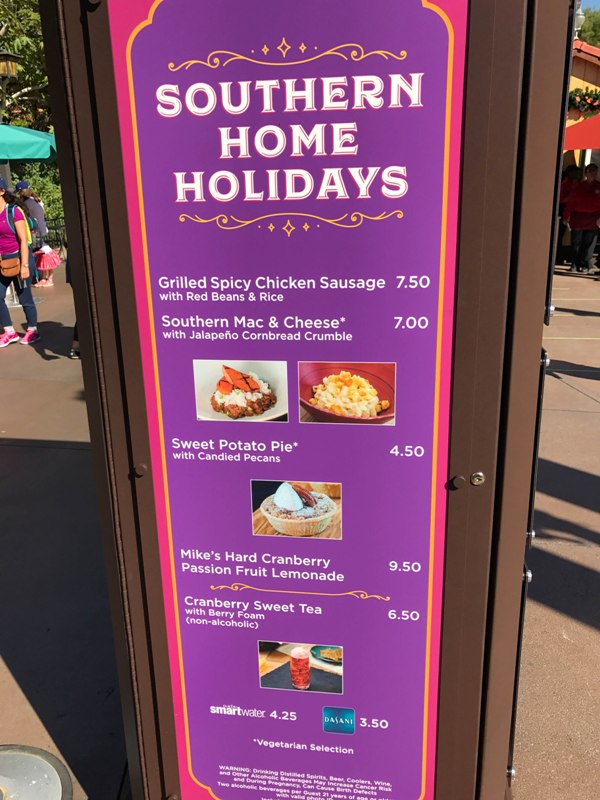 I tried all the food items at Winter Sliderland. The Roasted Turkey Slider (aka the Holiday Sandwich), the Kalua Pork Slider, and the Praline & Bourbon Whoopie Pie. Out of the sliders I liked the pork one best. The Whoopie Pie was delicious.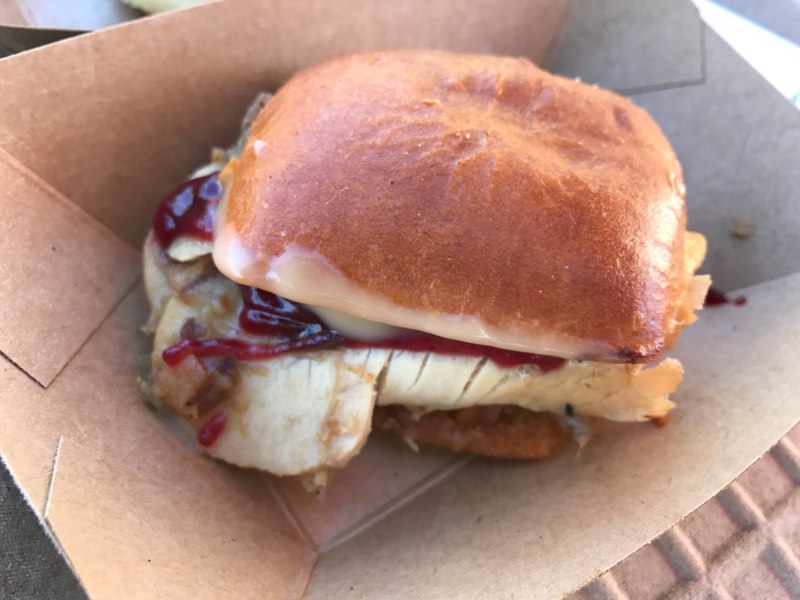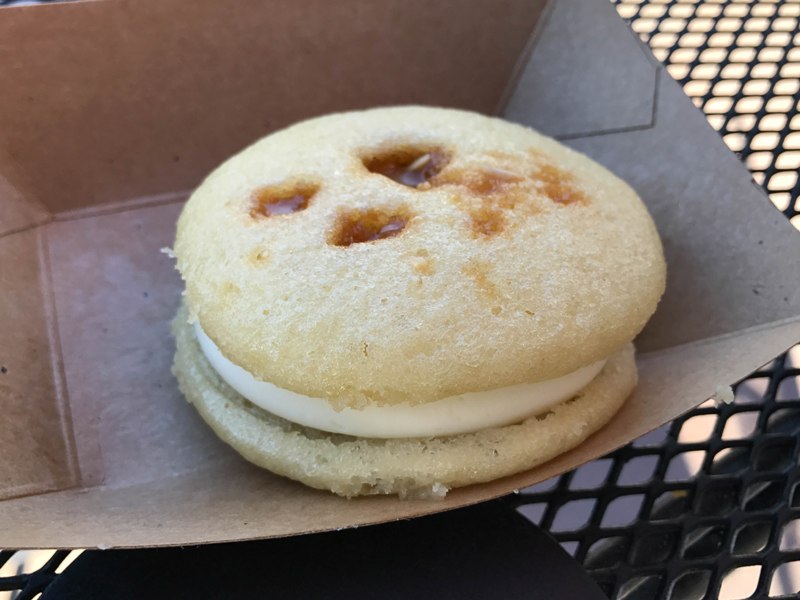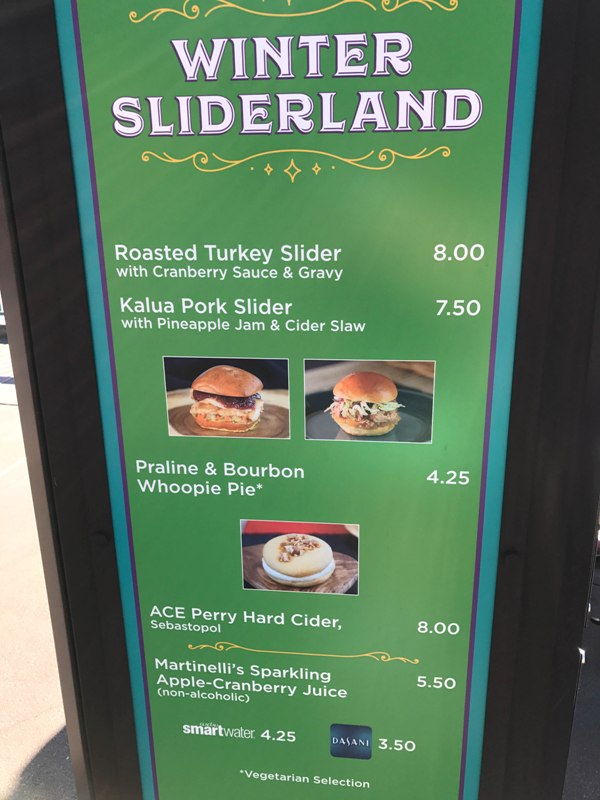 Here's a look at the Fiesta en Familia marketplace menu. I didn't try anything on the menu here.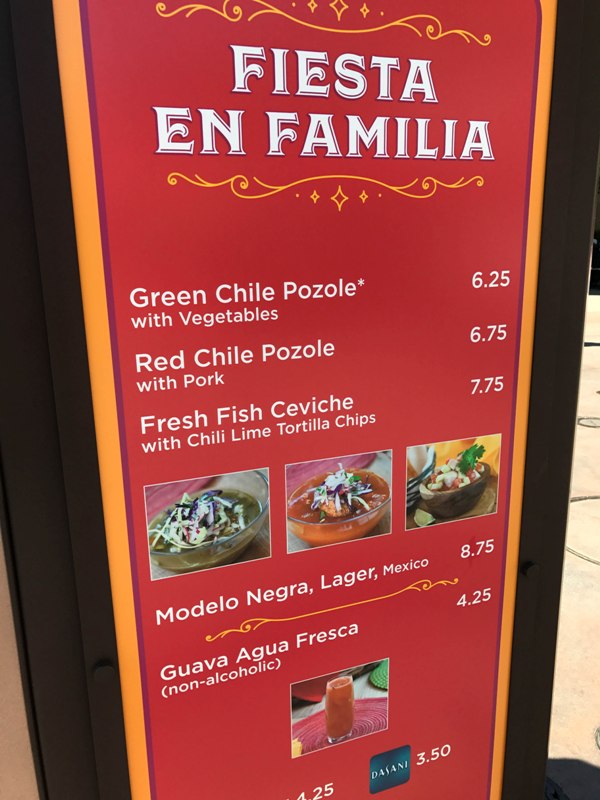 At Yuletide Yummies I got the Mini Turkey Pot Pie, the Eggnog Cheesecake, and Sticky Toffee Pudding. I also tried two wines – the Risling and Red Velvet. I was disappointed with the turkey pot pie, which was 80% pastry with very little filling. The desserts and wine were great, with the Eggnog Cheesecake being my favorite food item out of everything I tried.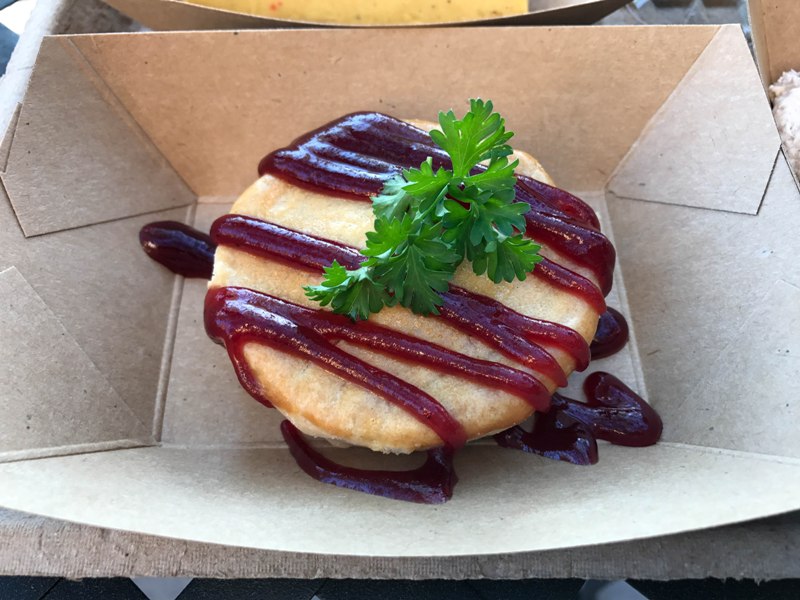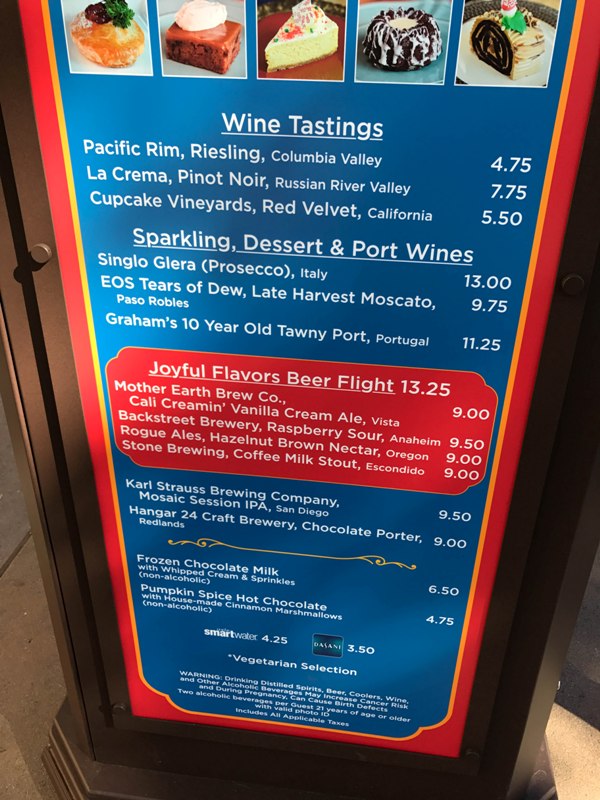 At Mosaic Delights I got the Roasted Lamb, and Mini Falafel Donuts, and the Baklava. I enjoyed everything from this marketplace, especially the baklava which I totally spaced on taking a picture!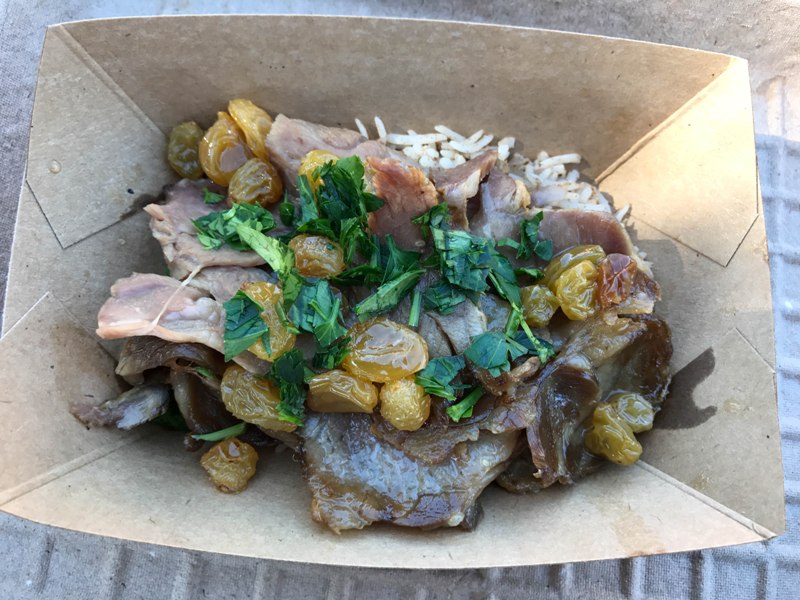 The only thing I tried at Abuelita's Kitchen was a sip of the Pomegranate Margarita, which was very delicious but just a bit too sweet for my palette.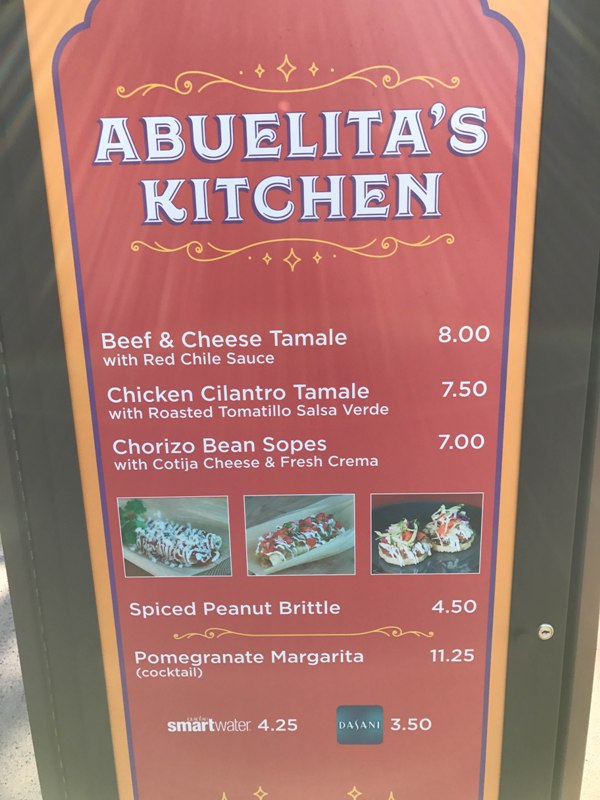 The last marketplace, Treats for Santa, is down the path past the Little Mermaid attraction, near Grizzly River Rapids. This marketplace features lots of different treats, including Mickey sugar cookies you can decorate, peppermint bark, fudge, and hot chocolate. There was also a stand which offered winter-themed face painting.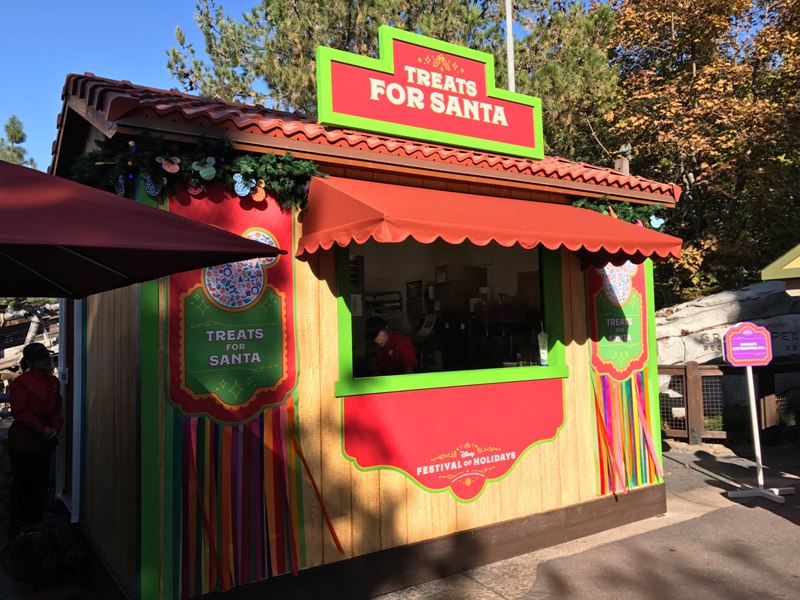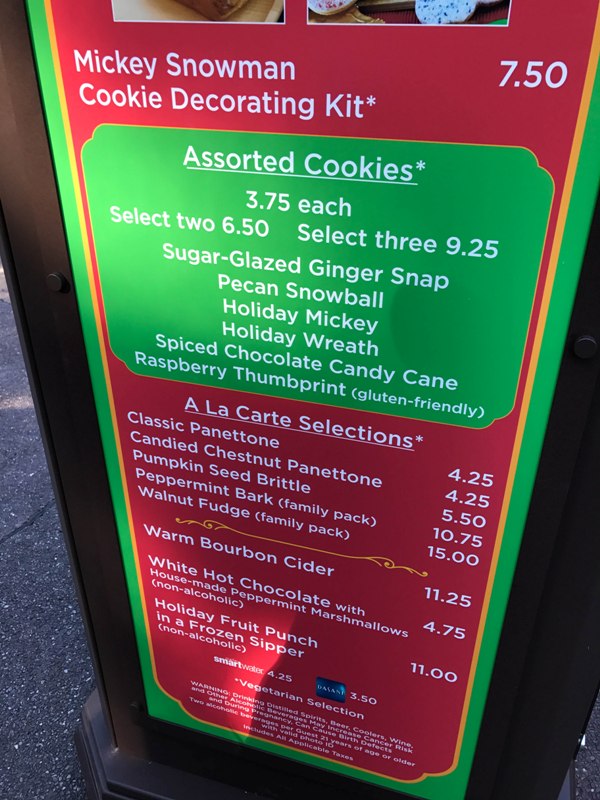 The Festival of Holidays is a fun addition to Holidaytime at Disney California Adventure. If you're a foodie like me, you won't want to miss it!