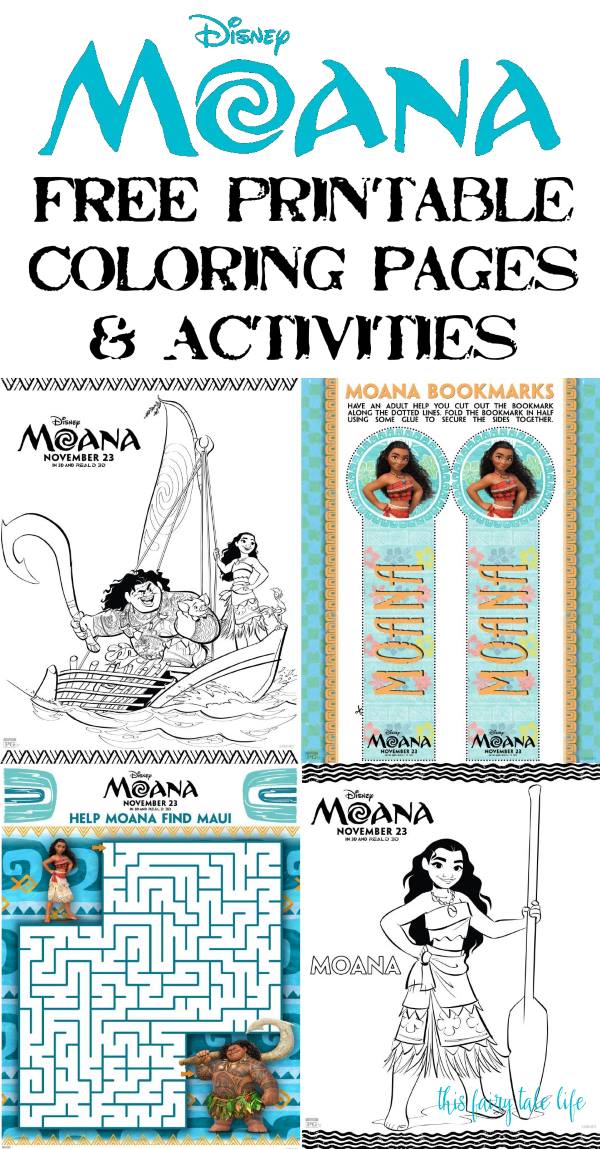 As soon as fall came around, I feel like time has just been flying by. I can't believe, after all these months of waiting, that Moana will be in theaters NEXT MONTH! I am so excited for this movie … I mean, Polynesian culture, The Rock, Lin-Manuel Miranda … you can't go wrong. The clips I've seen are unreal. I think Moana is going to both be a genuine blockbuster and our new favorite princess.
To pass the time until November 23rd, 2016, you can download and print out these free coloring pages and activities, good for adults and kids alike! Look at the detail on Maui's tattoos … it's like one of those adult coloring books you impulse buy for $20 while in line at Target.
MOANA Coloring Pages and Printables
To save these printable PDFs to your computer, click on the links below and the PDF will open in a new tab or window. Right click on the PDF and select "Save" or "Print."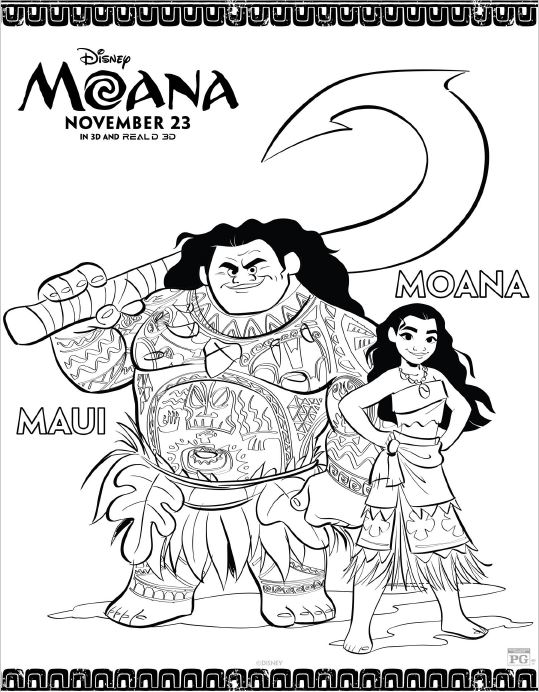 Maui and Moana Coloring Page
Also, here are some fun facts about the making of Moana:
Filmmakers auditioned hundreds of talented young women throughout the Pacific Islands before finding the gifted Native Hawaiian Auli'i Cravalho, who did not initially pursue the coveted role. The film's Hawai'i-based casting director recalled her singing performance from a video submission for a fundraiser/talent showcase and asked Auli'i to come in and try out. Three auditions later, including her first trip to Burbank, Calif., she earned the title role, thanks to raw talent.
Dwayne Johnson stars in the critically acclaimed "Ballers" for HBO, directed by Peter Berg. Last year, he starred in the blockbusters "Furious 7" and "San Andreas." Johnson appears in "Central Intelligence" opposite Kevin Hart for New Line, the big-screen adaptation of "Baywatch" and "Fast 8."
The diverse and dynamic team behind the film's inspired music includes Tony®- and Grammy®-winning lyricist/composer Lin-Manuel Miranda, who's behind Broadway's Pulitzer Prize-winning and multiple Tony-winning "Hamilton" and the Tony-winning "In the Heights," and is a 2015 MacArthur Foundation Award recipient. Three-time Grammy®-winning composer Mark Mancina created memorable scores for films like "Speed," "Tarzan" and the Oscar®-winning "Training Day," and also co-wrote songs, produced and arranged the score for Broadway's musical production of "The Lion King." Opetaia Foa'i, the founder and lead singer of Te Vaka, is a winner of numerous world music awards, including the Senior Pacific Artist award for his contribution to Pacific music.
Directors Ron Clements and John Musker made their writing-directing debut on the 1986 feature "The Great Mouse Detective." They went on to write and direct some of Disney's most beloved animated classics, including the undersea adventure "The Little Mermaid" in 1989, the hilarious hit "Aladdin" in 1992, 1997's epic comedy "Hercules" and, most recently, 2009's "The Princess and the Frog."
Producer Osnat Shurer served as the executive producer of the shorts group at Pixar Animation Studios, responsible for Pixar's short films, as well as all DVD bonus materials. While at Pixar, Shurer produced or executive produced a host of hit shorts, including the Oscar®-nominated "Lifted" (2006), "One Man Band" (2005) and "Boundin'" (2003).
Moana sails into U.S. theaters on Nov. 23, 2016. For more information, visit the official website for Moana, like on Facebook, follow on Twitter, and follow on Instagram.