This post contains affiliate links.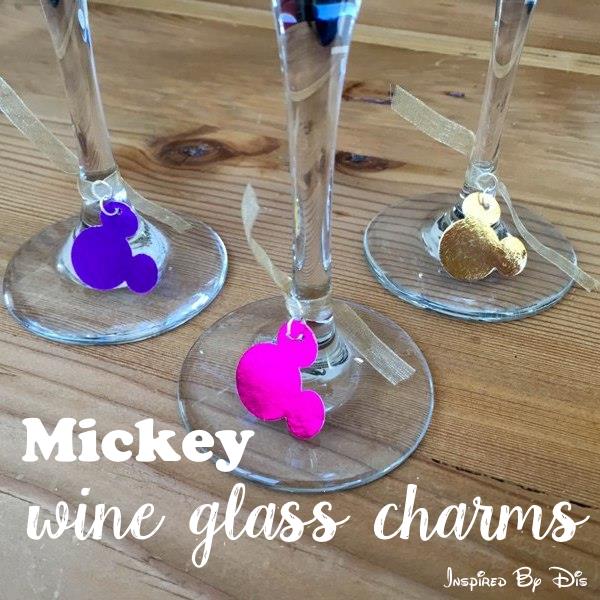 Anyone who knows me knows I love wine! In fact, the White Sangria is my favorite adult beverage at The Disneyland Resort. I had been wanting to make wine glass charms for a while and my Galentine's day party seem like the perfect excuse to finally get them done. It was easy to do with some foil paper, my Mickey punch, and a bit of ribbon. With the unique Mickey wine glass charms, guests could easily identify which champagne glass was theirs! You do need some specific tools for this project, like a metal hole puncher. I bought my metal hole puncher for a specific purpose (making pressed penny jewelry) but turns out I've used it for multiple crafts since then! So even if you're a casual crafter, it's worth adding to your arsenal.
DIY Mickey Wine Glass Charms
Supplies: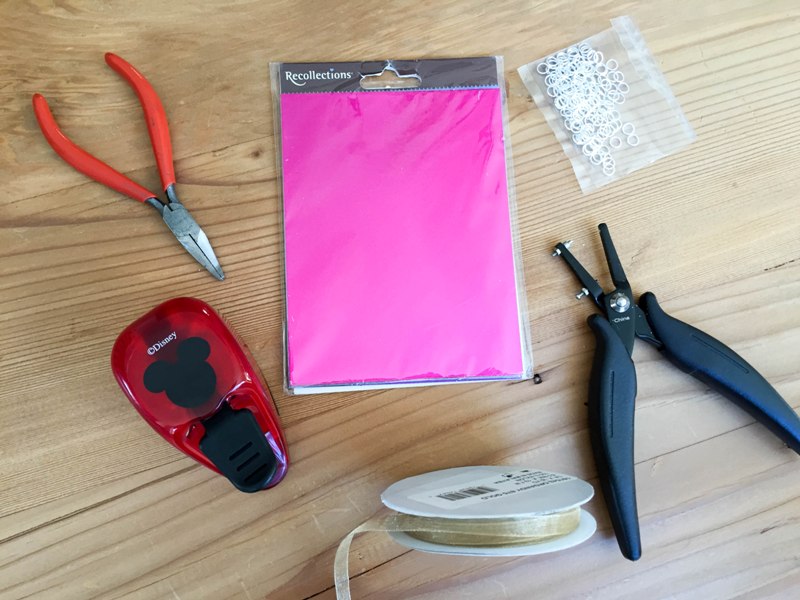 Mickey paper punch, 1 inch
Foil paper of various colors (I found mine at Michaels in the scrapbook section. I can't find it online but this one from Amazon looks similar.) Make sure you are not purchasing thin Origami foil paper. It should be thick, like cardstock or scrapbook paper.
Metal hole punch, you can find this in the jewelry section of your local craft store
Thin ribbon
Scissors
Pliers
Steps: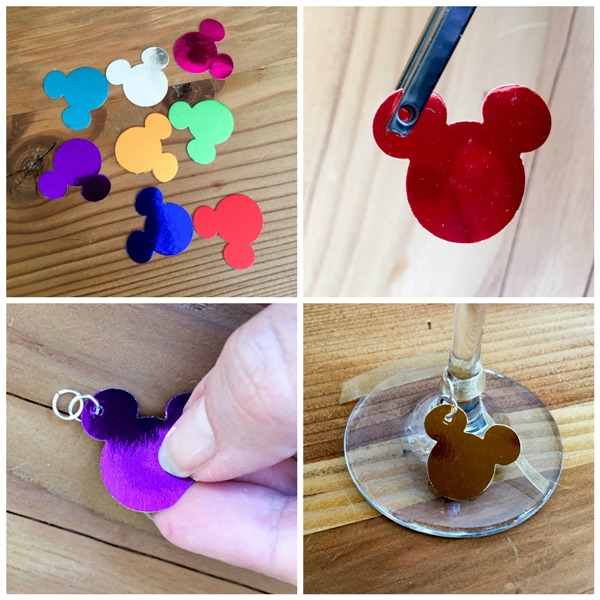 Step 1 – Punch out one Mickey shape from each color of foil paper.
Step 2 – Punch a tiny hole in each of the Mickey shapes, in the same spot, using the metal hole punch. (If you don't have a metal hole punch, you could make the hole VERY CAREFULLY using a thumb tack or a large safety pin. CAREFULLY.)
Step 3 – Using the pliers, connect two jump rings. Then hook one of those jump rings through the tiny hole in the Mickey shape. Repeat for all the Mickey shapes you punched.
Step 4 – Thread about 6 inches of ribbon through the outermost jump ring.
Step 5 – Tie one wine charm around each stem of your wine glasses.
Don't they look nice? My guests really loved them, and now I have them saved in the kitchen for future parties. Don't forget to take the charms off the glasses before you wash them!