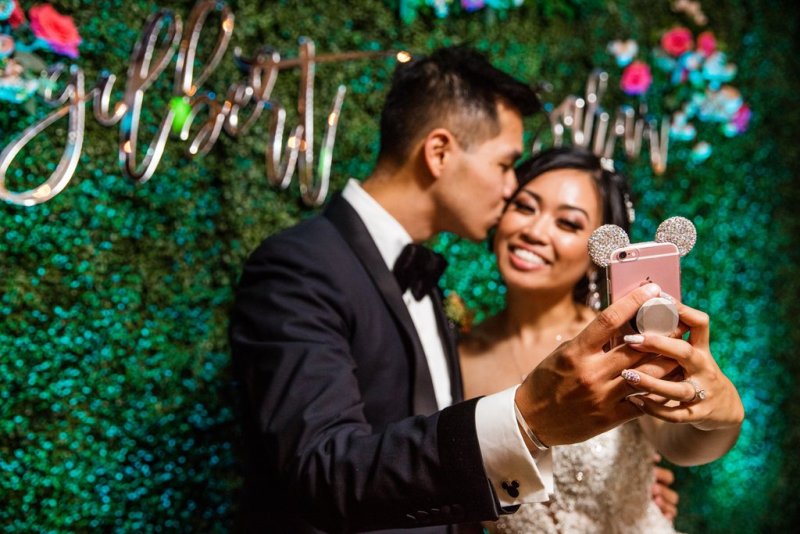 If you love Disney weddings, then no doubt you saw Sarah and Gilbert's Disneyland wedding that made the media rounds last month! When I saw it on PopSugar originally, my jaw dropped to the floor! So many amazing details! One thing I loved was how much thought they put into their Disney wedding reception. The ceremony is important, of course, but the reception is where your guests are going to let loose and have a good time!
Sarah and Gilbert added A LOT of extras to their wedding reception, so don't feel like you need to do everything on this list. Just one or two of these items would take your wedding reception to the next level!
Let's take a look at some of their super fun reception extras.
12 Ways to Make Your Disney Wedding Reception Extra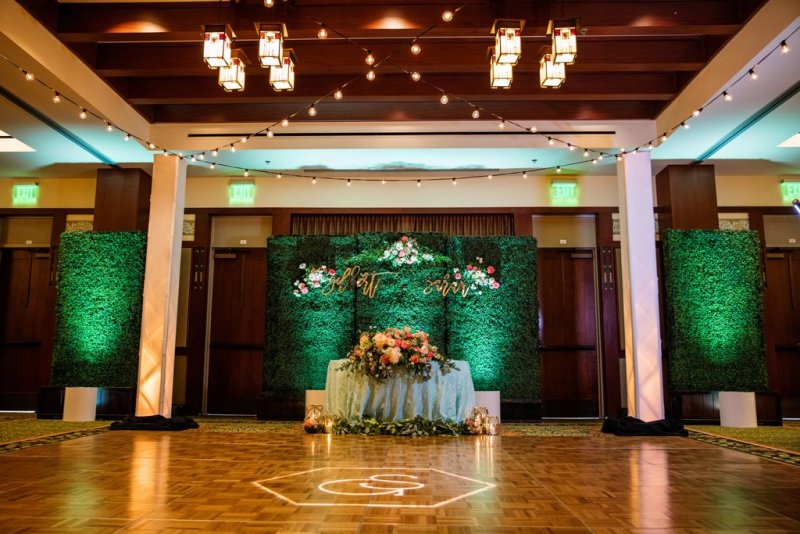 1. Bring the outdoors in. As the article states, Sarah and Gilbert originally wanted an outdoor reception but it ultimately wasn't going to work. So their DFTW planner helped them bring the outdoors into the ballroom! The Trillium Room at Disney's Grand Californian Hotel looks absolutely amazing with the addition of green hedges and bistro lights.
2. Ditch the standard round tables. It looks like this couple upgraded their reception tables to wood roman tables. Actually, we did this too! For our wedding, we did half standard round tables and half wood tables. It added a little interest and dimension to the room. The brown Chiavari chairs with ivory seat covers are a perfect match.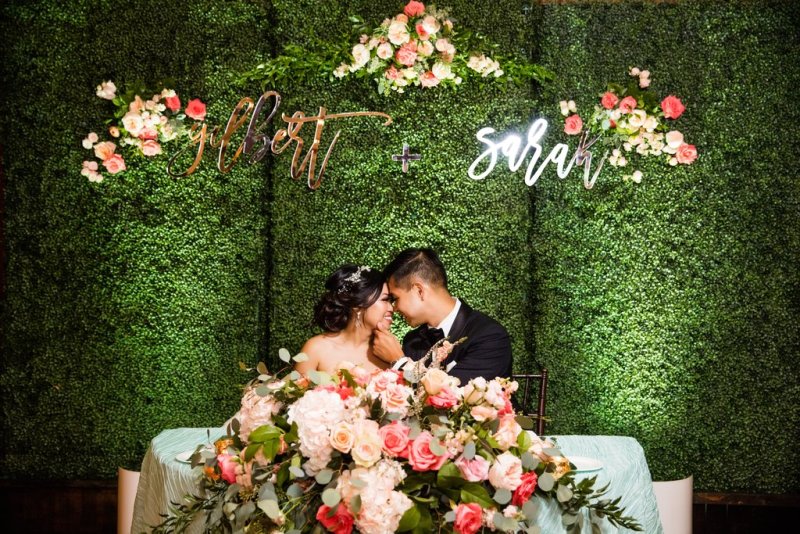 3. Splurge on your sweetheart table. Aside from the beautiful garden walls, the sweetheart table was decorated with specialty linens, a big floral display, and their names spelled out in gold behind them. It all looks so perfect!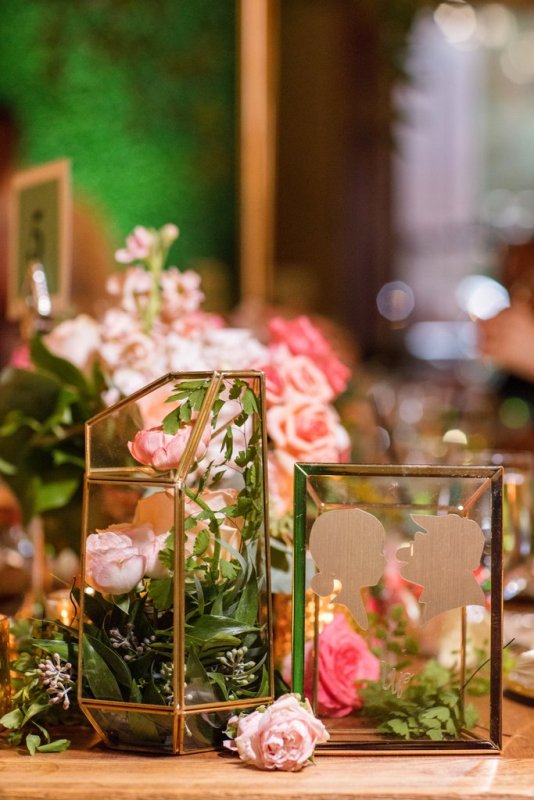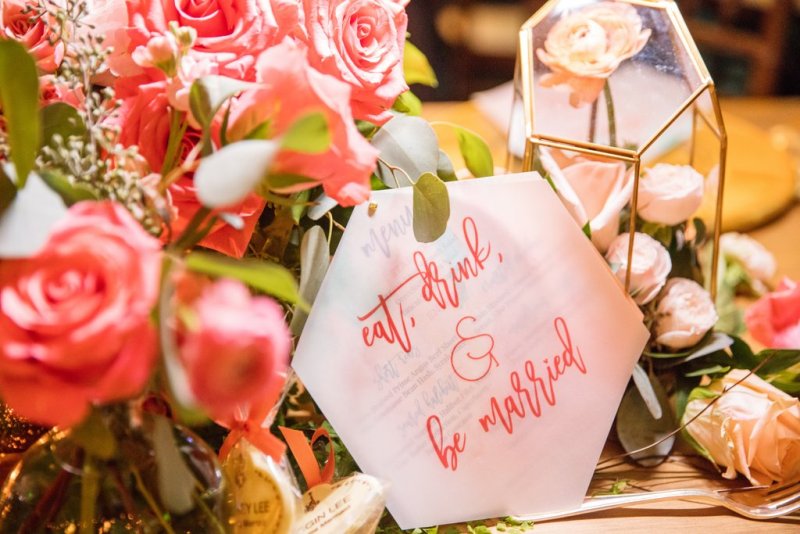 4. Lush centerpieces and decor. The roman tables were decorated with gorgeous floral in both low and high arrangements. I love how it looks like the high arrangements are floating above the table! Lots of candles and pretty acrylic table names (named after Disney movies) complete the tablescape.
5. Dance on clouds. During their first dance, a smoke machine provided by the DJ gives the appearance Sarah and Gilbert are dancing among the clouds. So romantic!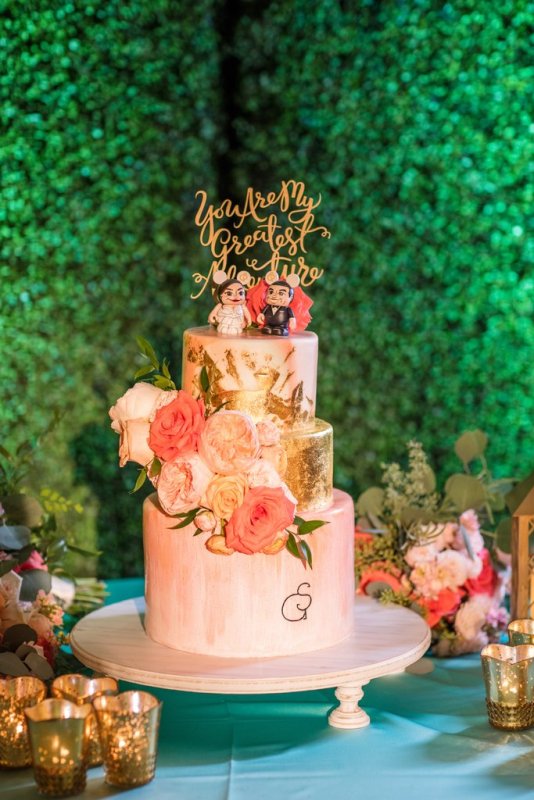 6. Customized cake topper. A cake topper is one of the easiest ways to add some personality to your wedding! Sarah and Gilbert chose to have custom Vinylmations created.
7. Special guests. Honestly, there are a lot of extras you can add to your wedding reception, but I think an appearance by Mickey and Minnie is one of the best. I've attended at least a dozen Disneyland weddings and my face still lights up when they enter the room.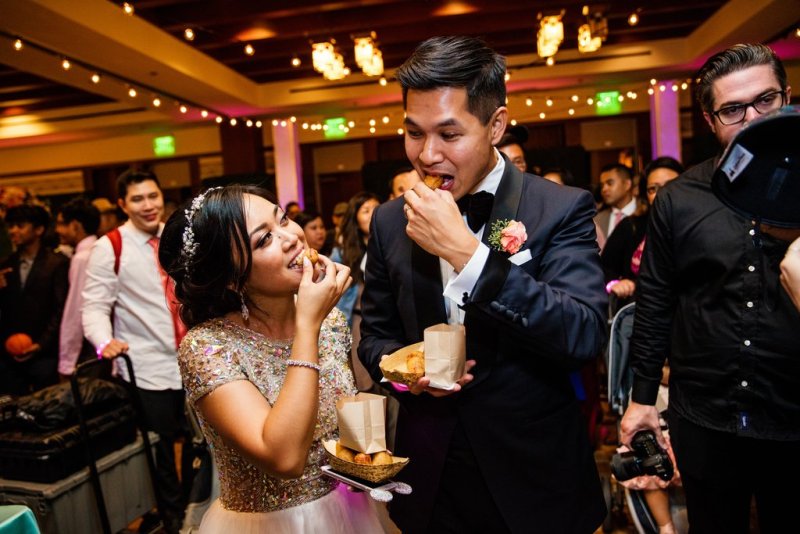 8. Late night snacks. If Mickey and Minnie is my #1 reception choice, extra food is a close second. I loooooooooove Disney food so the more the better. A late night snack really hits the spot after a couple hours of drinking and dancing! (And if you're having a morning wedding, you can still do an "after party" snack.)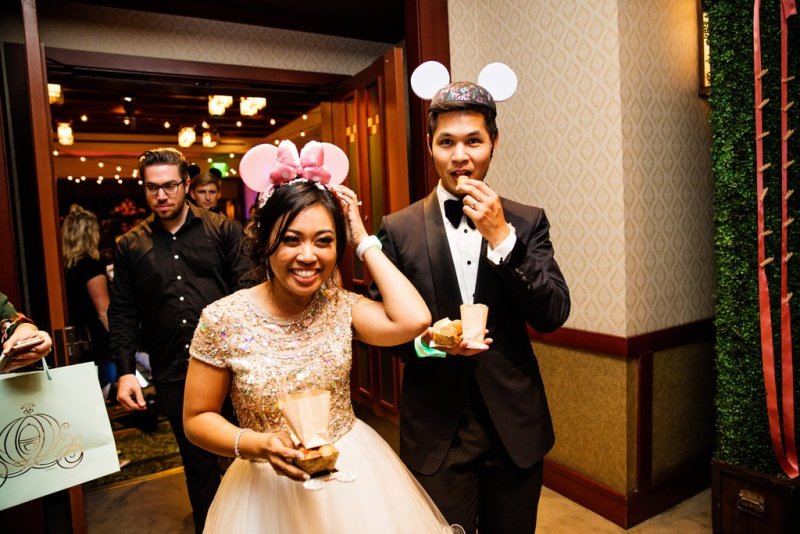 9. Outfit change. Both of Sarah's dresses were absolutely gorgeous, but I'm guessing that first dress was very heavy. Changing into a shorter dress for dancing is such a great idea!
10. Mouse ears and Disney details. Don't forget your Mickey ears! They make for a great photo op. And I think it's super cute how Sarah wrote Gilbert's name on the bottom of her shoe, a la Toy Story.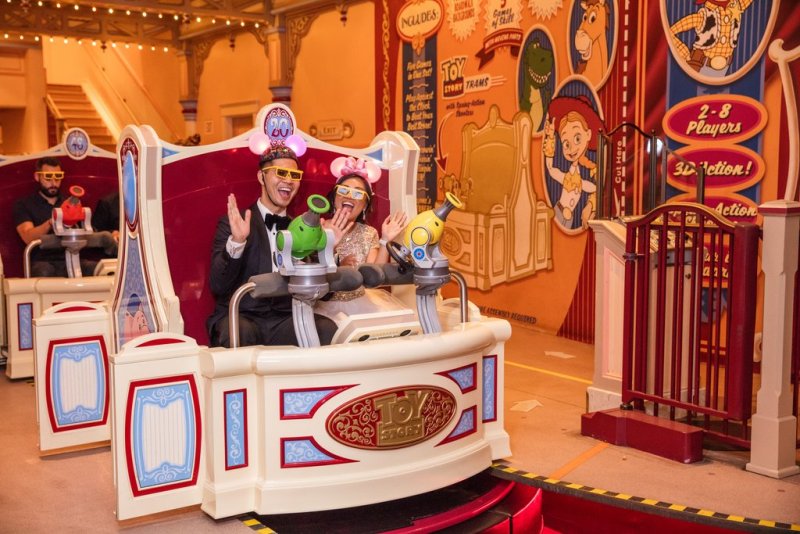 11. Surprise guests with a ride add-on. Okay, this is the most extra of all the reception extras. But how cool is it to surprise your guests by taking them INSIDE the park for their own private attraction experience? Sarah and Gilbert arranged for their guests to go into Disney California Adventure for a viewing of World of Color and a ride on Toy Story Midway Mania. That is a wedding their guests won't soon forget!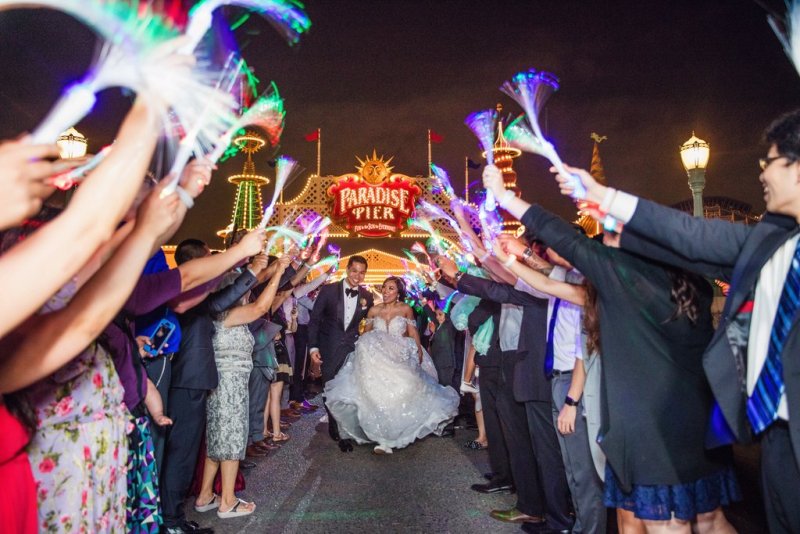 12. Staged exit. Lucky Sarah and Gilbert got to do a staged exit inside Disney California Adventure, but you can do a staged exit at any reception location. Line your guests up, give them some kind of prop (like [affiliate links] bubbles or glow wands) and enjoy the cheers!
Photography: White Rabbit Photo Boutique
H/T: PopSugar