Hi gang! I hope everyone had a great weekend. By now you have probably all seen the news and videos that came out of the Disney's Fairy Tale Weddings showcase in Florida, but just in case: YOU CAN NOW HAVE A LIGHT SHOW PROJECTED ON YOUR DISNEY WEDDING CAKE.
DID YOU HEAR ME???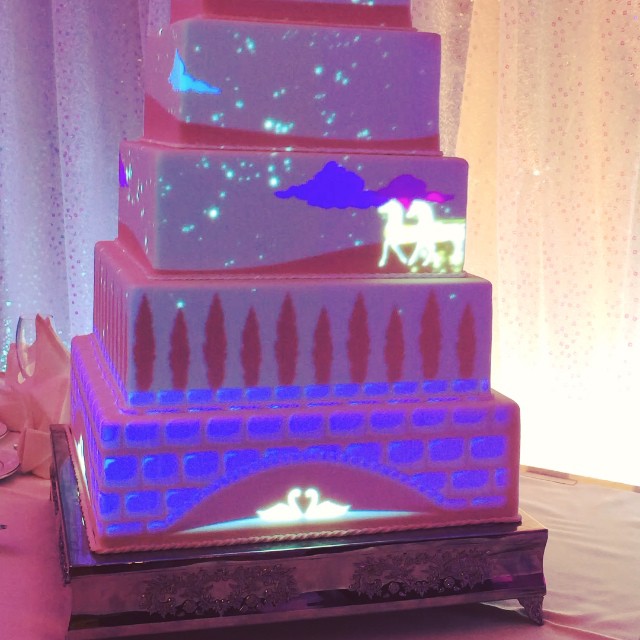 (Image from Disney Weddings Instagram)
The cake itself appears to be a plain white five tiered cake, but when the room lights go down, the "magical imagery" comes on. It's sort of like the light show that gets projected onto Cinderella's Castle or It's a Small World. But on a much smaller scale. And on cake.
Technically, it's called "image mapping" and for now it will cost you a cool $2,900, not including the actual cost of the cake. I have heard this is only being offered at Walt Disney World in Florida for now, but may be coming to The Disneyland Resort in California but with a higher price tag.
The video here, posted by Michelle George Vazul on Facebook, shows Tinkerbell waving her wand with an explosion of pixie dust. The cake transforms into a landscape scene and soon we see Cinderella's carriage being pulled by horses across the bottom tier.
Post
by Michelle George Vazul.
Here's another video of the same projection but from Laughing Meerkat on YouTube
And here's a link to the video posted on the official Disney Weddings Instagram account.
Here's yet another video shared by my friend Carrie at Disney Travel Babble. This one shows some scrolling and the words "and they lived happily ever after."
And also, here's a professional video from the official Disney Weddings YouTube account:
There are three different design projections available right now. I am guessing that these two videos show two of the designs. It also sounds like you can create your own custom designs with videos and photos to create a completely personalized wedding cake light show.
This is obviously a really exciting development and I'll be anxiously awaiting the first Disney wedding that features this new image mapping technology.
What would YOU have projected on your Disney wedding cake?