Hard to believe 2014 is already coming to an end! It doesn't seem like too long ago, I was sitting in this same spot in my (then very new) home office, recapping the whirlwind that was 2013. 2014 brought more wonderful adventures, good times with friends old and new, and "pinch me" opportunities.
My personal theme and anthem for 2014 was "Let it Go," which seemed to enter my life at just the right time, as I was freshly laid off and about to navigate the crazy world of self employment, of making my own choices and suffering my own consequences, and letting go of everything I thought I was supposed to be … a corporate employee, an office drone, a financially independent self-made woman who would work hard from 9 to 5 and retire at 65 and travel the world. The transition has been difficult for me, after years of thinking this was the "right" way to live my life. Now that a year has passed and I'm becoming increasingly comfortable in my new role as my own boss, controller of my own destiny, I'm happier and more confident than I have ever been!
Historically, I write a nice long intro about my annual blog stats and growth, but now that I'm doing a monthly Blogging Report I'll save all those details for the next installment. To sum up: 2014 = awesome.
Thank you for following along with me for another great year. I would love to hear about your 2014 highlights, so be sure to share them with me in the comments!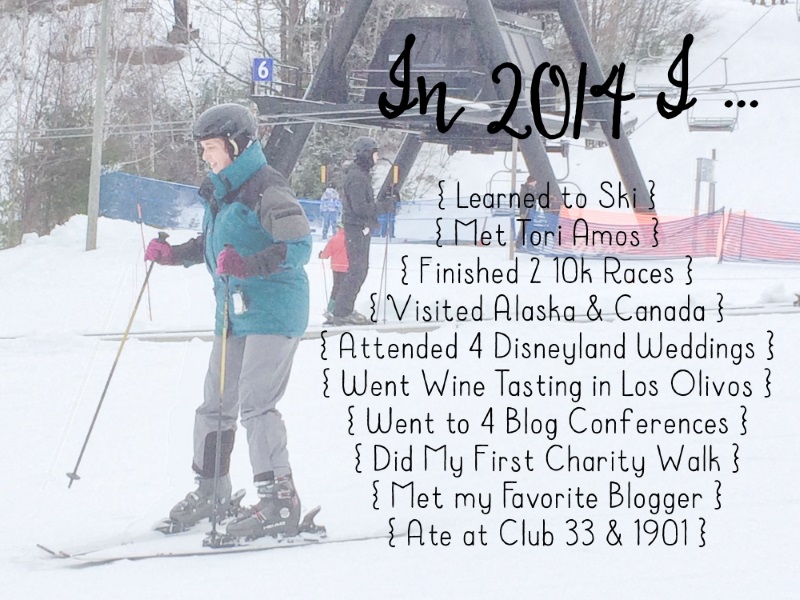 January – January was a transformative month for me and my business, which I suppose is fitting since it was the first month of the year! I attended Alt Summit in mid-January and learned I need to FOCUS. I went to Alt with four blogs (BFT, a recently-rebranded Inspired By Dis, Pixie Dust Bride, and Blogging it Forward), and left with two. A conversation with a big blogger, and subsequent conversations with several awesome bloggers, made me realize I could never grow my blogs to the level I want them to be if my time is stretched out between all these blogs and businesses. I decided to halt new content on Pixie Dust Bride and Blogging It Forward, close the forum and groups on BIF, and focus on just BFT and IBD. While I miss those blogs, I know I'm better off now with a smaller focus. Just a couple days before leaving for Alt Summit, I completed the inaugural Tinkerbell 10k at Disneyland! I swore I would NEVER run a race right before a conference, but I'm doing it again next month! I will be doing the Tinkerbell 10k then IMMEDIATELY driving to Las Vegas for the Affiliate Summit West conference, for which I was lucky enough to win a ticket (hard to turn that down)! Arrrrrrrrrrg!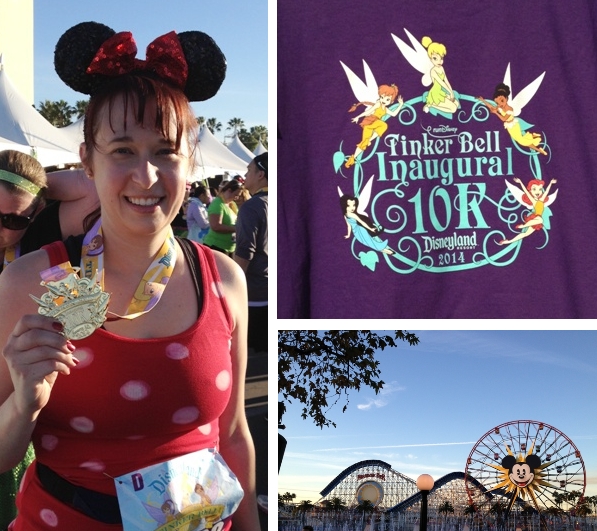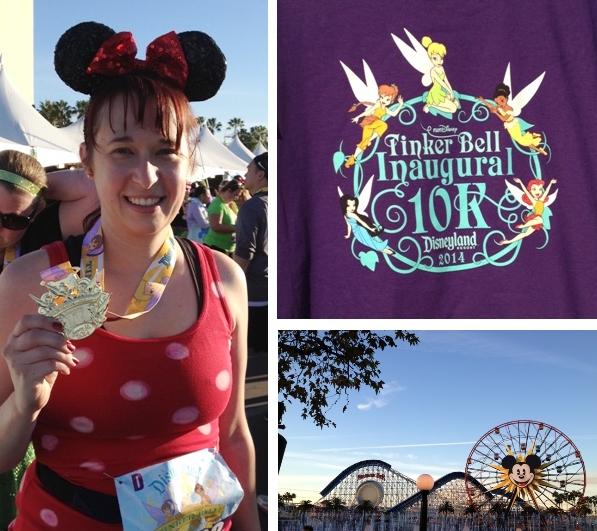 January's most popular post: Golden Globe 2014 Fashion Trends
February – In February I attended the Entertainment New Media Network convention and made a ton of new friends, as well as pick up some new skills. I can't wait to attend this conference again in 2015. I also proved I could go 30 days without wearing my beloved pink hoodie. Happy to report, I survived!
February's most popular post: Best Places to Eat at Disneyland
March – The highlight of March was going to the LA Lifestyle Bloggers conference. Awesome people, awesome food, and awesome swag!
March's most popular post: Stitch Fix #3 – Spring Fling
April – April seemed downright calm compared to the whirlwind first three months of 2014 … until we played host to Mr. BFT's family, who came to stay with us for a week over Spring Break. It was so fun to visit with our nieces and take them to Disneyland, and having six adults and two little kids in our new house was nothing less than an adventure.
April's most popular post: Rejection and Cliques: Blogging is Just Like High School (and I Hated High School)
May – May is our anniversary month! Of course we spent our anniversary weekend at The Disneyland Hotel to celebrate. Towards the end of May I attended the Alt Summit Design Camp with Tracey Clark, one of the three Disney Sisters! It was a really fun and educational afternoon, which apparently I forgot to recap on my blog. Putting that on the calendar for January!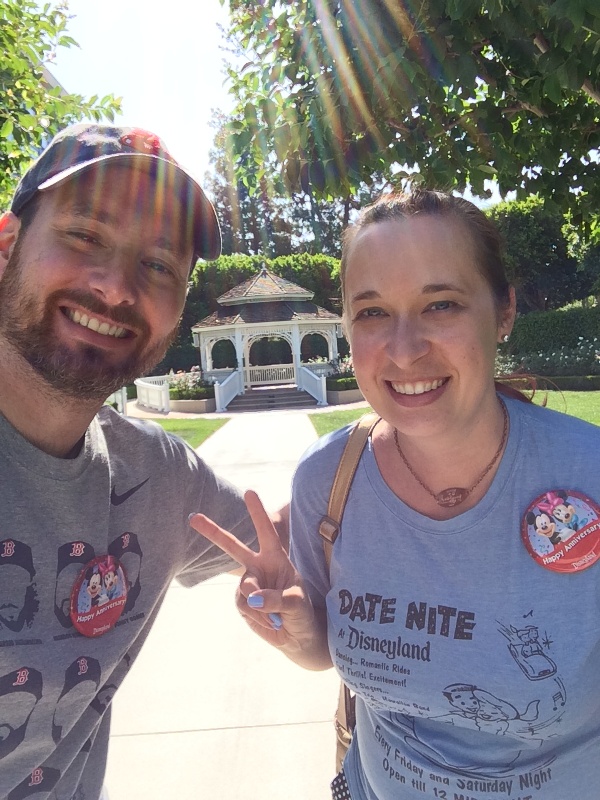 May's most popular post: Official "Rock Your Disney Side" Disneyland 24 Hour Event "Live" Stream
June – June started off with a huge bang with the Disneyland wedding of Karen and Ryan! June also brought an awesome surprise: an invitation to the Disney Social Media Moms On the Road event in Phoenix! Two days of fun in the blazing hot sun. I met some cool people, watched some fun presentations, got some cool gifts, and even met a celebrity (see picture below). On the last day of the conference, I noticed some crazy traffic on Inspired By Dis and learned the official Disney Pinterest account pinned one of my images. How's that for some pixie dust?
June's most popular post: Homemade Limoncello Recipe
July – July started with a trip up north to Santa Barbara County wine country over Fourth of July weekend. I hadn't been to Santa Barbara and Solvang in years, and it was my first time exploring the Los Olivos wineries. It was such a fun little trip! Later in July I crossed off two big Life List items: Hug Tori Amos and See a Concert from the Front Row when I saw Tori play in Los Angeles and San Diego. I've been a Tori fan for so, so long and it was incredible (albeit slightly embarrassing) to finally meet her. The worst part of July was when a pipe leading to our water heater burst and water flooded into my office. I don't want to talk about it.
July's most popular post: 59 Cool Facts About Disneyland You Probably Didn't Know
August – The best part of August was a fairly sudden decision to take an Alaskan cruise (which I still haven't written about here … shameful)! What an amazing trip. The worst part of August was dealing with replacing our entire floor due to the pipe burst, but at least we have a very pretty new hardwood floor because of it! In August I was also lucky enough to attend the Disneyland wedding of Mandy and Russell! Such a fairy tale day! On the last day of August I participated in the second annual Disneyland 10k. Another shiny medal to add to the rack (that I will build, someday).
August's most popular post: Happy Third Blogiversary to Me!
September – September was packed! My birthday weekend started off at Disney California Adventure for Dapper Day where I got some major pixie dust – a stranger invited my friends and me into Club 1901! A couple days later Mr. BFT took me out to a really fun concert at the Hollywood Bowl celebrating one of our favorite TV shows, The Simpsons. Then for my birthday I went back to Disneyland with my friend Hope! Towards the end of the month, I traveled to Boston to attend the wedding of Mr. BFT's cousin Stacey. She had a very fancy celebration at the Boston Four Seasons which included the most food I have EVER seen at a wedding. This is far from a complaint. On the last day of September, I went to a networking event for Lovesick Expo (more on this wonderful alternative bridal show later), where I not only met my blogging hero, Ariel from Offbeat Bride, but was SPANKED by her. Dreams do come true, kids.
September's most popular post: A True "Guest" Post – Mandy and Russell's Disneyland Wedding
October – October started with Gay Days! This was my first Gay Days in a long while. I really love that weekend! The next weekend it was back to Disneyland for my first CHOC Walk! My friends and I made a "Disneyland Brides and Grooms and Friends" group and we all raised money and walked together. It was so fun and this is certainly a new annual tradition. It was fun to have an excuse to wear my bride ears! Also in October I witnessed the lovely wedding of Beth and Stephen at The Disneyland Hotel! This wedding was extra special because it was my first experience with an Escape wedding, and it was amazing! At the end of October was Hello Kitty Con, which was completely amazing!!! I hope this becomes an annual Los Angeles event! Lastly, towards the end of October I celebrated my first Let Go Day!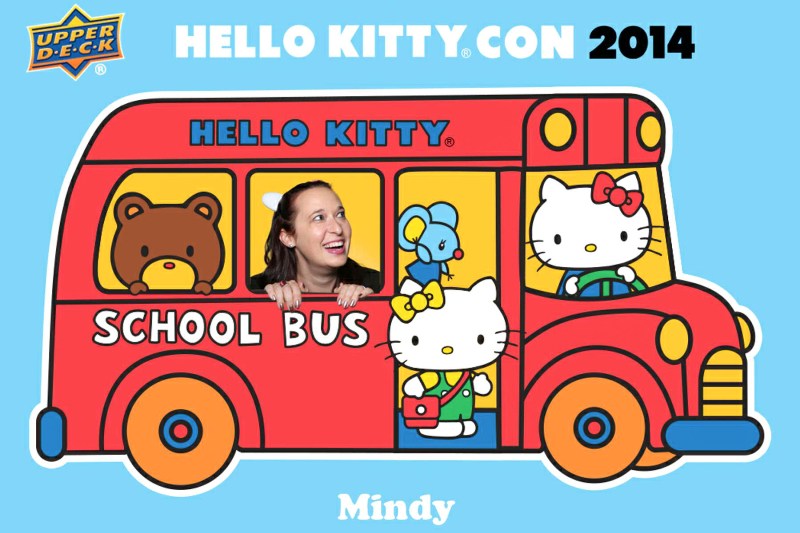 October's most popular post: EVEN MORE Sexy Disney Halloween Costumes That Have Gone TOO FAR
November – The highlight of November was when my friend Terri invited me to lunch at Club 33! This was my first opportunity to see the newly renovated Club. It's so pretty, and hopefully it won't be too long before I get to visit again. In November I also visited Disneyland for the semi-annual Pinup Parade and for the Holiday Time Tour with my boss and colleagues at White Rabbit Photo Boutique.
November's most popular post: I Switched to a MacBook and it's Awful
December – December is always a little chaotic, and this year was no different! The whirlwind started out with my final Disneyland wedding for 2014, this time the lovely and lively wedding of Renee and Diana! (That's FOUR Disneyland weddings in 2014, in case you were counting!) My Christmas started a little early when we celebrated with my family on 12/17, since Mr. BFT and I were flying out a couple days later to spend the holidays with his family. His family treated us to a weekend in New Hampshire before Christmas, where I took my first skiing lesson. Of course Santa found us all the way in New England, and my mother-in-law spoiled me rotten with homemade lasagna and cannolis.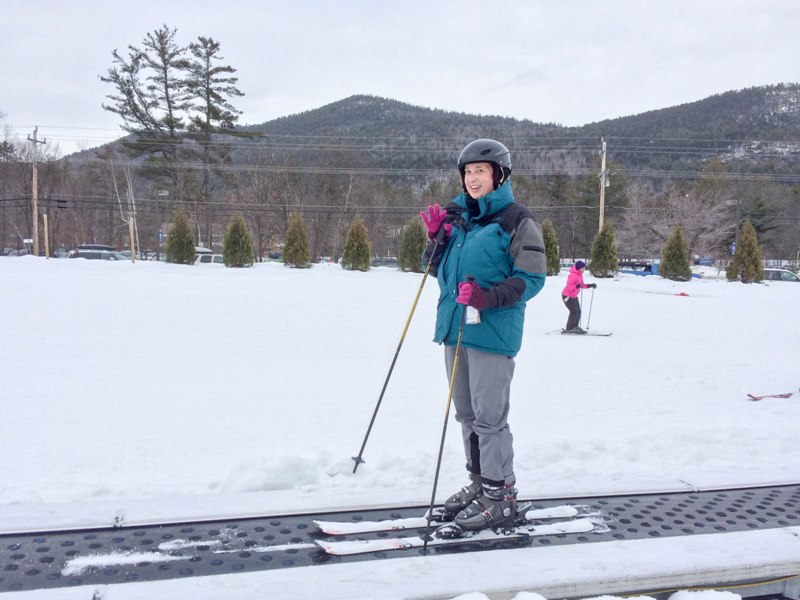 December's most popular post: A True "Guest" Post – Renee and Diana's Red and White Winter Disneyland Wedding
Whew, I always forget how much work go into these end-of-year recaps! 2014 was another wonderful, amazing year filled with old and new friends, and exciting adventures. I can't wait to see what 2015 will bring, with a renewed FOCUS on growing my business and making my blogs the best they can be!
Best wishes to all of you in 2015! I hope all your dreams come true this upcoming year!