Like many of you, I enjoy a good PSL (although the Salted Caramel Mocha has stolen my heart this year).  But, a daily coffee shop habit is out of my budget, and due to my food allergies I cannot consume the grocery store brand creamers.  Not to mention the creamers are filled with junky crap you can't even pronounce, let alone KNOW what exactly it is you're putting in your body (MONO- AND DIGLYCERIDES, I'm looking at you … whatever you are).  What's a semi health-conscious girl to do?
Make your own dang pumpkin spice coffee creamer, that's what!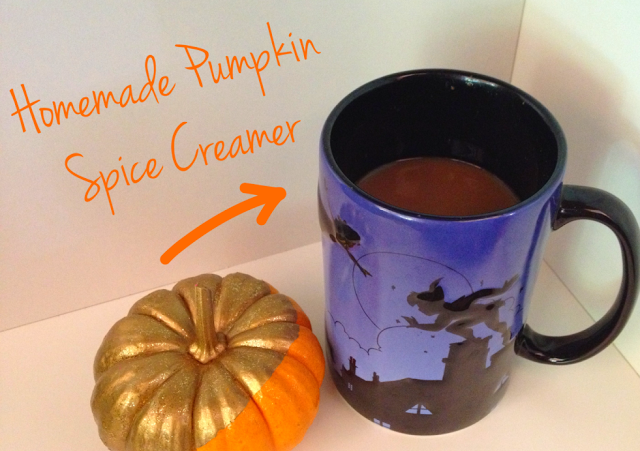 I went on the hunt for a simple and corn-allergy-friendly recipe that I could adapt.  This one posted by Urban Earthworm did the trick.  You know me … if a recipe has more than 4 ingredients and takes more than an hour to make, I'm probably going to pass.  Except for my Pumpkin Turkey Chili recipe, because, chili.
I used this recipe as a launching point and adapted it to my own tastes.  I encourage you to do the same!  Cooking and creating is fun.  As if you needed me to tell you that.
(If you arrived here because you are searching for corn allergy recipes, please know that I am CORN LITE and this recipe is not intended for those with super sensitive corn allergies.  I'm sorry.  Please always use good judgement when trying a new recipe.)
Pumpkin Spice Coffee Creamer
Adapted from this recipe
Makes about 2 cups
Ingredients
– Two cups vanilla soy milk (you may also use almond milk or rice milk, but in my opinion, soy milk is a little thicker and makes for a better creamer.  Dairy is not ideal because it will separate and spoil quicker.)
– Three TBSP mashed pumpkin (canned pumpkin is fine, but make sure it's regular pumpkin, not Pumpkin Pie filling.
– Two TBSP maple syrup (I buy organic pure maple syrup with no corn syrup)
– Two and a 1/2 TSP Pumpkin Pie Spice (or a 1/2 TSP each of the following: nutmeg, cloves, and ginger, and One TSP of cinnamon)
– (optional) 1/2 TSP of vanilla extract ONLY if you are not using a vanilla flavored milk
Combine all ingredients (except for the vanilla extract) in a sauce pan over low heat.  Stir with a whisk until blended.  Remove from heat before the creamer can boil.
When it cools, check the taste and adjust the ingredients to your liking.  Remember this is going to taste DIFFERENT from your coffee shop and store bought creamers because this is made of natural ingredients and there are no chemicals and artificial sweeteners mucking up your taste buds.
If you want it to be sweeter, add a little more maple syrup.
If you want it to be thicker, add a little more pumpkin.
If you want it to be nuttier, add a little more nutmeg.
You get the picture.
Once you get the creamer perfect, transfer to a covered container or glass bottle and store in the refrigerator.  Shake well before using.  Use within 7-10 days or per instructions on your milk packaging.
One other thing I noticed is that I had to use a lot more creamer in my coffee than I do with store brand ones, and it's because this taste is more subtle and less concentrated.  So if you're like me and you like a little coffee with your creamer, be prepared to add a half cup or more to your mug!
If you try this recipe, let me know how you like it!  Enjoy!