Have you gone to Gay Days at Disneyland? Gay Days is an unofficial event (like Dapper Day) which is not officially sponsored by Disneyland but Disneyland is aware of it and generally supportive of the day and the massive crowds it brings to the Parks!
Gay Days has been around since 1998, and I was there for the first one! For that year, Gay Days happened to coincide with the first weekend of Haunted Mansion Holiday. The fellow I was dating at the time was a big fan of Nightmare Before Christmas, so we always went to see Haunted Mansion Holiday on opening weekend. When we found out it was also going to be Gay Days we were so excited. I've always been very supportive of equal rights so I was happy to join in with Gay Days.
Back then there was hardly anybody there celebrating Gay Days (their website says about 2500 people that first year). But my how it has grown! Now Gay Days is a full-fledged event, going from Friday to Sunday the first weekend in October and drawing tens of thousands of people. There are meet-up agendas, official Gay Days parties off-property, celebrity appearances and discussion panels, and even an expo at Disney's Grand Californian Hotel. If you want to join in the Gay Days celebration at Disneyland, here's everything you need to know!
Guide to Gay Days at Disneyland

What is Gay Days?
Gay Days is an unofficial event (not sponsored by Disney) at The Disneyland Resort. Generally it is during the first weekend of October. It is not a private event, meaning Disneyland and Disney California Adventure are open to the general public.
Who is it for?
As their website says, Gay Days is for everybody – gay, lesbian, straight, men, women, families.
How can we identify ourselves as participating with Gay Days?
Wear red! Red is the designated color of Gay Days. There is usually an official shirt you can purchase, with a new design every year. But you can wear any kind of red to show your support! (Please note, Disneyland rules towards attire still stands. And if you've ever attended a Pride parade or festival then you know why I mention this.)
Disney also now sells lots of rainbow merchandise, and they tend to take it up a notch during Gay Days. Right now Disney sells two types of rainbow ears – a traditional hat and a sequin headband. You can bet you'll see a lot of them during Gay Days! In years past, Disney has also offered rainbow embroidery for ears and clothes, so be sure to look for that at the Mad Hatter shop!
You can also make your own pair of rainbow ears! Here is my tutorial for easy rainbow ears.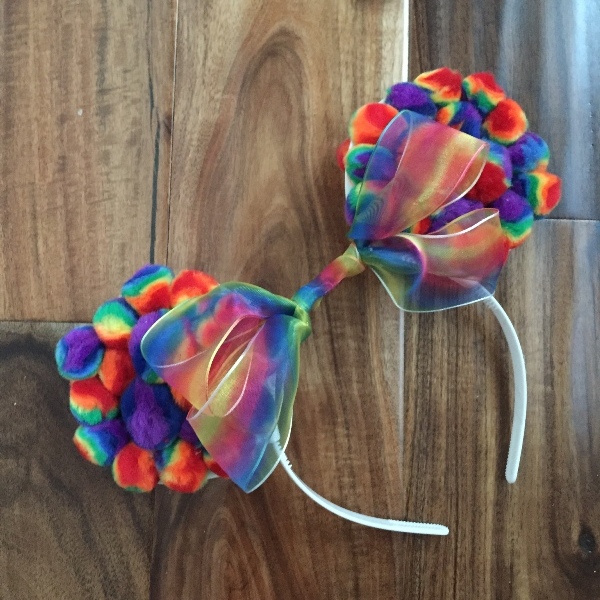 What is there to do?
Lots! Aside from the usual Disneyland fun, there will be meet-up times and locations which can be followed all day, or you can pick and choose what meet-ups you want to attend. Usually there is a group photo in front of Sleeping Beauty's Castle at some point. You can check the Gay Days website for their schedule.
Be sure to also check out the expo, which is usually held at Disney's Grand Californian Hotel. The expo features gay-friendly vendors and sponsors, as well as merchandise to purchase.
There are also panel discussions, screenings, and parties which will vary year-to-year. In 2014 I attended a panel where legendary Disney Imaginineer Bob Gurr spoke about working with Walt. This year you can also see some screenings of ABC's new show The Rookie. Again, check the Gay Days website for current information and event schedules.
There are "off-property" events as well, such as the Plunge Pool Party and the Kingdom dance party.
What is there to EAT?
GREAT question! Don't forget to pick up your rainbow cake at Plaza Inn and other select locations at Disneyland and Disney California Adventure. To be honest, it's one of my favorite things about Gay Days. Other rainbow treats, such as crispy rice Mickey pops and cookies, are also available.
For me, I celebrate gay days the same way that I celebrate Dapper Day or any other unofficial unofficial event day. I hang out with my friends, I people watch, I admire outfits, I go on attractions, and I eat a lot of food.
Happy Gay Days!
This article was originally published in September 2016 and has been updated.