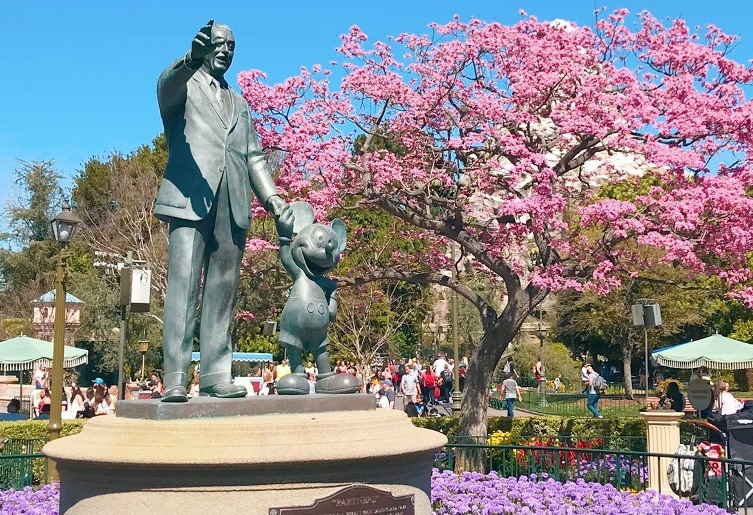 As we come up on nearly a month since The Disneyland Resort and Walt Disney World closed due to the coronavirus pandemic, the big question we are all wondering is, when can we return to Disney?
When should we schedule our next vacation? When will it be safe to give Mickey a big hug again? When can I sit on Main Street USA and eat a churro and just soak up that amazing Disney atmosphere?
Obviously no one knows the answer to this right now. And our anxiety levels would be so much lower if we could all just know when life will return to "normal."
But, it's becoming increasingly clear that we will be dealing with this pandemic for the long haul. We have several months of social distancing to go, and even after testing and vaccines become wildly available we will be dealing with the financial repercussions for several years.
I'm not saying all this to cause additional fear or anxiety. It's simply reality. Our "new normal."
With all this in mind, I wanted to share some thoughts about what I think will be happening with Disney Parks over the next few months, and even years. Obviously I cannot predict the future and I do not have any insider information. This is all speculation based on my own observations, reading up about the 1918 pandemic, conversations with friends, and common sense.
I want to reiterate – the following statements are strictly my opinion. But I sadly think most, if not all, of these predictions will come true.
When Can We Return to Disney Parks?
1. I do not think the Disney Parks will re-open before summer. This is based on the fact that our country is about two months behind China in regards to getting a grip on the coronavirus, and Shanghai Disneyland (the Park itself) is still closed. If all goes well, this puts us on a current timeline of staying closed at least through mid-June. I think, realistically, we are looking at things starting to reopen in fall 2020.
If you have a trip scheduled anytime in April, May, or June 2020 – I would seriously consider postponing it. Even if the Parks open before then (which is extremely unlikely), I don't see a path where we as a country have a control on this virus yet. I would love to be wrong about this, but I just can't see it happening.
2. I think Disneyland will reopen first. Based on a couple factors. The first one is that it's smaller, and frequented by locals. People will be skittish to travel for a while, but Disneyland can semi-thrive on local guests. The second factor is that California started implementing social distancing and stay-at-home orders long before Florida. As a result, California had a jump on "flattening the curve." Currently, California is reporting slightly more cases than Florida, but California has nearly double the population. More statistics will come out about this in the coming weeks.
3. However, it's very possible the Parks will not operate at full capacity until there is a vaccine for COVID-19. This could take a year or two, and only a vaccine will prevent another outbreak. I'm not sure how Disney Parks can safely allow Guests to congregate in queues, restaurants, and shops without being held liable for guests contracting the virus. Measures such as requiring face masks and gloves for all Cast Members AND guests, and also checking guest temperatures before they enter the park, sound good but won't completely eliminate the change of someone spreading the virus.
I am truly not trying to be a bummer about this; I want to return to Disneyland as much as you all do. I just am struggling to find a way to make it manageable in our current environment.
4. It's possible we could see some establishments at Downtown Disney or Disney Springs close for good. This pandemic and financial crisis will be tougher for smaller businesses to recover than it will be for The Walt Disney Company.
5. I think current construction projects will be put on hold, and some cancelled completely. Simply put, Disney needs to recoup their losses from this and it's going to take years. Avengers Campus at Disney California Adventure is the first thing that comes to mind. I predict (perhaps based on pure hope more than anything) that construction will be completed but it will not be ready during the summer and/or whenever the Park reopens. I'd like to think that project is far enough along that it won't sit incomplete for years.
I think the new DVC tower at The Disneyland Hotel will be postponed indefinitely, or perhaps scrapped. And I'm worried about the two new resorts at Walt Disney World, the Star Wars: Galactic Starcruiser hotel, and Reflections – A Disney Lakeside Lodge. I don't think these projects will continue, sadly.
6. I think The Walt Disney Company will continue to put the safety of their guests and Cast Members first. I think that, in hindsight, we can all agree Disney made some mistakes at the beginning. (Parks should have been closed sooner, Cast Members should have been provided with protective equipment, they should have cancelled parades and shows, and shouldn't have encouraged guests to congregate in tight crowds on the final nights.)
However, now that more information is available, I believe Disney will put the safety of everyone before anything else. And if that means the Parks cannot reopen for a long while, then I trust Disney is making that decision for the good of the public.
Like I said earlier, I am anxious for everything to return to "normal" and I can't wait to walk through the front gate of Disneyland Park again. I can't wait to take photos in front of Sleeping Beauty Castle and experience attractions and chat with friends over cocktails at Carthay Circle Lounge. I know all of that will happen in due time, and I know staying inside and following CDC guidelines will get us there as soon as possible.