If you're in the thick of wedding planning, you know you need to choose a lot of vendors. It's a very popular option to choose a friend or family member to officiate the wedding ceremony and legally marry the two of you. It can be extra special to have someone close to you perform this very important task. Every state has different rules, but if you're planning on getting married at Disneyland in California, it is legal to have a friend marry you as long as they become ordained, which is very easy to do via the Internet (and, it's free)! We chose to have a friend officiate our ceremony and it was one of the best decisions we could have made for our wedding.
On the other hand, a lot of couples would much rather hire a professional officiant so they don't have to worry about the small details of their ceremony, or because they want all their friends and loved ones to be able to relax and enjoy the event. Or perhaps it's important to have a priest or other religious figure preside over the ceremony. There are certainly perks to hiring a professional officiant, and with those perks comes a price tag, usually between $300-$500. For some this is a small price to pay for convenience, and for others it seems outrageous to spend that much when a friend can get ordained for free. There are pros and cons on both sides, and it really is simply a personal choice that the two of you have to make for your wedding. I'm not going to say one choice is better than the other; the point of this article is to make sure you are prepared to handle all the tasks and responsibilities that come with hiring a non-professional for the officiant role.
We had a close friend of my husband's perform our ceremony and it ended up being wonderful. He did a really great job and took his duties very seriously. He kept checking in with me, telling me he was practicing the ceremony and asking questions about how we wanted certain things handled. He paid close attention at rehearsal, and sat with us the day before the wedding to go over the ceremony line-by-line. On the day of, he was calm and cool (and we knew he would be based on his personality). There were tiny mistakes here and there but it didn't rattle him, or us. Everything went really well, and we have wonderful pictures and nice memories of our friend taking such a meaningful role in our special day. Some might say we got lucky that nothing went wrong, but I would say it's less to do with luck and more to do with smart choices and preparation.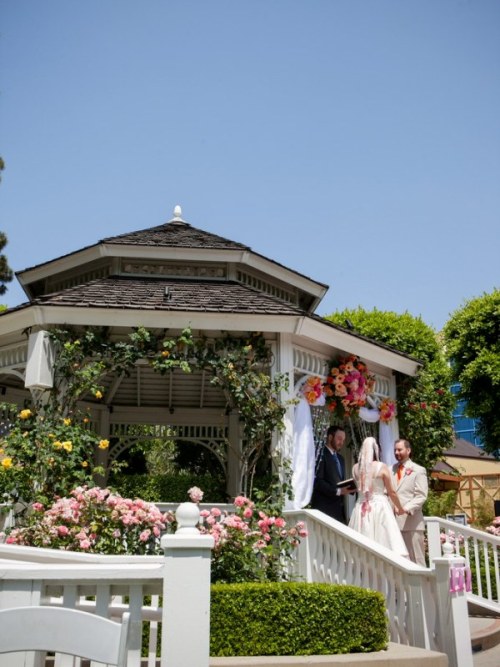 One of my favorite photos from our wedding. Photo by Root Photography
How to Have a Friend Officiate Your Wedding
If you're going to hire a friend or loved one to officiate your wedding, here are a few things you need to consider.
Select someone reliable. You can get married without a photographer, without a cake, or without music, but you can't get married without an officiant. Aside from you and your partner, your officiant is perhaps the most important participant in your wedding. When you ask your friend if they want to officiate, make sure they realize it's a very heavy task and you need to make sure they will show up. They can't get stage fright, they can't bail if they get sick, they can't get stuck in traffic and be late, they can't simply decide the morning of the wedding that they don't want to do it. Make sure they understand how important their role really is. With that being said, as much as you may trust your friend to carry out their duties, you may want to have a Plan B for peace of mind. Ask another wedding attendee if they can become ordained to be the back-up officiant, and/or have the number of a local officiant service handy. If you're getting married at Disneyland, they have a list of preferred officiants and I suggest you keep that information handy on the wedding day.
Select someone who you know has experience with public speaking. I touched on this above, but you want to make sure your friend isn't going to get sudden stage fright. It's true the wedding couple is the center of attention that day, but for the majority of the ceremony all eyes will be on the officiant. They will probably use a microphone and most people aren't used to the sound of their voices being boomed out. They may speed through the wording and never look up from their paper. I have been a guest at a lot of weddings and I'm sorry to say that as a guest, you can tell when the officiant is nervous. A pro officiant has lots of experience speaking in front of a crowd, and they know how to engage an audience (aka your guests). So be sure you're choosing your officiant wisely. A nervous officiant won't make or break your wedding, but if you're unhappy with the results it could cause a rift in your friendship.
Know that if something goes wrong, your friend probably won't know how to handle it. It's rare but, yes, hiccups can happen and a good officiant will know how to recover. If the microphone goes out, will your friend know how to fix or to compensate for the lack of amplification? If the music cues don't come in or someone misses their turn down the aisle or there's a delay in the ceremony for whatever reason, will your friend be able to think quickly to keep the ceremony moving along? If your guests don't stand up for the entrance of the bride(s), will he or she know to make an announcement? If a helicopter goes by overhead, do they know to pause and wait so your guests don't miss out on an important part of the ceremony? If they lose their place in the ceremony or skip a section, will they be able to calmly correct it? Is there a chance they could curse into the microphone and offend your great aunt Mildred? Chances are your ceremony will go smoothly, but if any of these things happening is of great concern to you, you may want to choose a professional officiant.
Realize you are in charge of picking up, completing, and filing your marriage license. A professional officiant will at the very least walk you through all of this prior to the wedding but if a friend officiates, you are on your own. Dealing with the marriage license is easy enough to figure out with a few Google searches, and getting everything completed and filed is not rocket science. But remember that it is one more thing to add to your to-do list, and it is *pretty* important, so for some couples it's worth the officiant's fee alone just to make sure all the legal paperwork is done correctly. (I once read a wedding horror story about a bride who assumed her friend officiant would research and handle all of this for them, and on their wedding day they had no license to sign. If you expect your friend to have a role in handling the license, you need to communicate this up front!)
You have to write the ceremony. If you hire a pro, they will likely have a large selection of pre-written ceremony verbiage to choose from, or you can mix and match sections you like, or if you have a really good officiant they may even write something custom for you highlighting some of the unique things that make you special as a couple. If you have a friend officiate, the task of writing the ceremony falls on you and your partner. (Unless your friend offers to write the ceremony, and in that case, that's a reeeeeeally great friend.) So … how the heck do you write a ceremony? To start, you can grab a basic civil ceremony on pretty much any California county clerk website. It won't be very personal but it will get the job done. Other than that, you can check around on wedding blogs for inspiration. For me, I searched around online, found a few ceremonies I liked on blogs, pieced them together, and then added some personal touches. It took a few hours spread out over several days, so it's not an easy task. But I'm actually happy I got to do it, because now when I look back at our wedding pictures or watch the video, I remember the time and effort and thought we put into crafting our ceremony.
Your friend should be present at your rehearsal. A pro officiant has done the job several times and knows their marks. But your friend does not, so make sure they can come to the rehearsal. You don't need to run through the entire ceremony during the rehearsal, but go over key moments such as handing over the rings, moving the microphone around during vows, any type of unity candle or sand ceremony, and of course, your officiant's entrance and exit. The officiant should walk in first, as this signals to guests that the ceremony is starting. If you're having a very traditional wedding, the officiant will walk out to the alter with the groom and groomsmen. If everyone is walking down the aisle, your officiant should be the first to walk in. After your ceremony, your officiant should be the last in the recessional, and you may even choose to have your officiant make any important announcements for guests (such as where to go for cocktail hour) after the rest of the wedding party & parents have made their exit.
Finally, make sure it's legal in your state and they are properly ordained. I am only familiar with California so if you're getting married outside of California you should do your own research to find out the requirements in your state. (And remember, you need to research the requirements for the state in which you are getting married, not the state where you live, if they are different.) It's very easy to become ordained online. Perhaps the most well known is the Universal Life Church, which is free. For us, I found a church called Rose Ministries and asked our officiant to become ordained through it because I liked the name. At the time I believe it cost $30, which I was happy to pay because I liked the idea of Rose Ministries matching the Rose Court Garden. (Remember at the end of the ceremony, your officiant must declare, "By the power vested in me by Rose Ministries …") There are dozens, if not hundreds, of ministries like this online, so search around and find the one that calls to you.
I hope these tips and suggestions help you with having a friend officiate your wedding. I recently put out a call on my Facebook page, asking everyone to share their own stories of having friends or loved ones officiate your wedding, and I loved all the responses. Here's what you had to say:
"My husband's best friend was our officiant for many reasons. One was cost. We are also not religious and did not want any mention of religion in our ceremony. We wanted someone who was connected to us and knew us on a personal level. It was 100% the best decision for us."
"We had my dad marry us. And since he was terminally ill and was the one who set us up, it seemed only fitting. It was, hands down, one of the best moments of my entire life."
"We had a friend officiate. Honestly it felt more personal and from the heart (not as rehearsed as the officiants that I've heard) than someone we didn't know and had to pay for. It was an easy decision that ended up saving us money too. Win win!"
"Our dearest friend was our officiant. We were her first wedding, but she knew us all through our relationship and really made the whole experience so memorable. Plus I had a backyard wedding with just closest friends and family so it made it even better that such a close friend married us."
"We had one of my very close friends officiate the wedding. He has been my bestie since high school and I wouldn't have had it any other way!"
"One of my uncles was our officiant. We aren't religious and I'm not big on tradition so I told him to do whatever as long as it was short and sweet. He ended up reading Dr. Seuss "Oh the Places You'll Go" as our ceremony as a nod to the fact we were also moving out of state after our wedding. I thought it was perfect and so original."
"We chose my husband's father because he is a pastor and he had always dreamed of seeing us getting married at his church. And because we decided to get married at Disneyland, we asked him to officiate and he was so touched."
And an opinion from someone's who has been there, done that …
"I actually was the officiant for my best friends' wedding. We were all former Disney Cast Members and I used Walt's opening speech as inspiration for their wedding ceremony. They loved it! I was so honored to be asked to do it and I thoroughly enjoyed every moment."

Have any additional questions about having a friend officiate your wedding ceremony, or perhaps a story to share? Please feel free to leave a comment!