Disney Bride Nicole P is planning a Walt Disney World wedding at the Wedding Pavilion and Disney's Grand Floridan Ballroom for December 2017.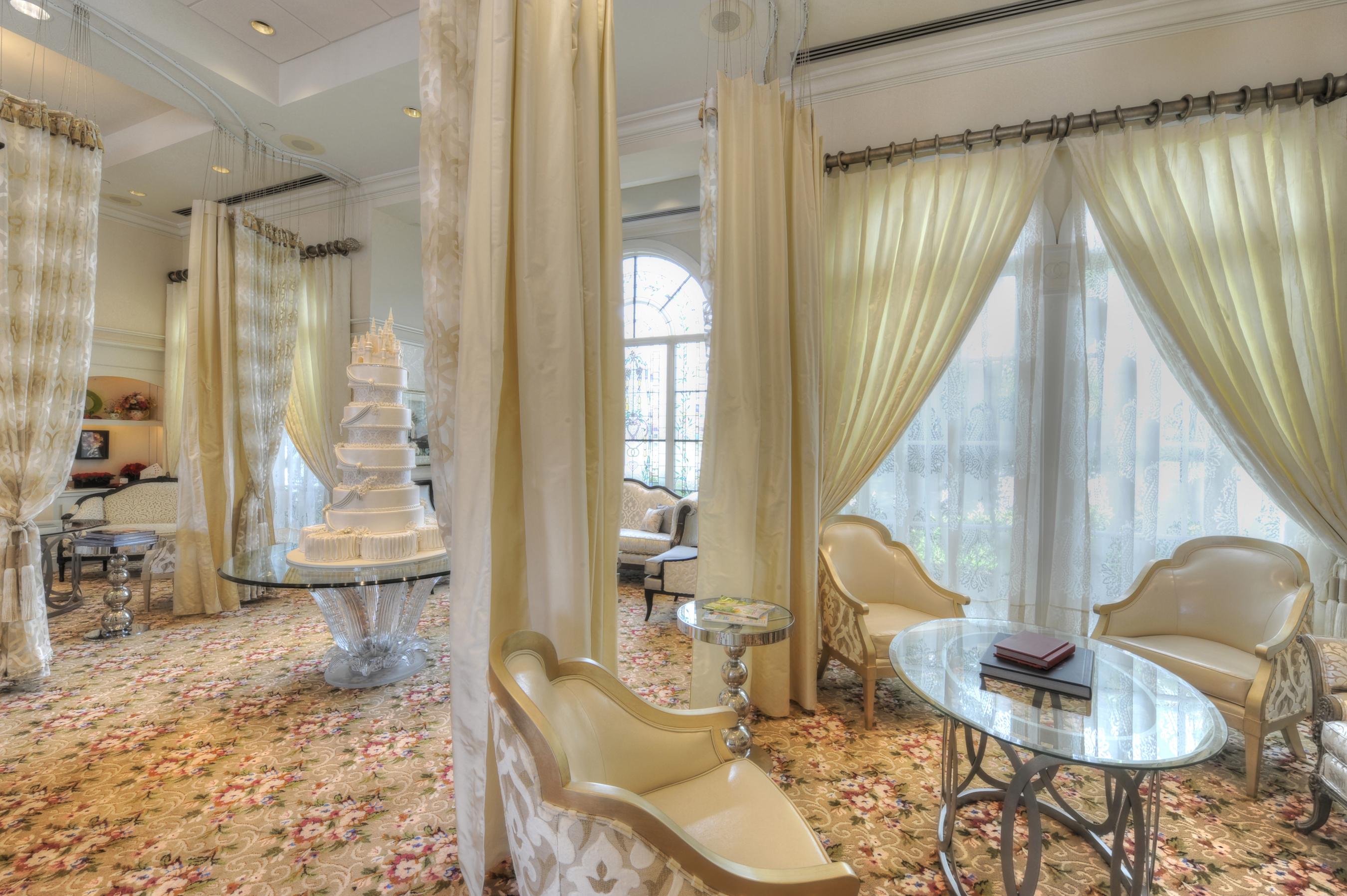 Photo credit: Disney
Most little girls grow up dreaming about their wedding day. I don't count myself among them. I didn't start dreaming about my wedding until I knew I had found the one person I wanted to share my life with. I did, however, grow up loving Disney and incorporated just about everything Disney into all my life celebrations. So when I agreed to marry the love of my life, my fiancé and I both knew immediately that there simply was not a better place to get married and to celebrate with our family and friends than "The Happiest Place On Earth" – Walt Disney World. Growing up, my parents took my sister, brother, and me there nearly every year. We went at all different times of the year but at Christmastime Disney is really the most magical. So I knew I wanted to get married in December.
For those not familiar with seasonal crowd trends, the first couple weeks of December are an optimal time for visiting. The parks and hotels are decorated to the hilt, the crowds are light and the weather is generally cool and sunny. Not wanting to interfere with the traditional celebrations of my friends and family, we chose the first weekend of the month for our wedding!
I called Disney's Fairy Tale Weddings and we were able to get our preferred date and time. I then scheduled a series of meetings for the end of May. I would recommend once you select your date, you start planning as soon as possible! It gives you more time to make changes.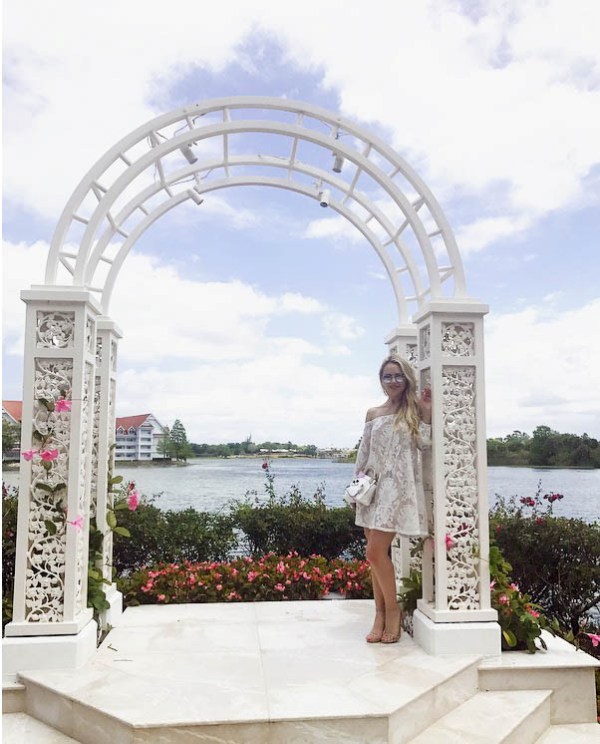 My mother, sister, and I flew down to Walt Disney World for what we thought would be a three day working vacation. It turned out to be anything but work. The planning sessions were fun and remarkably easy. I would, however,  recommend that anyone heading to any Disney destination to begin wedding planning to do their homework first. Take the time to put together your vision. It's a good idea to decide on your color scheme first. I brought a fabric swatch from my bridesmaid dresses since the color is the foundation for my vision. After you have this set, scan the internet and magazines for things that catch your eye. I actually created a photo scrapbook to take with me. So instead of describing the decor I wanted to my wedding planner, I could show her! You can never be too prepared, but also remember to go into your planning session with an open mind. I can guarantee Disney offers many options that you didn't even know existed!
It is also very important to walk into your planning session with a well thought out budget. You should convey this to your planners as soon as you meet them, and I promise they will work to create the wedding of your dreams that you can actually afford. Try to determine how many guests you plan to invite then go from there.
I came in knowing I wanted a Winter Wonderland theme, similar to Disney's Frozen. I knew this for sure because I took the time to look at different themes. I also took into consideration the seasonal decor of the hotel. They use pale blues, pinks, and lavender that complement the Victorian decor of Disney's Grand Floridian Hotel. Incorporating my forever favorite color, baby blue, with everything that sparkles became the obvious choice!
The morning of our planning session we went over to Franck's Studio at Disney's Grand Floridian Hotel for our scheduled meeting with our wedding planner, Karen. They told us in advance the meeting would take three hours and they were exactly right. It's important to go in knowing the amount of time you will need to set aside.
Franck's Studio is the optimal place to plan a Walt Disney World wedding. Even the restroom has cute details!
Literally all your options are laid out in front of you in a manner that seems to greatly simplify things. There was literally zero sales pressure. Karen would have been just as happy to assist me in planning a simple intimate wedding as she was to help me plan the somewhat elaborate one I was leaning towards.
I brought several photos and described my winter wedding vision. She took that vision and made it come to life! She used the latest technology to show me what my Disney Wedding would look like based on all my requests.
Next the pastry chef came by with samples of just about every cake/icing combination for the three of us to taste. It's a good idea to try each sample. We decided to combine several into one giant cake.  Don't ever assume Disney cannot create something. If you dream it up, they can for sure create it for you.
Photo credit: Ever After Blog
We were next introduced to Disney's florists. These florists are incredible artists. Using samples and video, I was able to see just what my tables, room, and even the Wedding Pavilion would look like decorated. Ask questions, lots of questions. Ask to see other work they have done. These amazingly talented people helped me select linens, a dance floor, chairs, and special lighting effects among many other things. They offered several different entertainment options. There literally is nothing Disney cannot do! I would recommend not trying to hire professionals yourself. Disney has the best vendors available, they work together seamlessly, and their prices are competitive. However, you are free to bring in anything you want on your own, including a band and/or a DJ. If you want them to hire one for you, set aside additional time during your planning session for auditions.
We then walked over to the Wedding Pavilion, and since there were no events happening we were allowed to freely walk around for as long as we wanted. From the gorgeous view of the castle behind the altar to the gorgeous private suite for the bride and her bridal party, this venue is visually stunning. I know I keep using the word "gorgeous" but there really is not another word that better describes the newly renovated Wedding Pavilion.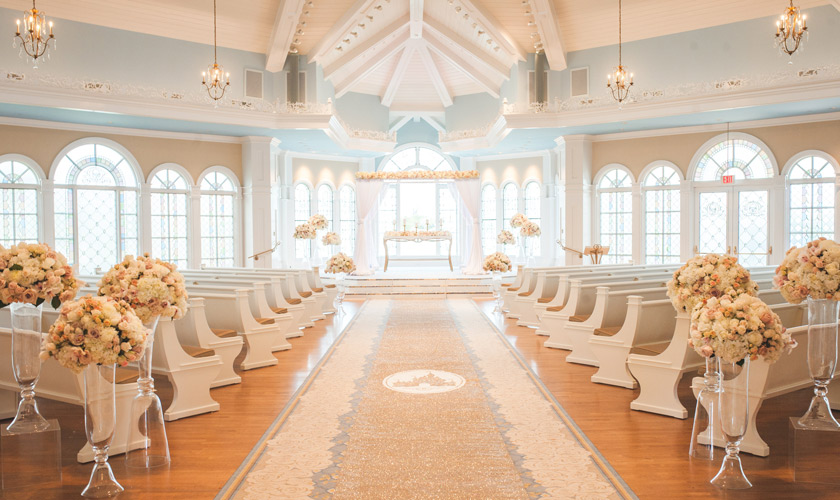 Photo credit: Disney
My fiancé insisted on renting Cinderella's Carriage for me to ride from the Wedding Pavilion to the reception at our Disney's Grand Floridian Ballroom. We also took care of this and scheduled the rehearsal and rehearsal dinner at the planning session.
After our meeting we had some time before our menu tasting so we enjoyed Disney's Magic Kingdom park. Later that afternoon we met the chef that would be preparing our reception dinner. We got to sample all the hor'dourves and menu items we were considering serving. The samples were delicious and it was so fun to be served in the kitchen at a table set with fine linen. Our wedding planner even had mine and my fiancé's names and the date printed on special sampling menus. Make sure you get a price breakdown on the menu items. One of two small additions or subtractions can greatly alter your budget.
Disney's Fairy Tale Weddings is comprised of the most talented, kind, and knowledgeable professionals. Although I had selected just about everything that my dream wedding would be comprised of, I was not at all pressured. I was told to enjoy my stay then go back home and decide on just what we wanted to include. I was permitted months to do so, and even now I am encouraged to question, add, subtract, or tweak anything we desire. My experience was absolutely wonderful and I am excited to go back in October again to touch base with Karen!