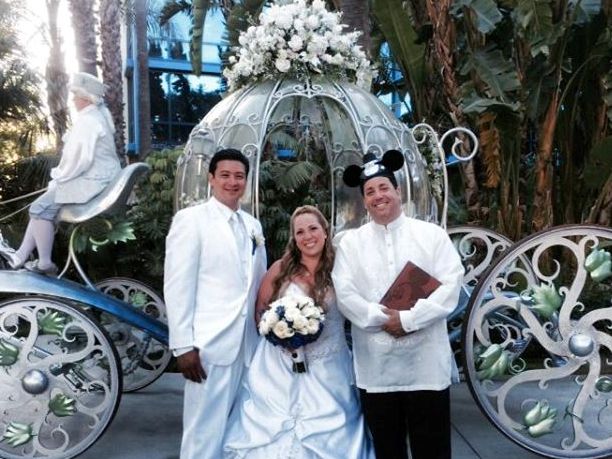 Today I'm excited to share another wonderful Disneyland wedding ceremony idea from Alan of Great Officiants. You may recall Alan shared his really fun Disneyland Handfasting Ceremony with us a few months ago. Now he's back with a special Disney themed speech that can be included in the ceremony opening remarks. There's a reason Great Officiants is on the recommended vendor lists for Disneyland weddings. He really loves Disney, and his knowledge and joy for Disneyland comes through with every ceremony he does! Thanks for sharing, Alan!
Comparing Disney Attractions to Married Life
You both have a lot in common. You like a lot of the same things, places, and foods. It is truly a Small World after all.
Much like with the Haunted Mansion, sometimes things in life scare you. Just know its all an illusion and that nothing that pops up will hurt you so sit back and enjoy the ride. Just don't pick up any hitchhikers.
Big Thunder Mountain Railroad teaches you to stay on the right track. There will be a lot of twists and turns along the way but as long as you hold on to each other tightly everything will be okay.
Your relationship is out of this world, just like Space Mountain and Star Tours. You must use The Force to ward off evil doers and return the galaxy to peace.
Carousel of Progress is a nostalgic ride that reminds us there is always change, and like the ride you always need to update and upgrade to keep up with the times.
Like Tower of Terror, your relationship will have some ups and downs and a lot of screaming along the way, but remember that once you check in you can never check out.
"Yo ho Yo ho a pirate's life for me" is what you used to say. But ever since you found each other you decided to give up the hunt for treasure because you know the greatest treasure of all stands right in front of you.
Jungle Cruise reminds you there is always something different around the bend. It could be scary, it could be funny, or it could be mundane like the backside of a waterfall. Just keep looking forward.
Peter Pan used to hang out with the Lost Boys, but ever since he found his Wendy he settled down. But remember – never grow up or you'll get the hook.
Thanks, Alan! Visit the Great Officiants website.
More Disney ceremony ideas:
Brilliant Idea: Have a Unity Paint Ceremony at Your Wedding
Free Printable Reserved Seating Signs for Your Wedding Ceremony
This Disney Unplugged Wedding Sign is Too Cute
Wedding Decor Inspired by Disney Princesses