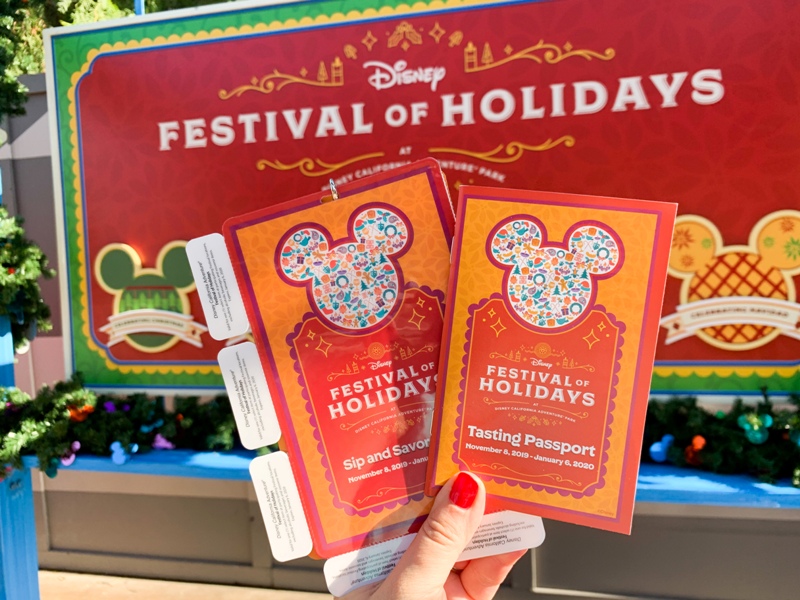 Disney Festival of Holidays is BACK for the fourth year! This is a really fun holiday celebration that takes place inside Disney California Adventure, and includes music, dancing, shows, and lots and lots of food!
For 2019 there are several new food offerings and a few repeat favorites. I visited on the first day of the Festival and I obviously wasn't able to eat everything in one day, but I've shared my opinions on what I ate below. But first, a quick introduction to Festival of Holidays if you're not familiar with it.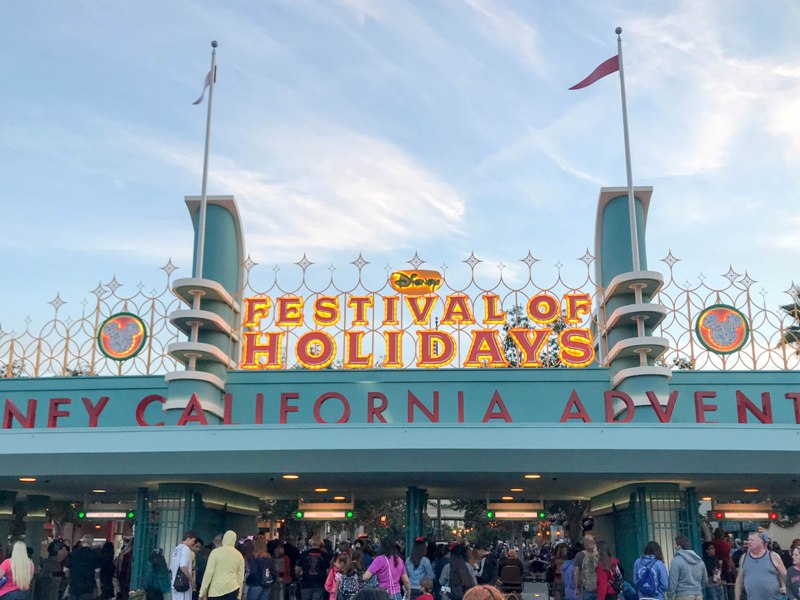 What and When is it?
Disney Festival of Holidays is a celebration of the cultural diversity of Southern California, and features music and dance performances, crafting for kids and adults, Disney character interactions, and, of course, a visit with Santa!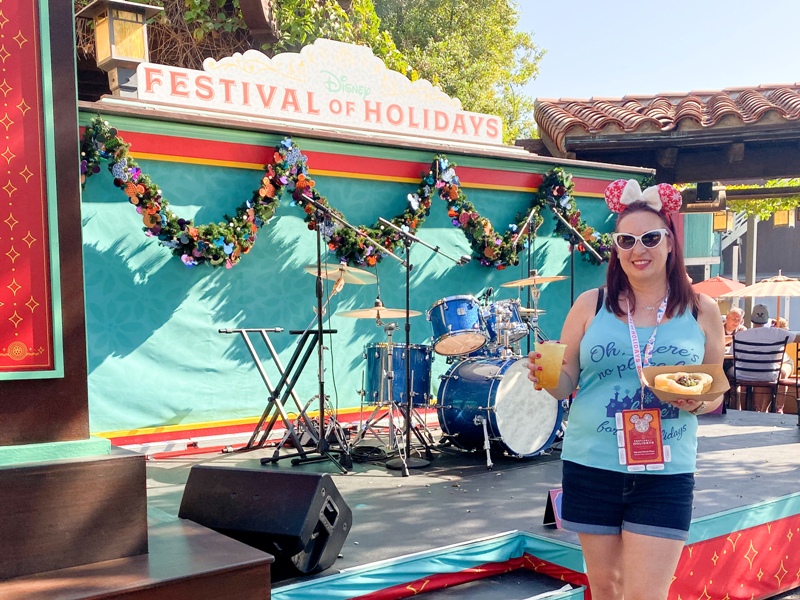 For this guide, I will mostly be focusing on the amazing Festival Foods Marketplaces, which showcases delicious foods and spirits of the holiday season from around the world. Guests can purchase small plates of a variety of delicious foods, wines, beers, and other drinks.
Festival of Holidays is being offered every day between November 8, 2019 and January 6, 2020. Regular Park admission for Disney California Adventure is required, and food and drink items are an additional cost. Food Marketplaces open at 11am.
If you're planning a trip to Disneyland, I recommend booking through Get Away Today! Use code FAIRYTALE to get an additional $10 off your vacation package!


Where to Go
Festival of Holidays takes place at Disney California Adventure. Once inside the park, make your way to the Festival Corridor, starting adjacent to Carthay Circle Restaurant and ending at Paradise Gardens.
There is a fun photo op right at the festival entrance and sometimes you can spot rotating characters like Pluto and Clarabelle. Or take your own photo!
There are 8 Marketplaces along the Festival Corridor, with 3 or 4 food items and 2 or 3 drink options at each. Adjacent to each Marketplace are cocktail tables where you can stand and eat your food. Utensils and napkins are available from self service dispensers. There are also several tables with chairs and cocktail tables set up along the corridor. In between Marketplaces you'll also find kiosks selling official event merchandise, as well as some third-party products.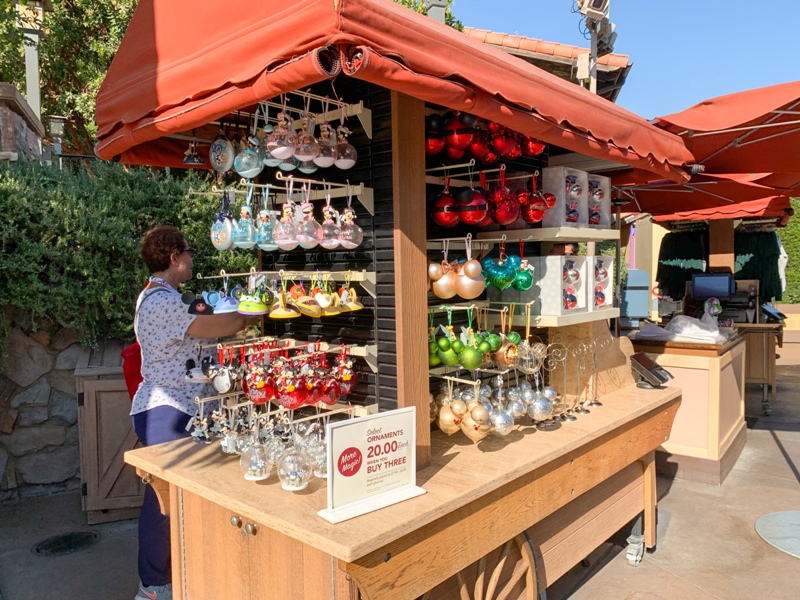 How It Works
When you first enter the Festival Corridor, grab a paper map and "Tasting Passport." This will show you the location of the marketplaces and the list of foods. The Tasting Passport is very handy, because you can check off items as you go and also make notes in the back of the book. The last page of the book also indicates which items are "kid friendly," vegetarian, and "plant-based."
For more allergy information, ask at a Marketplace register for an allergy guide. You'll find food lists for gluten-friendly, dairy-friendly, and other common food allergens.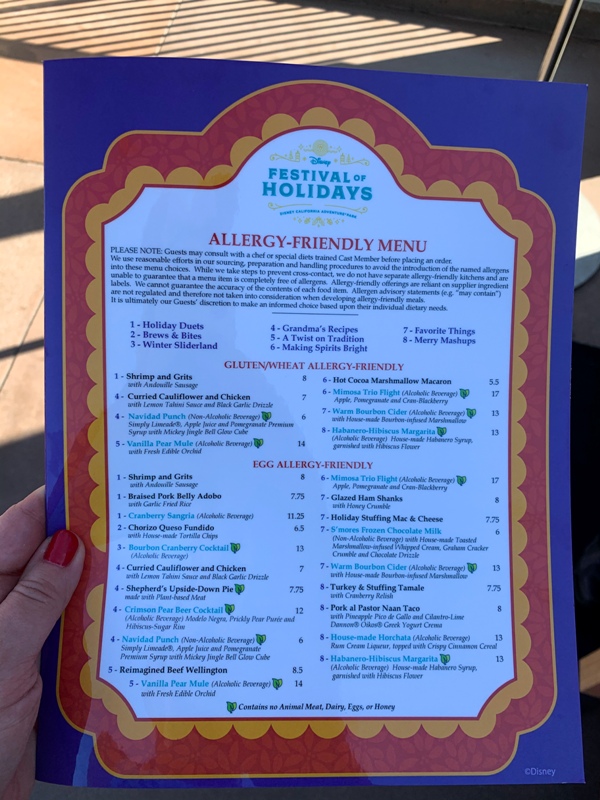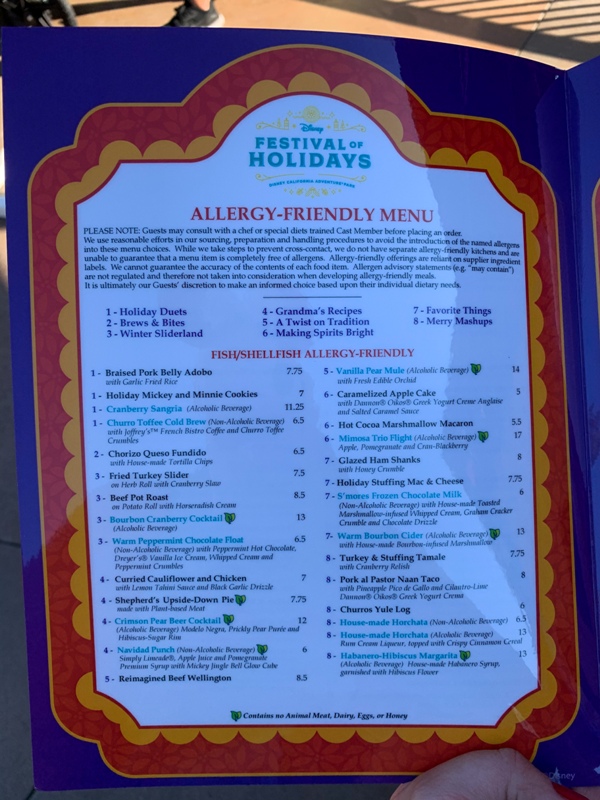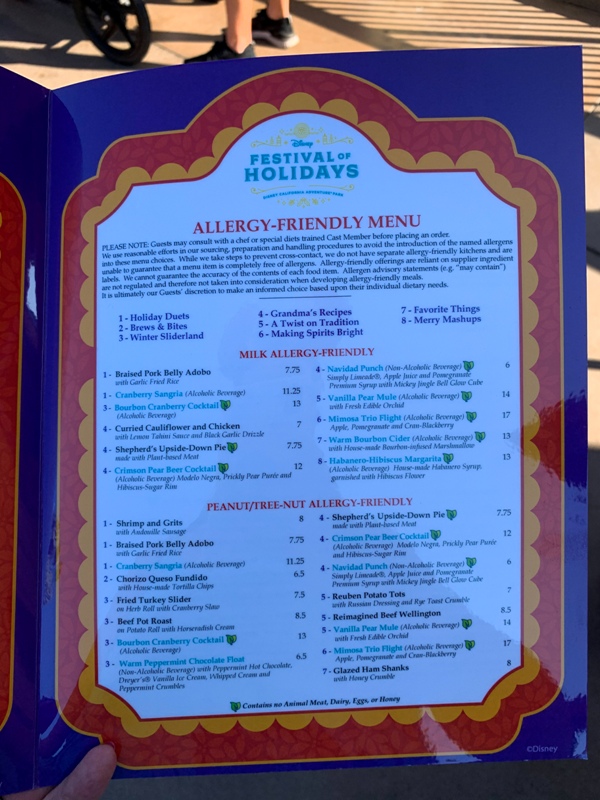 To order food and drink items, approach the registers next to the Marketplace, pay for your order, then take your receipt to the window of the Marketplace. Your food and drink items will be prepared quickly, and you'll be given a cardboard tray if available. You can take your food to a nearby table. Don't forget to grab napkins and utensils!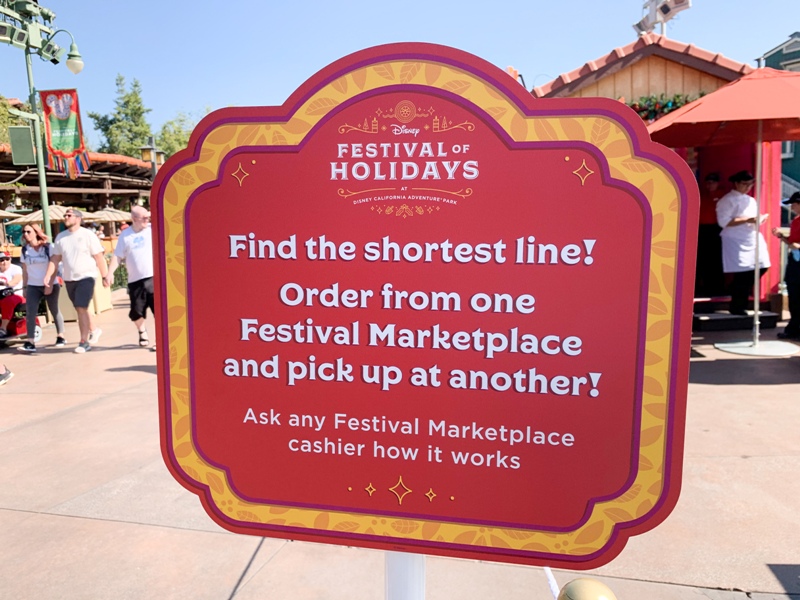 **Note: New this year – order all the food items you want from ONE register, and then take the receipt straight to the pick-up window of the corresponding Marketplace. So look for the shortest register line! Based on my observation, it's usually the Grandma's Favorites marketplace.
Keep an eye out for the "Sip and Savor Pass" lanyards, which can be a great deal if you use them wisely. Each tab (8 of them) on the lanyard can be redeemed for one food item at any of the kiosks (excluding alcohol). The lanyard has eight tabs and costs $51 for Annual Passholders, and $56 without an Annual Pass. That makes each tab worth $6.38 for APs, or $7.00 for non-APs. Food prices range between $5 to $8.50, so if you use the tabs on the right items this can a good deal. (Tip – tabs can be shared among multiple people or multiple visits.)
This pass can be purchased at various locations throughout the park, including Festival Merchandise Carts, Seaside Souvenirs, Kingswell Camera Shop, and Rushin' River Outfitters.
What to Eat
Obviously I recommend trying everything! This year there are eight marketplaces along the Festival Corridor, and additional items available in the Paradise Gardens area.
1. Holiday Duets -I didn't try anything here yet but I have my eye on that Cranberry Sangria. I don't drink caffeine but I hear reports the Churro Toffee Cold Brew is very good!
Braised Pork Belly Adobo – With garlic fried rice
Shrimp & Grits – With Andouille sausage
Mickey & Minnie Cookies
Cranberry Sangria
Churro Toffee Cold Brew (Non-Alcoholic)
2. Brews and Bites – Always a popular spot! Here you can order glasses of beer, or flights, as well as the popular returning favorite Chorizo Fundido with chips.
Chorizo Fundido – Served with House-made Tortilla Chips – $6.50
Hangar 24 Craft Brewery, American Light Lager – $11.75
Cerveza Rrëy, Kölsch – $11.75
SLO Brew, Cali-Squeeze, Blood Orange Hefeweizen – $11.75
Two Pitcher's Brewing, Nordic Jam, Berry Lager – $11.75
The Bruery Or Xata, Horchata Blonde – $13.25
Einstök Beer Company, Arctic Pale Ale – $11.75
Lost Winds Brewing Company, Reddy or Not, Amber Ale – $11.75
Alaskan Brewing, Winter, English Olde Ale – $11.75
Sierra Nevada Brewing Co., Celebration, IPA – $11.75
Saint Archer Brewing Company, Mosaic, Double IPA – $11.75
Karl Strauss® Brewing Company, 10 Beers for Breakfast, Maple Stout – $13.25
Festive Progressive Beer Flight – Rrëy Kölsch, Einstök Arctic Pale Ale, Alaskan Winter English Olde Ale, and Sierra Nevada Celebration IPA – $15.50
Flavors of the Season Beer Flight – SLO Brew Cali-Squeeze Hefeweizen, Two Pitcher's Nordic Jam Lager, The Bruery Or Xata Blonde, and Karl Strauss 10 Beers for Breakfast Stout – $16
3. Winter Sliderland – Lots of fun stuff here! I tried the Fried Turkey Slider and liked it, but it was a little dry and tough to eat. Definitely want a knife and fork for this one! Friends got the Pot Roast and Bourbon Cranberry Cocktail and liked it.
Fried Turkey Slider – With cranberry sauce – $7.50
Beef Pot Roast – Served on a potato roll with horseradish cream – $8.50
Bourbon Cranberry Cocktail – $13
Warm Peppermint Chocolate Float (Non-Alcoholic) – $6.50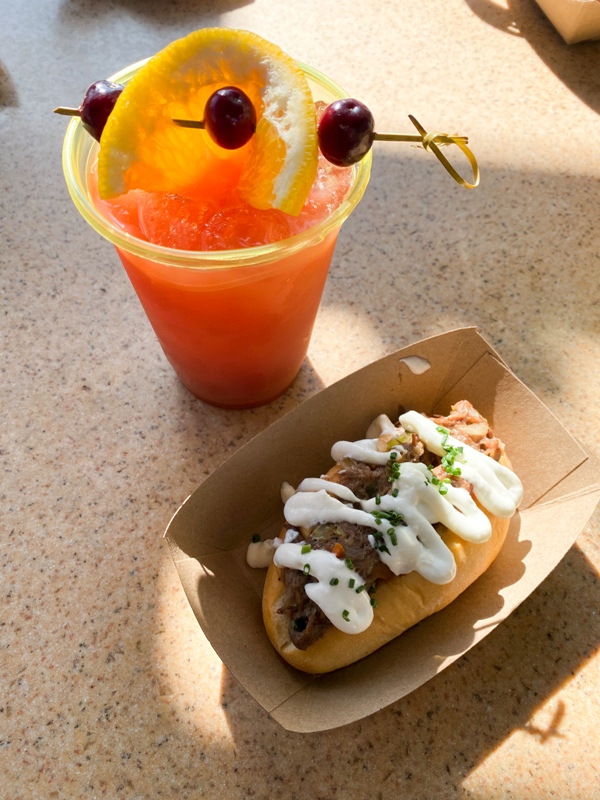 4. Grandma's Recipes – This is the booth for vegetarians! The Shepherd's Pie was good but a little bland. The Cauliflower got high marks from my friend.
Shepherd's Upside-down Pie (Plant-Based) – $7.75
Curried Cauliflower & Chicken – With lemon tahini sauce and black garlic drizzle – $7
Crimson Pear Cocktail – $12
Modelo Negro, Dark Lager – $10.50
Navidad Punch (Non-Alcoholic) – $6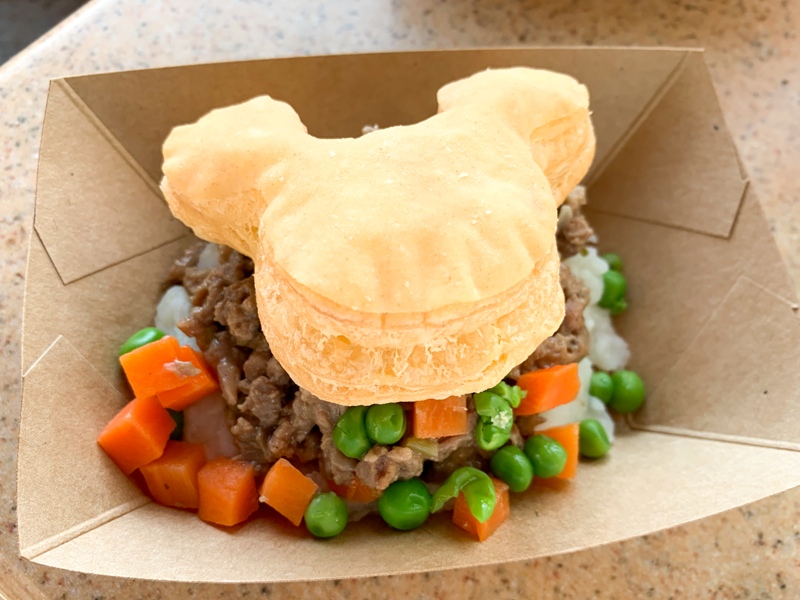 5. A Twist on Tradition – The best booth! The Beef Wellington is getting rave reviews from everyone and I understand why! First of all, this snack is HUGE and certainly shareable or could be your whole meal! It's really, really good. The Reuben Potato Tots is a returning favorite and I get it every year. Last but not least, the Vanilla Pear Mule was my favorite drink of the day! Not too sweet but the vanilla really stands out.
Reimagined Beef Wellington – $8.50
Reuben Potato Tots with Russian Dressing and Rye Toast – $7
Vanilla Pear Mule – $14
Skyside, Cabernet Sauvignon – $15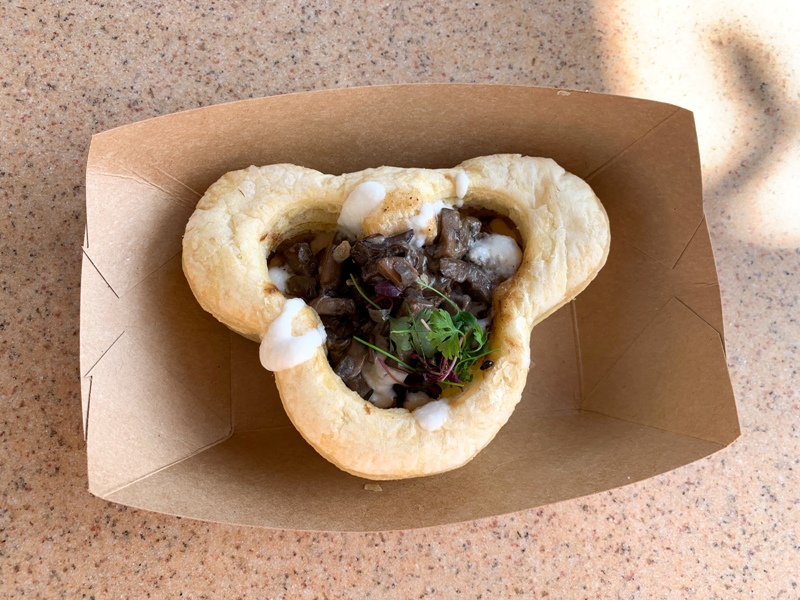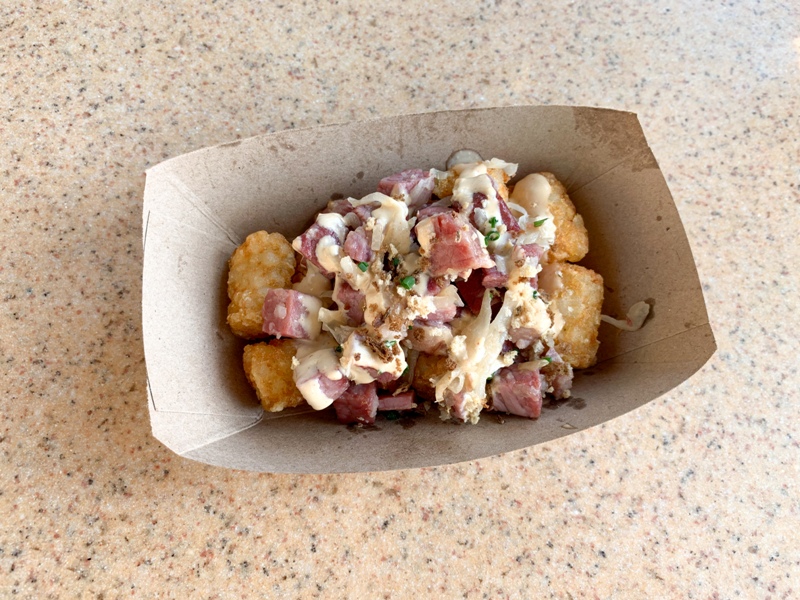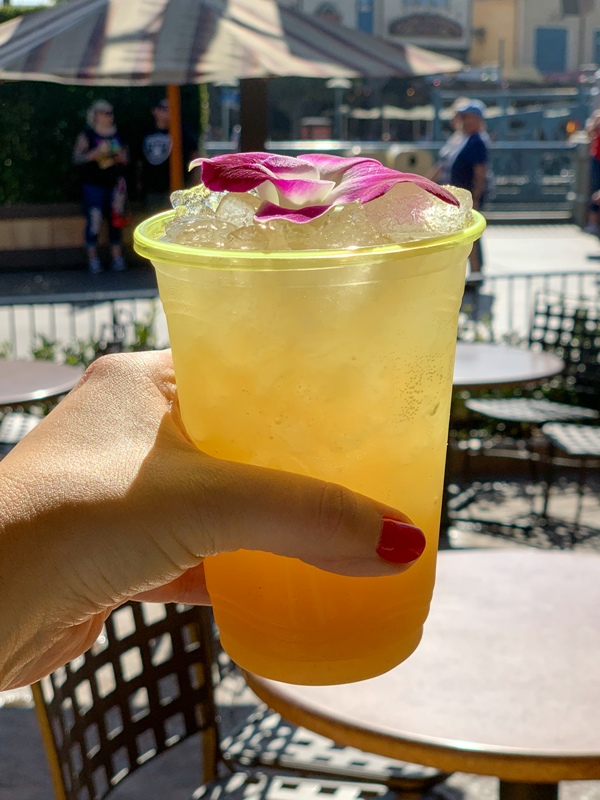 6. Making Spirits Bright – This is the spot where you can order a wide variety of wines and sparkling wine. I tried the mimosa flight and was a little disappointed. With apple, pomegranate (repeat from last year) and cran-blackberry, it was nothing too interesting. Bring back the pear mimosa from past festivals! Will be trying the white wine flight next time.
I also really enjoyed the Apple Cake but it's dense – share this one with a friend. The Hot Cocoa Macaron is a repeat from last year and very popular.
Caramelized Apple Cake – With Crème Anglaise and Salted Caramel Sauce – $5
Hot Cocoa Marshmallow Macaron (Gluten-Friendly) – $5.50
Grgich Hill Estate, Sauvignon Blanc, Napa Valley – $15
William Hill Estate, Chardonnay, Napa Valley – $15
Gérard Bertrand Côte Des Roses, Rosé, France – $12
Klinker Brick Old Vine Zinfandel, Lodi – $12
Louis Latour, Pinot Noir, Bourgogne – $12
Austin Hope, Cabernet Sauvignon, Paso Robles – $16
Apple Mimosa – $15
Pomegranate Mimosa – $15
Cran-Blackberry Mimosa – $15
Chandon, Sparkling Wine – $15
White Wine Flight – $16.50
Red Wine Flight – $17
Mimosa Flight – $17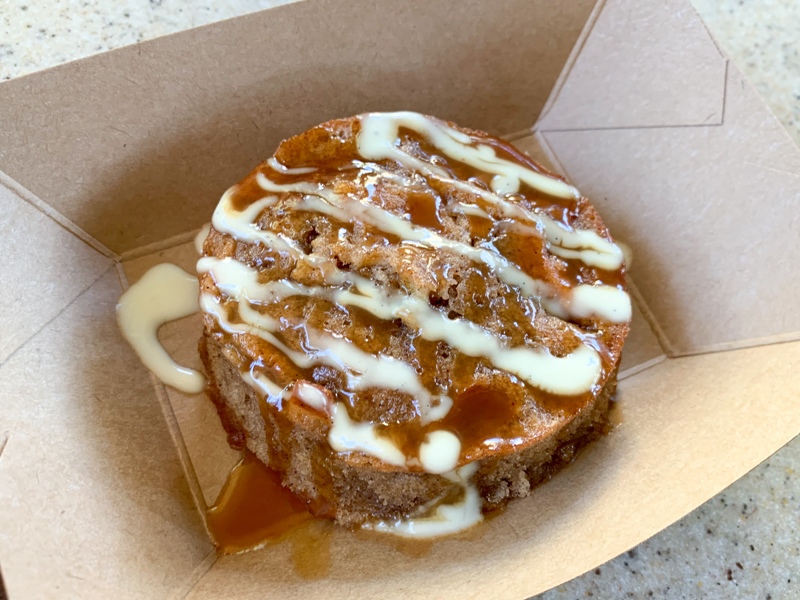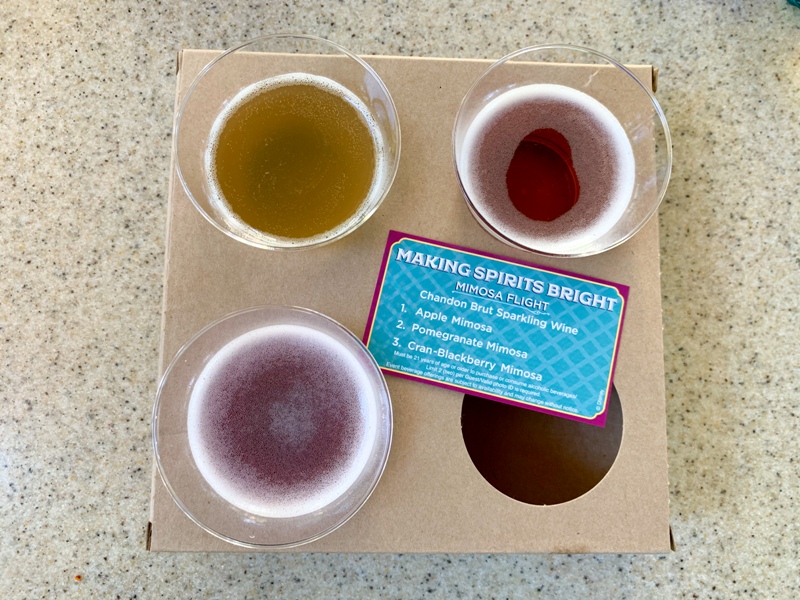 7. Favorite Things – The mac & cheese is always a hit and this year it's topped with crunchy breadcrumbs. So good! I'm also reading the gingerbread Mickey cookie is delightful so that's on my future list.
Glazed Ham Shanks – With Honey Crumble – $8
Holiday Stuffing Mac & Cheese – $7.75
Gingerbread Mickey Cookie – $5.25
Warm Bourbon Cider – $13
S'mores Frozen Chocolate Milk – $6
Bell's Brewery, Lager of the Lakes, Czech-style Pilsner – $10.50
Kronenbourg 1664 Blanc, Witbier – $11.75
Modern Times Beer, Space Ways, Hazy IPA – $11.75
Legends Brewery, Cookies Galore Beer, Chocolate Cookie Milk Stout – $11.75
Stone Brewing, 2014 Imperial Russian Stout – $11.75
Beer Flight – Bell's Brewery Lager of the Lakes, Kronenbourg 1664 Blanc, Modern Times Beer Space Ways, and Legends Brewery Cookies Galore – $15.50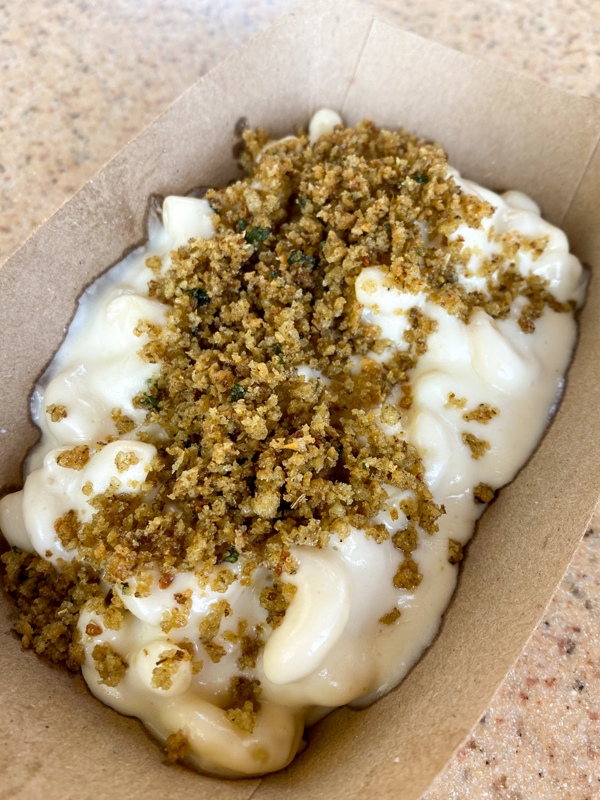 8. Merry Mashups – My friend said the Tamale was a little bland, but the Pork Taco was the favorite item of the day! Can't wait to try this one. I did get the Churro Yule Log and was a little disappointed. I was hoping it would have little churro chunks in it like the Disney Weddings cake but it was a little plain and bland.
Turkey & Stuffing Tamale – With Cranberry Relish
Pork al Pastor Naan Taco – With Pineapple Pico de Gallo and Cilantro-Lime Crema
Churros Yule Log
House-made Horchata
Habanero Hibiscus Margarita
Non-Alcoholic House-made Horchata
The "Treats for Santa" marketplace is back this year, but it is not an official marketplace. You can find it at Redwood Creek Challenge Trail, where you can also get a picture with Santa! A cookie decorating kit, hot chocolate, and Warm Bourbon Cider are all available again this year.
There are also some seasonal offerings at Paradise Garden Grill, celebrating Viva Navidad! with traditional items such as Torta al Pastor and Pozole.
Burrito – Flour tortilla filled with black beans, Spanish rice, molcajete salsa, crema, and choice of beef, carnitas, or chicken served with tortilla chips and molcajete salsa- $11.99-$12.99
Plant-Based Chile Relleno – Roasted poblano stuffed with vegetable stew, topped with roasted tomato sauce and tofu sour cream, and served with Spanish rice and black beans – $11.99
Torta al Pastor – Pork al pastor, chorizo beans, cabbage, guacamole, and crema on a soft terela roll, served with tortilla chips and molcajete salsa – $11.99
Street-Style Tacos – Three corn tortillas filled with carne asada, carnitas, and chicken with white onion and fresh cilantro and served with Spanish rice and black beans topped with queso blanco – $12.99
House-Made Pozole – Mild red chile and pork stew with hominy topped with shredded cabbage, chopped onions, radishes, lime, and oregano served with tortilla chips – $11.99
Kid's Cheese Quesadilla – Whole wheat tortilla with melted cheese served with apple slices
Kid's Street-Style Tacos – Corn tortilla filled with choice of carne asada, carnitas, or chicken served with Spanish rice and black beans topped with queso blanco
Festival-Inspired Offerings:
Buñuelos with Cajeta – Two golden fried flour tortillas dusted with cinnamon sugar served with a side of cajeta
Mojito
Red Sangria
Dos Equis Lager
Dos Equis Ambar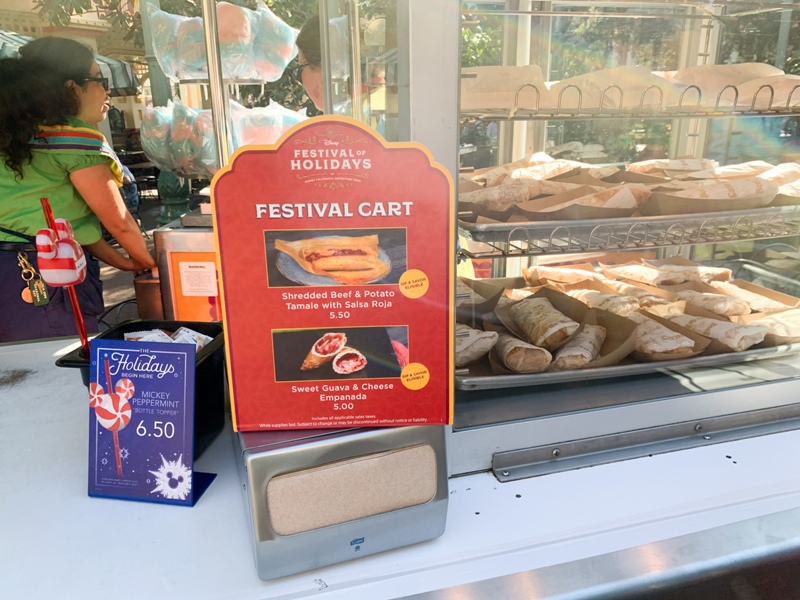 Paradise Gardens Seasonal Cart
Shredded Beef & Potato Tamale with Salsa Roja – $5.50
Sweet Guava & Cheese Empanada – $5.00
Also be sure to visit with Mickey and friends in their festive Viva Navidad outfits and see the little parade they do! It's really cute.
You can also visit these additional locations for special Festival of Holidays treats!
Pacific Wharf Café
Apple Fritter Bread Pudding
Pumpkin Soup
Pacific Wharf Coffee Cart
Cocina Cucamonga
Horchata Agua Fresca
Tamales Plate
Smokejumpers
Sonoma Terrace
Willy's Churros on Buena Vista Street
There is no AP corner right now, but APs can get an exclusive Passholder button with their purchase of a sip and savor pass.
The Festival of Holidays is a fun addition to Holidaytime at Disney California Adventure. If you're a foodie like me, you won't want to miss it!