Last week I featured some super cute Disneyland anniversary photos from Hope and Mike. I know some of you might be wondering how to get photos like this, and Hope was nice enough to write up a little FAQ answering all the basic questions about taking anniversary photos at Disneyland! I hope this information helps you out.
I want to do my due diligence and remind everyone that taking commercial photography at Disneyland is against their park rules. (Under Prohibited Activities, item f.) This includes any photography for profit, and engagement/anniversary/family photo sessions – where money is exchanged – falls under this category. Personally I have done four sessions inside The Disneyland Resort parks with a professional photographer with no issues, and I think as long as you aren't carrying around obnoxious camera equipment, aren't wearing clothes that draw attention to yourselves, and don't block the pathways for other guests, you'll probably be fine. But know that doing a session like this is at your own risk and Disney Security has the right to stop photo sessions at their discretion.
With all that out of the way, I'm happy to share Hope's tips for taking anniversary photos at Disneyland! Thank you for sharing with us, Hope!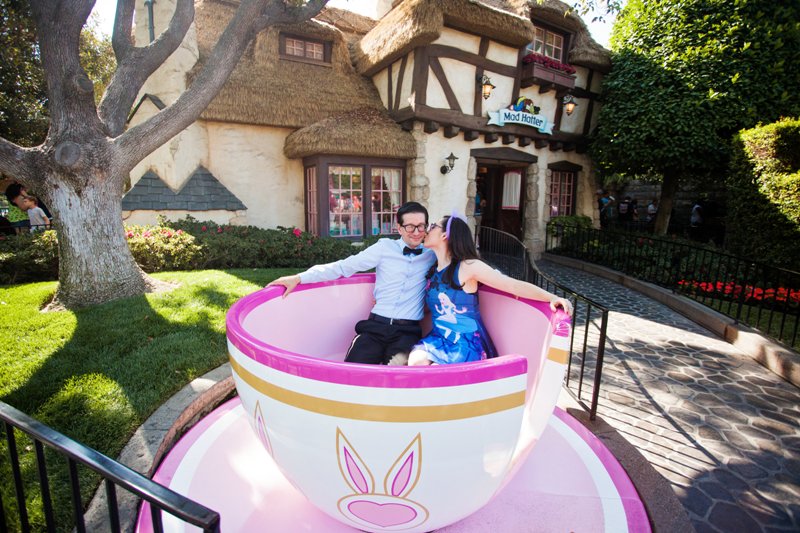 Taking anniversary photos at Disneyland is a fun way to document your relationship milestone. My husband and I have had one engagement photo shoot and three anniversary shoots at Disneyland so far. Each session has been fun and has captured the year we were celebrating. If you were thinking of doing the same but don't know how to go about it, here are some things to note.
Do you need permission to take pictures at Disneyland during park hours?
Unlike the official wedding castle photo shoots, you do not need formal permission to take pictures at Disneyland. Just be aware that you must observe regular park rules and policies and not obstruct anything or anyone.
What are the associated fees?
You'll have to pay your photographer's fees and theme park admission for them and yourselves. If you all have Disneyland annual passes, then you won't need to worry about admission unless your shoot is scheduled on a block out day (but hopefully you'll know to schedule your shoot on a day that is included with your pass.) If you want to have professional hair and makeup for your photos, you'll have to include the cost of those services to your overall experience. Most on-location cosmetology vendors will need a space to render their services so a lot of Disney Brides choose to rent a nearby hotel room to get ready in. Some vendors may charge a travel fee or an early morning fee as well so you'll have to factor that in to the overall cost. For our 2nd anniversary shoot, my husband surprised me and took me to the studio that rendered my hair and makeup services for our wedding day to get dolled up for our pictures. For our most recent anniversary shoot, I did not have the time or money to go the professional route so I did my own hair and makeup. The choice is up to you.
What should you wear?
I highly recommend that you wear something comfortable. You'll be walking around Disneyland from location to location and you don't want to wear something that might make getting around difficult. Some people bring a change of clothes so that they can get pictures in different outfits. We've averaged about two outfit changes for all of our various shoots. One outfit was always a bit more relaxed (casual wear or t-shirt and jeans) and the other outfit was a little dressier. We wanted to reflect who we are, but also kick it up a notch to take nicer pictures of ourselves. If you can't think of what to wear, think about the locations that you will have in your pictures. That usually influences the overall theme. For instance, we opted to have a retro/Dapper theme shoot for one of our recent anniversary pictures and knew our outfits would look the best in Toontown. If you're big fans of a franchise, use that to influence what you wear. Disney couple Christi and John let Star Wars guide their wardrobe and then used Tomorrowland as a background. The Disneyland resort has a lot of fun backdrops for various themes. In fact, Disney couple Christine and Anthony, used the architecture of Buena Vista at DCA to their advantage for their Mad Men styled anniversary shoot. So think about your favorite park locations and see if that inspires you to dress a certain way or represent that location via your wardrobe choices.
Where should you take the pictures?
Like I said above, your wardrobe may influence where you take pictures so that is a good starting point. You should also consider your favorite locations around the resort. If you love to sit and have snacks on Main Street USA, then make sure to take pictures there. If you have a favorite ride, try to get pictures on it. Sometimes the parks are just too crowded so have a plan B and go with less loved locations or perhaps consider the hotels and Downtown Disney areas. I personally love to get pictures where it's quintessential Disney: The side of the castle (since the front is usually crowded), the fun wheel at Disney California Adventure, the floral Mickey at the front entrance, and the entrance to favorite attractions.
Why should we even bother taking professional pictures at Disneyland? We already have a million pictures together!
This is a valid point. Pictures are expensive, but there's something to be said about having someone else capture your love story. I love that over all of our shoots, we've captured how we've evolved and even how the parks have changed! Our 2nd anniversary shoot for example were taken right when Cars Land and Buena Vista street opened so it was fun to document how we explored these new picturesque areas. They also make great gifts. The traditional first anniversary gift is paper, so if you took professional pictures and printed them out, you have an instant gift right there! Another good reason is to treat them as an incentive. My husband and I worked really hard to get in better shape and we used our most recent anniversary shoot as a way to motivate us to stick to our goals and then as a way to showcase our efforts. For others, they document how much their family has grown and the anniversary shoot turns into a family shoot (great for holiday cards, birth announcements or pregnancy announcements!), or they act as a way to document their triumph over adversity. Disney Bride Keri celebrated her first anniversary and cancer survival with a shoot last year. Now if that's not a reason to smile and take pretty professional pictures, I don't know what is!
The most important tip is to just remember to have fun! These are meant to capture a moment in time as you celebrate how far you've come, so no matter what you wear or which Disneyland locations you choose, they're going to turn out great if you just let your love shine through.
All photos by White Rabbit Photo Boutique