Want to add a little Mickey love to your party? This is one of the easiest DIY projects you can do for a Disney themed wedding, shower, or birthday party! I made them for my Disney Side Galentine's Day party. They are so simple and they make a really fun statement. A few people even thought I bought them, so, winning! I'm especially glad I chose glitter scrapbook paper, because glitter is the best. But these would look great in any color, or any texture or print. There are tons of possibilities!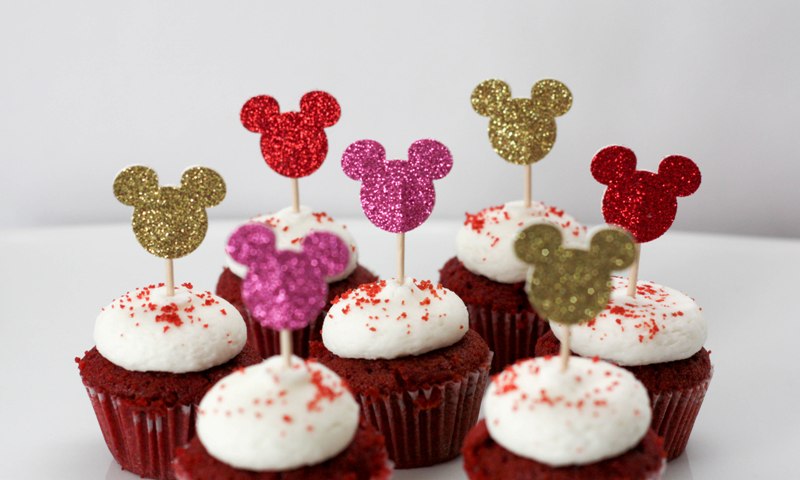 DIY Glitter Mickey Cupcake Toppers
Supplies:
1″ Mickey Paper Punch
Glittery Scrapbook Paper
Toothpicks
White Glue (such as Aleen's Tacky Glue)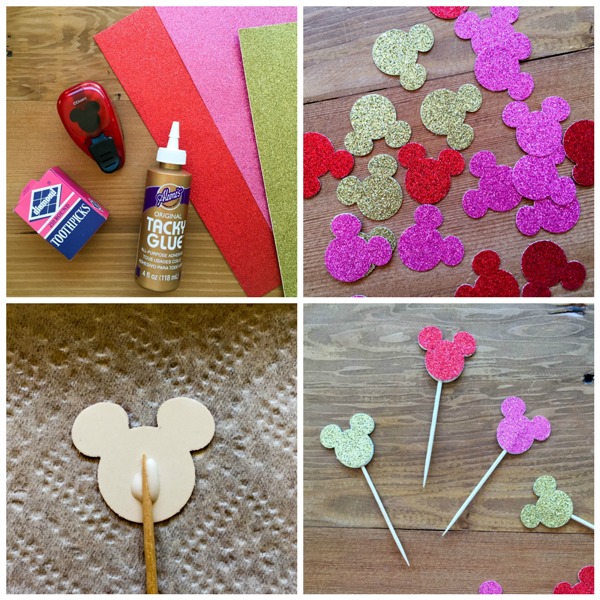 Steps:
Step 1 – Punch out two Mickey shapes per cupcake.
Step 2 – Glue a toothpick to the back of one Mickey shape. Add a few more dabs of glue all around the Mickey shape (you only need a little bit of glue) then press another Mickey shape on top, with the glitter side out. Press the two Mickey shapes together, with the toothpick between them, for about 10 seconds so the glue can adhere. Be sure to wipe away any access glue that may escaped out the sides. Set aside to dry.
If the Mickey shapes "pop" apart, just hold them together a little longer.
Let all the cupcake toppers dry for about 30 minutes before you insert them into anything edible.