Towards the end of 2014 I applied, very much on a whim, for a scholarship pass to Affiliate Summit West, a conference that focuses on affiliate marketing for online entrepreneurs (hey, that's me!). I had to write a little essay and everything. Much to my surprise, I was chosen! I think I was one of 10 people chosen but while I was at the conference, I didn't meet any other scholarship winners (you'll see why later!). I had heard so much about this conference from my fellow bloggers and I was excited to finally attend in person. I have a lot of blogging conferences under my belt now and I thought I knew what to expect – but I was completely wrong! About nearly everything! I really underestimated so many things about this conference, but it ended up being an amazing experience (I would say "lifechanging" if I wasn't trying to cut back on using that word so much). So if you're thinking of attending, DO IT! But keep the following in mind. Here are 8 reasons Affiliate Summit is different from every other blogging conference.
1. It's big. Overwhelmingly and intimidatingly (if that's a word) big. I mean attendance-wise. The Affiliate Summit website said there were over 6,000 attendees. And that's not counting exhibitors! The largest conference I attended before this, I think, is Alt Summit with around 600 attendees. I think bigger conferences like BlogHer have a few thousand attendees but I'm not sure they reach THIS level. So what does that mean for you? It means you can't POSSIBLY meet EVERYBODY, so don't even try. It may also mean you'll meet someone and then never see them around the conference again.
2. So many dudes. Bloggingland is primarily female driven and every conference I have attended in the past reflects that. I'd estimate Affiliate Summit is AT LEAST 70% dudes. For the most part the majority of guys I met at this conference were super duper cool. But I did witness my share of male chauvinistic behavior. Just be prepared for a different atmosphere. I wasn't but I was able to adjust quickly because I'm strangely more laid back and comfortable around guys. When I'm around a group of women I'm always wondering, in the back of mind, if I'm being judged for my shoes or my hair style or if my purse matches my belt. But I know some people are more comfortable in a room full of women, so I'm just putting this out there so you can be prepared.
3. Conferences are all about getting shizz done, but Affiliate Summit is REALLY about getting shizz done. Brands are everywhere and they want to make deals with you. I wouldn't say it's high pressure or in-your-face, but there are a lot of brands represented and they really want to have a conversation with you about how you can work together. Like, now. I also discovered there are lots of little side meetings attendees can arrange ahead of time. My friends Christen from The Broke-Ass Bride and Jessica from The Budget Savvy Bride were kind enough to let me sit in on some of their wedding-centric meetings with brands and affiliate program managers. I learned a ton and now I'm prepared to set up these meetings on my own if I go back to Affiliate Summit.
4. Business cards are so not a thing here. I actually was called out for making a huge business card faux pas the night before the conference! I went to dinner with my conference hotel roommates and people they knew slowly started joining us. Every time someone new would sit down I'd introduce myself and hand them a business card. Just like I would do at literally every other blog conference I have been to! Well eventually one of those people was Oscar from Not A Grouch. I handed him my card and over the course of the evening we got to chatting about our blogs and businesses a bit more. Eventually he said, "Can I give you some advice? Don't hand people your business card right away. Get to know them first and then ask if you can trade cards." Oh my gosh, I was so embarrassed. I explained the whole card thing at all the other conferences I've been to, especially Alt Summit! He said it was fine, but things were just done a bit differently here! He was super nice about it and I'm glad we kept chatting and he clued me in! I actually received a ton of business advice from Oscar over the course of the conference and I'm so grateful I met him. (Also, right now he has a free e-book "Work Anywhere, Profit Online" if you join his email list. I have the e-book and it's wonderful. Lots of great advice. If you're a blogger, get it now while it's still free, because he SHOULD be charging for it, hint hint, Oscar!)
5. People don't attend the sessions. Every other conference I've gone to, the sessions/panels/keynotes are IT. If you don't go it's because you have a REALLY important meeting with a brand, or you're hungover from the party the night before, or you're hiding in the bathroom due to your crippling social anxiety (ahem). At Affiliate Summit, no one goes to the sessions. And they are GOOD sessions, too. Why doesn't anyone go? Because all the sessions are recorded and made available to all attendees online after the conference. So … while you're there in person, you spend your time meeting with brands and networking with fellow attendees, then you watch the sessions at home. This was another first night tip from Oscar, by the way. I was skeptical but I attended three sessions, mostly because my friends were speaking, and sure enough … there were only 5 or 6 people in each audience. The sessions all have really great information, but really there's no incentive to attend because you can watch them later. Seems a little strange to me, but, when in Rome!
6. Everyone attends the parties. Oh, the parties! There are a gazillion little "after hours" parties associated with the conference, usually thrown by a brand or a sponsor. You can't possibly attend them all but the big one you can't miss is the Share-A-Sale party. For more info on the parties, be sure to join the Affiliate Summit Facebook group once you buy your ticket. (And be sure you write down all the party information in one place and bring it with you, so you can keep it all straight. One night I had three parties to attend, all at different Vegas hotels. Yikes!)
7. Go to the Meet Market during the last couple hours on the last day. The Meet Market is basically the exhibitor hall, and it's chaos. I tried to go through it midday on the first day and I started having a claustrophobia panic attack. If you go towards the end, you may miss out on some swag or some raffles but there's less risk of being elbowed in the ribs repeatedly so there's that. But you should definitely carve out some time to go; I discovered some very cool brands and met some nice people.
8. Their newcomer/mentoring program is awesome! If you're attending Affiliate Summit for the first time, I highly suggest signing up for their newcomer program. It's free! You'll be paired with an Affiliate Summit veteran (your mentor) who can answer any questions you have and give you some advice. I got really lucky and was paired with the wonderful Tricia Meyer! We exchanged a couple emails back and forth the week before the conference, and was reading through her site and realized … wait a minute … I know her! Well, "know" her from the Internet from a few advice articles she has written on affiliate marketing (of course). It was like I was paired with a celebrity, haha. Anyway, Tricia has been totally crushing it as an affiliate marketer for YEARS and I learned so much about my business just for being around her for a little bit at the conference. (And I just want to mention she created a website all about wine called Wine Club Group and basically she earns money by drinking and reviewing wines, HOW BALLER IS THAT?) But what I wasn't expecting was how totally NICE she was towards me. Above and beyond her mentoring duties. She invited me to all the cool parties, she introduced me to her cool friends, and made me feel like a cool insider instead of an awkward noob. AND she took me to karaoke. IN A LIMO! #Fancy
So that about sums up my first Affiliate Summit experience. I again want to thank Tricia, Oscar, Christen, and Jessica for really making the conference a success for me. I also want to acknowledge my fantastic roommates – Liz from Liz Cruz, Deepa from Deepa Berar, and Bobbi from 1 Fun Girl Travels. It's always a gamble making hotel arrangements and sharing close living quarters with three strangers from the Internet, haha. I really lucked out with these three talented bloggers. And finally I need to thank a few brands for the awesome SWAG!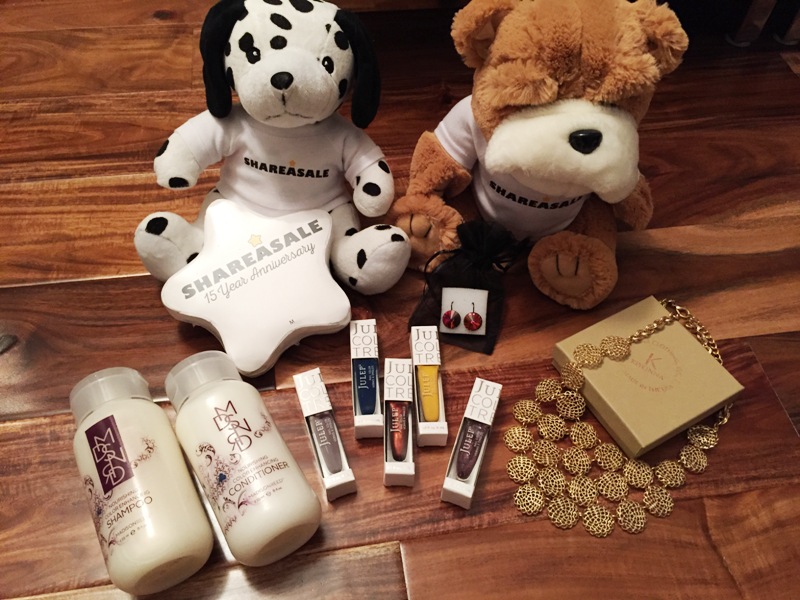 I hit the mother-lode at the Share-A-Sale booth, snagging two plushies and a t-shirt packed up like a star!
Thank you to AIM for the fun blogger party, with sponsors Julep, Fire Mountain Gems, Kiyonna, and Madison Reed.
If you're thinking about attending an Affilaite Summit conference and have any other questions, please just let me know! Lots of people helped me out for my first time and I'm happy to pass along any knowledge I can.