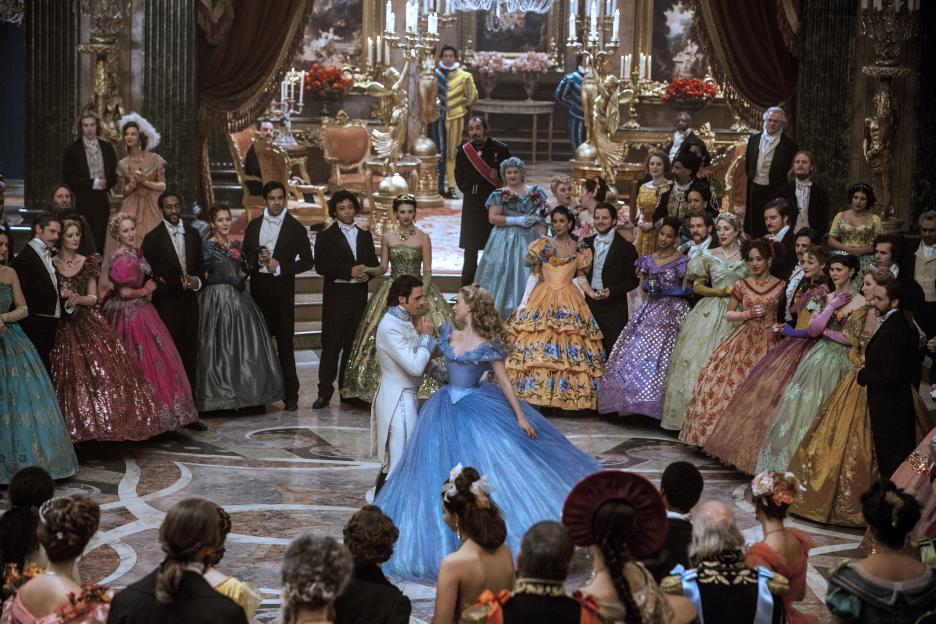 Earlier this month, I had the opportunity to see an early screening of the new live action CINDERELLA movie – twice, actually! Below is my basically spoiler-free review (because honestly, you all know the story of Cinderella, c'mon).
Official description from Disney: The story of "Cinderella" follows the fortunes of young Ella (Lily James) whose merchant father remarries following the death of her mother. Eager to support her loving father, Ella welcomes her new Stepmother (Cate Blanchett) and her daughters Anastasia (Holliday Grainger) and Drisella (Sophie McShera) into the family home. But, when Ella's father unexpectedly passes away, she finds herself at the mercy of a jealous and cruel new family.
Soon, she is forced to become their servant, disrespected, covered in ashes and spitefully renamed Cinderella. Yet, despite the cruelty inflicted upon her, Ella will not give in to despair nor despise those who mistreat her, and she continues to remain positive, determined to honor her mother's dying words and to "have courage and be kind."
When Ella meets a dashing stranger in the woods, unaware that he is really the Prince (Richard Madden) and not merely Kit, an apprentice at the palace, she believes she has finally found a kindred soul. It appears her fortunes may be about to change when the King (Derek Jacobi) summons all maidens in the kingdom to attend a royal ball at the palace, raising Ella's hopes of once again encountering the charming Kit. Alas, her Stepmother forbids her to attend and callously destroys her dress.
Meanwhile, the calculating Grand Duke (Stellan Skarsgård) devises a plan to thwart the Prince's hopes of reuniting with Ella and enlists the support of the devious Stepmother. But, as in all good fairy tales, help is at hand. Soon, a kindly beggar woman (Helena Bonham Carter) steps forward and, armed with a pumpkin, a few mice and a magic wand, changes Cinderella's life forever.
The thing that surprised me the most about the live action CINDERELLA is how much I enjoyed it. Sure, it wasn't perfect (I can find something to be grumpy about in just about ANY movie, it's a special talent I have) but the imperfections are so minor compared to everything this movie got right, they are easy to overlook. Lily James seems downright lovely, and perfectly cast in the role as Ella. Her grieving is believable, her optimism is admirable, and her beauty is enviable. Richard Madden as her Prince ("Kit") is SUPER HOT but a little bland in the personality department. I realize this is ~*~Cindy's movie~*~ and not his, but I was hoping for a little more substance. As far as Disney princes go, he's got the role on lock: charming, handsome, chivalrous, and determined to find his true love. Pardon me while I take a moment to swoon.
There have been several remakes of the Cinderella story but I really like this one because it's a live action remake of the Disney animated classic, with the same minor characters (Gus and Lucifer are there). There are major differences between the two stories, though. There are no songs in this version, and some of the plot has been reworked to be a bit more modern. For example, instead of seeing Ella for the first time at the ball and falling instantly in love, the Prince and Ella meet briefly in the woods and become smitten with each other, without knowing each others' true identities. So the whole thing is slightly more believable. The film also introduces us to some additional back story on Ella's parents. Seeing Ella's loss and grieving play out in front of us makes her, perhaps, a more sympathetic character than the film version.
Cate Blanchett is perfectly cast as Lady Tremaine; my only complaint is I would have loved more screen time with her, which is saying a lot because she does have a prominent role (perhaps a prequel? Are you reading this, Disney?). Holliday Grainger and Sophie McShera are delightful as Anastasia and Drisella, the step-sisters. I would have liked to see them play their roles a little more over-the-top, but the obnoxiousness still shines through. (Related – A friend told me her daughter is scared to see this version of Cinderella because of the scene in INTO THE WOODS where the stepmother cuts off a piece of her daughter's foot so it will fit into the slipper. I assure everyone there is no body mutilation in CINDERELLA, unless you count all of the ridiculously tight corsets.)
The biggest eye-rolling of the movie came during the transformation scene, unfortunately. Helena Bonham Carter as the Fairy Godmother seemed to be channeling Johnny Depp's Willy Wonka and that's NOT a good thing. I would have preferred less wide-eyed bewilderment and less unnecessarily capped teeth (WHY???), and more Glinda the Good Witch type affection. Never-the-less, the squash and animal transformations are fun to watch, and the dress transformation scene is magical of course, albeit just a smidge on the dramatic side with the CGI swaying arms.
Oh yeah, the dress. Let's talk about it for a moment. Lily and director Kenneth Branagh have both said in interviews that there is no CGI trickery when it comes to Lily's waistline. When I first saw the teaser pictures and even when I first saw the movie I assumed there was some slimming action. But, if Lily says no, then I believe her. The style of the dress involves a full skirt and very wide shoulders, adding to the illusion of an unbelievably slim waist. Heck, even *I* looked deceptively skinny in my corseted wedding dress. ALSO let's dispel the rumor that Lily said she had to go on a "liquid diet" to fit into the dress. What she really said was, she ate soup whenever she had to eat while wearing the corset dress, because it went down easier than solid foods.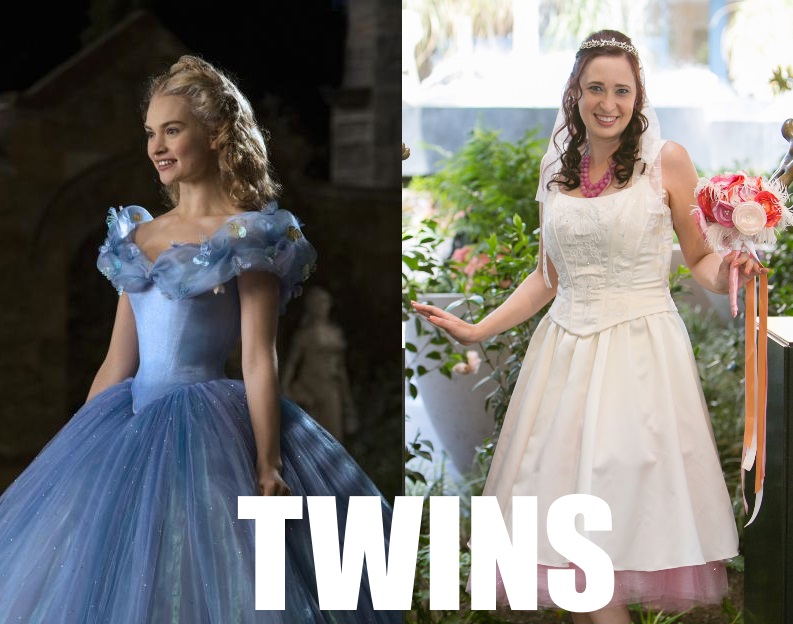 But back to the movie … I really enjoyed it much more than I thought I would. Cinderella isn't my favorite princess, and to be honest I'm not a "glass slipper ballgown" fairy tale girl. But I admit I got wrapped up in the magic of the storytelling here. The official mantra of the live action CINDERELLA movie is "have courage and be kind," which is a better message for young women than something like "buy a new pair of shoes and land yourself a man." I like it. Even my husband enjoyed it. Is the movie perfect? No. But it's a perfectly enchanting retelling of this classic story. Go see it this weekend for a date night, or take your daughters if you have any. And tell Prince Kit I say, "Heeeeyyyyyyyy."
All CINDERELLA images copyright Disney. My wedding photo credited to Root Photography.
Related Articles:
Free Cinderella Inspired Printables
Designers Recreate Cinderella's Glass Slipper
Cinderella Mac Makeup Collection
Melanie and Ricky's Cinderella Vow Renewal
Bridal Shower Outfit Inspiration – Cinderella
Glass Slipper Cake Toppers