In the last two weeks, I have attended two Disneyland Annual Passholder events. My first AP event (in a long while*) was actually the same week as our wedding, which was a party for the 20th anniversary of Fantasmic. I can't believe it took me so long to attend another AP event! So now that I've been to three of them, I'm a total expert (heh), and thought I'd recap them for those of you who may be wondering what these events are like.
*My very first AP event that I can remember was a preview night of Disney California Adventure waaaaay back in 2001 before it opened to the public. Looking back on it – what a trip! Imagine not only previewing a new attraction, but AN ENTIRE PARK!
The first annual Passholder event I attended this year was the standard one for passholders whose passes will expire soon. I wasn't sure what to expect, but it ended up being really impressive! When you arrive and check in, you're handed a wristband and a map with a list of activities. We learned there would be several meet and greets, including princesses and Villians, and a "ball" at the Fantasy Faire theater. Mr BFT and I headed towards Fantasyland where most of the activity was located. At 8:00pm the regular park guests were heading out and we were able to practically walk on a couple attractions, including Dumbo and Mr Toad. Then we decided to check out the Villians meet and greet area and found the line was already very long, so we jumped in. I wasn't super impressed with the Villians who were out – Cruella and Maleficient – but we all know the characters rotate out every 30 minutes. I was shocked when I saw Prince John from Robin Hood coming out! I can't remember ever seeing him before. I was so excited at the possibly of a photo op with him, but I knew they rotate every 30 minutes and our line was moving very slow, and who knows who would be there when we got to the front! Well two hours later, I got to meet Prince John!!! Along with the Queen of Hearts and Jafar, who would have been very exciting to meet in their own right. I felt a little bad they were overshadowed by Prince John (at least in my mind)!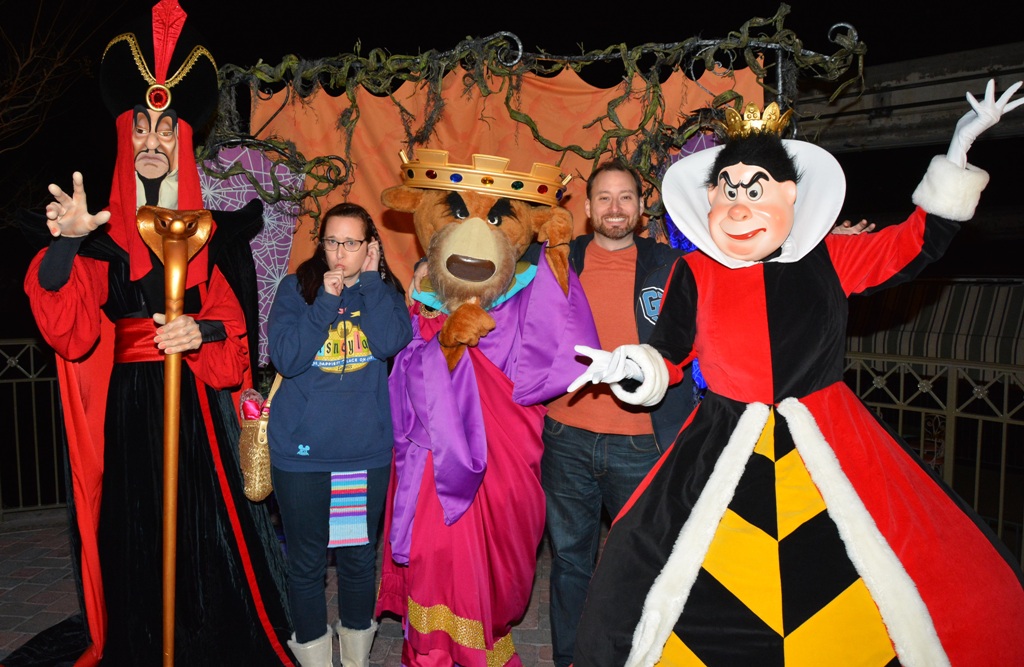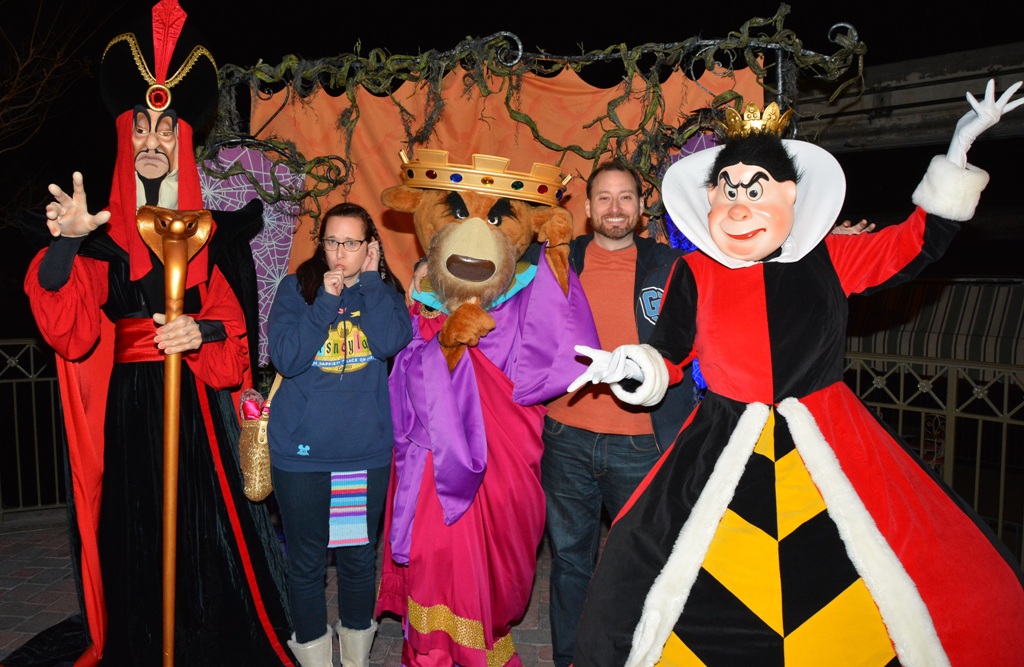 I also met the Evil Queen for the first time. She was great … she asked how I was doing, and I said "I'm doing well!" and she replied, "Pity." So hilarious.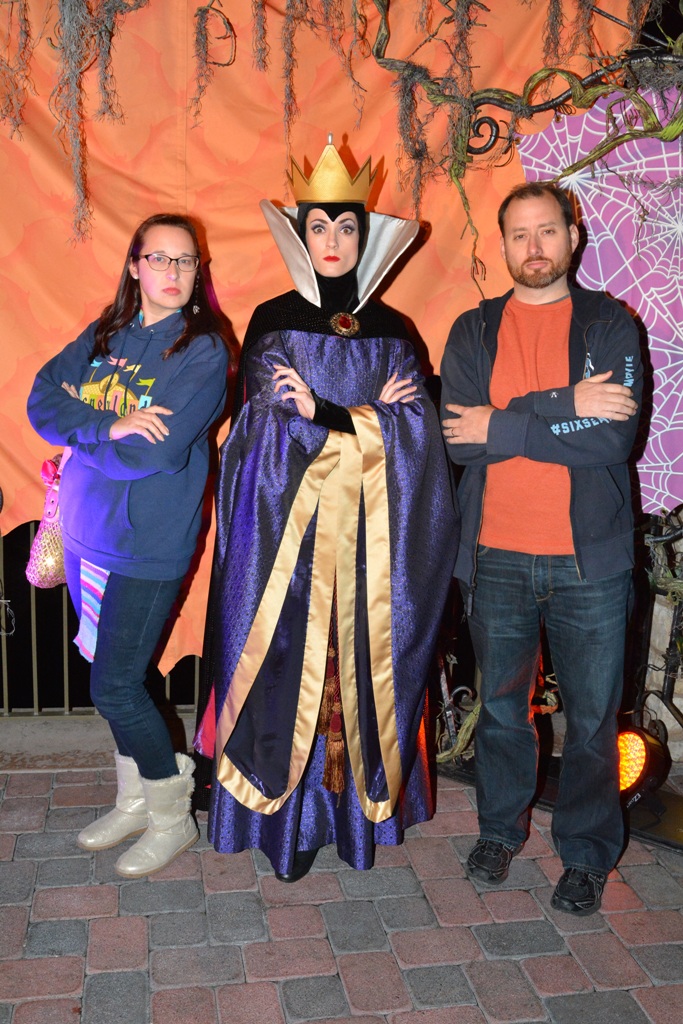 After our long wait, we were tired and hungry! We went to Hungry Bear for a snack before going to check out some of the other locations. The dance party at Fantasy Faire was really jumping, thanks to DJ Wendy and the stepsisters Anastasia and Drizella. Lady Tremaine was also walking around for photo ops, as well as the Major Domo with a glass slipper. So fun!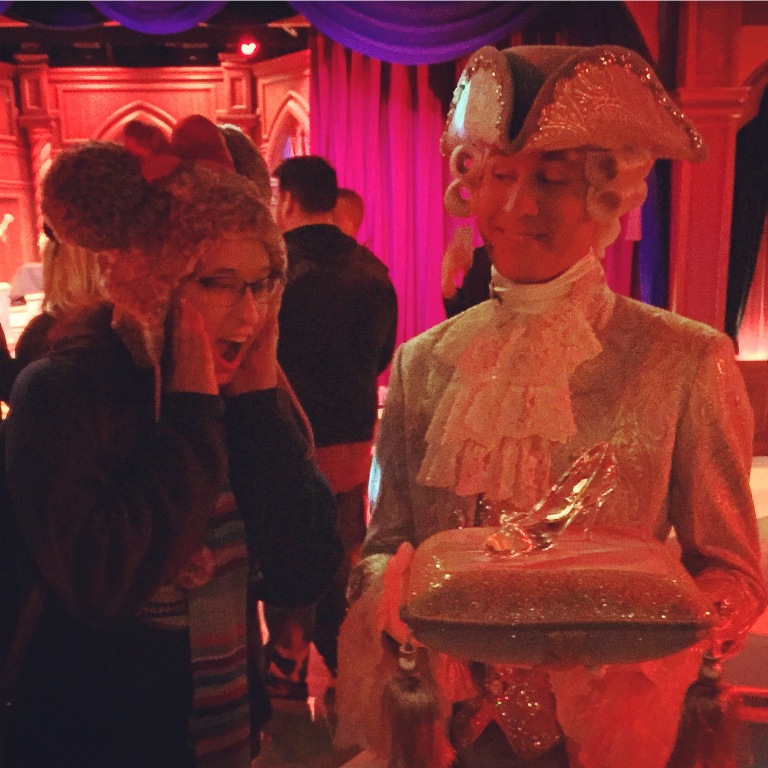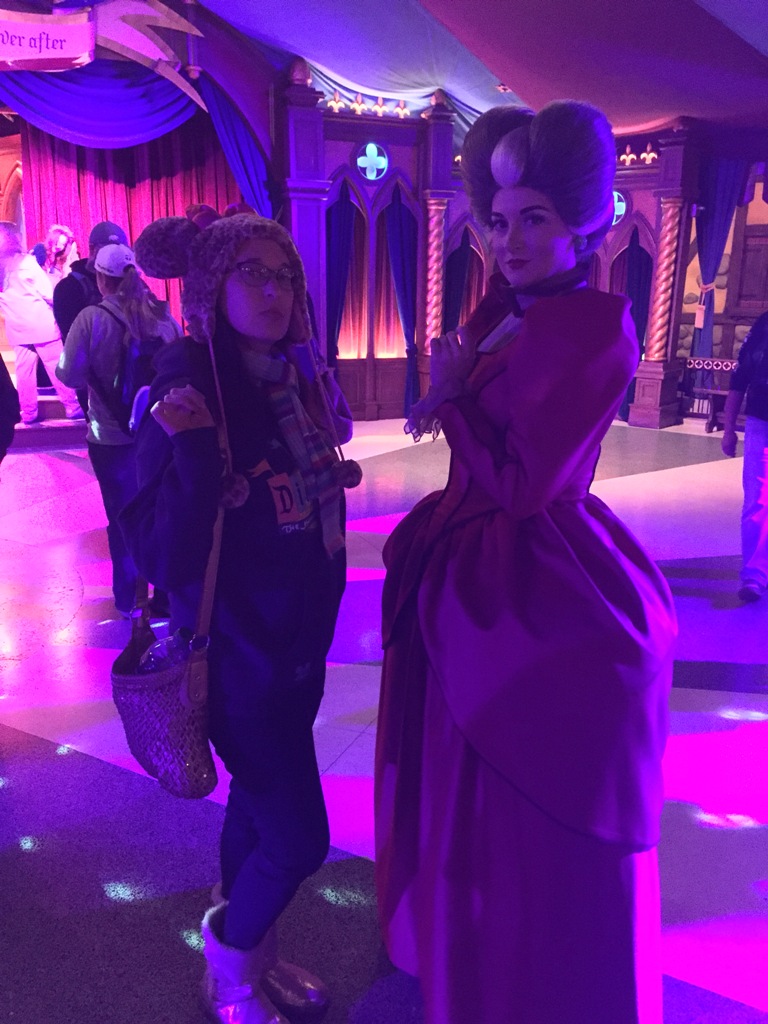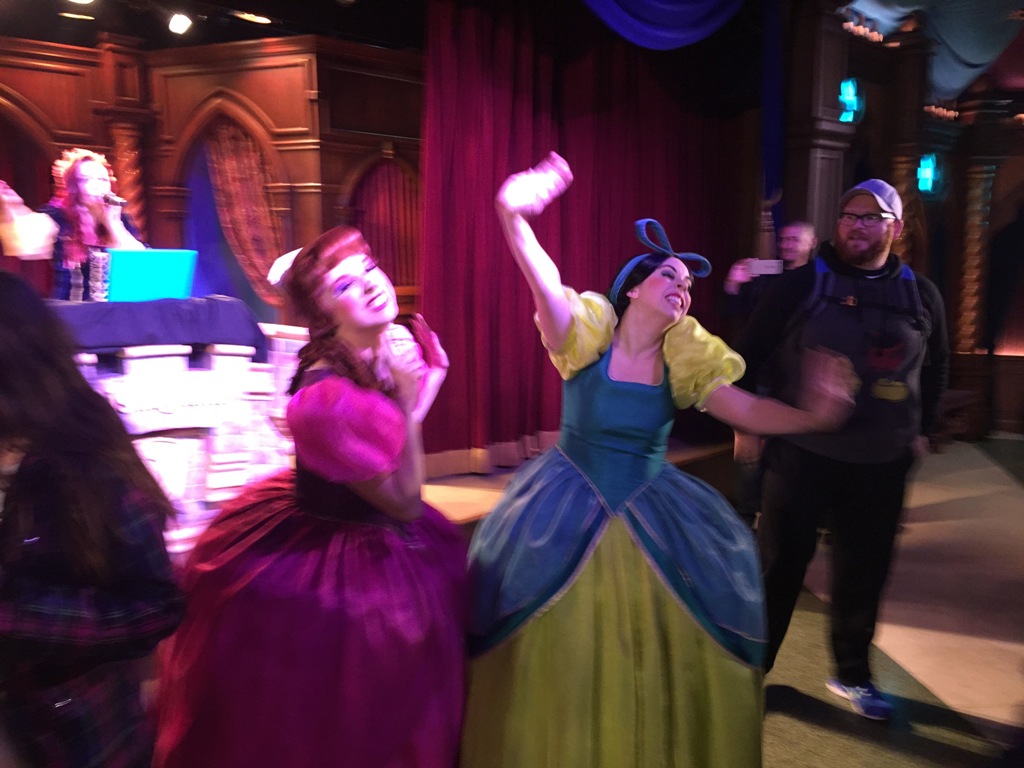 Towards the end of the night we found the line to meet Snow and her Prince was rather short so I jumped in.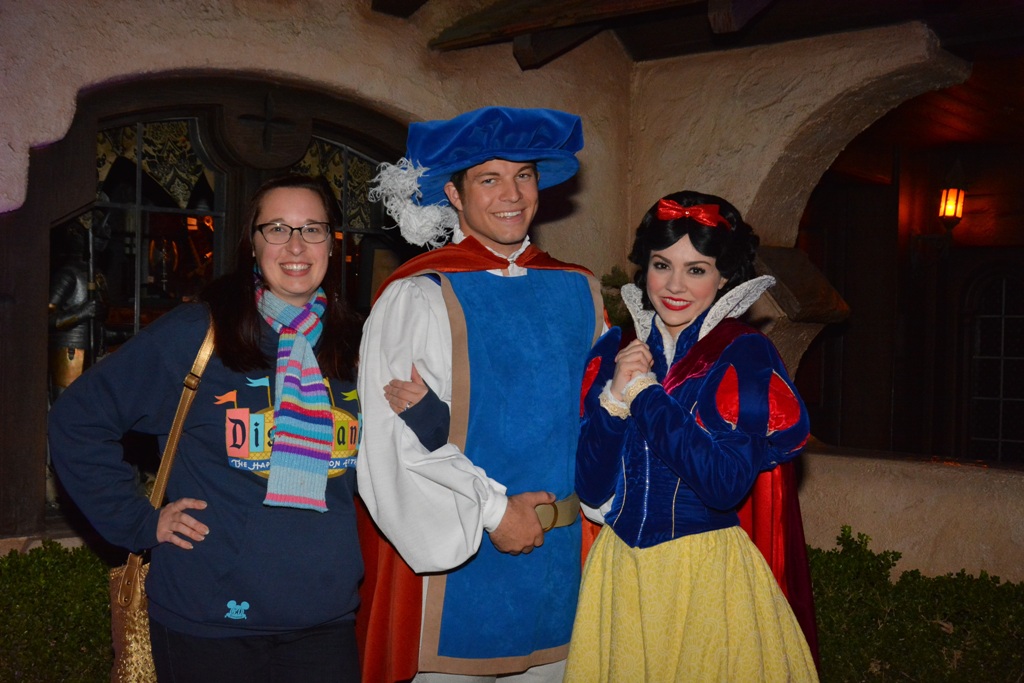 Also, what the heck is going on in this picture? It cracks me up.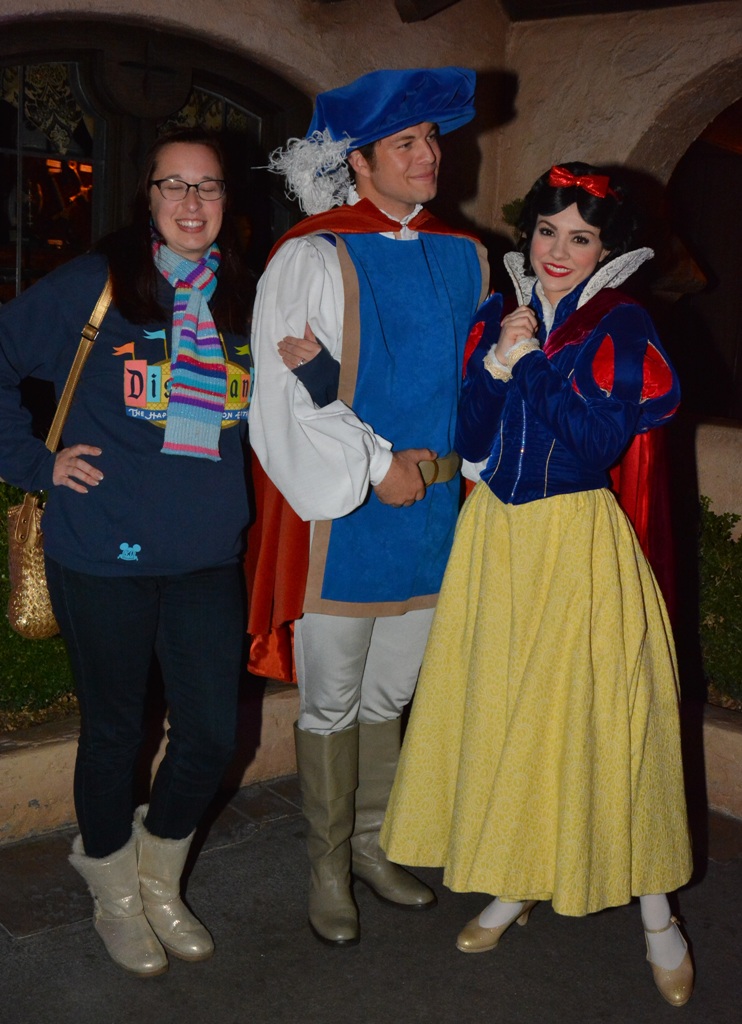 On the way out we saw Alice in Wonderland had a short line and Mr. BFT hadn't seen the new effects yet.
All in all it was a really fun night. I wish the Villians line wasn't 2 hours long but it ended up being worth it for Prince John.
***
The following week I headed back to Disneyland for the AP event for the 20th anniversary of Indiana Jones Adventure. Indy is the first attraction I strongly remember opening, since I was high school aged. I remember when it first opened we waited 3 hours and were so impressed by the interactive queue. I can't believe 20 years have gone by; makes me feel kind of old!
This time I brought Gelatoni with me and we had some fun in the gift shops before the event started.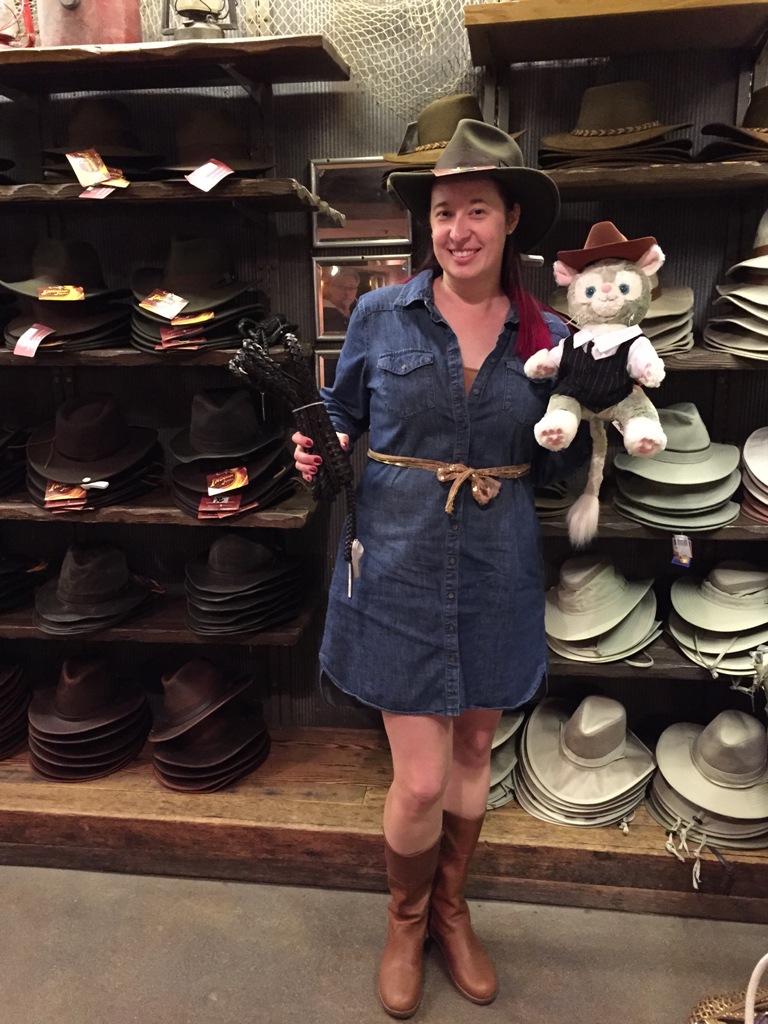 There was a fun band playing "Indy era" dancing music (in the worst possible traffic jam spot – across from Bengal Barbecue).
There were also Indy look-a-likes balancing on a ball – really clever. These guys were so funny, and I can only dream of what their abs must look like.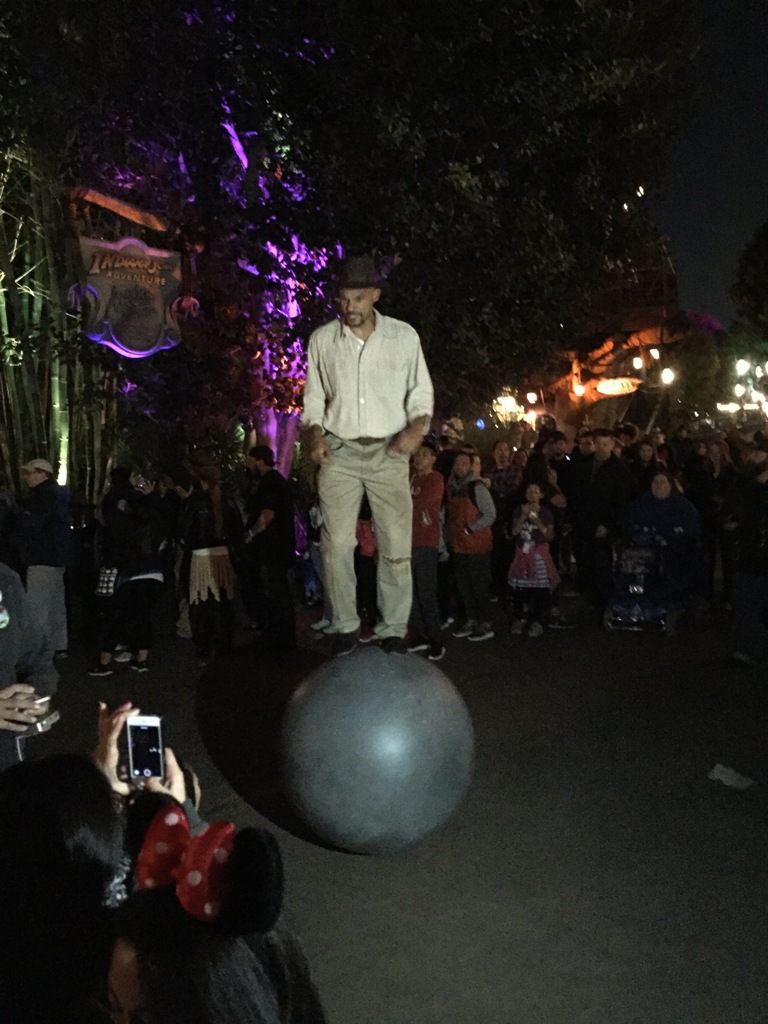 Now and then, a spontaneous chase between Indiana Jones and some bad guys would break out, with a short performance on the bridges of Tarzan's Tree House. So short and spontaneous, that I couldn't even capture pictures of it!
Of course we HAD to actually ride Indiana Jones Adventure, on its actual 20th anniversary. Gelatoni and I lucked out and got the drivers seat! In true Indy fashion, the lights on the eyes of Mara were not working, but we still were sent on a wild adventure anyway. Sadly I did not drink too much from the fountain of youth, and I did not end up needing a stroller.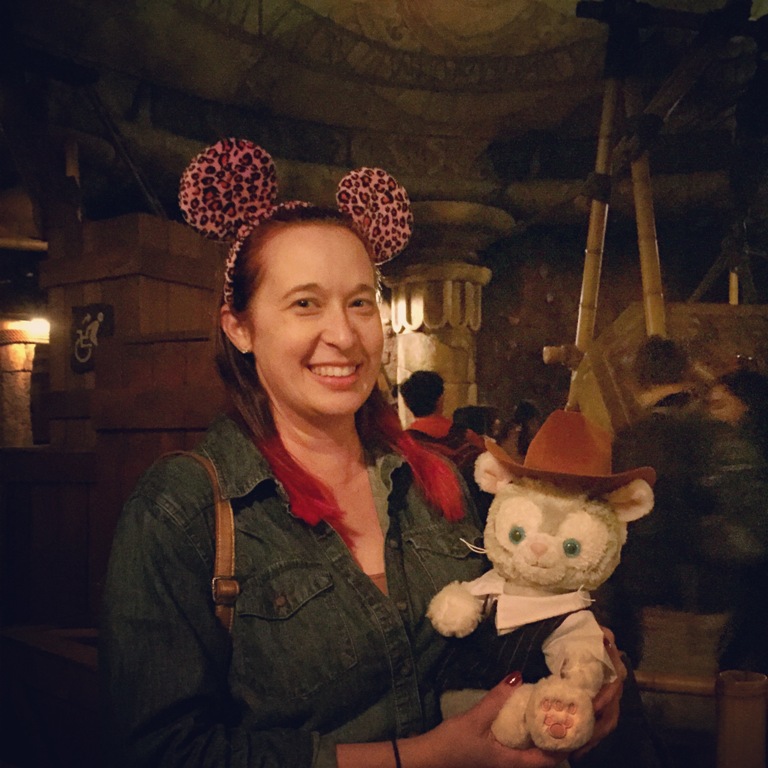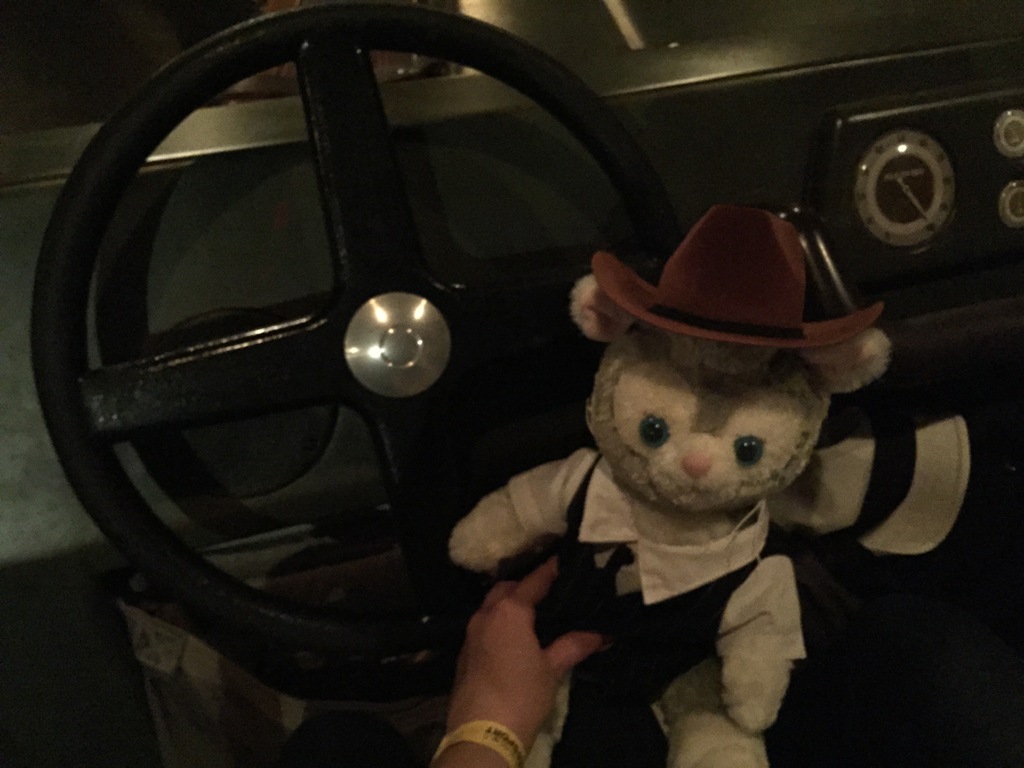 The highlight of the night was a presentation on the making of the Indiana Jones Adventure attraction with Imagineer Tony Baxter. He spoke about creating the unique ride experience and they showed some really neat concept art and videos from when the ride first opened. Ah, mid-90s fashion and hairdos.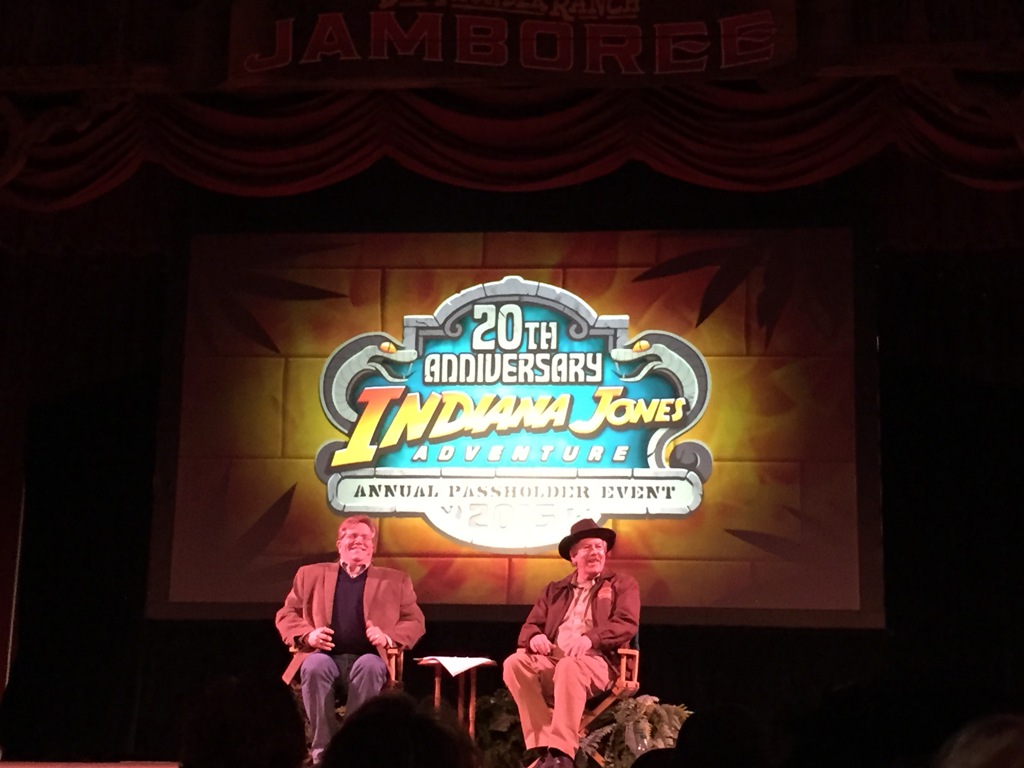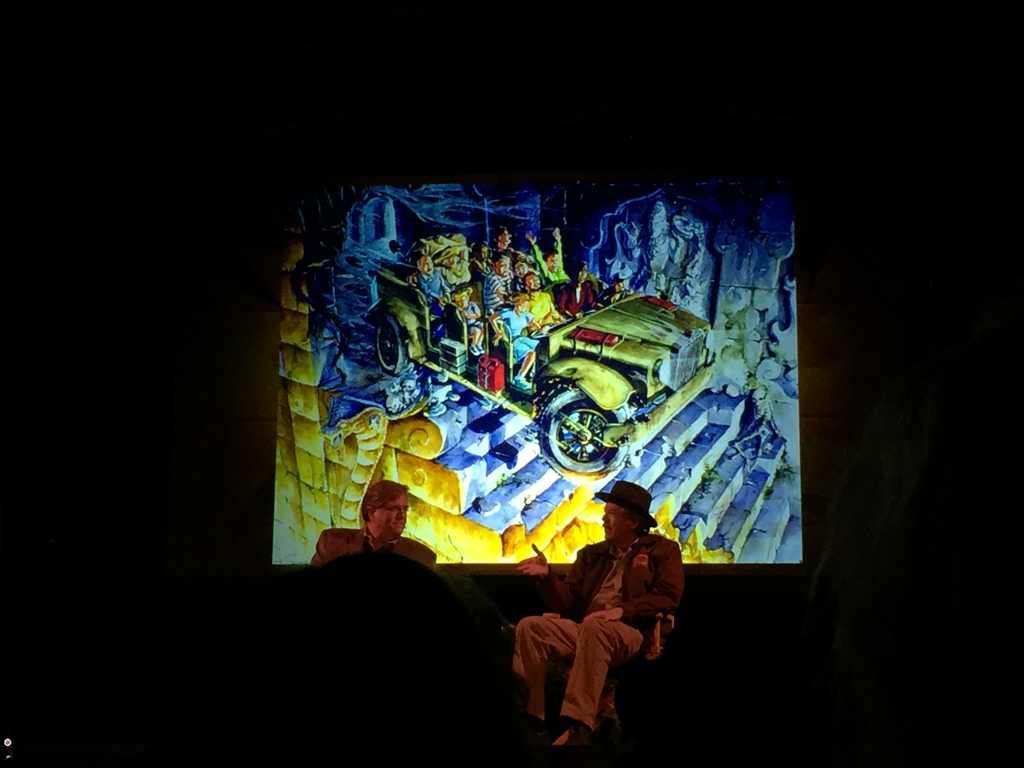 So here are a couple takeaways from my most recent AP event experiences:
1. Expect the unexpected! For my first AP event, for Fantasmic!, it was all about the food – bacon mac & cheese hot dogs and crazy cupcakes. When we went for the regular AP event a couple weeks ago, Mr. BFT and I went hungry because we were expecting so much food … but there were no special meals. Instead there were tons of character meet and greets and a dance party. When I went back the following week for the 20th anniversary of Indiana Jones Adventure, I was hoping for a Indiana Jones face character meet and greet but there were no character photo ops! Instead we got a periodic show on the bridges of Tarzan's Tree House. YOU JUST NEVER KNOW.
2. Dress for nighttime weather. It has been really chilly in So Cal at night lately, so I came prepared to the 8pm to midnight AP events with my hoodie and I even packed my jeggings one night (and I'm glad I did because it got COLD).
3. Keep your camera handy. There are lots of photo ops, whether it's a character meet, spontaneous show, or just cool DisneyBounding park guests.
4. Don't expect to do and see everything. Yes, there are less guests in the park during an AP event but there are still lines for the attractions, and there are a lot of extra things to see, whether it's character meets or special presentations or a dance party.
Have you ever attended an AP event at Disneyland? How was your experience?