I was invited to the 2015 Disney Social Media Moms Celebration. I paid a conference fee to attend and received discounted & complimentary items from Walt Disney World and their sponsors. I was not asked to write about my experiences at the conference. All opinions are my own.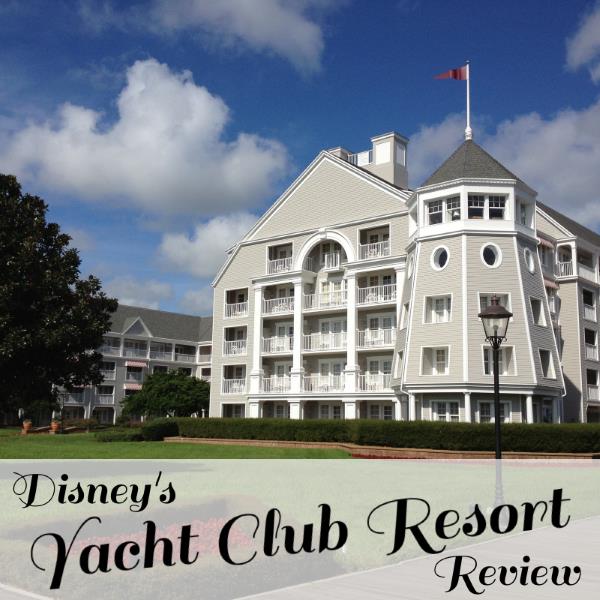 For my visit to Walt Disney World for the Disney Social Media Moms Conference, I stayed at two different resorts. For the actual conference I stayed at Disney's Yacht Club Resort, where the conference was taking place. Disney's Yacht Club Resort is one of the deluxe resorts and is located adjacent to Epcot theme park. It is also very close to the BoardWalk area which is a great night life spot for adults.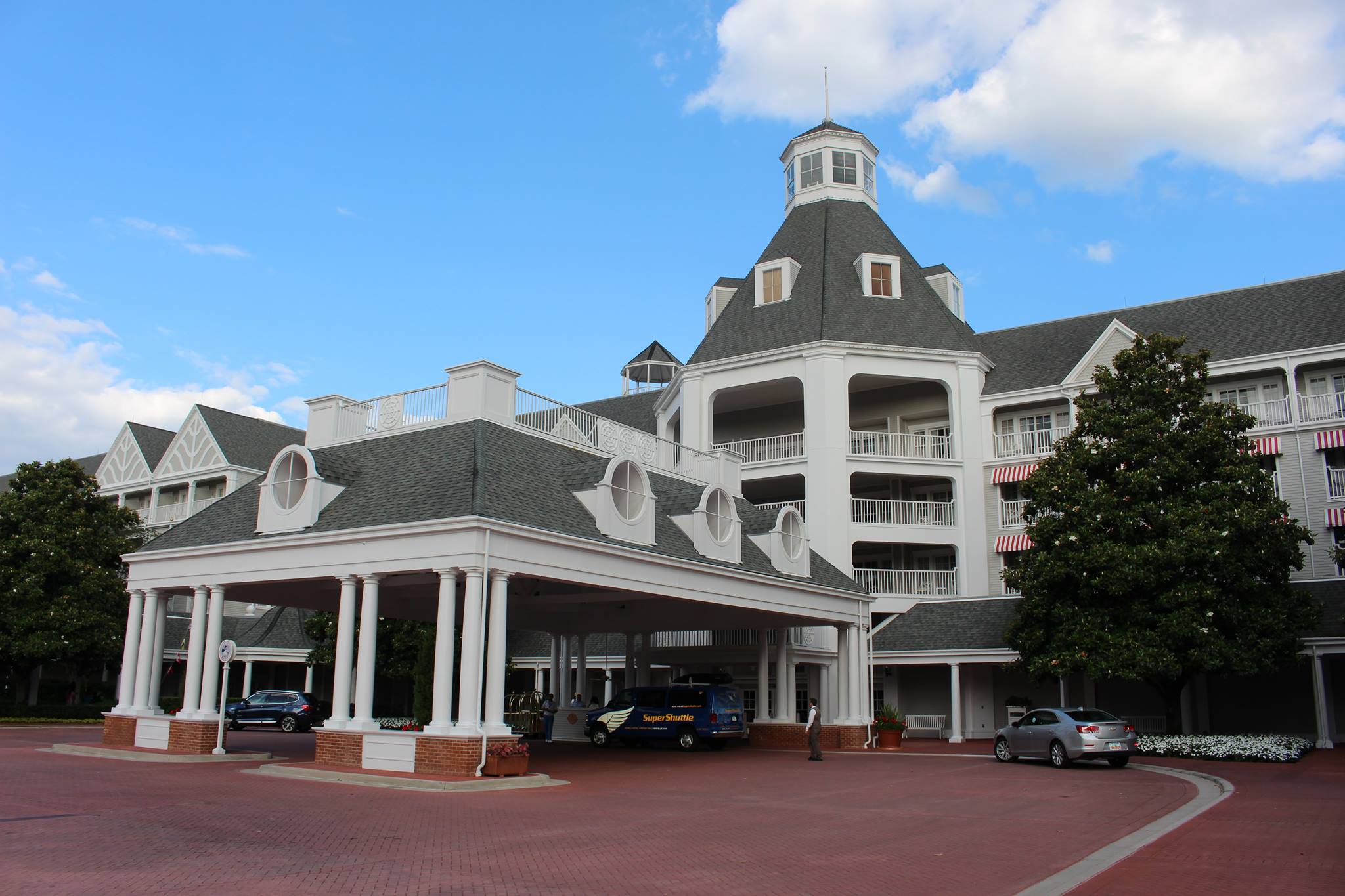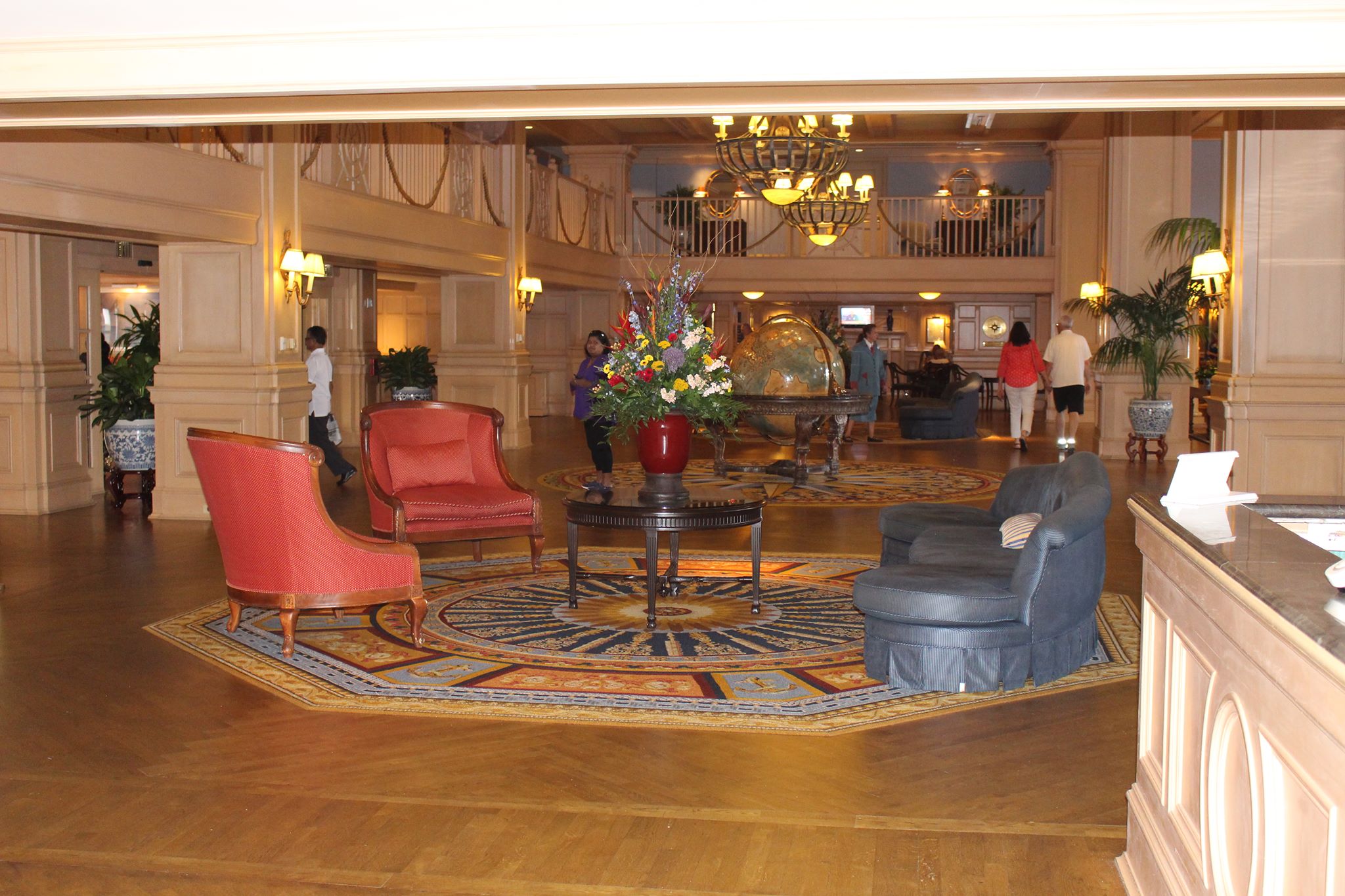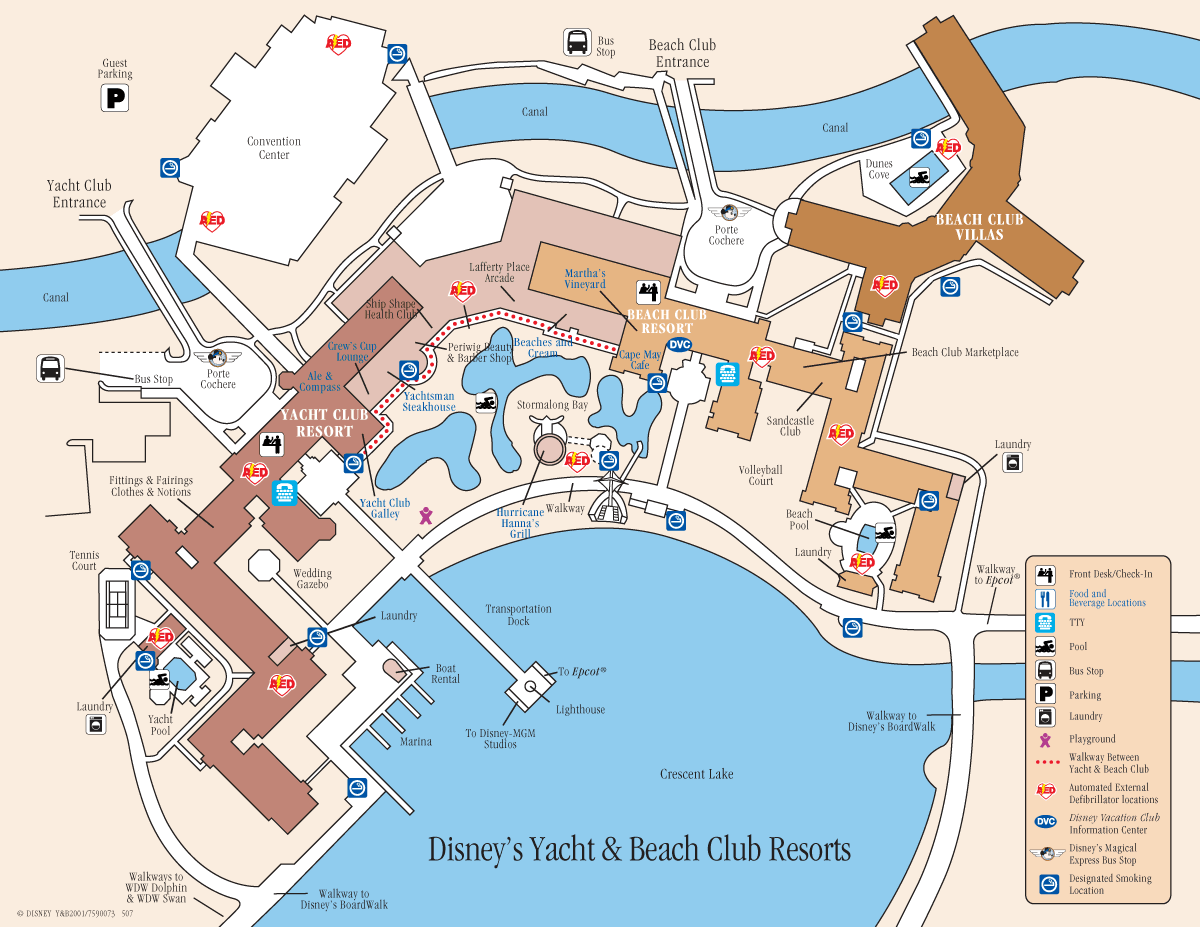 It should be noted that Disney's Yacht Club Resort is joined with Disney's Beach Club Resort, making them one big property. They share a few things, such as the large pool area, but for all intents and purposes, they are two different resorts. They have their own lobbies, restaurants, and bus stops.
As someone who has stayed at The Disneyland Resort hotels dozens of times but has never been to Walt Disney World, I wasn't quite sure what to expect from a Walt Disney World hotel. Upon checking in to Disney's Yacht Club Resort, I found that it's a very similar experience to The Disneyland Resort hotels. Everything is incredibly clean, themed nicely, and the cast members are very friendly and ready to help.
The room itself was very spacious, and I loved the nautical theme and hidden Mickey touches. My room was a standard room with two queen beds on the ground floor, with a lagoon view. I really loved having the little patio with a small table and two chairs, even though I was too busy to really take advantage of it. At night you could see the fireworks from Epcot from the patio which was pretty neat! The beds where incredibly comfortable and the room was quiet for the most part, although I could hear people talking in the hallway as they walked by, and also the mini refrigerator rattled a bit. I also had a problem where my toilet would start running for no reason but if I kept the bathroom door closed I couldn't hear it. I always bring ear plugs when I stay at hotels because I'm such a light sleeper, so I was prepared for the small noises.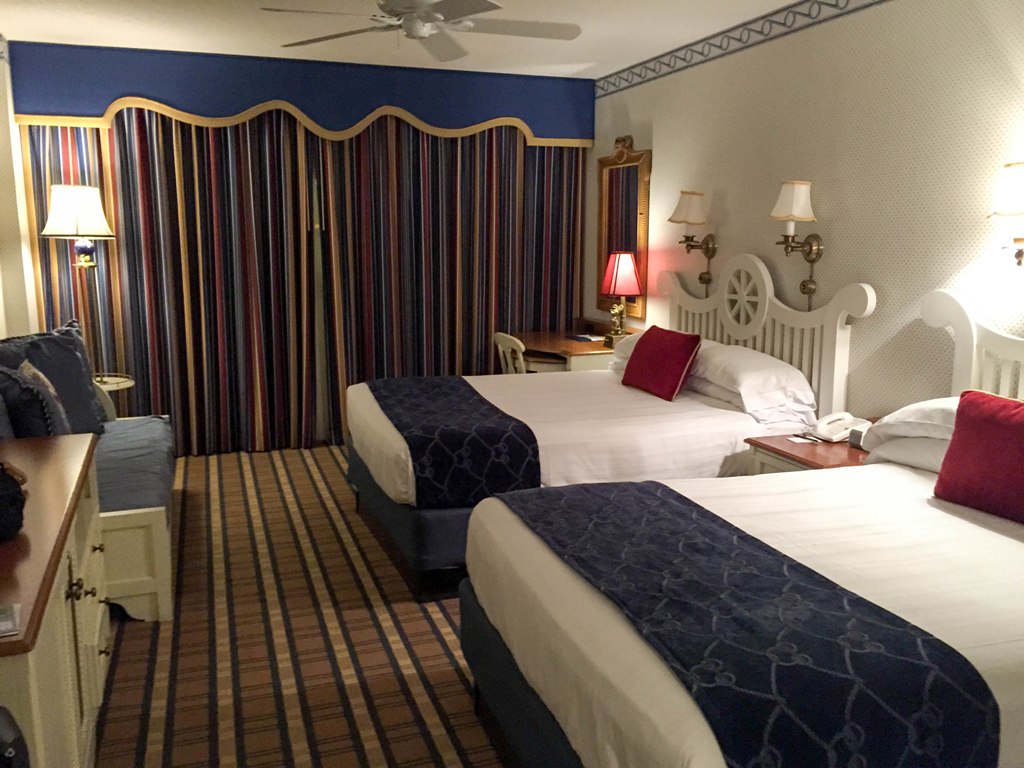 Note the Hidden Mickeys on the blanket: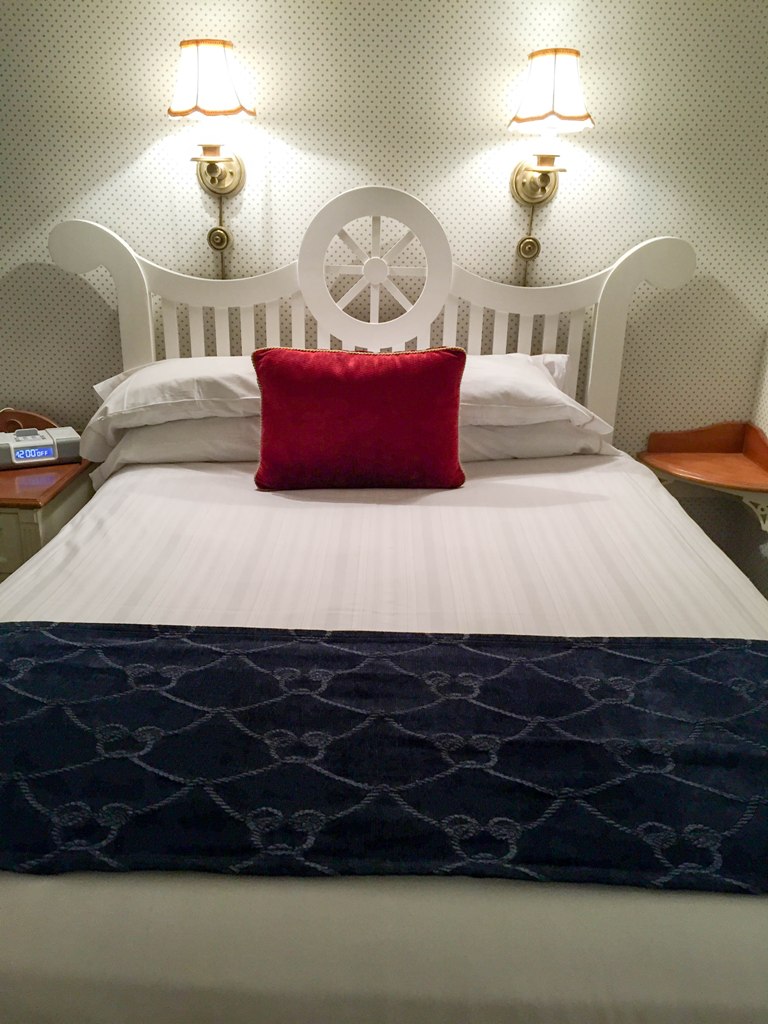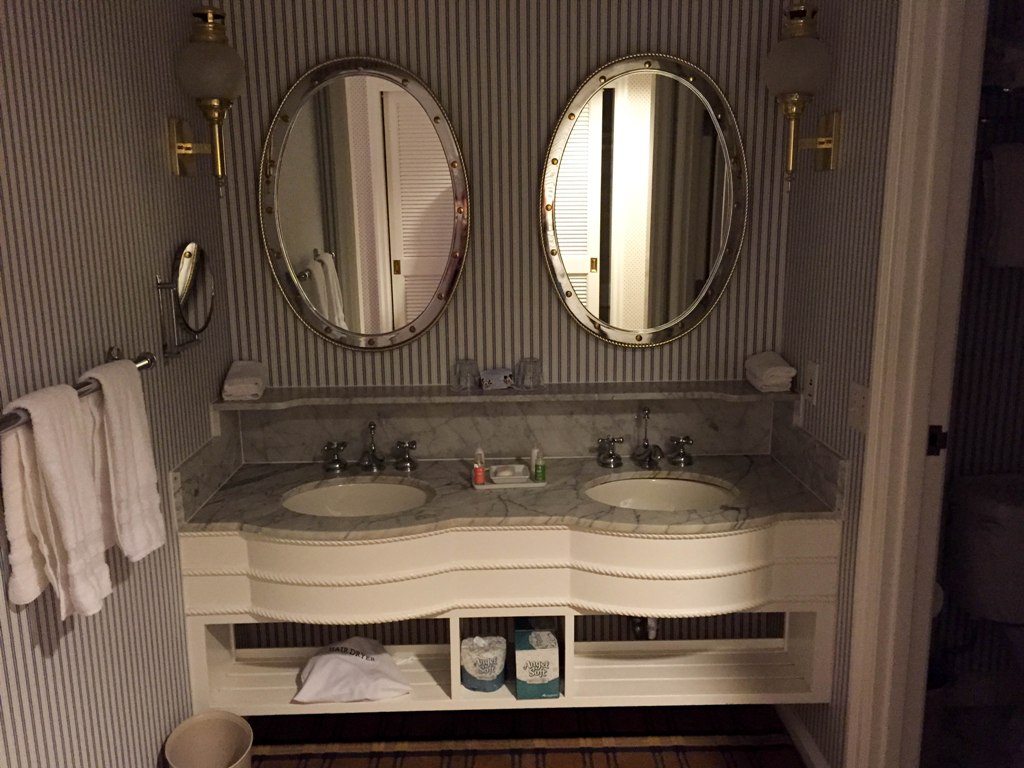 The sofa doubles as a daybed, so a family of five could easily stay here (although that fifth person would have to be itty bitty).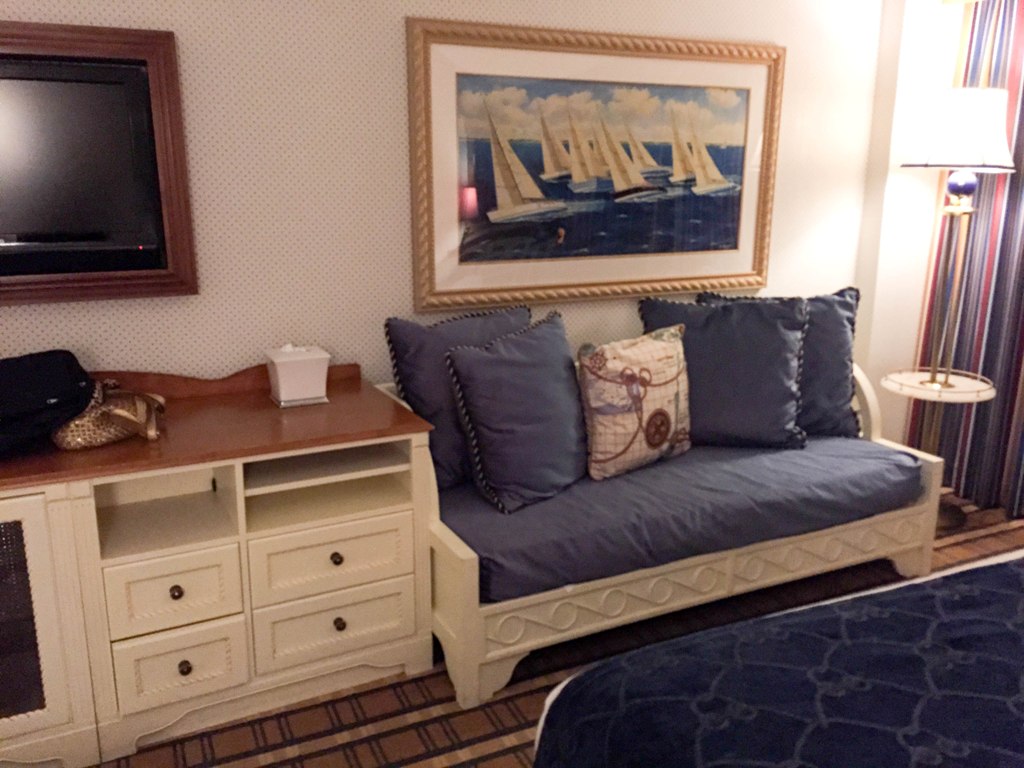 The patio off the room …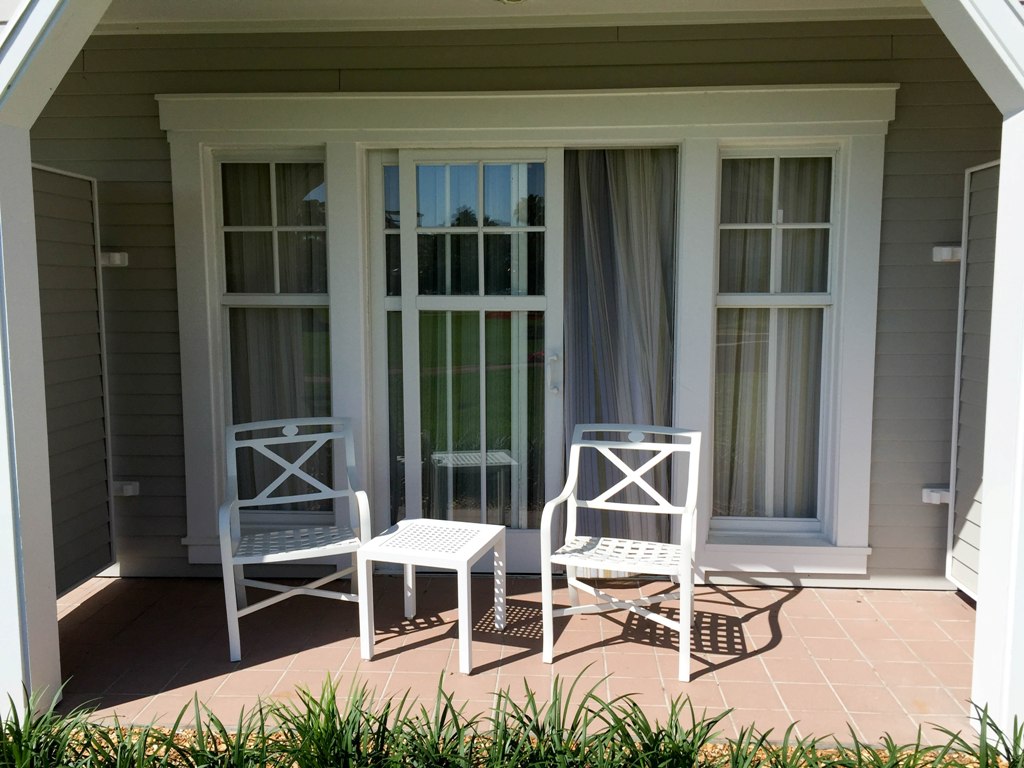 Here's the view from my room straight on …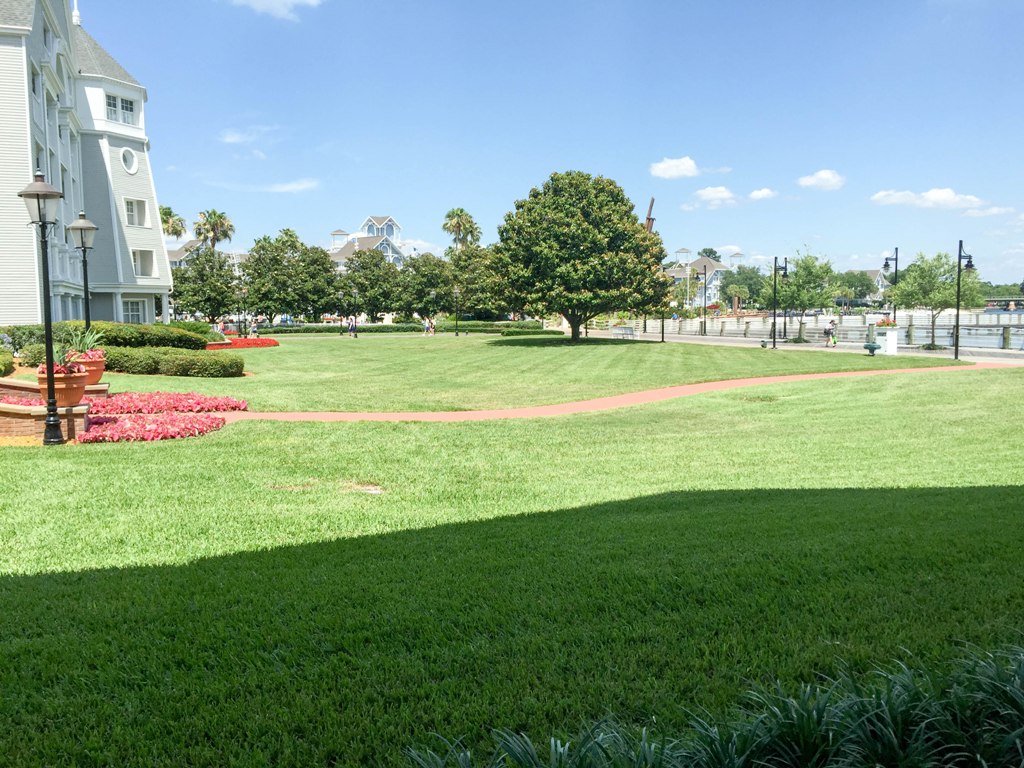 … and to the right towards the lagoon …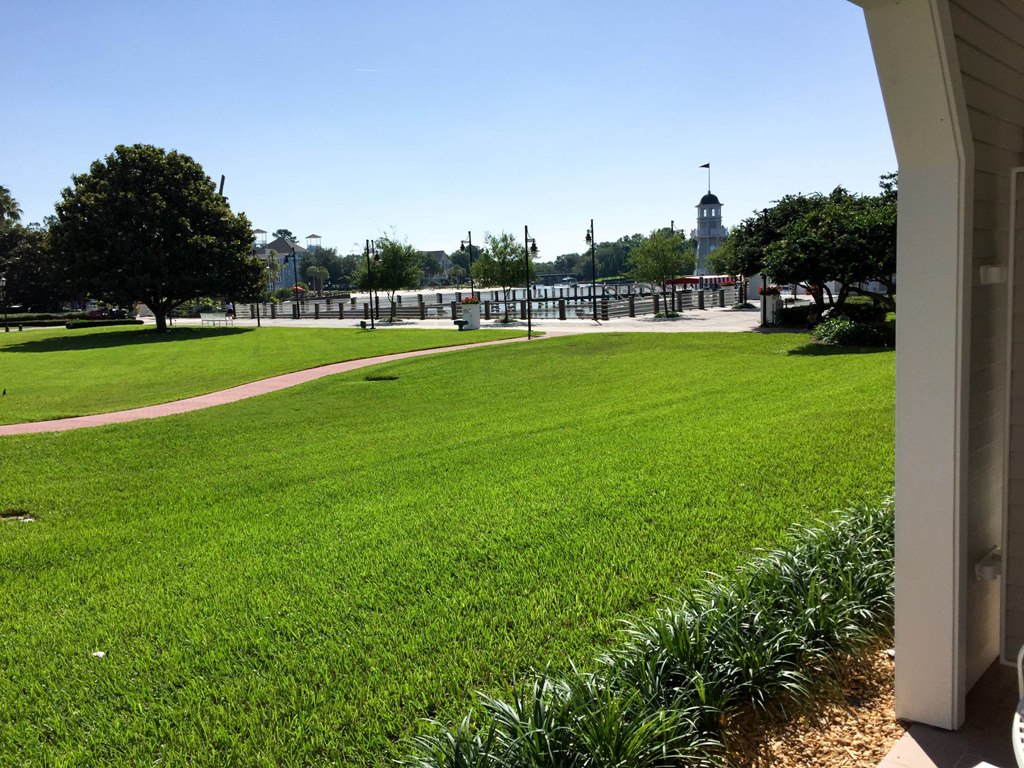 … and to the left towards the resort (where their wedding garden is located) …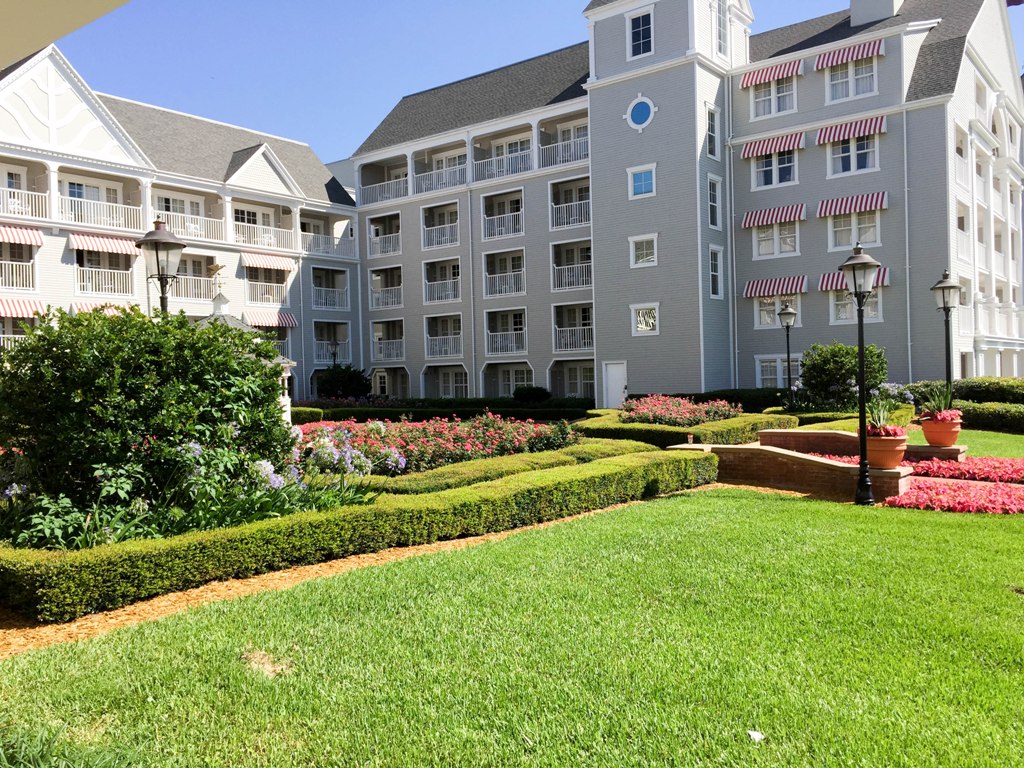 Fireworks from Epcot at night: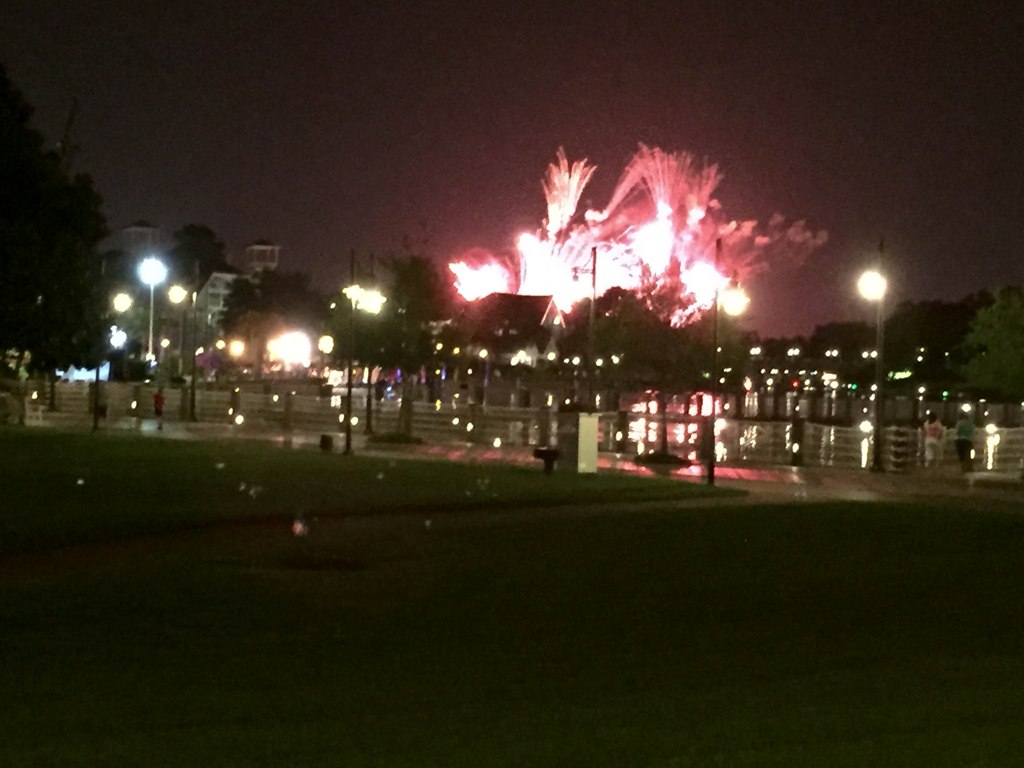 Speaking of the bathroom, it's very convenient that it is a split bathroom, meaning the vanity area is separate from the shower/tub and the toilet. The double sinks are perfect for families who are trying to get kids ready for bed at night. The vanity area also had a little shelf above the sinks which was great for holding all of my girly makeup and hair products.
I wasn't smart enough to take a video of the room, so I'm linking to Sarah from How I Pinch a Penny. Her room layout was identical to mine, except she had an upper floor room with an incredible view!
My room was close to the gift shop, which was very convenient for me because I tend to always forget
something
on every trip (this time I left my sleep mask on the plane). The shop was very impressive, with a wide range of usual hotel toiletries and necessities, as well as an impressive wine selection – something that's important to me. About half the shop displayed Disney souvenirs, clothing, and trinkets. The shop is located just to the west of the lobby.
The pool area is widely considered to be one of the best pools in all of Walt Disney World. It's called Stormalong Bay and it actually has a sandy beach area that leads into the pool, and there's sand at the bottom of the pool. It really does feel like you're at the beach! I was able to take advantage of our pool for just a couple hours one afternoon, and even though it was really busy and the pool area was crowded, I was able to find a lounge chair in a quiet area with no problem. The pool is intended for hotel guests only, so you do need your key or Magic Band to enter the pool area. There is also a second pool called the Admiral Pool, on the far west of the resort. It is known as the "quiet pool" which may be good for adults who want to relax and read by the pool. However, I noticed a lack of umbrellas/shade, and there is no food or drink service at this pool.
Aside from the food we had at the conference, I did not have the chance to eat at any of the resort restaurants but I did walk by most of them. I peeked at the menu of Yachtsman Steakhouse but I have to confess I did not eat there because the lobby area had a strong fishy smell, and I REALLY don't like fish! I suppose plenty of fishy meals are to be expected when you're staying at a place that's themed to ocean living, though! The Crew's Cup Lounge is located right next door and has a very cozy atmosphere. Beaches and Cream is known as a wonderful place to get ice cream and other treats. It is located right near the pool area. I wanted to see how far I could get through their "Kitchen Sink" ice cream sundae, but I never got the chance.
The best part about Disney's Yacht Club Resort is the location. It is just a quick 10-15 minute walk east to Epcot, which ended up being my favorite park. I did not try, but you can also walk to Disney's Hollywood Studios, which is to the south of the Resort. The Internet tells me this is about a 20-25 minute walk. There is also boat service available to both Epcot or Disney's Hollywood Studios. A short walk around the lagoon and you'll find Disney's BoardWalk Inn, which has a variety of restaurants, activities, and nightlife themed to Coney Island. I really enjoyed the BoardWalk area and atmosphere, but also liked that I was staying at the "calmer" Yacht Club across the lake.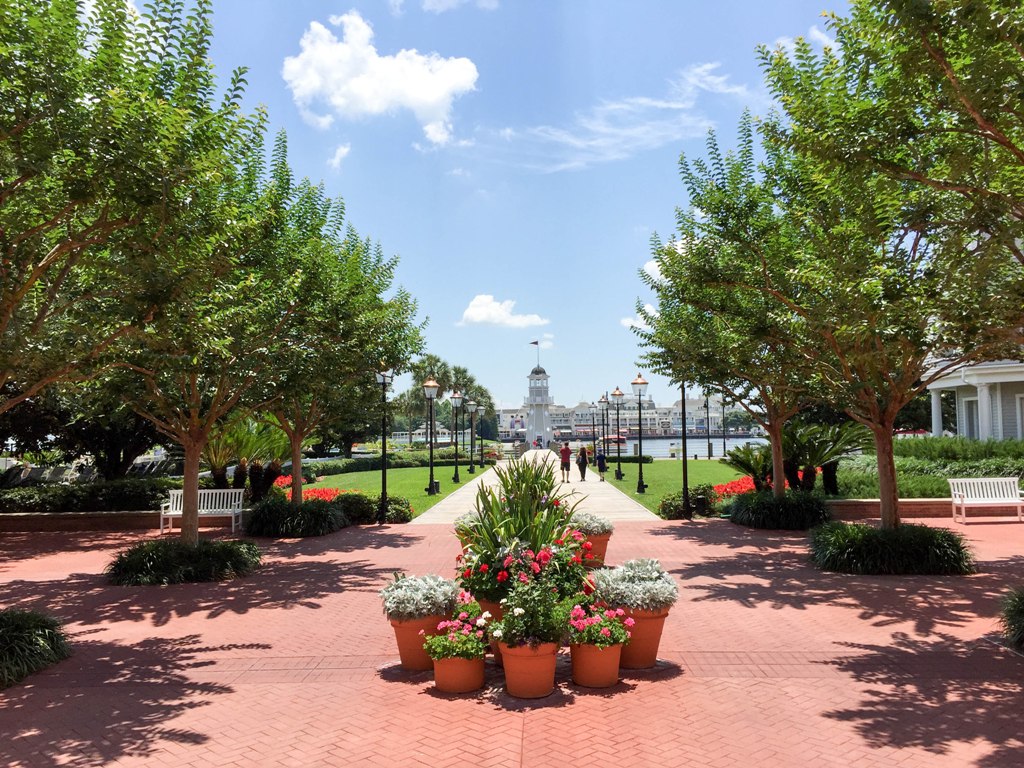 To sum up …
PROS:
Proximity to Epcot and BoardWalk area
Amazing pool
Nice, clean, modern room
Patio/Balcony with view of fireworks (select rooms)
Great gift shop
CONS:
On the pricey side
Room was a little noisy
Restaurant smelled like fish!
Overall I really enjoyed my stay at Disney's Yacht Club Resort and would love to stay there again sometime!
Photo sources:
Top: AJSchu on Flickr
Second and Third: My Culinary Adventures (used with permission)
Map: WDW Info
The rest are my personal photos.