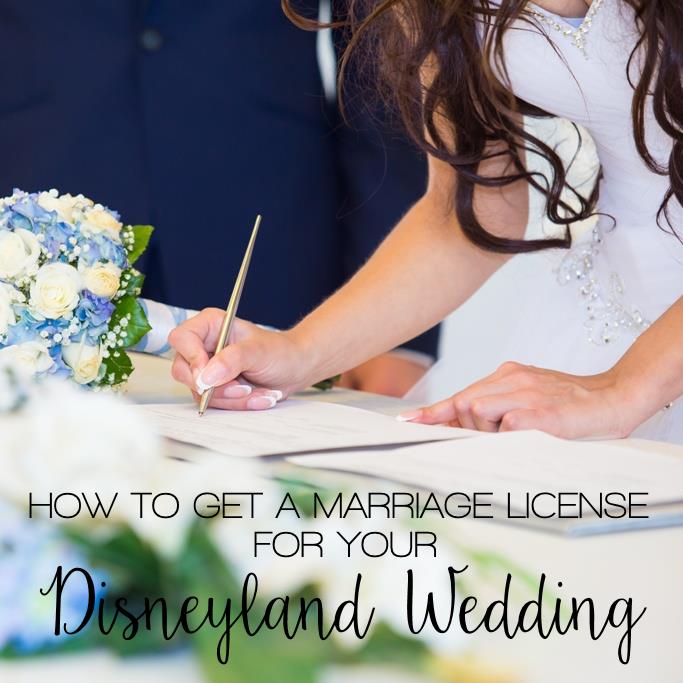 One of the best things about having a Disneyland wedding is that the weddings team does all the hard work for you. But one thing they DO NOT handle is your marriage license! You have to do this on your own. I know … not very magical. Although it may take up a bit of your day, obtaining a marriage license in Orange County, CA (where Disneyland is located), is actually a fairly painless process. As for me, my husband and I obtained our marriage license near our home in Van Nuys, CA, one of the busiest courts in the state. It was quite the ordeal. It may have actually been quicker to drive from Los Angeles to one of these locations in Orange County, and back again. If you've been stressing about how and where to pick up your marriage license in Orange County, hopefully this guide will help you! And if you have any further questions, or if you have an Orange County marriage license experience you want to share, please leave me a comment below.
** As always, please verify the current information related to marriage licenses on the Orange County website, as the information included in this article is subject to change at any time.
In order for your Disneyland wedding to be legal, you must apply for, pick up, sign, and return a California marriage license! There are many courthouses near Disneyland, and many couples choose to pick up their license at one of these locations, usually in the couple days leading up to their wedding. However, your license can be obtained from ANY courthouse in California. I am not going to go into the entire marriage license application process, which is covered in depth here. This article is specifically to offer advice on how to obtain your marriage license at a location close to Disneyland. However, here are a few basic rules for obtaining a California marriage license:
1. If you want to get legally married in California (aka Disneyland), you will need a California marriage license.
2. You and your beloved must appear at the courthouse in person, together.
3. You must show photo ID (Driver's license, state issued ID, or passport) and you both must be over the age of 18. The names on your application should match what is listed on your IDs.
4. You must decide if you or your future spouse are changing their name. No one is required to change their name but if you are going to, you have to decide before you obtain the license.
5. You must pay the application fee of $61.00 for a public license or $66.00 for a confidential license. Fees vary by county and these fees were accurate for Orange County at the time this article was written and subject to change at any time.
6. You must get married within 90 days of obtaining your license, and return your signed license within 10 days after your wedding.
If you live in California but don't live near Disneyland, you may obtain your license at any courthouse that is convenient for you. Furthermore, if you live in another state but near the California state border, you may drive into California, go to the nearest courthouse, and obtain your license. You do not need to be a resident of California to obtain a California marriage license.
If you will be obtaining your marriage license through Orange County, you can make an appointment for one of the courthouses online and you can also complete an electronic application which will help speed up your in-person appointment. Click here to access both the appointment system and the online application. It's a smart idea to print out both your completed application and your appointment confirmation to bring to your appointment, just in case there are any technical difficulties.
Courthouse Locations
Here are a few suggestions for Orange County courthouses that are near Disneyland.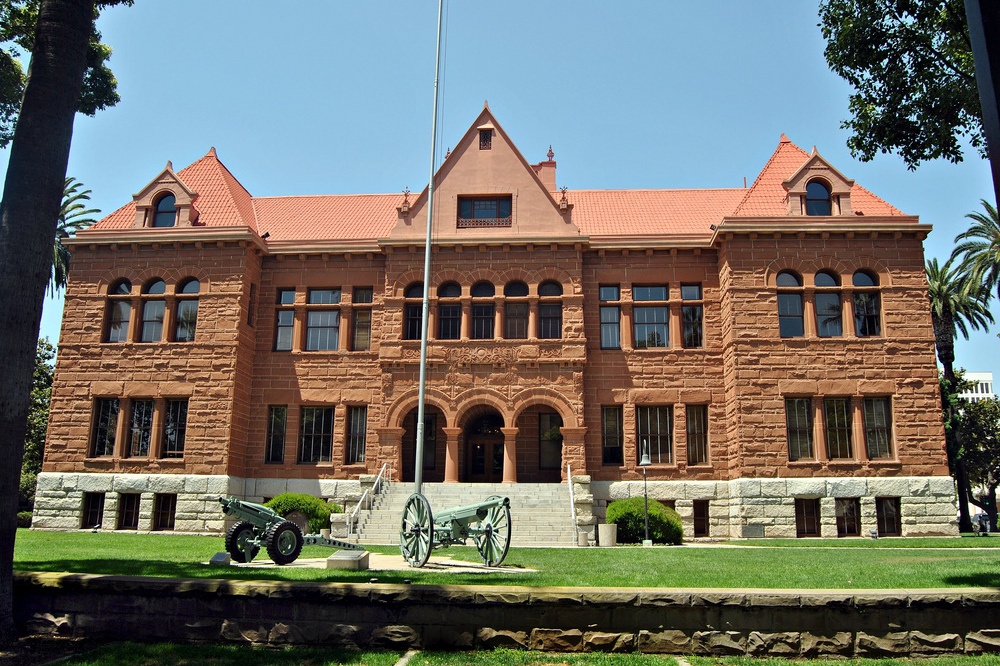 Old Orange County Courthouse
211 West Santa Ana Blvd.
Santa Ana, CA 92701
Hours: 8:00 a.m. – 4:30 p.m. Monday – Friday
8 miles from Disneyland
Click here for maps, driving directions, parking instructions, and further information about this location.
The "Old Orange" courthouse in Santa Ana is probably the most utilized location for obtaining marriage licenses for Disneyland weddings. This location has its own metered parking lot for $1/hour off Civic Center Drive. It looks like there is also street parking all around the area. Enter the courthouse and look for signs for marriage licenses. The room should be on the first floor, but could relocate at any time. Last I heard, marriage licenses were issued in Room 202. Disneyland brides I've spoken with tell me they have waited anywhere from 5 minutes up to 30 minutes, with or without appointments.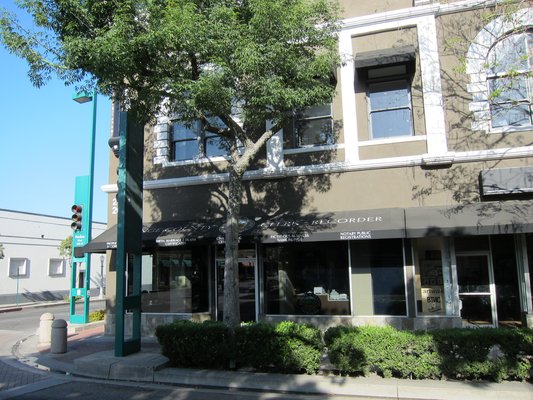 Downtown Fullerton
201 N. Harbor Blvd.
Fullerton, CA 92832
Hours: 9:00 a.m. – 4:30 p.m. Monday – Friday
6.5 miles from Disneyland
Click here for maps, driving directions, parking instructions, and further information about this location.
From the outside it kinda looks like it could be a Starbucks. But, SURPRISE, you can't buy coffee but you can buy a marriage. The Fullerton location is smaller than the Old Courthouse in Santa Ana, and just a bit closer to Disneyland; however it is not "freeway adjacent" like Santa Ana so your travel time on surface streets may actually be longer. They have their own parking lot and plenty of surrounding street parking. Once inside, signs will point you in the direction of the license office.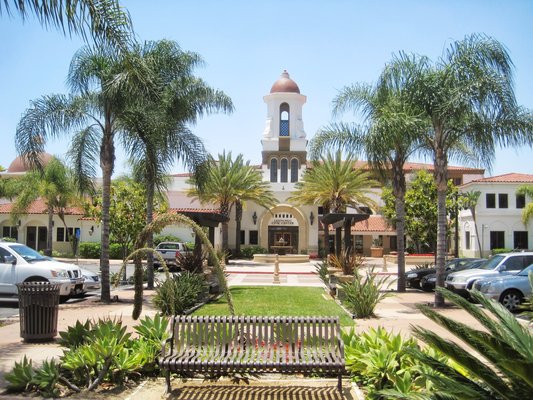 Laguna Hills Civic Center
24031 El Toro Road, Suite 150
Laguna Hills, CA 92653
Hours: 9:00 a.m. – 4:30 p.m. Monday – Friday
21 miles from Disneyland
Click here for maps, driving directions, parking instructions, and further information about this location.
This location is the farthest from Disneyland of the three, but could be convenient if you are driving up from Southern California. They have a big lot with free parking, and their marriage license area is on the first floor to the right of the main entrance. The Laguna Hills Courthouse has a beautiful exterior and is a popular location for civil ceremonies (it appears you can actually get married at any of these three locations, if you wanted to just get the legal stuff out of the way).
Even with an appointment, it's a smart idea to allow yourself at least an hour for your appointment. In reality, you will probably be in and out of the courthouse in a much shorter time period, especially if you go in the morning, but better safe than sorry. If your appointment is short, that just means you get to go back to Disneyland for extra play time.
Do you have any additional questions about picking up your marriage license in Orange County? Leave me a comment and I'll do my best to answer!
Photo sources:
Top: Stock photo
Santa Ana Courthouse from locosteve on Flickr, modified under CC2.0
Fullerton Courthouse from Yelp
Laguna Hills Courthouse from Yelp