When we last left off, my plane to Orlando was FINALLY arriving to whisk me away to Walt Disney World and the Disney Social Media Moms Conference.
The two hour flight went as smooth as a flight could be. I never found out why our flight was delayed for so long (about five hours total) and as long as I arrived in Orlando safely, I didn't really care. At bag claim, I checked with an airport employee to verify my bag would still be picked up by Magical Express since our flight was so late. She told me NO, I had to get it myself since I had to carry it through customs. Good thing I asked. The customs thing hadn't even crossed my mind. Honestly, if my flight was on time I would have left my bag at the carousel, assuming Magical Express was picking it up! Everything happens for a reason … I guess?
Finally I get through customs with my heavy backpack and two suitcases, and start wandering through the Orlando airport looking for any signs directing me to Magical Express. The instructions made it sound so easy – go down to Level 1 and follow the signs. Well I went down to Level 1, lugged all my luggage up and down the walkways, and could not find any signs. I asked an airport employee for help, and he sent me up to Level 3 and told me to walk over to the "B" side. Okay. I go back up and look for the "B" side and any signs that say Magical Express, and I still can't find anything. So, I ask yet another airport employee for help, and he tells me I have to go back down to Level 1. Well … that poor employee must have been pretty surprised when I suddenly burst into tears. Because, flight delay and luggage and I have no idea where to go and tired. He assured me I needed to be on Level 1 and everything will be okay.
I get to Level 1 and finally I see signs for Magical Express. I check in (after digging out my Magic Band from my suitcase because who knew I'd need it at the airport, not me) and ask them if they can check my big suitcase, with the Magical Express luggage tag, and have it delivered to my hotel later. I was told no, I should have left it on the carousel. More tears. I told them I was flying International so I had to carry it through customs and it's really heavy and I'm a 35-year-old woman traveling alone to Walt Disney World and I can't stop crying and could they please check it for me? But, no. They couldn't.
I push my suitcases through to the boarding queue. I sit down and reapply my makeup, which would turn out to be futile. My Magical Express bus arrives and a nice man comes to check my suitcases under the bus. He's my new favorite person. I sit down on the bus and start texting with my friend Carly from Ever Clever Mom and Magical Day Weddings, who is currently enjoying the conference festivities. She tells I'm where I need to be and in an hour I'll be checked into my hotel room. For some reason, reading nice things sets off meltdown #2. I put on my headphones and listen to melancholy music for the duration of the bus ride, because why not.
Soon I'm seeing signs for Walt Disney World and my mood perks up a bit. I want to be in a good mood, I really do. I'm FINALLY at Walt Disney World! Yay!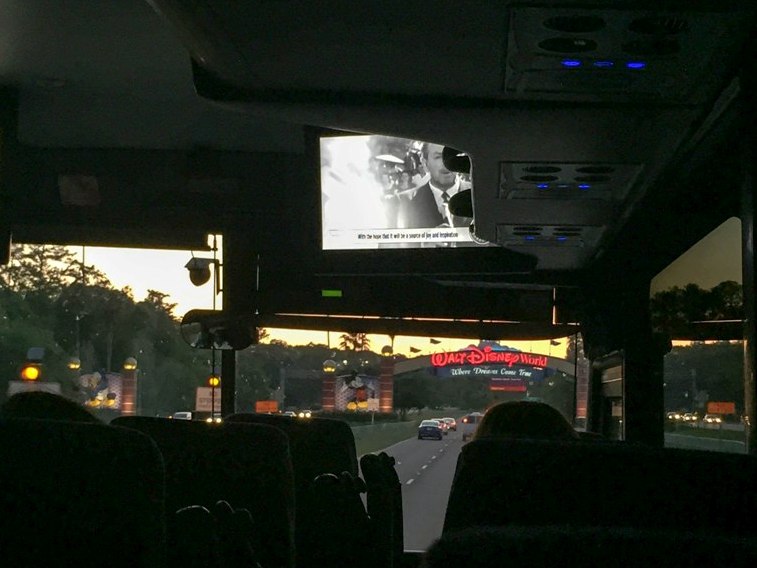 We arrive at Disney's Yacht Club resort. I get off the bus and I'm reunited with my heavy suitcases. I wheel them over to check-in, where I'm greeted and helped immediately. The Cast Member who helps me is fantastic, she really is. And she's just doing her job, and doing it well. But at this point I don't care about tomorrow's park hours or how to access the pool or how to get to the convention center. What I need is my room number, a bellhop for my bags, and a two-finger point towards the closest bar. Cue meltdown #3. Poor lady. She lets me go (but not before showing me my room location on a map, not that I can see anything through my blurry eyes anyway). In a couple minutes I'm in my hotel room, collapsed on my bed, listening to the sounds of the Epcot fireworks, the same fireworks all my fellow conference attendees are currently watching and enjoying while sipping wine and eating tiny desserts. Or maybe it's awful. Yeah, I'm telling myself it's awful and everyone's having a horrible time. Yeah, probably.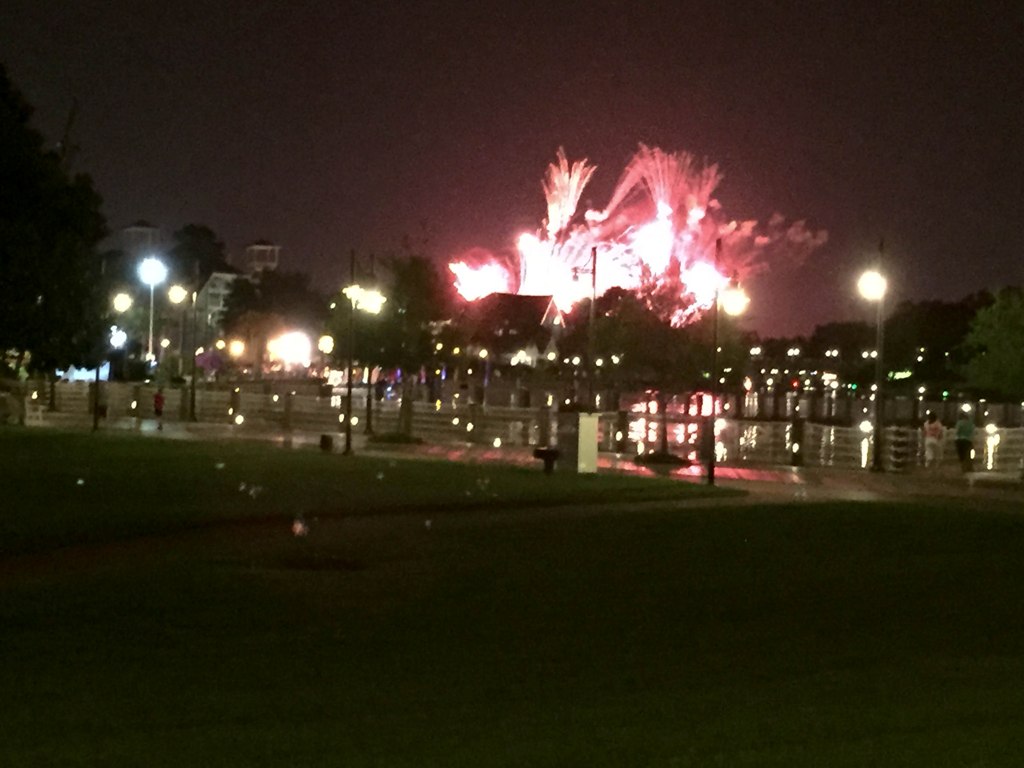 Suddenly I realize I'm very hungry. And I need a drink. Or five.
I can see the Boardwalk area from my hotel room patio and from my basic understanding of Walt Disney World, I know this is a place with food and drinks and such. I walk over and the first place I find is Big River Grille & Brewing Works. The menu looks good enough, so I grab a table on their patio and end up ordering some kind of yummy drink with rum (wish I took better notes, but, you know, angry) and a fat New York Strip steak. It tasted like heaven. While I was eating, my friend Carly came over to make sure I was okay, which I really appreciate. Chatting with her really made me feel much more relaxed and happy to be there. Or maybe it was the rum.
After dinner, Carly and I walked back to Disney's Yacht Club and I stopped in the resort gift shop for a bottle of wine to keep in my room. The Walt Disney World Resort has its own special wine made exclusively for them, and it was delicious AND reasonably priced (under $20).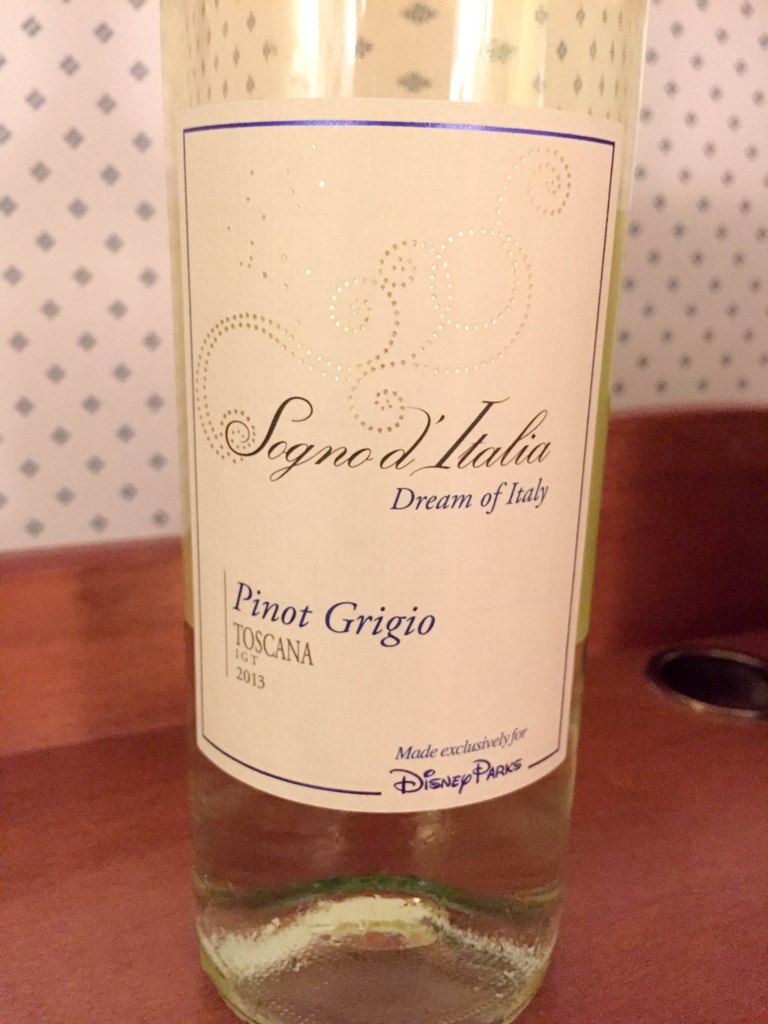 Carly and I said good night, and once back in my room I unpacked my things, laid out my outfit for the next day, messaged back and forth with the hubs, and got some much needed rest. I was ready to put the bad day behind me and looking forward to the start of Disney Social Media Moms Celebration and six more glorious days in Walt Disney World!
Day Two coming soon! Thanks for following along!