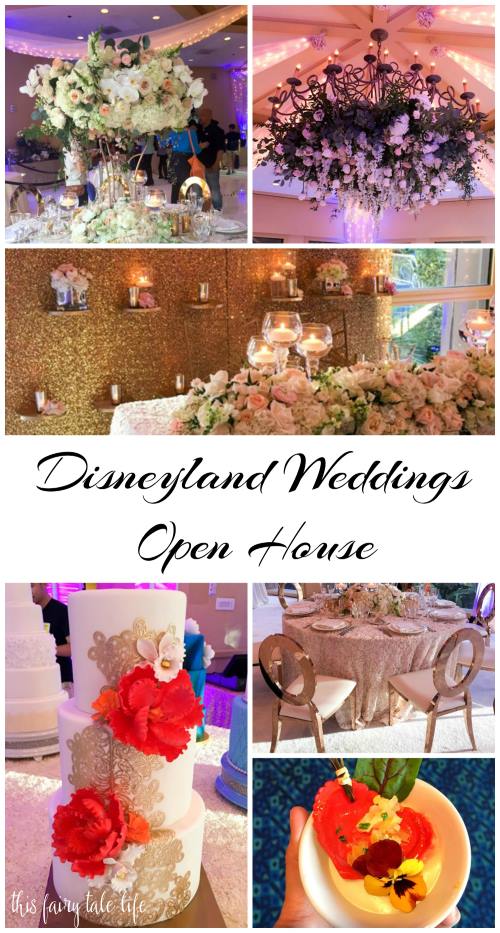 Last week, the team at Disney's Fairy Tale Weddings held their first west coast open house at The Disneyland Hotel. The Disneyland weddings open house was held on Wednesday March 16 in the evening. Couples who have weddings coming up were invited to attend the open house and see firsthand what services and products are available for weddings and vow renewals at Disneyland. Some of Disney's preferred vendors were also available to meet with couples and answer any questions they may have.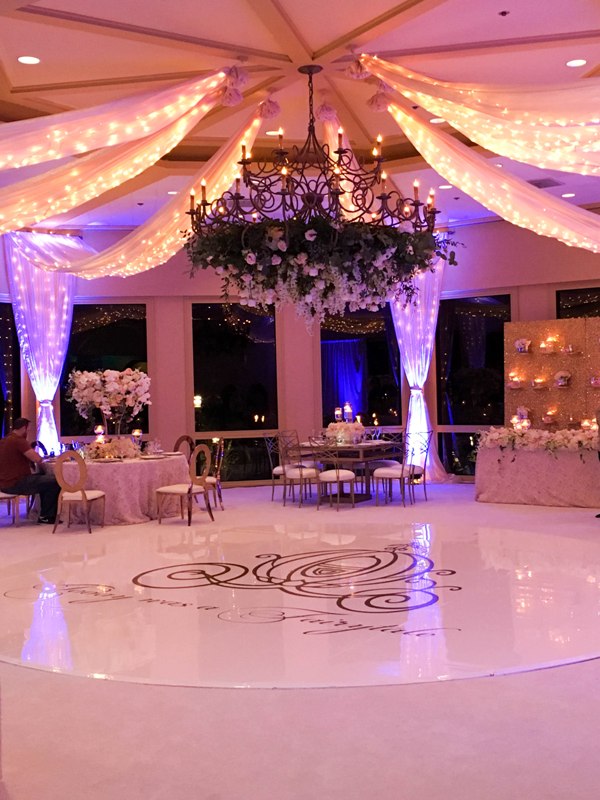 The open house took place in the Sleeping Beauty Pavilion, which is the most popular ballroom for wedding receptions at The Disneyland Resort. The room is really unique with its centerpiece chandelier, floor to ceiling windows, and octagon shape, making it perfect for tables surrounding a dance floor.
The team at Disney floral went all out, displaying a vast selection of bouquets, ranging from traditional and romantic, to modern and artistic.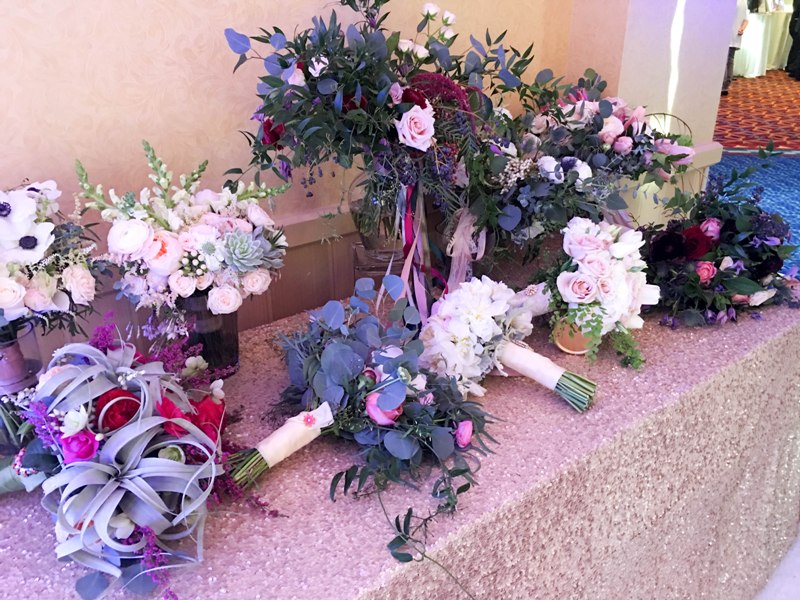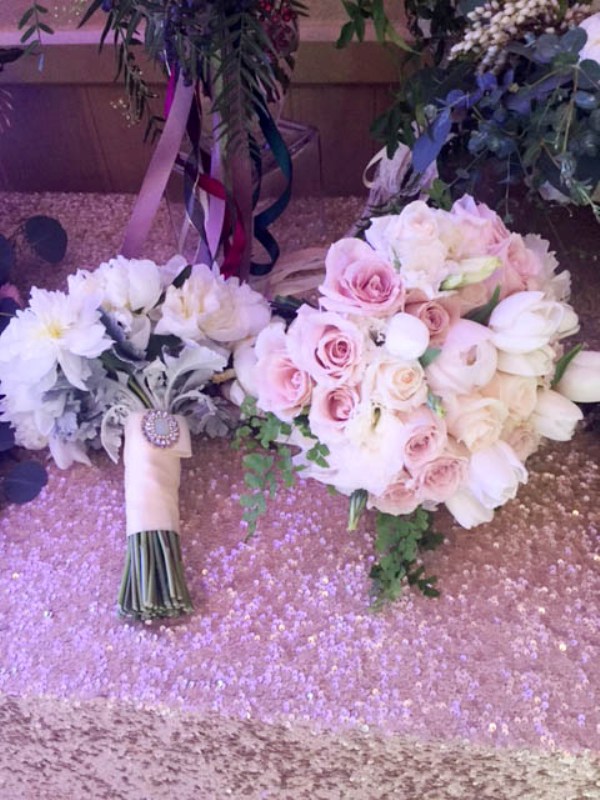 Also on display were some of their top tier decor items such as rose gold chairs and Lucite tables, decorated with textured linens, tall lush centerpieces, and gold rimmed glasses and chargers (the same lovely chargers we had for our wedding).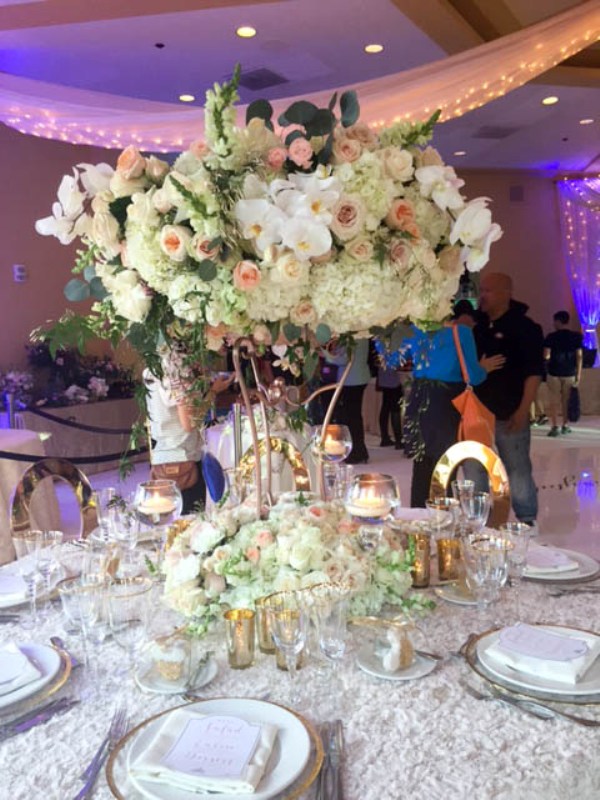 And take a look at these beautiful Lucite Cinderella's carriage table numbers!
Looking up, guests saw a field of beautiful flowers hung from the large chandelier over the dance floor.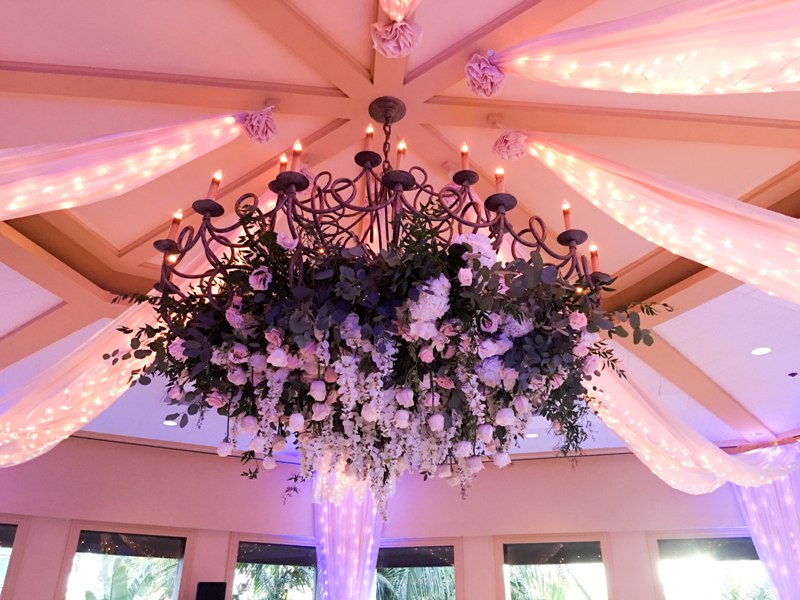 Speaking of the floor, an ivory carpet was laid down in the Sleeping Beauty Pavilion, covering the standard carpet. A round, white dance floor with a "Today was a fairytale" decal was the focal point in the room.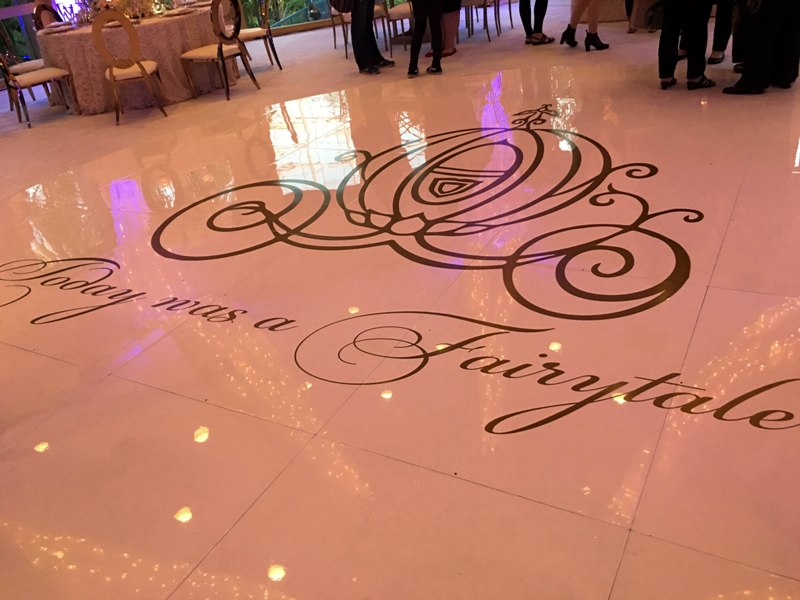 The scene stealer of the night was this sweetheart table backdrop, covered with glitter and accented with romantic candles and florals.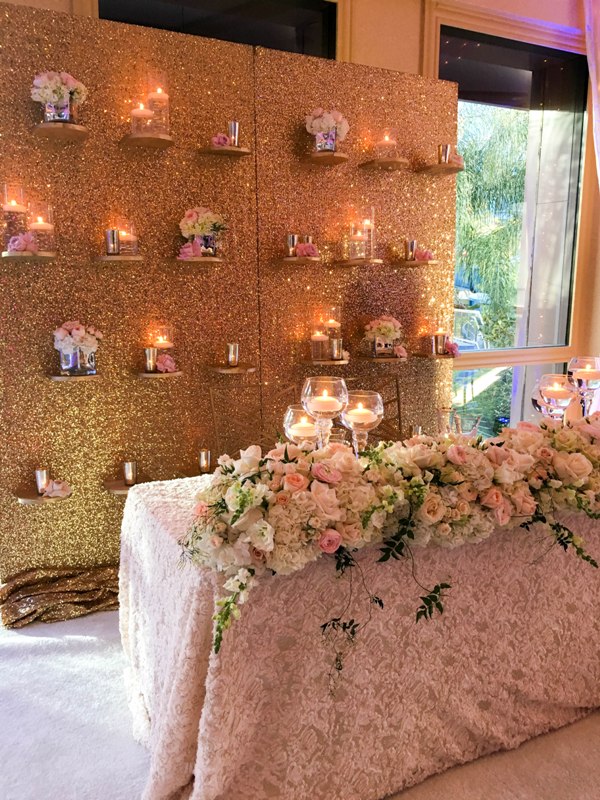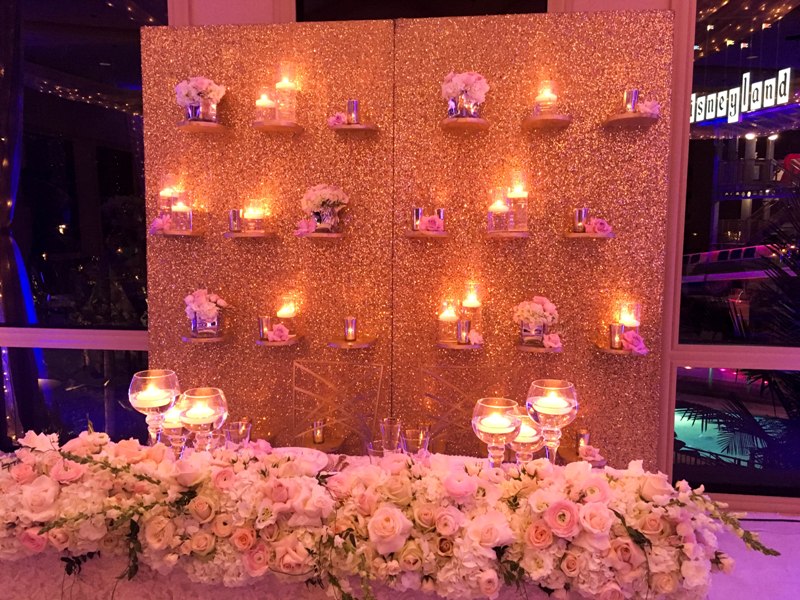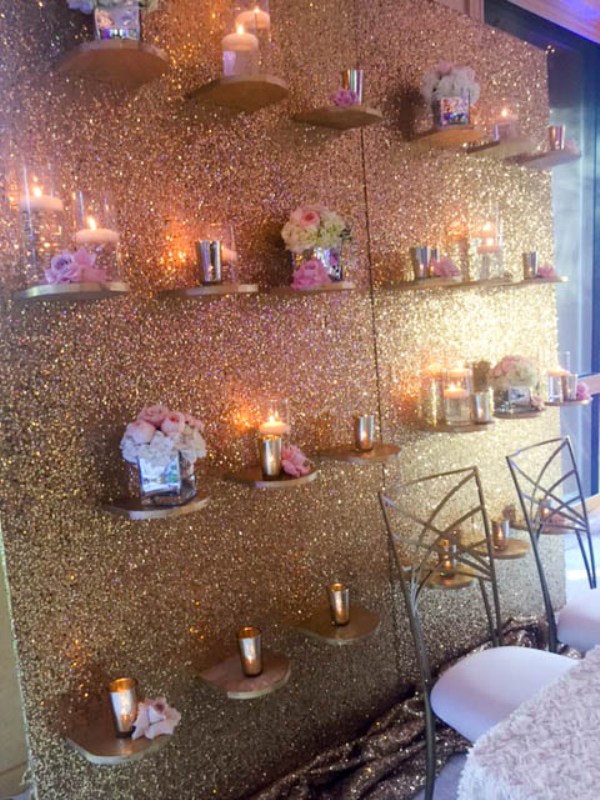 Some pastry chefs were also on hand demonstrating how they decorate cakes for weddings. There were also several wedding cake designs on display for couples to observe, including the innovative new "cake mapping" projection cake.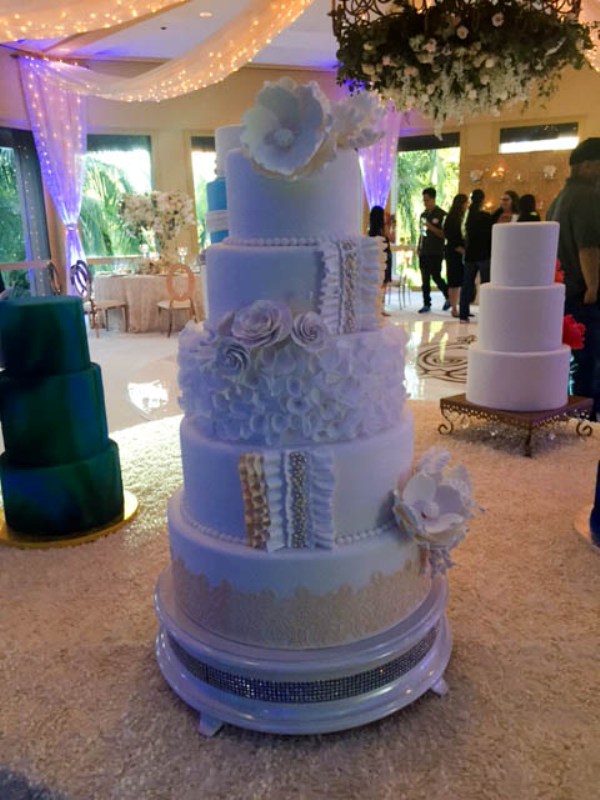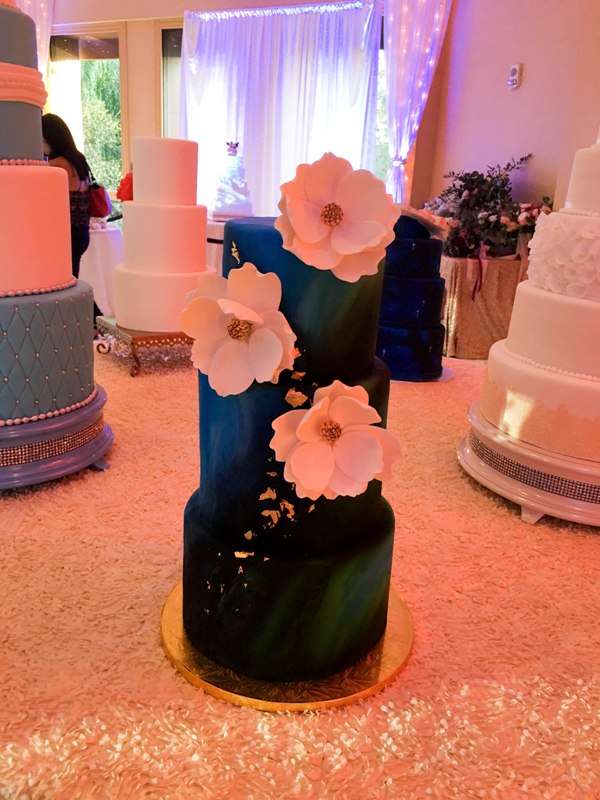 Guess which cake design is my favorite?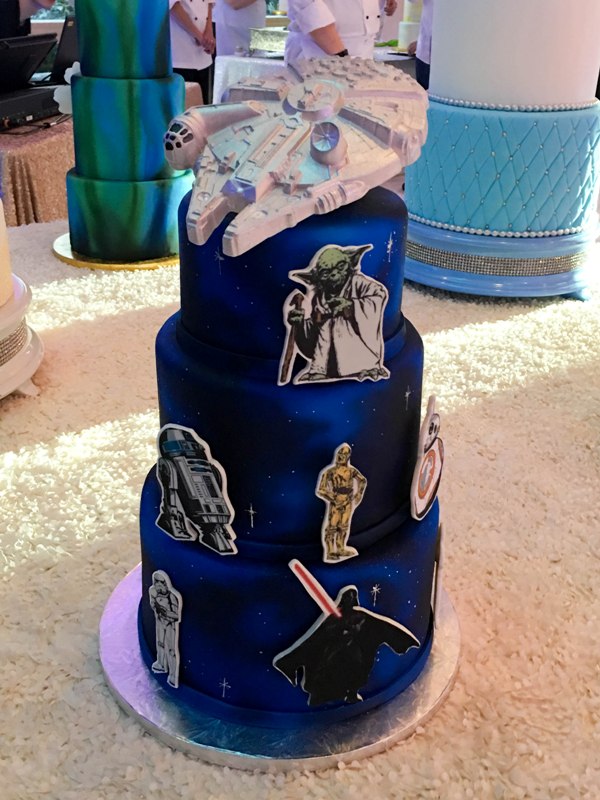 Of course there was some cake samples available to eat, along with a couple passed appetizers and some unique pastries displayed on a dessert table.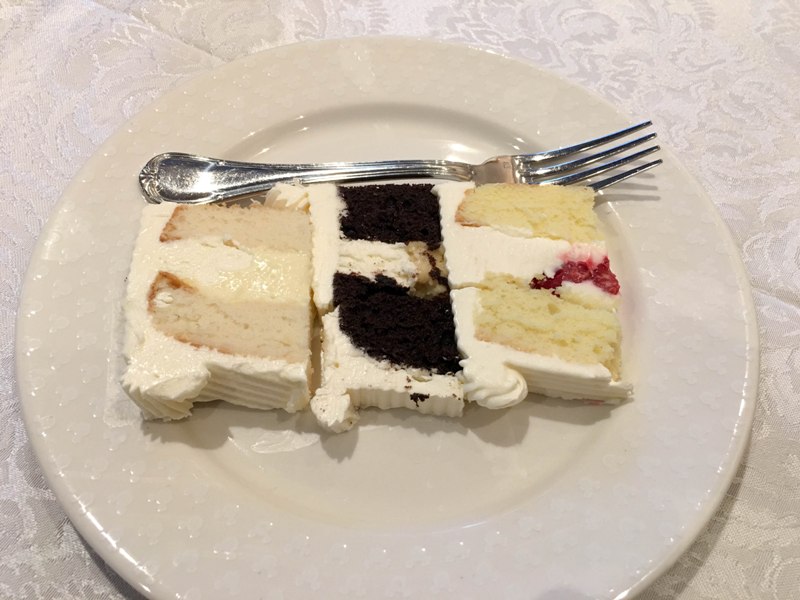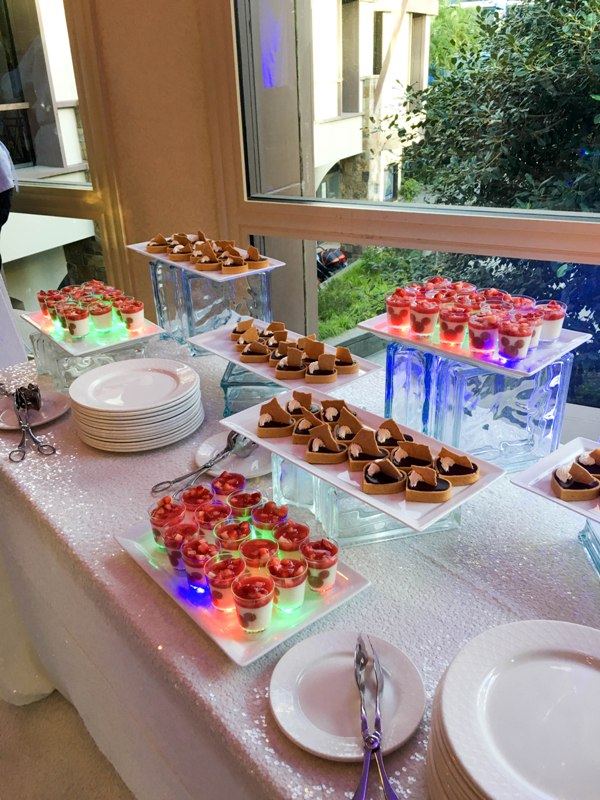 Outside the ballroom in the Magic Kingdom Ballroom foyer, a coffee and tea station was on display.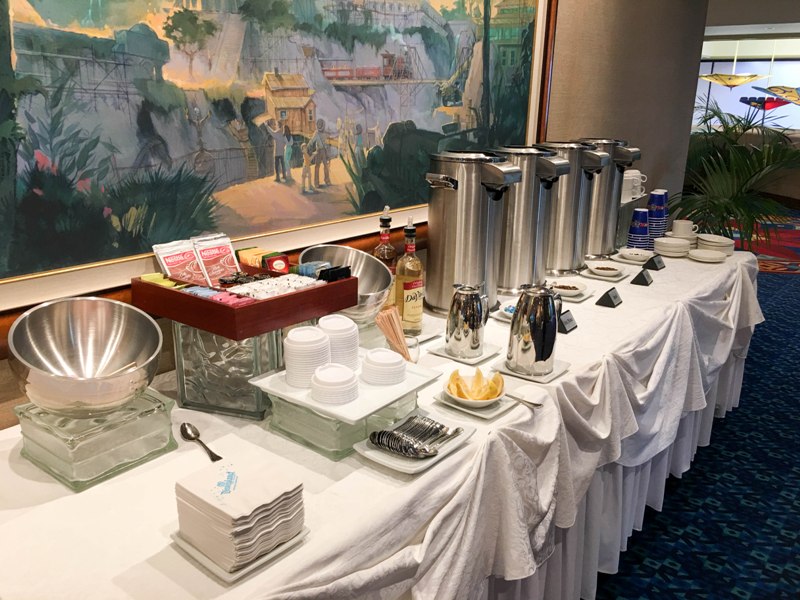 Here are the reported prices for some of the upgrades seen here. Pricing provided here is second-hand information and may not be 100% accurate. Note that prices listed here, and all Disney wedding pricing, is subject to change at any time. Some services may also be subject to tax and service charge.
Ceiling Draping with Lights – $1850
Chandelier Flowers (silk) – $2000
Uplighting – $55 per can
Oval Chairs – $45 per chair
Garden Chairs – $14 per chair
Gold-Rimmed Glasses – $15 per setting
Tall Floral Centerpieces – $800 each
Smaller Square Centerpieces – $145 each
Circular White Dance Floor – $2500
Circular White Dance Floor with Decal – $5000
Circular White Dance Floor with Decal and Ivory Carpet – $7000
Sweetheart Table Backdrop as-is – $750
Sweetheart Table Backdrop plain with no shelves/accessories – $350
Cake mapping projection (not pictured here) – $5000
Feedback about the open house has been positive. Couples who attended loved being able to visit their reception space, sample some food and cake, and see some of the floral designs up close. On a personal note, I do wish the Disney Weddings team would have set up tables and designs in varying price points. I understand Disney wants to showcase their best work but the large majority of couples having weddings at Disneyland do not have the budget for these high-end upgrades. So let this serve as a reminder … whether you have all the upgrades or no upgrades to your wedding decor, ALL Disneyland weddings are unique, beautiful, and amazing – because your love story is unique, beautiful, and amazing. Never forget that!
For years I have wished the Disneyland Weddings team would hold an open house like this once a year for their couples, and I'm so glad they are finally doing it! It sounds like it was a great success so hopefully we will see more Disneyland weddings open house events like this in the future.
Special thanks to all of the Disneyland brides and grooms who sent me these photos.