In Part I of the site visit report, I showed pictures of possible ceremony locations.  Part II will cover reception options.
The first reception option was the Adventure Lawn (formerly known the Dreams Lawn).  It is across the walkway from the Rose Court Garden.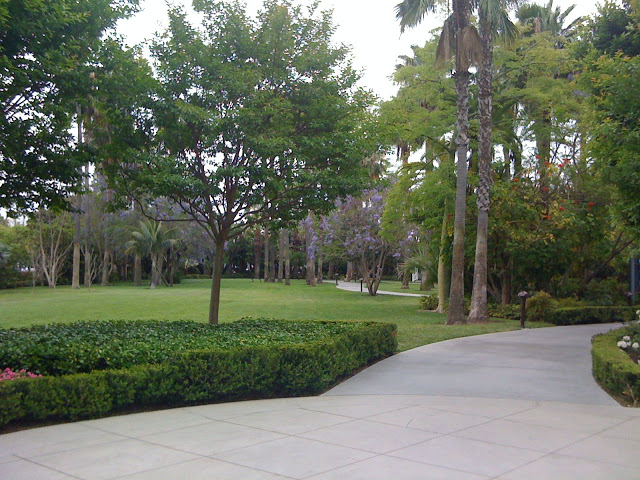 It is a large lawn surrounded by trees and pathways.  It is a beautiful location and can seemingly accommodate an infinite number of guests, but we preferred an indoor location.
Next, Traci took us over to the Grand Californian Hotel and showed us a possible pre-reception spot – the Brisa Courtyard.  I love this area of the hotel so I was totally stoked at the idea of having this area for the pre-reception.  BONUS – the monorail passes by overhead every 10 minutes or so!  I love that!
Traci said we could only use the Brisa Courtyard if we had our reception at the Grand Californian Hotel, so I was eager to see the ballrooms.
She first showed us a smaller ballroom that would be appropriate if we chose the Escape package (26 people or less).  This ballroom is the Wisteria Room.
I FELL IN LOVE WITH THIS ROOM.  I love the beamed ceilings and the chandelier.  Plus, those are actually two large windows in the center wall near the ceiling, which lets in a lot of natural light if you have a daytime wedding.  SWOON.
And it also has a little patio!
 Cute cute cute is all I have to say about this room.
Next she showed us a larger ballroom.  This is the Sorrel room and it seats up to 60 people.
 …
Okay, not that there is anything WRONG with this room, per se, but after the charm of the Wisteria Room I was sorely let down by this ballroom.
Traci told us about two other options over at the Disneyland Hotel.  The first is the Sleeping Beauty Pavilion.
(This photo was taken a couple months later at a Bridal Expo at the Disneyland Hotel.) 
This room is very pretty and romantic, and is a very popular choice for weddings.  This room holds 80-120 guests.
The other option is the Wonder Garden Room, which at the time was under renovation with the rest of the Wonder Tower – now the Frontier Tower!  Traci told us that designs for the room had not been revealed yet, and she had no clue what the room would look like!  However, the room holds 40-80 people, which was ideal for our anticipated guest count.  Tim and I ended up ruling this room out because it was too scary to book a room without knowing what it was going to look like.
Now that a few months have passed, here is a picture of the newly renovated and renamed Mark Twain Room.
What followed in the weeks after the site visit were several long and complicated talks involving myself, Tim, and both our parents about budget and guest count.  Our estimated guest count ended up being much higher than Tim and I had originally anticipated, putting us well over 80 guests and eliminating all the ballrooms Traci had showed us!
During follow-up conversations with Traci, she told us there was a larger ballroom at the Grand Californian Hotel called the Trillium Room. This room holds 80-120 people and is pretty much identical to the Sorrel Room, except it is larger and it has a patio.
Tim and I thought about it and decided to go with the Trillium!!!  Soon we signed a contract with Disney, and  our Disneyland wedding became official!
So, here is our venue breakdown:
Ceremony – Rose Court Garden at Disneyland Hotel
Pre-Reception – Brisa Courtyard at Grand Californian Hotel
Reception – Trillium Room at Grand Californian Hotel
Shortly after signing our contract, Tim's parents came to visit us for a few days and we took them to Disneyland to see the Rose Court Garden and the Brisa Courtyard.  I tried to show them the Trillium Room but the doors were locked.  *sad face*
BUT, we got a little bit of pixie dust that day!
As we were walking away, I hear the doors opening and I turned around and saw two Cast Members walking out of the Trillium.  I ATTACKED.  But nicely.  I explained we were having our wedding reception in the Trillium next year, and my future in-laws were visiting from Rhode Island, and please oh please, could we show them the room?
They were nice as could be and allowed us to go in and take some pictures.  (Thank you kind CM ladies!)
Bonus video of the Trillium Room!  Hear what I sound like!  (There are also some videos of my cat on my YouTube account, if you're into that kind of thing.)
That wraps up of the story of how our venues came to be.  In approximately nine months we will be putting these locations to good use.  I can't wait!